Tuna Scrambled Egg is a breakfast egg recipe that is combine using canned tuna, chopped onion, and olive oil. It is an easy, nutritious, and Keto friendly recipe which is low in carbs.
Breakfast is considered an important meal of the day since it supplies our energy for our work. In my experience, one of the most popular breakfast dishes that is eaten in most countries is scrambled eggs. In the Philippines, we eat it with rice, while in Jordan and other Middle Eastern countries, we serve it with flatbread.
When I was a student, I wanted to minimize my budget by eating a home-cooked meal instead of restaurants. In my kitchen cabinet, I have canned tuna and egg, and I am thinking about what to eat with it. So I decided to upgrade my meal by making a scrambled egg with tuna, which is successful and delicious.
Canned tuna is a popular pantry staple that is a perfect ingredient for your egg dish. Furthermore, it is a budget-friendly and kid-friendly for everyone, which you can also serve during lunch or dinner. In this post, I will be showing you how to make this easy tuna scrambled egg recipe, which I am sure you will love it.
Recipe Ingredients
To make tuna scrambled egg, you only need just 4 simple ingredients.
Firstly, I am using 1 whole canned tuna, which is equal to 180 grams. It is a popular staple canned good which you can purchase in any grocery stores.
Secondly, you need two beaten eggs for this recipe. If you are using small canned tuna, which is 80 grams, then one egg is enough. Thirdly, I am using olive oil since it is healthier and tastes better. However, you can switch with other vegetable oils if you don't have olive oil.
Lastly, I add chopped red onions, which I use to stir along with the rest of the ingredients. It will give a tasty flavor to my egg recipe in addition to salt and black pepper for taste.
Things you need to know before cooking
To cook this recipe, make sure you have a non-stick cooking pan and a wooden stick for stirring your ingredient. If you are using a sticky pan, the tuna and the egg will stick on the pan, which might ruin your scrambled egg.
In addition to that, make sure you remove the excess oil or water from the canned tuna before you add it to the pan. If you include the oil, you will have a watery scrambled egg, which taste will be bland. Also, if your canned tuna has high water content and you suddenly put it in your pan, it will cause the oil to splash, which you might hurt yourself.
Lastly, if you like to add vegetables, you can add chopped tomatoes or spinach to your egg. Or you can add mozzarella or cheddar cheese to have a nice cheesy egg texture.
Cooking Instruction
Cooking tuna scrambled egg is easy and straight forward which takes only less than 10 minutes.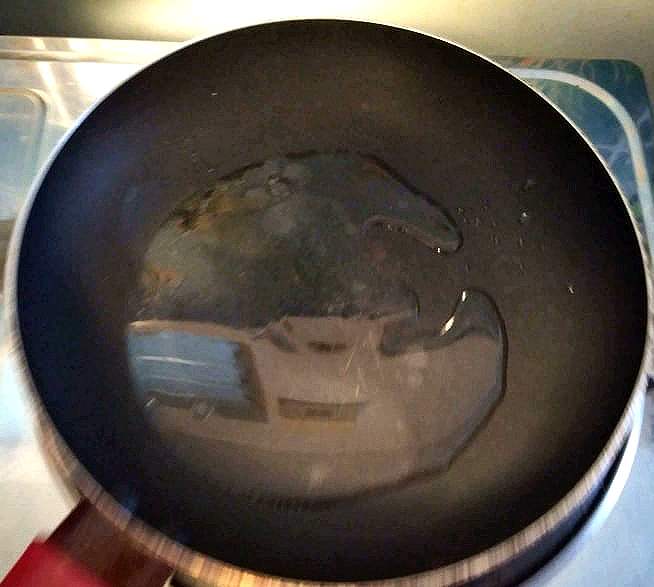 Firstly, add olive oil or any vegetable oil to the cooking pan. Once the oil is hot, add chopped red onion and stir for a few minutes till it is cooked.
Add canned tuna into the pan and give a stir for few more minutes. Make sure you don't include the water from the tuna, for this will cause the oil to splatter. Add the beating egg to the pan and stir to mix with the tuna. Lastly, add salt and black pepper for taste, and stir again before turning off the heat. That's it!
Other Egg and Canned Tuna Recipes
Here are other delicious dishes that I use egg and canned tuna in my recipe:
📋 Recipe Card
Tuna Scrambled Egg Recipe
A budget friendly breakfast recipe which is a scrambled egg with tuna mixed with chopped onion
Ingredients
1 whole canned tuna

2

eggs

½

cup

of chopped red onions

2

tablespoon

of olive oil or vegetable oil

Salt and Black Pepper for Taste
Instructions
Add olive oil in the frying pan. Once the oil is hot, add chopped red onion. Give a stir for few minutes.

Once the onion is cooked, add the canned tuna (without the water/oil). Stir occasionally for 2 to 3 minutes

Add the beating egg in the pan. Mix to combine

Add a pinch of salt and black pepper for taste. Give a quick stir for one more time before turning off the heat.
Notes
Do not include the water or oil from the canned tuna. This will cause the oil from the pan to splatter and splash when cooking.
Nutrition