Cold Stone Creamery is an American ice cream chain that has several branches in the world and in the Philippines. People say this is one of the most popular and best dessert place in the Philippines and in Cebu.
Since I am living in Cebu city, the only Cold Stone branch I tried is in the Ayala Center Cebu. It is located in the 4th floor between Starbucks Cafe and New Orlean restaurant. I remember when this place was opened in March or April 2018, they were so many people going there, and some of them have their mixed review.
My Experience
In my experience, I enjoyed coming to Cold Stone Creamery, not just because of the ice cream but the place is very comfortable. This is my 4th time coming to Coldstone, and the last time I tried here was last September.
When we entered Cold Stone, we saw many kinds of ice cream to choose from. Like other ice cream parlors, we can taste the sample of their ice cream before ordering it.
We first found a place to sit, preferably near the window since you can see the view of the city.
Because they are so many of us, we ordered cakes and ice cream. I believed their signature ice cream is the one covered in waffle cone or biscuit. We ordered french vanilla, chocolate hazelnut (not sure if that is the exact name), and another vanilla ice cream with a different waffle cone.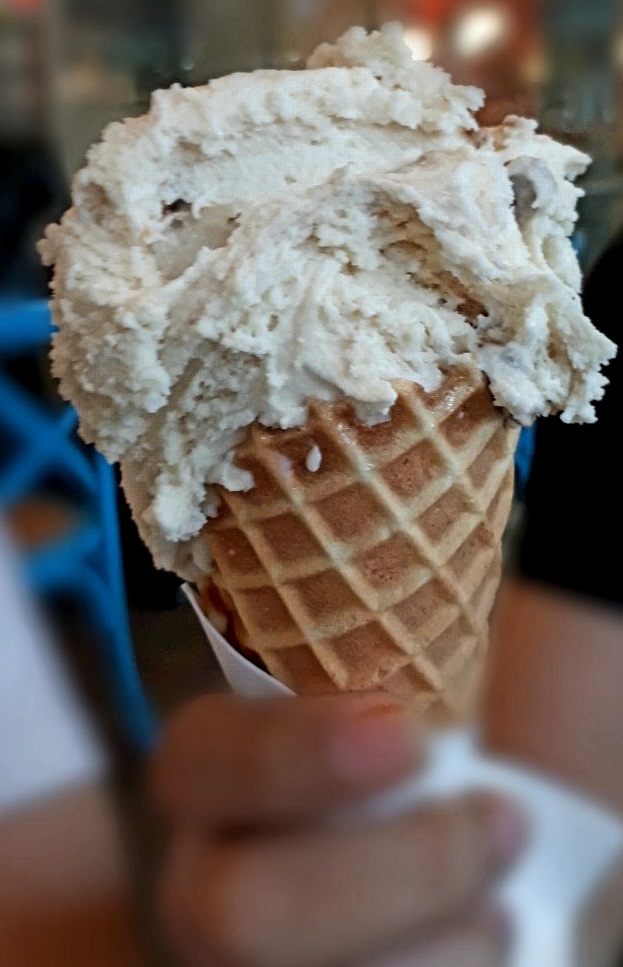 We also ordered two different cakes. One of them is Midnight Delight cake (Left), and Cookie Dough Delirium cake (Right). I know its a weird name for just a cake.
What I find interesting is that when ordering any ice cream, they will ask you to catch it since they will be throwing at you. This is a fun experience, and I don't think this is found in other ice cream stores. Of course, it is just an optional, and they don't do that on cakes.
My Review
Overall I have a great experience in Cold Stone. They have good services, and the ice cream taste good which we were satisfied. The Midnight Delight cake is the best cake I tried in Cebu city. On the other hand, the Cookie Dough Delirium taste fine, but not really my favorite. I am sure others will find the cake delicious.
What I like more in Cold Stone Creamery in Ayala Cebu is the place. It is comfortable to sit down, and you can see the view of the city. Also, It is not as crowded as Gelatissimo which is also found in Ayala Cebu. This is really a good spot to socialize with friends and families.
However, I have to say despite it is good, their ice cream doesn't taste better than Gelatissimo. In Gelatissimo, they have tons of options to choose, and their ice cream is more creative than in Cold Stone which gives a good placebo.
In addition to that, sometimes their cakes are not available which can be disappointing. Imagine you want to go to Cold Stone because you love their cake, and you found out it's not available. I noticed sometimes their fridge storage, where they put the cakes, is empty or there are only a few of them. You don't see that in other ice cream stores in Cebu city.
If this continues, I don't think the customer will come here again, unless you don't care about the cake at all.
My Rating
I will rate this place 8.1/10
The Food- 8/10 (The ice cream and the cake taste really good, and it is very flavorful. However, the cake is sometime not available).
The Price- 7.5/10 (The price is fair enough which is similar to other ice cream parlors)
The Customer Service- 8/10
The Environment and the Sanitation- 9/10 (The place inside has a very strong placebo. You can see the view of the city while sitting near the window. It is very comfortable, which is a perfect place to hang out with friends or family).
Conclusion
Overall this Cold Stone Creamery is a recommended place to go and it is one of the best dessert places in Cebu City. I can't say much about other branches in the Philippines. The environment inside Cold Stones gives a good placebo among customers like us. You can see the view of the city while enjoying your ice cream.
Their ice cream tastes delicious, and their signature ice cream in a waffle biscuit is one of the best ice creams I tried in my life. Also, the Midnight Delight cake is one of the best cakes I tried in Cebu City. I will do anything to come back again to eat this cake. I just hope they could refill the stock right away.