Ilaputi is a unique Asian fusion restaurants that is located in Cebu City. Specifically, they serve a combination of Asian food with Middle eastern and Western fusion. Most of us love eating Asian food because of spices and it is healthy.
This restaurant is very interesting since it is a fusion, which I don't find this common in other food places. Most restaurants I ate in are authentic, but this is a fusion which excited me to try their food.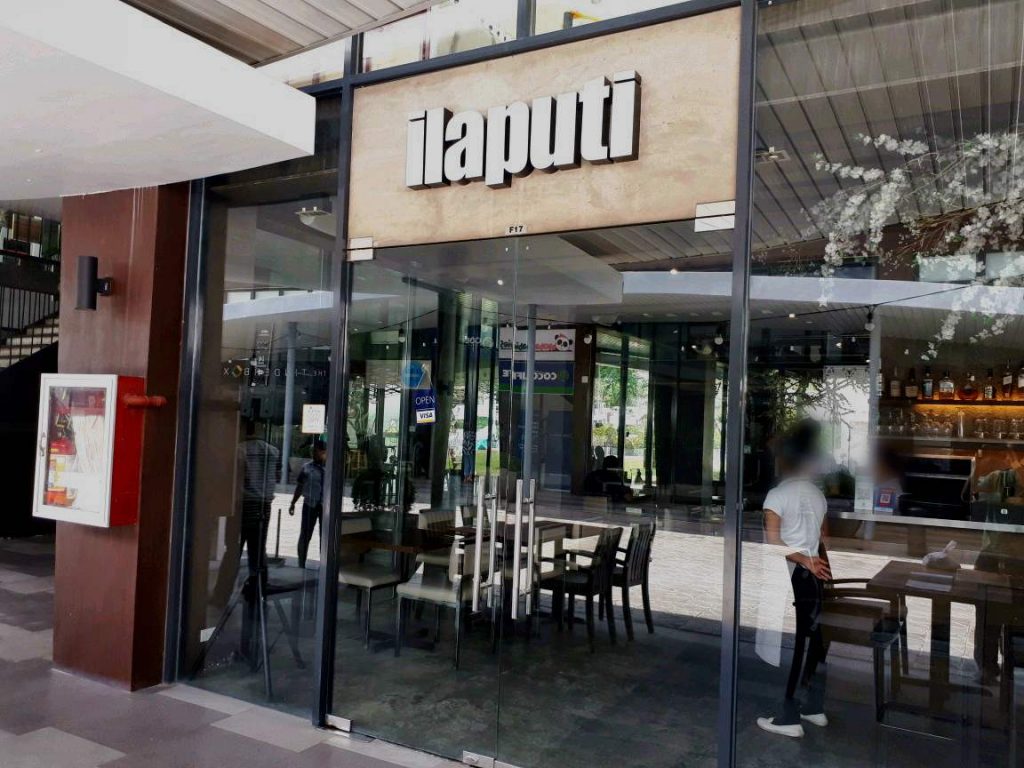 Location
Illaputi have two locations in Cebu City. One is located in Axis Entertainment Avenue in Escario Street. And the second place is found in the Greenery Cebu in Pope John Paul II Avenue. I havent eaten the second restaurant found in the Greenery. So my review will be mainly about the first restaurant in Axis Avenue.
My Experience
Coming to Axis Entertainment Avenue is not foreign to me since I usually go other restaurants such Burger King when having my dinner. Or 10 Dove street when having my desserts. It was just a coincidence that I passed by to Ilaputi. And I was curious with the food there since the place looks nice, especially at night time.
During lunch time, we are looking to try something new that serves dishes with rice. When I passed to ilaputi, I was looking at the food menu, and it interested me because it looks unique and fancy name. We decided to give it a try, and have our lunch in this restaurant.
Truthfully speaking, I am not familiar with most of these foods in the menu, and I relied on the description of each of the dishes. I noticed in the menu, it is a fusion of Asian with Western/Middle Eastern ingredients. Most of these Asian foods includes South East Asian, Chinese, Japanese, and Korean food. They look really delicious and I can't wait to try them.
Our Food in Ilaputi Cebu
In Ilaputi, we ordered 4 different dishes that looks very delicious. Firstly, we ordered a korean rice dish called Bibimbap. This is a rice dish that is mix with vegetables & beef, and it is serve with sunny side up egg. I tried an authentic bibimbap in other korean restaurant, and the taste is almost similar. Except this restaurant added shitaki mushroom in this dish.
Secondly, we ordered a Chikita Katsu, which is a chicken fillet serve with tomato basil rice and japanese curry. This food is an example of a japanese and western fusion dish.
Furthermore, we tried a pasta dish called Triton's Treat Pasta, which is a shrimp pasta mixed with crab fats, tomato, olive oil and capers. Honestly, I am not familiar with this pasta dish, but it looks delicious. What makes it fusion is that they add a dried shrimp, which is a common ingredient in Southeast Asian cuisines.
Lastly, ate a chicken dish called a Ga Cai Chicken, which is a sweet flavor chicken nugget that comes with a dipping sauce. I am not sure what ingredient that put, but it definitely had a sweet flavor.
My Review about Ilaputi
When I eat Asian food, I prefer a authentic food since it is original and delicious. Ilaputi is one of my first experiences in eating a fusion food.
In my opinion, they have great food, and it is delicious. First of all, I love the presentation of all the dishes since its looks very appetizing. If the food looks good, you can already be hungry.
Out of all the dishes I ordered, the Bibimbap and the Triton's treat pasta is my favorite. What makes the Bibimbap delicious is that add a shitaki mushroom, which surprisingly blends well with the rest of the vegetables and the beef. The triton treat pasta has a saltiness because of the capers, and it taste flavorful. I have never tried an asian fusion pasta in my life, and this is one of the best pastas I tried in my life. I am surprised the ingredients fits perfectly, which the chef did an excellent job.
The Chikita Katsu has a very tender chicken fillet which is delicious. However, the curry sauce is a little underwhelming, which is not really an issue for me since the chicken is the most important ingredient to satisfy the customers. If the chicken is dry or bland, I will have been very disappointed even if the curry sauce taste good. Furthermore, the Ga Cai chicken has a sweet flavor which taste good, but not my favorite dish. Personally, I am not a huge fan of sweet food except desserts. If you love sweet dishes, then Ga Cai will be a mouthwatering for you.
Moreover, they have a satisfying customer service. Although sometime, they could be slow when delivering the food. Probably because there were many customers at that time.
My Rating of Ilaputi
My rating of this restaurant will be 8/10.
The Food: 8/10 (Great presentation and the food is good)
The Price: 6/10 (The price of the food is a bit expensive compared to other restaurants)
The Customer Service: 8/10
The Amenities and Sanitation: 10/10 (it is a comfortable place to eat. Perfect place for dates 🙂 or eating with family)
Conclusion
Ilaputi is one of the best Asian fusion restaurant I tried in Cebu City. Their food are unique and delicious. If you like to try something new and classy, this is a perfect place to eat. However, the price of their food is considered expensive to some people. But hey, a delicious food is never cheap, right?
Have you tried eating in Ilaputi? Let me know your opinion in the comment below.