When we go out with our friends or families, we prefer to eat in a fast-food restaurant such as Pizza Hut or KFC. Or even authentic Chinese or Filipino restaurants such as Majestic or Cafe Laguna. However, not all prefer to go to fine dining restaurants since it is considered a high end, which some might find it as an expensive restaurant.
I have experience dozen of fine dining restaurants in Cebu City. And one of the best restaurants I tried is the Suite Room.
What is the Suite Room
The Suite Room is a hotel-style boutique restaurant which is owned by the same owner of Casa Verde. It has two branches in Cebu City- One in Ramos street branch, and Ayala Center Cebu branch. I have experienced and ate in both of these two places. But I will be reviewing mostly in the Ayala Center Cebu branch.
This place is located in Ayala Cebu rooftop between the Salad Stop and Pepper Lunch restaurant facing cinema 5. When I entered the restaurant, we were greeted by the staff, and the place looks so classy. It is as if you are in a European restaurant.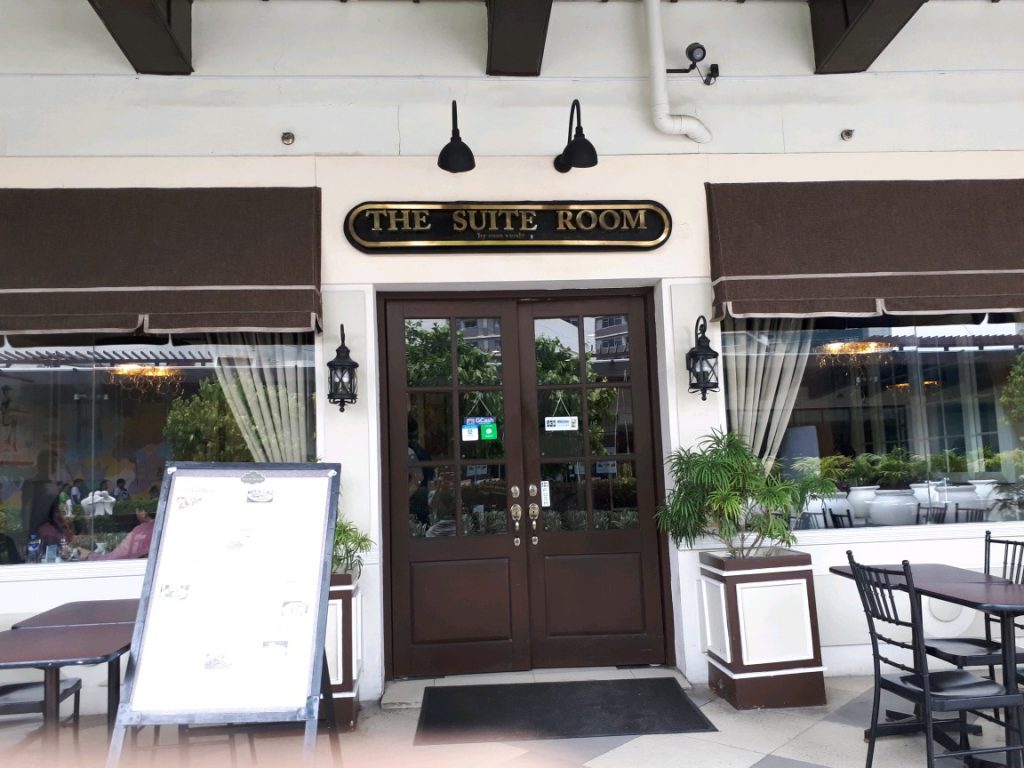 Our Food in the Suite Room
If you are wondering what kind of food do suite room offers, they serve mostly western food. Personally, this is one of my favorite fine dining restaurants in Cebu, which I came to this place 3 times (twice in Ramos Street branch). However, I will be reviewing it based on my recent experience. I went to the suite room with my family, and we order an appetizer, main dishes, and a dessert. Unfortunately, I forgot to take the picture inside the restaurant.
For our appetizers, we order a chicken croquette which is served with crispy bread and a sauce. Honestly, I do not know what kind of bread is that, but it looks like a flatbread that was deep-fried in oil. Furthermore, we ordered a salad called Chicken Caesar Salad. This is a Caesar salad that is served grilled chicken, boiled egg, lettuce, and garlic bread.
Our main dish, we ordered a Roasted chicken, Pan-fried salmon in citrus butter sauce, and Grilled salmon in sweet soy. They look delicious and classy. I ordered the roasted chicken, but my family ordered salmon since it is healthier and they love salmon by heart.
Lastly, we also ordered a dessert called Mix Berry ice cake. Of course, the food will never be complete without a dessert.
In addition to the food above, we order a pasta dish called Shrimp & Spaghetti Aglio Olio. It has a strong Parmesan flavor with olive oil. If you love your pasta with strong cheesy taste, then you will love this. Lastly, we ordered a sandwich called Egg Salad Sandwich. This is a sandwich that has egg, mayonnaise and lettuce. Of course, each sandwiches are served with fresh french fries, and it taste good.
Customer Service / Amenities
The truth is I have tried the suite room several times, and you can tell I enjoyed eating here in the suite room. It is one of the best fine dining restaurants I tried in Cebu City
First of all, they have outstanding customer service, which they are fast and friendly. Of course, it is expected you must have an excellent customer service in a fine dining restaurant like the suite room. Or else I will be surprised.
Secondly, the place inside is comfortable and classy. This restaurant has a European design, which is a very good placebo. While sitting in a table, there is a background piano or violin music, which is a perfect place if you are having a date, or you prefer a high-end restaurant.
Our review of the Food
If you love eating western food (European, Australian or American Food), then this is the place to go. In my opinion, their food is very delicious, and it is well seasoned. The taste of chicken croquette is really good, which taste like as if there is milk mixed with chicken and herbs. It fits well with the sauce and the crispy flatbread. The roasted chicken has a very generous portion, which is served with rice and vegetables. Although the roasted chicken is a bit dry, the spices and herbs make the chicken very tasty.
The Salmon dishes are the best salmon dishes I tried in Cebu and the Philippines. The Pan-fried Salmon is well seasoned, which they served a very tasty creamy risotto and a citrus butter sauce added on the salmon. The risotto is an Italian rice dish that is mixed with butter, Parmesan cheese, and herbs. It is very delicious, which fits perfectly with the salmon. On the other hand, the grilled sweet soy salmon has an Asian twist since it is sweet. It is my mother's favorite dish, and I honestly do not know what makes the salmon sweet. Probably, the sweetness is because of adding sweet soy sauce, which is commonly used in Indonesia. Or maybe they added honey, which I cant tell.
Lastly, the mixed berry ice cake is just OK. I love ice cream cake, but it is not my favorite. I tried other ice cake that tastes better than this.
Despite they have excellent customer service and delicious food, the only downside is the price is a little bit expensive, and the portion is not enough. If you are very hungry and went to the suite room, you will probably need to order an appetizer or additional orders just to feel full.
My Rating
Because I am very satisfied eating here, my rating will be 9.4/10
The Food: 10/10 (The food is delicious with rich ingredients, and the presentation is perfect)
The Price: 8.5/10 (The food is a little bit expensive, but it is considered affordable compared to most fine-dining restaurants. I have tried other fine dine restaurant that displays a ridiculous price of the food).
The Customer Service: 9/10 (They have an outstanding customer services)
The Environment and the Santiation: 10/10 (The design of the place is like a European feeling, which is nice to eat there since it is classy and comfortable).
Conclusion
If you will like to eat in a high-end restaurant, then the suite room is a recommended place to go. It is one of my favorite fine dining restaurants I ate in Cebu City. The place looks very classy with great customer service. It is a formal restaurant, which is perfect if you like to eat in a comfortable environment.
The food is truly delicious, which is mostly western food menu. They also offer some Asian fusion food such as tenderloin tip or Grilled salmon in sweet soy.