Cafe Bai is a buffet restaurant that is located in the Bai Hotel in Mandaue City. They offer varieties of international cuisine such as Western, Indian, Korean, Filipino and other Asian Foods
I tried several buffet restaurants in Cebu and the Philippines, and they all taste delicious. But, Cafe Bai seems to be one of the best buffet places to eat.
Location and Price
As I mentioned earlier, it is located in the Bai Hotel in Mandaue City. When you entered the lobby, there is an escalator on the left side, where you will have to ride there. Once you reach that floor, this is where the buffet restaurant is found. Just ask any staff, and they will be happy to take you there.
The price is similar to Viking, a popular buffet restaurant found in Cebu, Manila, and others nationwide. If it is during Weekdays, the rate is 788+. However, during Dinners (Weekdays) and Holidays and Weekends, the rate is 888+ Philippine peso. Please take note that the rate excludes taxes such as VAT.
What are the Food serves in Cafe Bai?
Cafe Bai has many stations to choose which is perfect for food lovers like me. I am opened minded person, I want to try as may station as I can since they look very delicious.
Dessert Station
This is a Dessert Station where they serve many kinds of cakes, mousse, tarts, and bread. They also serve a very Filipino hot dessert called Ginataan or known as Binignit. As you can see in the picture, I brought this dessert, and it tastes really good. Some of you might notice that Ginataan is supposed to be a violet color not white since it is added with a Filipino ice cream called Ube. However, in this buffet, they do not add any Ube ingredients.
Furthermore, they also serve ice creams and toppings to customize your Halo Halo
Grill Station
By the name of it, this is the station where they serve all grilled Beef, Pork, and chicken. I am not sure if they serve seafood since I wasn't paying attention to this station.
One thing I noticed is that we don't grill any meats like in Yakimix, and it will be them who will be grilling your food. It is kinda a similar to Viking.
Sandwich Station
What I like about this station is that you customize your sandwiches. They have pork, tuna, egg, cheese, vegetables and toppings to choose for your sandwiches.
What you will be doing there is that you will ask the staff attendant what toppings you want, and they do the rest. What happened here is that they will toast or grill the sandwich along with your toppings, and they will ask you to come back after 2 to 3 minutes.
Unfortunately don't offer beef or chicken. However, if you prefer beef, you can go to the grilling station just adjacent to the sandwich station, and ask them you want a sliced of beef. They will give you one, and you can send it to the staff in the sandwich station, make your dream sandwich. Convenient isn't it?
Indian Station
If you love Indian food, then I guarantee you will love this station. The only sad part is they only offer 3 dishes, and one of them is just a tiny round flat or pita bread. It is actually on the left side which I haven't opened the lid.
The remaining two dishes in the center and the right side is chicken masala, and vegetable dish (I am not sure if it is also a masala or has another name). I came to Cafe Bai several times, and sometimes they serve beef keema, chicken curry, and other amazing Indian dishes.
Western and Asian Food Station
Now, these two stations are the reason why I go to Cafe Bai. They serve amazing Western and Asian foods that will make you leave this buffet with a smiling face.
I did not take pictures of the station since there are many people in the line. The Asian station includes serving Filipino, Chinese, Korean and Japanese food. You can also customize your version of Ramen if you want. Also, they serve Mongolian Rice which is one of my favorite rice dish in Cafe Bai
The Western food is my favorite out of all other stations. They are very delicious, and there are so many to choose from. They serve many dishes such as Spanish paella, chicken dishes, and many more others.
The picture below is under the Western station. The truth is there are many western foods to choose from, but I pick a few pictures just to give you an idea.
Drink Station
In this station, they offer soft drinks and fruit juice. It is similar like any other buffets restaurants.
Pizza and Pasta Station
Lastly, they have a pizza and pasta station, which you can customize your dish. I haven't tried making my pasta, but I did make a pizza, and it was delicious. They have mozzarella and ricotta cheese, olives, ham, sausages, and other vegetables topping for your pizza.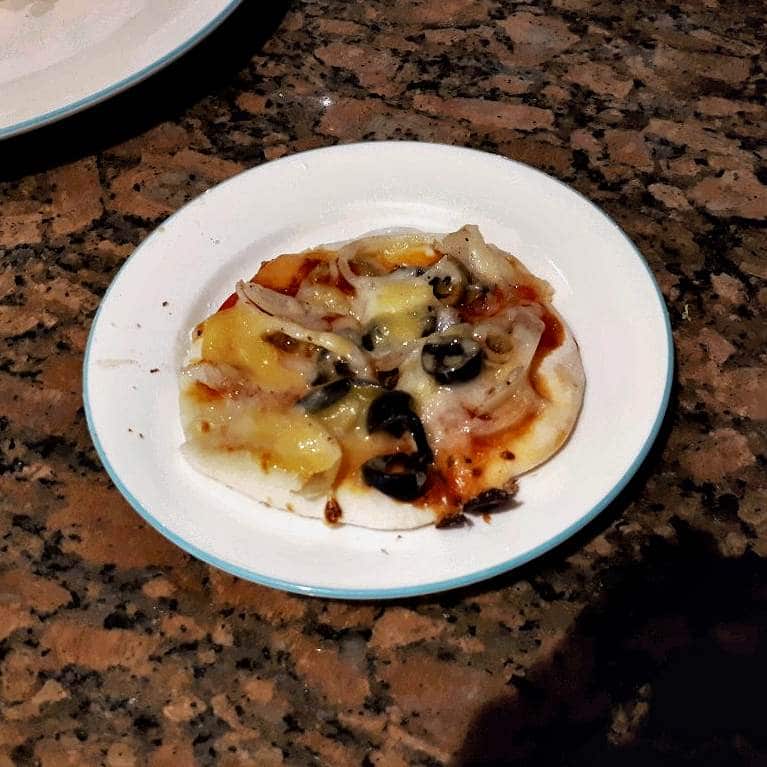 I made my pizza using ricotta and mozzarella cheese with olives, and I love it. It tastes way better than most local pizza stores in Cebu.
My Experience
I have tried and eaten many buffets in Cebu and in the Philippines, and I must say this is one of my top 3 favorite buffets.
Firstly, most of the foods are well seasoned and taste really good. In my experience, when I ate in other buffet restaurants, some of these foods tasted just average. However, everything in the cafe bai is perfect, and you will not regret coming here. What I like about cafe bai is that they refill the food very fast compared to other buffet restaurants.
Secondly, the amenities and environment of the place are amazing and very comfortable. It is a high-class place since it is located in a 5-star hotel. Furthermore, it is not congested compared to other buffets since it has a bigger space to accommodate customers. Because of this, you don't need to worry about reserving a spot since there is always an available table in here. Moreover, if you have a car, you will not even worry about finding a parking space. And of course, the parking in the hotel is FREE.
Lastly, compared to other buffet hotels, cafe bai is relatively affordable, and the rate is similar to Buffet Viking and Cafe 101, which is only 888+ philippine peso. In most buffets in other 5 star hotels, the rate ranged between 1000 to 1500 peso. Now that is an expensive buffet!
There are, however, few downsides of Cafe Bai:
In my opinion, I prefer the desserts in Vikings.
Unlike in Viking, they do not have Mexican station here.
They only have 1 steak in Cafe Bai. Unlike in Viking, they have pork, beef, and lamb steaks.
My Rating
My Rating of Cafe Bai will be 9.5/10
The Food: 9.5/10
The Price: 9/10
The Customer Service: N/A
The Amenities and the Environment: 10/10
Conclusion
Cafe Bai is one of the best buffet restaurants located in the Bai Hotel in Mandaue City. They serve delicious western and Asian food that will make you satisfied. Although 888+ Philippine peso is a bit high, the rate is similar to popular buffet restaurants such as Cafe 101 and Vikings. Furthermore, it is considered affordable compared to other hotel buffets.