Sauteed Chicken liver Recipe is a liver dish that is marinated with sauces, cook in oil, and then mixed with bell pepper. It is perfect to eat with rice or any flatbread. This is considered an Asian food rather than Western food since it is mix with soy sauce, oyster sauce, vinegar, and curry.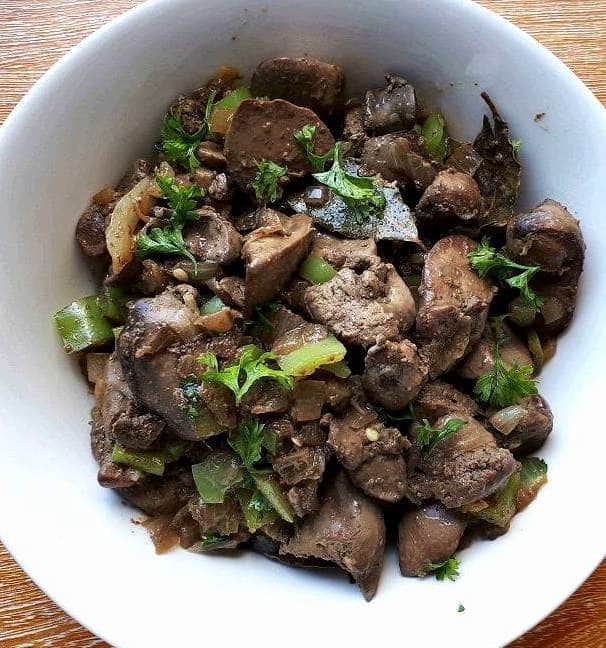 The first time I tried this dish when I was a kid. My mother made this delicious chicken liver dish, and she added ingredients with an Asian twist. I may not be a fan of liver because of the taste, but this is an exceptional. Also, chicken liver is very healthy and it has high amount of vitamins and other nutrients. For example, it is rich in iron, vitamin B12, vitamin A and low in fats.
In this post, I will be showing you how to make a delicious sauteed chicken liver.
Recipe Ingredients
The ingredients I need to make this dish includes soy sauce, oyster sauce, vinegar, bell pepper, onion, black pepper, and curry spice.
Some people I know they don't like the smell of the liver, and no matter how long do you cook, the smell of the liver will be there.
However, I am using bell pepper and bay leaf since it gives a great flavor of the sauteed chicken liver recipe. Furthermore, when you add the bell pepper, the smell of the liver will disappear, which works for me.
Lastly, I use olive oil, specifically extra virgin olive oil, to help sauteed the liver. I prefer this kind of oil since it is healthier and gives a nicer olive taste of the dish.
Do you wash chicken livers before cooking?
When I cook my chicken liver recipe, I usually wash them first before sauteing in the pan. This is important because you need to remove the smell of the liver and reduce the bitterness.
I clean the liver with water first. After that, I marinated them with lemon or lime juice. The lemon contain a citric acid that can help remove the smell of the liver or other meats. This is also perfect if you will like to remove fishy smell from your seafood.
What kind of Kitchen Utensil or Equipment I used?
There is only two important kitchen utensils I used. First, I used a melamine bowl where I cleaned and marinated the liver with sauces and spices. And secondly, I used a large fry pan where I cooking the liver and adding other solid ingredients.
What side dish goes with chicken livers?
When I cooked this recipe, I love eating my sauteed liver with white rice. Because this is an inspired Asian recipe, white rice can be a perfect side dish with this liver dish. Also, this dish is perfect to serve with Flatbread or any pita bread instead of rice. If you will like to know how to make flatbread, check my Greek Flatbread Recipe here.
Lastly, this also goes well with salad or mashed potatoes. I am sure everybody has their own favorite side dishes.
Things to do before cooking this dish
Before I cook my chicken liver recipe, I must first clean the liver with water and then add lemon. I use lemon or lime juice since it can help remove the smell of the liver.
Once you add the lemon, you don't have to wash it again with water, and you can just directly marinated the sauces. To marinate the liver, just mixed with oyster and soy sauce, vinegar, bay leaf, and curry spice.
After that, leave the liver marinated for 15 to 30 minutes before cooking
How to cook Sauteed Chicken Liver recipe?
Cooking chicken liver recipe is quite simple. Firstly, add olive oil in the pan. Once it is hot, add onion and stir for a few minutes.
Later, you add the liver and let it cook in medium to medium-high heat. It is expected the liver will be releasing too many juices, and make sure it is cooking a little longer until there are few juices left (not fully evaporated). Lastly, you add the bell pepper, salt, and back pepper, and mix it well. Optionally, you garnish the dish with parsley if you want. And you are done.
Below is the specific instruction of how to cook the sauteed chicken liver recipe
Sauteed Chicken Liver
Sauteed Chicken Liver is a marinated chicken liver dish inspired by Asian sauces and spices that are mixed with bell pepper.
Ingredients
Marinating the Liver
500 gram of Liver
1 tablespoon of soy sauce
1 tablespoon of oyster sauce
4 pieces of dry bay leaf
2 teaspoon of vinegar
½ teaspoon of curry spice
Cooking the Liver
3 tablespoon of olive oil
1 cup of chopped bell pepper
1 cup of chopped onion
1 tablespoon of soy sauce
1 tablespoon of oyster sauce
1 tablespoon of chopped parsley (for garnish)
Salt and Black pepper for taste
Instructions
Add 2 tablespoon of olive oil in the pan in medium heat. Once it is hot, add onion and stir it for a minute or until it is light brown.
Add the marinated liver along with the sauces on the pan, and quickly stir them for 10 second. Cover the pan from any utensils and let it cook for 6 to 10 minutes.
Once there is few juices left, add 1 tablespoon of olive oil and chopped bell pepper, and quickly stir for few seconds.
Add oyster sauce, soy sauce, salt and black pepper in the pan. Mix them well to make sure the sauce and the seasoning are well distributed with the liver. Turn off the heat, and garnished with chopped parsley.


Notes
Do not over stir the chicken liver during cooking since it may break into pieces
If you don't have olive oil, you can use any vegetable oils.
Nutrition Information
Yield

4
Serving Size

1
Amount Per Serving
Calories

363
Total Fat

19g
Saturated Fat

4g
Trans Fat

0g
Unsaturated Fat

13g
Cholesterol

766mg
Sodium

480mg
Carbohydrates

11g
Fiber

1g
Sugar

4g
Protein

35g
If chicken is one of your favorite dishes, then I have some chicken recipes you may love to check on:
If you have any comments or questions, I will love to hear from you.