Laguna Garden Cafe is a restaurant that serve an authentic filipino food. When I was living in Kuwait, Filipino food is not as popular as Japanese, Thai or Chinese Food. I wasn't aware much of their food since its underappreciated. Every time when I watch food channels, they usually talk about other Asian Cuisines, but rarely about Filipino cuisines. Furthermore, the street food in the Philippines is not better compared to street foods in other South Eastern Asian countries.
However, Filipino cuisines are in fact unique and delicious. As far as I know, the food here are influenced by other countries such as China, Spanish and America. One example is Pancit, which is an egg noodle dish that was introduced by Chinese settler.
As a half filipino, I love filipino food, and there are many great restaurants in Cebu City in Philippine that serve a true authentic filipino food. One of these restaurants I ate is in Laguna Garden Cafe. Unlike other street foods you see in Cebu and in the Philippine, this is a high end restaurant, and they serve delicious food. Furthermore, the restaurant itself is huge and classy. It is comfortable to eat there since it is located within the park in Ayala Mall.
Location
This restaurant is found in Ground floor in Terraces in Ayala Center Cebu, which is a popular mall located in the central business district of Cebu City.
Note: Take note that in Ayala Center Cebu, you will be encountering a local restaurant called Cafe Laguna. What I notice is that they are both similar in term of food and the design of the restaurant. I am assuming these two restaurant is managed by a same company.
Our Food in Laguna Garden Cafe
After we found a table to sit, we ordered many kinds of food. Firstly, we ordered a fish soup called tinolang Isda. This can be eaten with rice or you can drink the soup direct.
In addition to that, we ordered a vegetable side dish called Chopsuey. This is a Chinese inspired dish that is mixed with mushroom, cabbage, cauliflower, bell pepper, carrot, and other vegetables. Originally, this is a Chinese dish, but it is also prominent among Filipino cuisines. You have the option to ask for chicken, pork or seafood, but we asked for chicken instead since this is our favorite meat.
If you want to learn how to cook this recipe, check the full detail of my Homemade Filipino Chop Suey.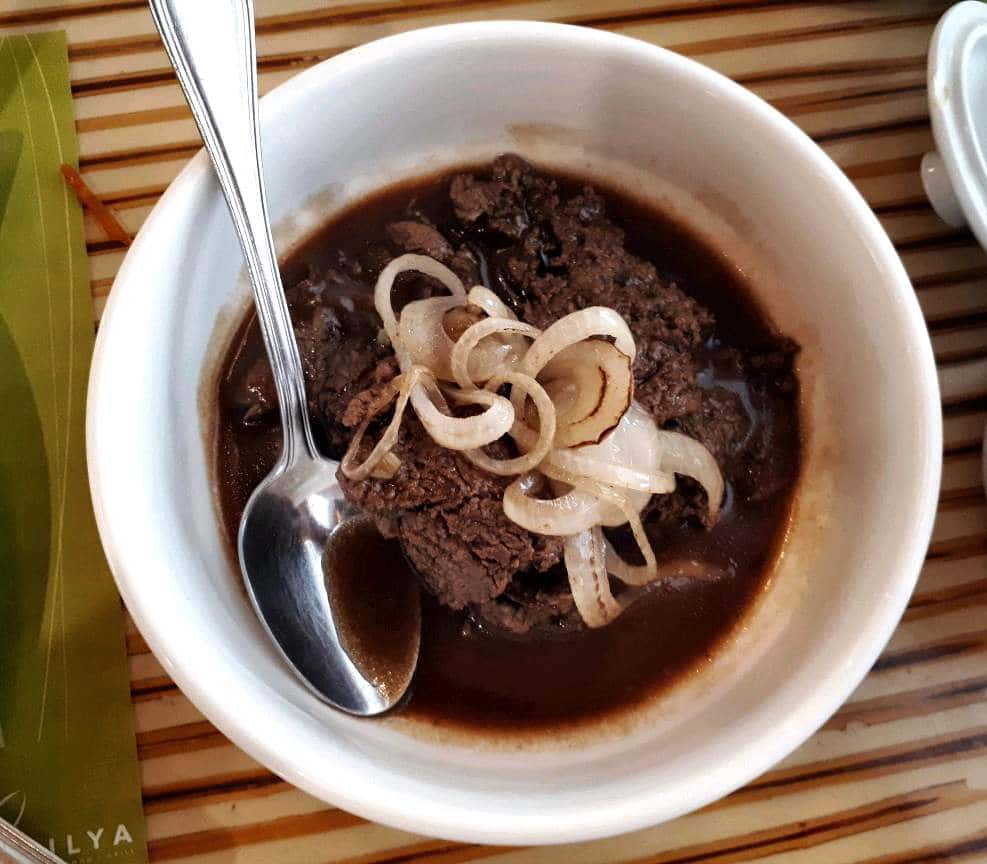 Another dish we ordered is a Filipino glass noodle mixed with chicken called Pancit Sotanghon, and a Filipino version of beef steak called Beef Bistek. Based on the picture above, beef bistek is a marinated beef mixed with soy sauce, calamansi (a small lime fruit) and pepper.
If you want to learn how to make Bistek, check out my recipe of Beef Bistek Tagalog.
Moreover, we order a chicken dish called Chicken Adobo, which is unofficially a national dish of the Philippines. It is a chicken dish that is marinated with soy sauce, vinegar, garlic, and other spices. And it is eaten perfectly with rice.
Of course, that is not the only food we have for our lunch. We also ordered juices for our drinks. We order watermelon juice which is a fresh watermelon without added sweetening.
And lastly, we ordered dessert because there is always room for dessert after our satisfying meal. We decided to order a banana split ice cream. We were giving the option to get up to 3 scoops of ice creams which there are 4 flavors we can choose: Vanilla, Chocolate, Strawberry or Ube. Because I love Vanilla Ice cream since I was a kid, I ordered all vanilla.
My Review of Laguna Garden Cafe
Laguna Garden Cafe is one of the first authentic Filipino restaurants I tried in Cebu City and the Philippines. Although I am a half Filipino, I was born in Kuwait, and I am used to Middle Eastern Food or other foods that are rich in spices. And I must say, this restaurant serves very delicious authentic Filipino food.
Unlike Middle Eastern, Thai, or Malay food, their food is not spicy and they used extreme spices like cumin, curry, or sambal sauce. However, in Filipino cuisines, I noticed their food is mostly sweet, salty and sour, which is different compared to their neighboring countries. Nonetheless, it tastes really good and it is well seasoned.
Firstly, I love Tinolang Isda fish soup, it doesn't have an overwhelming taste like Tom Yum Soup, but rather it tastes it has a fishy flavor which is simple and delicious.
Secondly, the Chopsuey and Pancit Sotanghon does not have an overwhelming taste as well, but it is well seasoned. You can taste the saltiness and the sweetness of this dish.
Thirdly, Chicken Adobo is one of the best dishes I tried in Laguna Garden Cafe. It is well seasoned, and you can taste the saltiness from soy sauce, the sweetness, and the garlic. I enjoyed eating this with rice, and so far this is my favorite dish. However, the Beef Bistek is a bit under-seasoned which is disappointing because I don't taste anything in this dish. I was expecting it should have a taste of a soy sauce or at least any sweetness, but there is none at all.
On the other hand, the banana split ice cream and the watermelon juice is satisfying. In my opinion, it tastes like any other restaurant that serves similar ice cream and drinks.
My Rating
My Rating of Laguna Garden Cafe will be 8.5/10
The Food: 7/10 (The food is delicious, but it does not have an overwhelming taste of spices, saltiness or sweetness).
The Price: 8/10 (Of course, the price is relatively more expensive compared to ordinary street food and food stalls in Cebu, but it is still affordable than any other restaurants).
The Customer Service: 9/10 (They have great services, and they were fast in delivering the food)
The Amenities and the Environment: 10/10 (The restaurant is spacious and classy. It is nice to eat there with families or friends).
Conclusion
Filipino food is very different compared to other neighboring countries. It is not spicy, and their dishes are composed of sweetness, saltiness or sourness.
If you love to try local cuisine, Laguna Garden Cafe is one of a few Filipino restaurants to eat, which can make you appreciate their food. One of my favorite dishes is Chicken Adobo, Sotanghon and Tinolang Isda. They have great customer service, and the price is average. If you prefer to local street food that is much affordable, I highly recommend you to try in Larsian Cebu.