In the Philippines, Chinese cultures play an important part in their life. During birthdays, wedding or other important occasions, making or eating a noodle is a must since it signifies a long life. My mother is from the Philippines, and I knew this belief from her. Whenever it was my birthday, she always cooked me a noodle because she said represent a long life.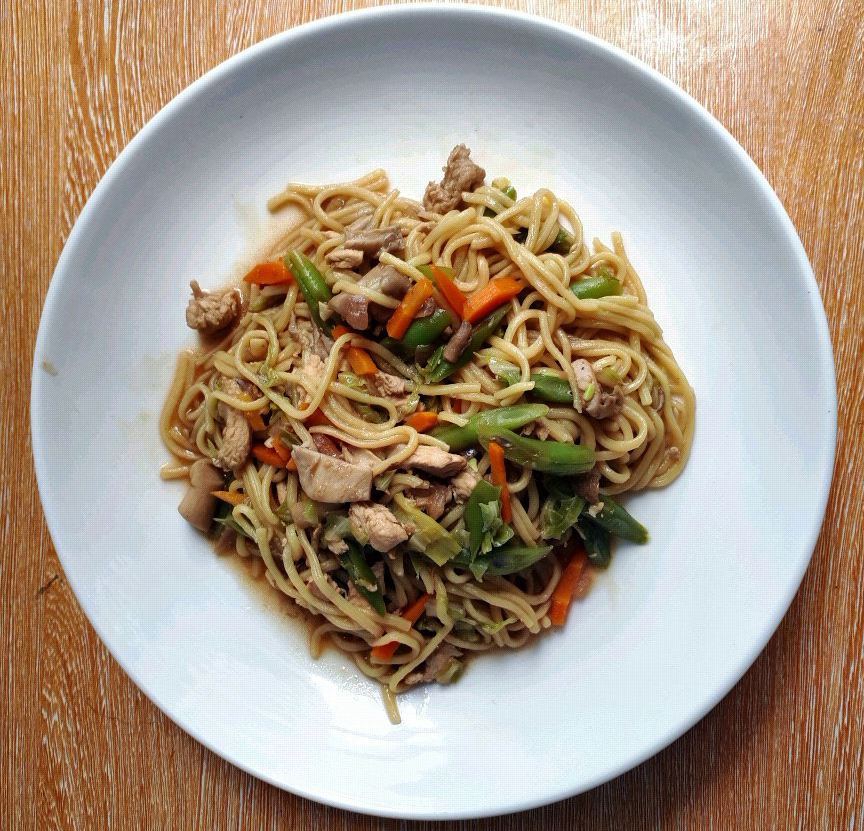 This is a very interesting cultural belief, which influenced me to cook my noodles. Countries like Malaysia, Philippines Thailand or Singapore have their version of making a noodle, and they are all influenced by Chinese. The recipe I will be making you today is called Chicken Pancit Canton. I used chicken as my protein because I love chicken, and it is my favorite meat.
Ingredients of Pancit Canton
Pancit Canton is a Filipino version of egg noodle dish which is mixed with meat and vegetables. You can add pork, chicken, beef or even seafood which all blends well with the noodle. To make the Chicken Pancit Canton, here is the ingredient I need.
First of all, I am using spring onion, cabbage, carrot, and green beans as my vegetables for making the noodle. They are important since it will make the noodle healthy. In the Philippines, Baguio bean is another name of green bean or french bean, but they are all similar beans. So nothing to worry.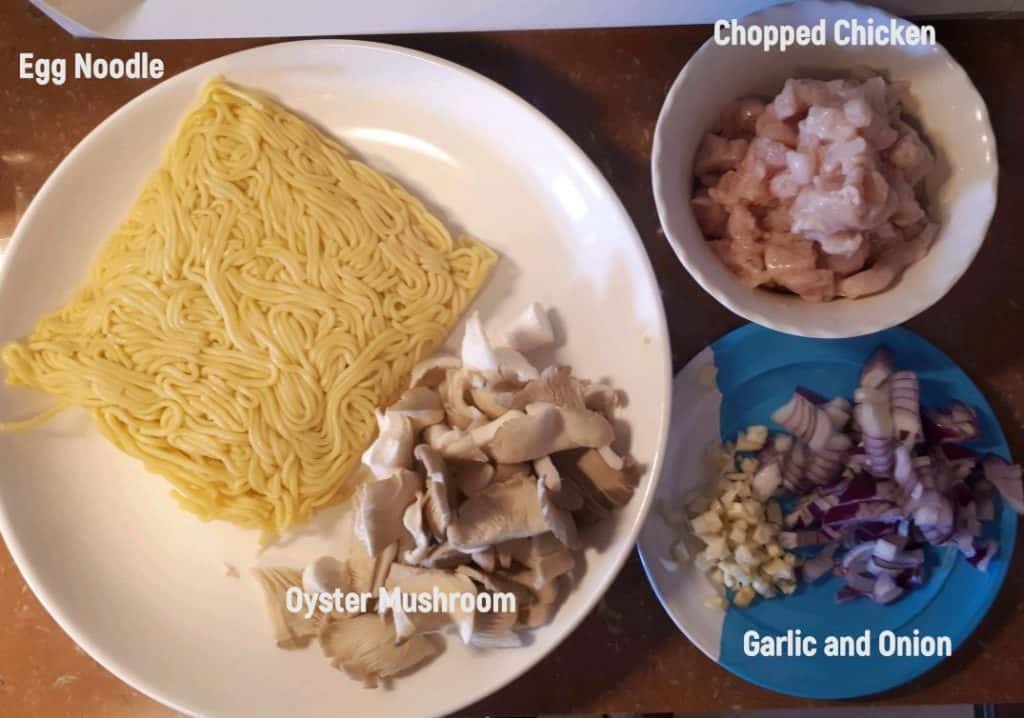 Secondly, I am using a sliced chicken, and oyster mushroom to add flavor in the noodle. The oyster mushroom is found in Asian grocery stores or in large supermarkets that sell imported products. The mushroom is optional if you can't find the oyster mushroom, and you do not even need to add any mushroom in your noodle dish.
And lastly, there are two important sauces you need to add for the flavor of your Pancit Canton- The Oyster sauce and the Soy Sauce. The Oyster is a thick brown sauce that is made from the juices of a boiled oyster and added with seasoning. This seasoning includes adding sugar, salt, and corn starch to thicken the sauce. These two sauces can be found again in Asian grocery stores or large supermarkets.
One thing to remember that I am not adding salt in my noodle dish. That is because the soy sauce itself already provides the saltiness since it has sodium content.
Instruction
Cooking the Chicken Pancit Canton is actually really easy and straight forward. Firstly, I add vegetable oil and added onion and garlic. After that, you add the mushroom, and then chicken, and let it cook for a few minutes. Later, you add the sauce on the meat, and then add water and vegetables, and let it boil for 3 minutes. Lastly, add the noodle, and mix it well, which you will have to let it cook for 6 to 8 minutes in low heat. And you're done.
But don't worry, I have the full detailed of the instruction and the ingredients below:
A delicious Chicken Pancit Canton Recipe
Course: Main
Cuisine: Asian, Filipino
Difficulty: Easy
Chicken Pancit Canton is a filipino version of egg noodle dish that is mixed with chicken, mushroom, and vegetables
Ingredients
1/2 cup of chopped carrot

1/2 cup of spring onion

1 cup of cabbage

3/4 cup of Baguio Bean (Green or French Bean)

1 cup of oyster mushroom or any mushroom

3 cloves of garlic

1 medium onion (1 cup)

250 gram of chopped chicken breast (1 cup)

250 gram of egg noodle

2 to 3 cup of chicken broth

1 and 1/2 tablespoon of oyster sauce

2 tablespoon of soy sauce

2 tablespoon of vegetable cooking oil

Black pepper for taste
Directions
Add the cooking oil in the pot. Once the oil is hot, add the onion and stir it for few minutes. After the onions turns into lighter color, add the garlic and stir up to 1 minute.

Add the mushroom, and stir it well. Let it cook for up to 3 minutes

Add the chicken and stir it well with the mushroom, garlic, and onion. Let it cook for several minutes until the juice from the chicken is almost evaporated

Add the oyster and soy sauce in the chicken, and mix it well

Add the chicken broth in the pot, and then add all the vegetables. Cook for maximum 2 minutes.

Add the noodle in the pot, and mix it well. Bring it to boil and simmer it for 6 to 8 minutes. Cook longer if you want to fully evaporate the sauce in the noodle.

Add pinch of black pepper and salt (if needed)
Notes
If you want the pancit canton less saucy, you can add 2 cup of chicken broth instead of 3 cups.
Mushroom is considered an option ingredients since it is not commonly used when cooking Pancit Canton
Chicken Broth is a mixture of chicken knor cube with water.
Nutrition Facts
4 servings per container
---
Calories420
Amount Per Serving% Daily Value *
Total Fat 13g

20

%
Sodium 700mg

30

%
Amount Per Serving% Daily Value *
Total Carbohydrate 61g

21

%

Dietary Fiber 7g

29

%
Sugars 6g

Protein 30g

60

%
Vitamin A

50

%
Vitamin C

29

%
Calcium

8

%
Iron

25

%
* The % Daily Value tells you how much a nutrient in a serving of food contributes to a daily diet. 2,000 calories a day is used for general nutrition advice.