Chicken Pancit Canton Recipe is a Filipino recipe which is an egg noodle dish mixed with chicken, vegetables, and sauces for seasoning. It is one of the most popular dish among locals which is delicious.

In the Philippines, Chinese cultures play an important part in their life. During birthdays, wedding or other important occasions, making or eating a noodle is a must since it signifies a long life. My mother is from the Philippines, and I knew this belief from her. Whenever it was my birthday, she always cooked me a noodle because she said represent a long life.
This is a very interesting cultural belief, which influenced me to cook my noodles. Countries like Malaysia, Philippines Thailand or Singapore have their version of making a noodle, and they are all influenced by Chinese. The recipe I will be making you today is called Chicken Pancit Canton. I used chicken as my protein because I love chicken, and it is my favorite meat.
Pancit Canton vs Sotanghon Guisado vs Pancit Bihon
If you tried Filipino noodle dishes, you will notice there are tons of noodle recipes such as sotanghon, canton, or bihon which might confuse you since the vegetables and the condiments are all the same.
Pancit Bihon: In this recipe, they use a thin rice noodle
Sotanghon Guisado: This type of dish uses a mung bean thread or vermicelli noodle which looks translucent in color.
Pancit Canton: In this recipe, we are using a egg noodle. In terms of textures, it is similar to a western pasta noodle except we are using a Chinese or Asian style noodle.
Recipe Ingredients
Here are my ingredients to make my pancit canton recipe:
Meat: For my protein, I am using chicken since this is my favorite meat and it is healthier than beef or pork.
Vegetables: To make this chicken pancit healthier, I add cabbage, carrots, mushrooms, and Baguio beans (green beans). The oyster mushroom is found in Asian grocery stores or in large supermarkets that sell imported products. The mushroom is optional if you can't find the oyster mushroom, and you do not even need to add any mushroom in your noodle dish.
Condiment: Soy sauce and oyster sauce are two of the most important condiments to make my pancit canton delicious and flavorful. You cannot make this recipe without having these two sauces in your ingredients.
Broth: To make the broth, I just used water and a chicken bouillon cube. They are important since it helps make the noodle soft.
Noodle: Of course, for pancit canton, you will need to use egg noodles for this recipe.
Step by Step Instruction
The instruction to make this chicken pancit is almost similar to any other Filipino noodle dish except I used a different type of noodle.
Firstly, I pour vegetable oil and when it is hot, I added chopped garlic and onion. Next, I added chopped mushroom and have it stirred for 5 minutes before I added the chicken breast. Stir till the chicken is almost cooked.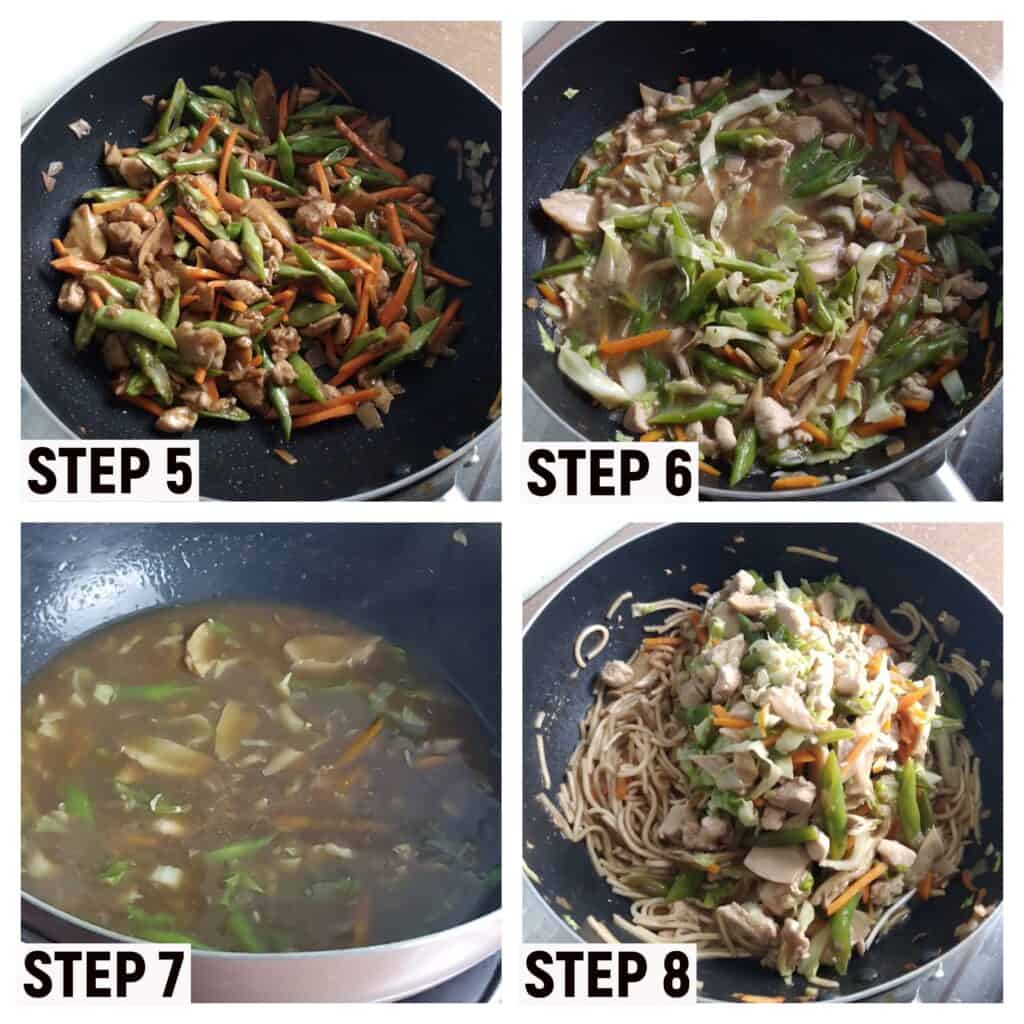 After that, I added the vegetables (except the cabbage) and I poured water. Stir to mix and then add the chicken bouillon cube. In this step, I let it boil so I let the vegetable become a bit soft before I added the cabbage. Have a quick stir before you remove most of the vegetables & the meat (90% of it). The purpose of this part is to put the noodle in the broth so they can become soft without overcooking the vegetables.
Once you add the noodle to the broth and you stirred till it becomes soft, put back the vegetables into the pan. Make sure you stir the vegetables and noodles before serving.
Notes: if you are confused with the instruction, you can always look at the video on the recipe card to give you an idea of how I cooked my pancit canton recipe.
Tips & Hints
If the noodle is still not soft, pour an additional ½ cup of water if needed.

Aside from chicken, you can add shrimp, chicken liver, or fish/squid ball.

Since adding more water might reduce the flavor, add 1 additional tablespoon of oyster sauce and soy sauce.

Instead of water and chicken bouillon cube, you can use ready-made chicken stock or broth that is sold in the grocery store.

You can eat this alone or you can serve it with crispy fried chicken or lumpia
Related Filipino Recipes
Here are other delicious Filipino noodle recipes:
📋 Recipe Card
Chicken Pancit Canton Recipe
Chicken Pancit Canton is a filipino version of egg noodle dish that is mixed with chicken, mushroom, and vegetables
Ingredients
½

cup

of julienned carrot

1

cup

of cabbage

¾

cup

of julienned Baguio Bean (Green Bean)

1

cup

of oyster mushroom or any mushroom

3

cloves

chopped garlic

1

medium

chopped onion

300

grams

of chopped chicken breast (1 cup)

300

grams

egg noodle

2.5

cup

water or chicken broth

3

tablespoons

oyster sauce

3

tablespoons

soy sauce

3

tablespoons

of vegetable cooking oil

Black pepper for taste

1

chicken bouillon cube
Instructions
Add vegetable oil to the large pot. Once hot, add chopped garlic and onion. Stir till it turns translucent.

Add chopped mushroom. Stir and let it cook for 3 to 5 minutes

Add the boneless chopped chicken breast. Stir till the chicken releases its juices and its almost cooked   

Add carrot and Baguio bean. Stir to combine before pouring water.

Add the chicken bouillon cube. When it's boiling, lower the heat and let it simmer for a few minutes or till the vegetable is almost soft. 

Add the cabbages and give a quick stir for 30 seconds. Remove the vegetables and the chicken from the cooking pot and transfer them to the plate. Set aside.

With the broth only on the pot, add the noodles and stir to combine till it becomes soft.

Put back the vegetables and the chicken into the noodle. Mix to stir one more time before you turned off the fire.
Notes
If you want the pancit canton less saucy, you can add 2 cup of chicken broth instead of 3 cups.
Mushroom is considered an option ingredients since it is not commonly used when cooking Pancit Canton
Chicken Broth is a mixture of chicken knor cube with water.
Nutrition
Calories:
420
kcal
Carbohydrates:
61
g
Protein:
30
g
Fat:
13
g
Saturated Fat:
2
g
Sodium:
700
mg
Fiber:
7
g
Sugar:
6
g