Filipino Style Spaghetti Recipe is a sweet spaghetti recipe that is mix with ground beef, hot dog, tomato sauces and cheese. It is a popular comfort food in the Philippines which is commonly serve during birthday parties and family gathering.
As a half Filipino, I was born in Kuwait and I am not really used to sweet spaghetti. I have tried and eaten many kinds of spaghetti from other countries and I find Pinoy style very unique. The locals in the Philippine love their sweet style spaghetti and this is the children's favorite comfort food.
The first time I tried this pasta when I went to Jollibee- a popular Filipino fast-food chain. And the second time I tried this food was at my nephew's birthday party in his house in the Philippines. Overall, I thought it may taste weird since their pasta is sweet but honestly, I find their sweet spaghetti delicious.
What makes their pasta sweet is because they add banana ketchup and/or condensed milk in their dish. The banana ketchup is a popular Filipino ketchup made from banana that plays an important part in their history and culture. If you are used to Italian or American style spaghetti, you may find it weird, but I promise you it tastes really good.
Staying here in the Philippines has taught me that local cuisines are mostly sweet and salty. Because I love local food, I will be showing you my version of Filipino Style Spaghetti Recipe.
The Recipe Ingredients
My recipe of the filipino style spaghetti ingredients is a bit different to a traditional pinoy spaghetti.
Here are the list of ingredient I am using for my recipe:
Thin Spaghetti Noodle
Ground Beef
Chicken or Beef Hot Dog
Chopped Onion and Garlic
Grated Cheddar Cheese or any cheese
Tomato Ketchup
Brown Sugar
Sweet Pasta Sauce or Tomato Sauce
Vegetable Cooking Oil
Soy Sauce
Oyster Sauce
Based on the list above, you can tell my ingredients are a bit different.
Firstly, I am not using banana ketchup or condensed milk in my recipe. I prefer to use sweet style tomato ketchup and brown sugar instead since they are healthier and taste better. I share this version recipe to my relatives in the Philippines and they love it.
Secondly, in the Philippines, the locals love eating pork, and they usually use ground pork or hotdog with pork contents in their pasta. As a Muslim, I don't eat pork, so I am using ground beef and beef/chicken hot dog. For a Muslim eater, this is a halal spaghetti
Lastly, I am using soy sauce and oyster sauce for seasoning my ground beef. These sauces are not commonly used in pasta, but to me, it gives a nice delicious flavor of the ground beef. The saltiness of the soy sauce can help balance the sweetness of the ketchup and sugar.
The rest of the ingredients are the same like any filipino spaghetti.
What do you serve with this recipe?
This Filipino spaghetti is best to serve and eat with crispy side dishes such as fried chicken, cheesy garlic bread or beef lumpia which blend this dish perfectly,
When I was at the party, both children and adults love eating pasta with something crispy, and they always include fried chicken or lumpia on their plates. Furthermore, popular fast-food restaurants such as Jollibee usually serve spaghetti with fried chicken or lumpia in their menus.
How to cook Filipino Spaghetti?
Once you have the ingredients, making this delicious filipino style spaghetti is easy and straight forward.
Firstly, add vegetable oil in a cooking pot. Once it is hot, add onion and garlic. Stir it for 2 minutes or till it is cook.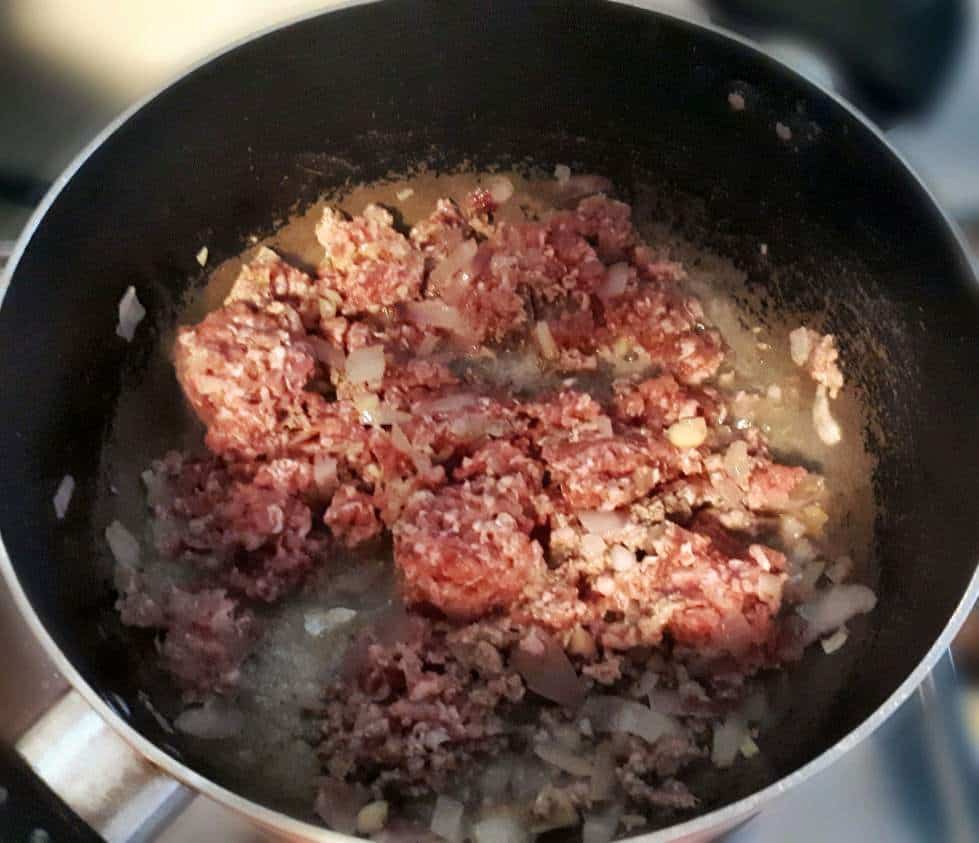 Add the ground beef in the pot. Cover with the lid, and let it saute for 3 minutes. Once the juices of the ground beef are fully evaporated, add the soy sauce and oyster sauce and give it a quick stir.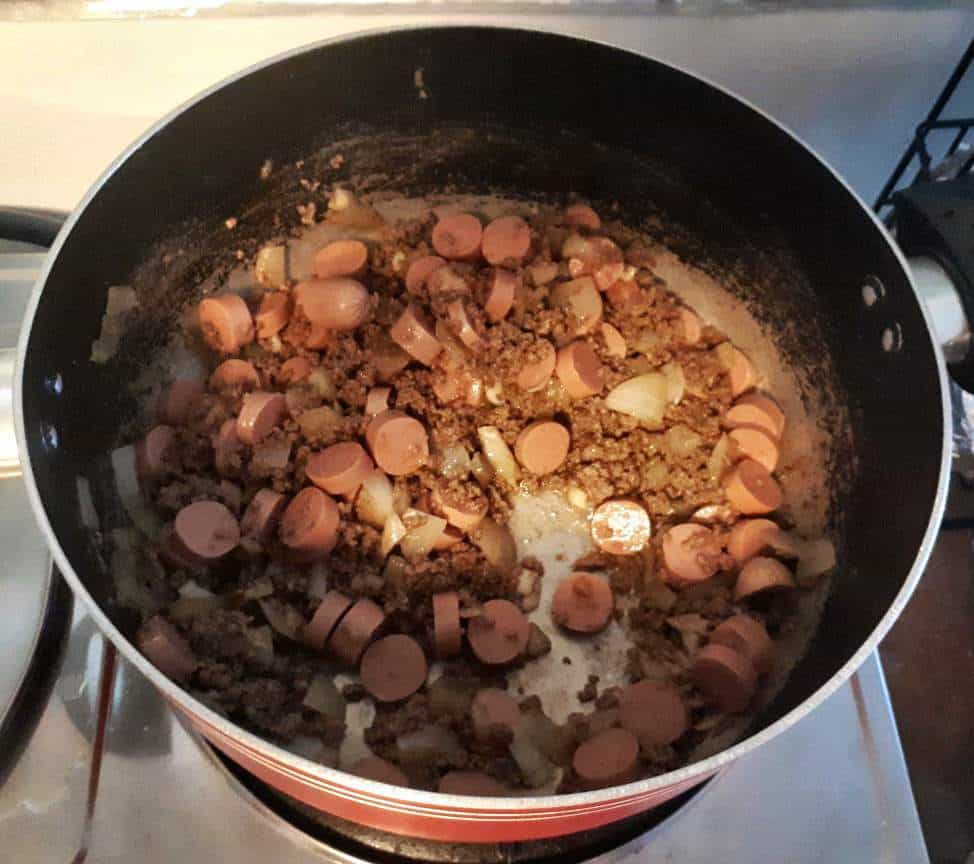 Add chopped hot dogs in the pot and stir to combine with the ground beef. Let it cooked for 2 minutes. Pour the tomato ketchup and the pasta sauce/tomato sauce in the pot. Cover with the lid and let it simmer for 5 minutes in low heat.
Lastly, add salt, black pepper, and sugar for taste. Pour the sauce over the spaghetti noodle in a plate and top it with shredded cheddar cheese before serving.
If you will like to make this recipe, here is the recipe card of this sweet style spaghetti
Other Pasta and Noodle Recipe
If you are looking for similar recipes, here is the list of pasta and noodle recipes you may like to try at home