Galayet Bandora Recipe is a sauteed tomato dish that is mixed with onion, olive oil, chopped beef, and potatoes. This is a traditional breakfast Jordanian food which is eaten using flatbread/pita bread or rice.
As a half Jordanian, this is one of my favorite Middle Eastern dish which is flavorful and delicious. When I was in Jordan for vacation, I have eaten this dish in a local restaurant and also in my relative's house.
Traditionally, Galayet Bandora is made with only tomatoes, olive oil, onion, and green hot peppers. Furthermore, It is a very simple dish which is very common among locals. However, in my experience, I found out this recipe has other varieties, which can be modified by adding eggs or meats such as lamb, beef stew meat, or ground beef.
I remember my father made his upgraded version of Galayet Bandora by adding beef and potatoes. This may not seem a traditional Jordanian food but it is a mouthwatering dish. He added even some spices to make this dish more flavorful. I promise you this one of the best Jordanian beef in a tomato sauce dish.
What is Galayet Bandora?
This is a traditional Jordanian food that is sauteed in a pan with olive oil, tomatoes, onion, and green pepper.
In Arabic, the word "Galayet" mean sauteed in a pan while "Bandora" means a tomato. By understanding the name, we can tell this is a sauteed recipe. Also, this is commonly an appetizer dish.
When I was in Jordan, most of these recipes are vegetarian since it has no meat. However, some varieties of galayet bandora; such as my father's recipe, meat, and some spices are added to help enhance the flavor.
Because I love this dish, I learned this recipe from my father, which I am excited to show you how to make one.
Recipe Ingredient
My ingredient is not traditional since I am adding spices and meat, but it is very delicious, and I am sure you will love it. Below are the ingredients of my version of making Galayet Bandora Recipe:
Olive Oil
Onion
Canned Tomatoes
Chopped Beef Stew Meat
Chopped Potatoes
Cumin
Allspice
Cinnamon
Salt & Black Pepper
Olive oil, onion, and tomatoes are 3 major ingredients for making this recipe. To me, I love adding a lot of olive oil and onion since it gives a nice flavor of the sauteed tomato dish. Also, instead of fresh tomatoes, I used canned crushed tomatoes since it is convenient and easy to use.
In addition to that, I include chopped beef stew meat and potatoes in my Galayet recipe. Adding these two ingredients makes this dish very appetizing since we all love potatoes and meat.
Lastly, I am adding cumin, allspice, and cinnamon to help spice up my Arabic beef sauteed tomato dish. Traditionally, we don't add spices in this recipe, but I find it delicious and flavorful when you use them. Of course, I add salt and black pepper for seasoning before serving this dish
What do you serve with this recipe?
Beef Galayet Bandora Recipe is best to serve and eat with rice or bread. In Jordanian and Middle Eastern culture, we love eating this food using Arabic Kuboos bread, which is a Middle Eastern pita bread.
Furthermore, because this is a breakfast meal, it is best to serve with other side dishes such as scrambled eggs, hummus, vegetable salad, zaatar bread, pickles, and Arabic tea.
If you are looking for other dishes that are perfect to serve and eat with Galayet Bandora, here are other recipes that you may like to try at home:
Step by Step Instruction
Firstly, add olive oil in the pan. Once it is hot, add the onion and stir for a few minutes till it is cooked. Next, add the sliced beef and let it sauteed for 5 minutes or till it is tendered.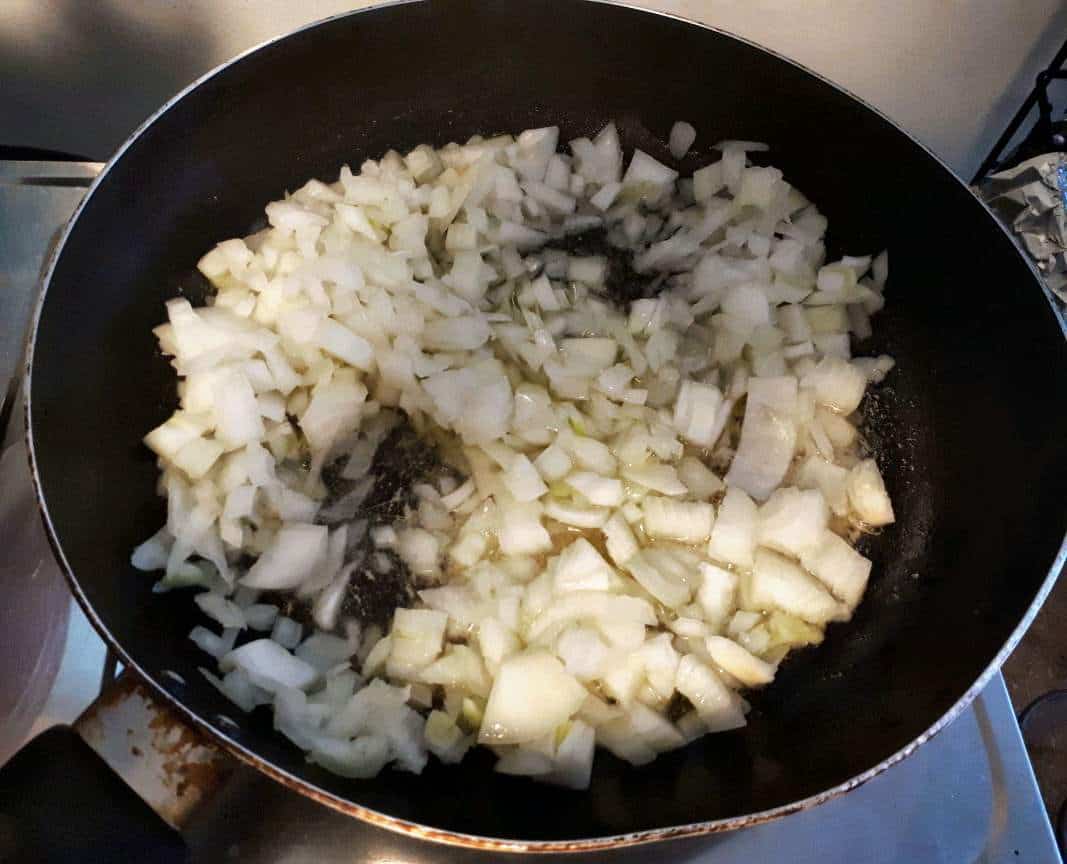 Later, add the canned crush tomatoes, cumin, allspice, and cinnamon in the pan. Give a quick stir till it is well mixed. Add chopped potatoes and stir to mix the other ingredients. Cover with the lid and let it simmer for 10 to 15 minutes in low heat or till the sauce become thick.
Lastly, add salt and black pepper for taste. Turn off the heat and serve with flatbread/pita bread or rice.
For full instruction of Beef Galayet Bandora, here is the recipe card below:
Have you tried making this Jordanian sauteed tomato with beef dish? Let me know in the comment below.