Kuboos Bread is an Arabic flatbread recipe that is made using whole wheat flour. This type of flatbread or pita bread is healthier since it is high in fiber.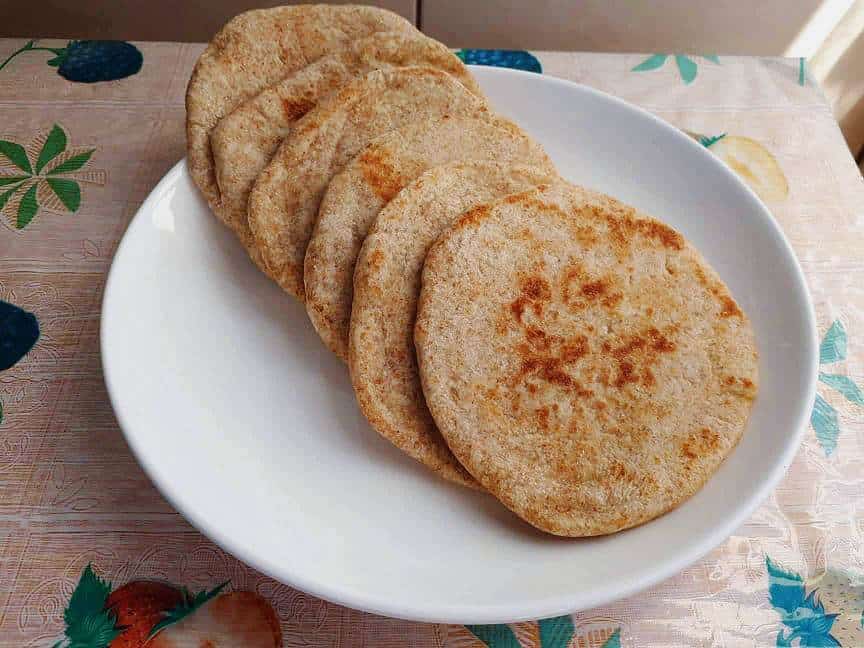 Jump to:
When I was living in Kuwait and Jordan, I learn that pita bread is a popular staple food in the Middle East. For thousand of years ago, it has been a traditional food used among locals which makes this an ancient food.
We like to eat and serve it with hummus, pickled vegetables, scrambled egg, cheeses, and many Arabian dishes. Also, we use this bread to wrap the chicken or kebab when making a sandwich.
In Arab countries, we called this Arabic flatbread or pita bread "khubz" or "Kuboos" which in English means bread. If you visit any Middle Eastern country, you will notice that the locals in a restaurant prefer to make this pita bread using a traditional clay oven.
What makes this bread better?
Every country has its version of flatbread. But, to me, I prefer my Arabic Kuboos over other flatbreads for 2 reasons.
This Arabic Pita Bread is high in fiber since we are using whole wheat flour. Making brown bread is more traditional and taste way better than using white flour.

This bread is considered very healthy and nutritious since it is rich in extra virgin olive oil, and no chemicals are added.
Difference between Arabic Pita Bread, Mexican Tortillas and the Indian Roti
If you are not familiar with types of flatbread, you will be confused since they all look similar.
The Arabic Kuboos is a leavened flatbread or pita bread that contains yeast, and it is rich in olive oil. This type of bread is soft and thick which they can use either Whole wheat flour or all-purpose flour.
The Mexican Tortillas is a thin flatbread usually used as a sandwich for tacos or burritos. They are not leavened since they don't contain yeast.
Lastly, the Indian Roti flatbread used whole wheat flour, and they are thinner, which are unleavened. Sometimes, they use either butter or vegetable oil in their dough.
Recipe Ingredients
The ingredients to make this Arabic Kuboos bread is similar to most flatbread recipes which are easy to make.
Flour: The Arabic Pita bread can be made either using all-purpose white flour or whole wheat flour. But, traditionally, we are usually using whole wheat flour as our main dough ingredient.
Olive Oil: I am using Extra Virgin Olive oil since it smells and tastes better. Also, the olive oil makes the dough soft and smooth.
Other Ingredients: Other common ingredients that you need, which are similar to other flatbread recipes, include yeast, water, salt, and sugar.
Step by Step Instruction
To make Arabic Kuboos bread, there are 3 things to do: Making the Dough; Assembling and Rounding the Pita Bread, and Cooking the Kuboos.
I. Making the Dough
This part is the same as making any dough. All I did it's just mix all the ingredients in a large bowl. And then you knead it until it turns soft and fluffy.
Make sure you cover it with a plastic wrapper so that it will increase in size after 1 hour.
II. Assembling and Rounding the Pita Bread
In this part, I remove the dough and divided them into 7 to 8 pieces, which I shaped into a ball.
Next, I use the rolling pin to make it into a round shape with at least 7 inches in width.
III. Cooking the Kuboos
In this part, I use an ordinary pan which I heated before I put the round pita bread. You just need to heat it on each side for at least 30 seconds before you notice it will start puffing up. After that, I inverted it and repeat the process.
Remember, if it doesn't puff up, it is still considered cooked, as long you saw a round spot of the bread.
Notes: This is just a summary, for full detail of the recipe, you can check it on the recipe card below.
Variation and Tips
Using Extra Virgin Olive Oil (EVOO) enhances the flavor and makes the bread soft. If you don't have EVOO, you can use ordinary olive oil.

Instead of water, you can add milk which makes the kuboos tasty. This is similar to my Greek flatbread which they use milk too.

When reheating in the microwave, do not set it in a high setting. This will make the pita bread hard and chewy.

I use brown sugar since it is healthier, but you can use white sugar if you want to.

This is gluten-free friendly since I use whole wheat flour.

If the dough is too sticky, add more flour. But, if it is too dry or rubbery, add more water when needed.
What to serve this Pita Bread with?
A. You can use this Kuboos bread to eat with other dipping dishes like Hummus, Labneh, or Aubergine Dip (Baba Ganoush)
B. Using it as a wrapping sandwich for chicken kafta, falafel, beef kofta kebab, or shawarma
C. Serve and eat together with other side dishes like scrambled egg, olives, galayet bandora, Lebanese moussaka, or shakshuka.
Recipe Frequently Asked Question (FAQs)
1. What simple Kitchen appliances or equipment you need to make this Arabic Kuboos Bread?
You will need a wooden or plastic dough roller pin to make a nice thin and round pita bread. Also, you need a pan or skillet to cook the flatbread
2. Is Pita bread and Arabic flatbread the same?
Pita bread is a type of yeast-leavened middle eastern bread that is found in most Arab countries. Calling it an Arabic flatbread or "Kuboos" in our language is just another name for Pita Bread.
3. How do you reheat a Kuboos bread?
First, you can heat it directly on the fire of the cooking stove, where it will just soften and warm the bread.

Or, you can use a microwave where you set in medium-setting and heat it between 1-2 minutes maximum or till warm.
4. How long can it last in the Fridge?
I highly recommend you store it in the freezer since it will last up to 1 month. If you use the refrigerator, it will only last up to 1-2 weeks.
📋 Recipe Card
Arabic Kuboos Bread
This Kuboos bread is an Arabic flatbread made from whole wheat dough, olive oil, salt, sugar and yeast.
Ingredients
3

cup

of whole wheat flour

1

cup

of water

2

teaspoon

of instant yeast

1

tablespoon

of brown sugar

½

teaspoon

of salt

4

tablespoon

of Extra Virgin Olive Oil
Instructions
Making the Dough
In a glass, mix the warm water, yeast and brown sugar gently. Set aside.

In a large bowl, add the whole wheat flour and salt, and then pour the water mixture. Mix gently

Add olive oil in the flour-mixture, and start kneading until its soft and fluffy

Cover it with the plastic wrapper and set aside for 1 hour to double in size.
Assembling and Rounding the Flatbread
Once the dough grew in size, remove it and transfer into a clean table.

Use your hand to roll into a long cylindrical shape, and then divide them into 7-8 pieces using the knife. Shape this each pieces into a ball shape

To start shaping the flatbread, sprinkle a drop of flours on the table. On each ball, stroke them gently using a roller pin until it turns into a round flatbread. The wide size should expect to be at least 7 inches.
Cooking the Kuboos
In a cooking pan or iron skillet, set the gas stove in low to low-medium fire

Place each round flatbread into the pan. Let it heat for 30 to 45 seconds seconds or less until it started to puff up.

Flip it using the spatula and let it heat again for another 30 seconds or until it started to puff up forming a pocket.

Cover it with towel to help maintain the warmness of the kuboos.

Notes
If the dough is sticky add 1.4 cup of flour and knead it gently until you are satisfied with the texture of the dough. Add more flour if needed
If it is too dry, add 1.4 cup of water and repeat the process. Add more water if needed
To make sure it puff up, cover the pan with the lid when cooking so the heat will distribute equally.
Nutrition
Serving:
1
g
Calories:
181
kcal
Carbohydrates:
34
g
Protein:
6
g
Fat:
8
g
Saturated Fat:
1
g
Polyunsaturated Fat:
6
g
Sodium:
135
mg
Fiber:
5
g
Sugar:
2
g