Kimchi Fried Rice Recipe is a korean rice dish that is mixed with kimchi, bean sprout and gochujang sauce. It is served with sunny side up egg to add some protein.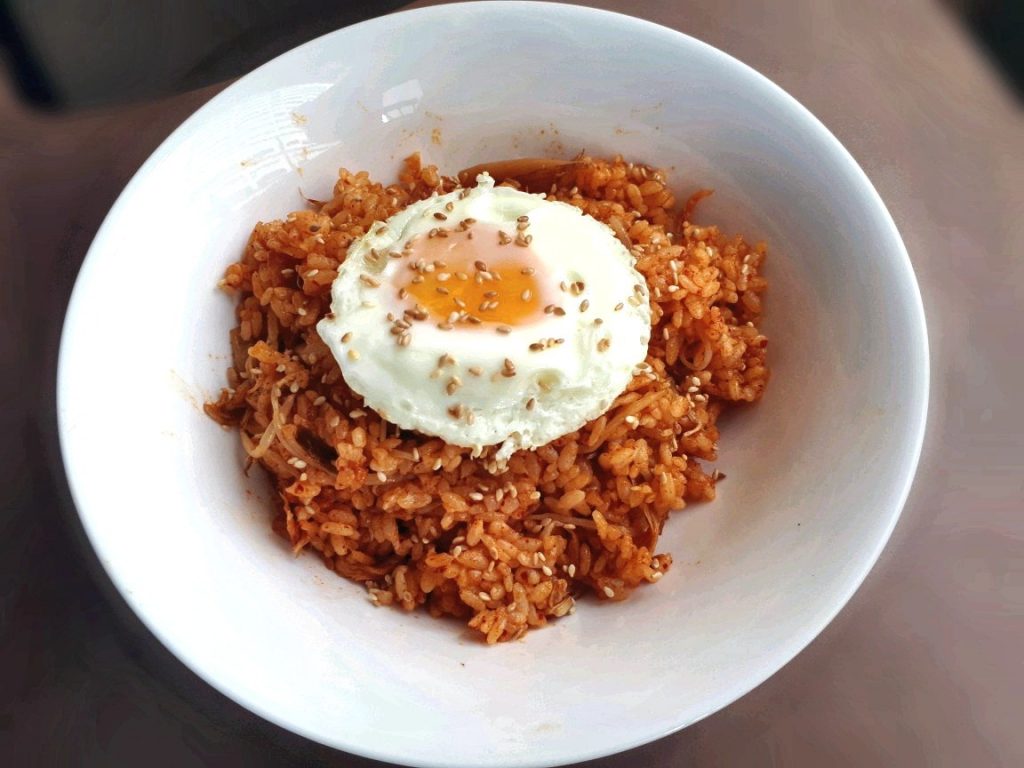 Jump to:
This is a vegetarian dish which is healthy and delicious. Furthermore, If you will like to add meat, ground beef is a perfect add on protein for this dish.
Do you know that Korean food is one of the healthiest food in the world? In the Philippines, I noticed there are Korean restaurants everywhere since it is very popular in this country. I have tried many korean restaurant in my current city, and I find them very delicious and spicy.
I noticed in korean dishes, their food are rich in red peppers and kimchi. This what make their food really delicious. In this post, I will be showing you my version of Kimchi Fried Rice.
What is Kimchi?
When eating in a Korean restaurant, I observed the common dish they served is Kimchi.
Kimchi is a korean fermented vegetables mixed with cabbage and radish. It is made of gochujang or red chilies, pepper, ginger, garlic and other herbs / spices. It has a sour taste, and it is mildly spicy because they added red pepper. The kimchi can be stored for many months or even years, which can be put in the refrigerator.
Some people may not like the taste since it has a perfume smell. But to me, I get use to the taste of the kimchi. If the Middle East and the United States have their pickle, then Koreans as well have their Kimchi. Also, it is a very healthy dish that is rich in antioxidants and is considered as a probiotic food.
Recipe Ingredients
To cook Kimchi Fried Rice, you will need Kimchi since this is the main ingredient. I used prepared kimchi which is sold in Korean grocery stores. You can also find this in a supermarket, where they sell imported food products in the international or Korean section. Also, you can also check the link to make your homemade kimchi recipe.
In addition to that, I also use sesame oil to give a nutty flavor to the rice. In most Korean ingredients, sesame oil is as important as olive oil to western cuisine.
Furthermore, I use Bean sprout as a vegetables for my fried rice, and ingredients to make a sauce. The sauce is a combination of soy sauce, sesame oil, kimchi juice, and gochujang (Korean red chili paste). The kimchi juice comes directly from the Kimchi. You might notice there is a liquid when removing the kimchi from the jar or container.
Before cooking the Kimchi fried rice, I already made a sunny side up egg. I also roasted the sesame seed using the frying pan. You just have to make sure it turns light brown (not dark brown) before removing it, and transfer to a separate cup for later garnish.
Step by Step Instruction
Firstly, add oil in the frying pan. Once it is hot, add onion & garlic, and stir it for a few minutes.
Secondly, add kimchi followed by bean sprout and stir it for a few minutes. Once the vegetable is almost cooked, add the rice and mix it well.
Lastly, add sauces, sesame oil, and salt, and mix the rice again. Once it is done, make a sunny side up egg in a separate pan, and transfer into the rice, and you are done
Tips and Hint
Before frying the kimchi, you have to slice the kimchi into small pieces so it could be mixed well with the rice

If you don't want the fried rice to be spicy, you don't have to add gochujang in the sauce.

Use a non-stick frying pan since the short-grain rice can easily stick into the pan.

If you prefer healthier rice, you can use brown or red rice. This rice might be hard, but they are nutritious, and it has high in fiber.

If you are vegan or vegetarian, you can disregard the egg and replace it with tofu. They both taste delicious.
Other Korean Food Recipes
If you love Korean food, here are other recipes you may love to try cooking at home:
Questions and Answers
1. What type of rice do I use for this recipe?
For this Korean fried rice, I am using white steamed rice. I highly suggest that you should use short-grain white rice. They are easier to cook and help stick together.

Alternatively, you can use long grain steamed rice like Jasmine rice if you like. It will not make a difference except the rice may not stick together.

2. What do you serve kimchi fried rice with?
This Korean fried rice is commonly served with a sunny side up egg as an add on protein. In my experience, most Korean restaurants serve this fried rice with egg.

In addition to that, I love eating kimchi fried rice with vegetable lumpia and Korean beef stir fry. It may not be traditional to the locals, but I find it delicious, which blends well with the fried rice, fried spring roll, and beef stir fry.
3. How long can you keep it in the fridge?
This fried rice dish can be stored in the refrigerator for up to 5 days since spicy food tends to get spoil easily.
4. What other vegetables I can add in this dish?
Although not traditional, you can add other vegetables like raddish, napa cabbage, tofu, or bok choy. That way, the more you add vegetables, the healthier is this fried rice dish.
📋 Recipe Card
Kimchi Fried Rice
Kimchi Fried Rice Recipe is a vegetarian Korean rice dish mixed with kimchi, bean sprouts, gochujang sauce, and served with sunny side up egg.
Ingredients
3

cup

of cooked Japanese Rice or any short grain rice

¼

cup

of kimchi juice from the kimchi

1

and ½ cup of bean sprouts

1

cup

of chopped kimchi

1

chopped of medium onion

1 cup

3

gloves of garlic

1

tablespoon

of sesame oil

2

tablespoon

of soy sauce

2

tablespoon

of cooking oil

1

teaspoon

of Korean red chilli pasta gojuchang

Optional

3

cooked sunny side up egg

1 egg for each serving rice (Optional)

1

tablespoon

of toasted sesame seed

For Garnish (Optional)
Instructions
Add two tablespoon of cooking oil in the frying pan in a medium heat.

Once the oil is hot, add onion first. Stir it for few minutes or until it turns light brown. After that, add garlic and stir it up to 30 seconds to 1 minute.

Add the kimchi in the frying pan, and stir until it almost cooked. Later, add the bean sprout, and mix it well. Let it cook for 2 to 3 minutes.

Add the cooked rice in the pan, and stir it for up to 1 minute. Add the soy sauce, sesame oil, kimchi juice, and gochujang paste (Optional if you don't like spicy) and mix it well.

For serving size, transfer 1 to 1.5 cup of kimchi rice in the plate or bowl. Add one sunny side up egg, and garnish with roasted sesame seed.


Notes
If you don't have gojuchang sauce, you can use siracha sauce instead
Sesame seeds, sunny side-up egg and gochujang paste are only optional and you can cook your fried rice without them.
Nutrition
Serving:
1
g
Calories:
718
kcal
Carbohydrates:
106
g
Protein:
19
g
Fat:
24
g
Saturated Fat:
4
g
Polyunsaturated Fat:
18
g
Cholesterol:
185
mg
Sodium:
600
mg
Fiber:
4
g
Sugar:
13
g