Vegetable Lumpia Recipe is a deep fried Filipino spring roll which is mix with potatoes, green beans, & carrots. It is a vegetarian dish which is commonly eaten with white rice.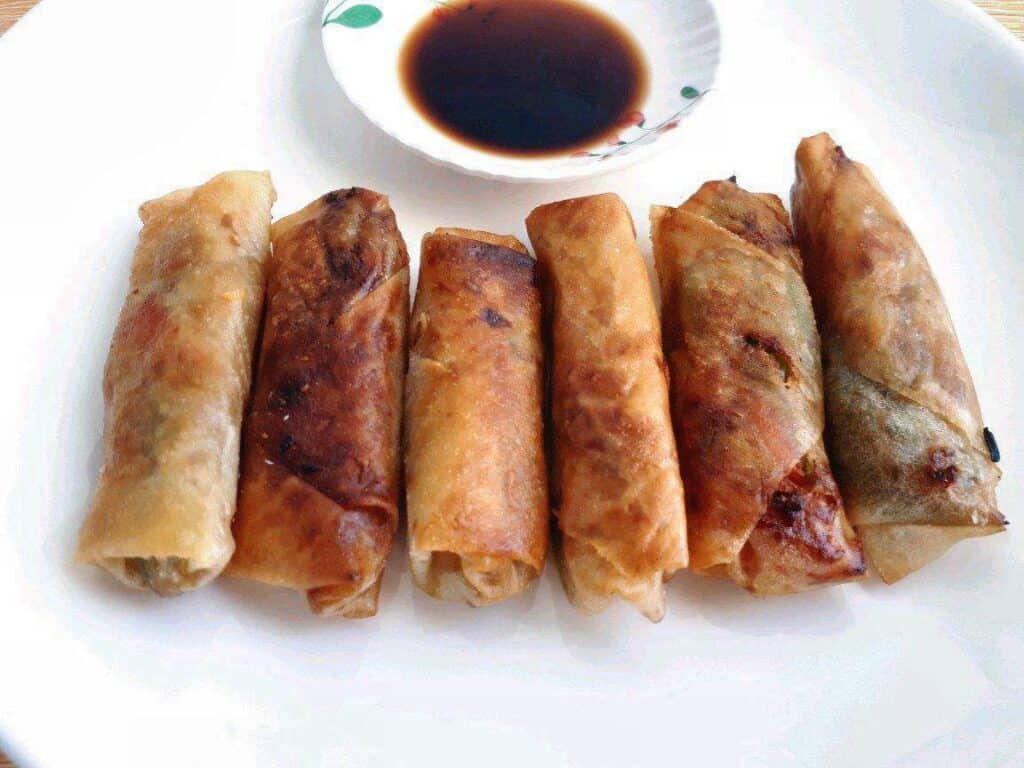 This Lumpiang Gulay can be found in most carinderia (local canteen) in the street and most Filipino restaurants. As a half Filipino, this is one of my favorite Filipino vegetable dish which is crunchy and delicious.
While living in the Philippines, my families and relatives always serve this food during birthdays, family gatherings, and Fiesta. Furthermore, it is a traditional Filipino food dish that is part of their culture.
In this post, I will be showing you how to make a traditional Filipino Vegetable Lumpia Recipe.
What is Lumpia?
Lumpia is a spring roll that is commonly found in the Philippines and other Southeast Asian cuisines. It can either be fried in the oil or steam from the water. It is covered with a plastic-like pastry skin called the Lumpia Wrapper.
You can find this Lumpia wrapper or Spring roll wrapper in most Filipino and Asian grocery stores. Traditionally, it is filled with ground meat or vegetables.
The name of the Lumpia depends on the filling. If it is added with ground beef or pork, it is called Lupiang Shanghai. But, if it is filled with vegetables, we call it Lumpiang Gulay.
The Recipe Ingredients
The ingredient of vegetable lumpia recipe is easier than making a Beef Lumpia.
Firstly, for fillings the spring roll, I only use 5 vegetable ingredients for this recipe:
Grated Onion
Grated Garlic
Julienne Green Beans
Julienne Potatoes
Julienne Carrots
Secondly, I am using two sauces for seasoning the vegetable: Soy Sauce and Oyster Sauce. They give a nice salty and sweet flavor of the vegetables. Also, if you don't have soy sauce, you can alternatively use fish sauce.
Thirdly, you need vegetable cooking oil for sauteing the vegetables and frying the vegetable spring roll. I am not using salt or black pepper since in this recipe since the soy sauce contains sodium content.
Lastly, I use a ready-made spring roll or lumpia wrapper where you can buy in any Asian grocery store.
Note: If you don't like to julienne the vegetables, you can chop or dice them instead.
Step by Step Instruction
After preparing and Julienne the vegetables, the step to make vegetable lumpia is easy which I divided into 3 steps- Cooking the vegetables; Assembling the Lumpia, and Deep Fry the Lumpia.
I. Cooking The Vegetables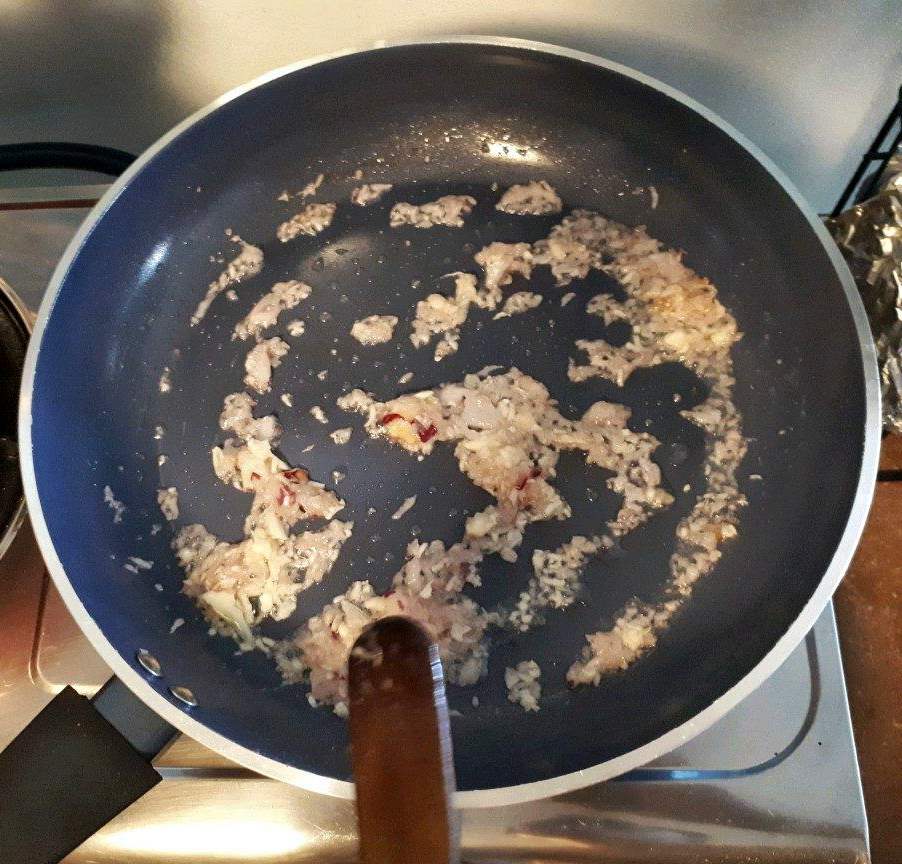 Prepare 1 tablespoon of vegetable oil in a large pan. Once it is hot, add the grated onion and garlic. Stir it for less than a minute or till it becomes light brown.
Add the julienne green beans, potatoes, and carrot in the pan. Stir the vegetables with onion and garlic for few minutes or till it becomes soft. Lastly, add soy sauce and oyster sauce and give it a quick stir again.
After the vegetable is cooked, turn off the heat and let it cool down for 5 to 10 minutes.
II. Assembling the Lumpia
Once the vegetable cool down, prepare a lumpia wrapper for covering the vegetables.
Position first the wrapper on a diamond shape, and then add 1 to 1.5 tablespoon of vegetable fillings. Fold the opposite edges of the wrapper and roll them till you get a log shape. Brush the edge of the wrapper with egg white to help seal them together.
III. Frying the Lumpia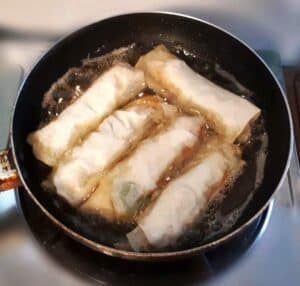 In a separate pan, add 1 to 1.5 cups of vegetable oil. Once it becomes hot, add the lumpia in the pan. Let it deep fry for 2 minutes or till it becomes golden brown. Flip to the opposite side, and continue deep-frying till it turns golden brown.
Once your done, transfer the lumpia into the plate with a paper towel to help drain the excess oil. Serve it with vinegar with soy sauce and white rice before eating.
Recipe Faqs
How long does lumpia last in freezer?
After assembling the Lumpiang Gulay, you can store the rest in the freezer for 1 to 2 months. This will help prevent the spring roll from getting spoiled.

Can i cook the Vegetable Lumpia in an Air fryer?
Absolutely. If you prefer a healthier spring roll, you can cook using air fryer in 180 C or 350 F for 10 to 12 minutes. This will give a nice crispy texture of your lumpia.

The only downside of using air fryer will be a bit dry. If you don't want it to be dry, drizzle them with oil before putting on the air fryer.
Can I add other vegetables in this lumpia?
In addition to green beans, carrots, or potatoes, you can add other vegetables such as bean sprouts or tofu. They are healthy and rich in protein.
What can I serve with this lumpia?
Traditionally, we eat lumpia or spring roll with white rice and vinegar sauce. Personally, I am mixing with vinegar and soy sauce since I love a combination of sweet and salty sauce for my dish.

Also, lumpia is eaten with other Filipino dishes which include vegetarian, fried rice, chicken/meat, or seafood dish.
Is this recipe a vegan friendly?
Vegetable Lumpia Recipe is a vegetarian spring roll dish. I don't add any meat in this recipe, and the spring roll wrapper is gluten-free. To make this dish a vegan friendly, you can switch oyster sauce with sugar.
Other Filipino Recipes to try
Here are other delicious Filipino recipes that you can try at home: