Cheese Fatayer is a Lebanese cheese pie that is mixed with feta & mozzarella cheese and parsley. It is a popular breakfast or snack in Lebanon, Jordan, and other Middle Eastern countries.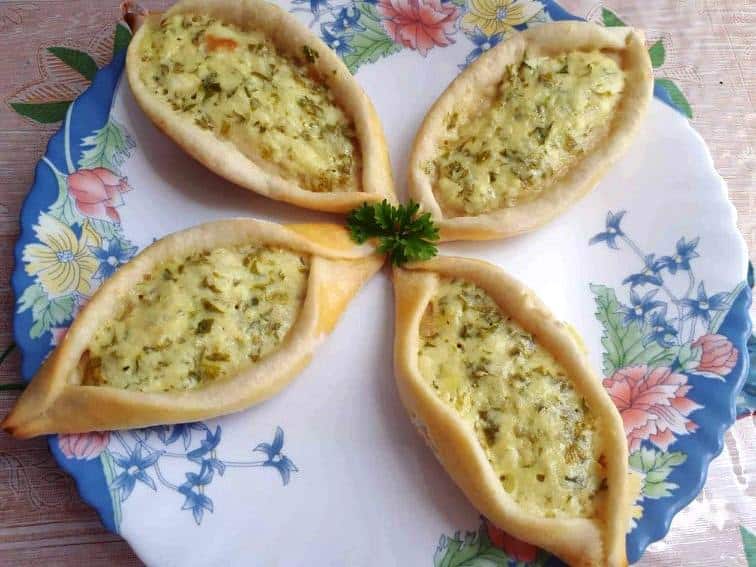 Jump to:
While living in Kuwait and Jordan for the past 18 years, I have tried many delicious fatayers and Middle Eastern pizzas, which include meat, spinach, and cheese pie. These breads are perfect to make during Ramadan, Eid holidays or special occasions. Out of all the middle eastern pies, the cheese is my favorite.
Cheese fatayer is made from dough similar to pizzas and pita bread. The cheeses, parsley, and egg are mixed in a separate plate bowl before you topped it into the pie.
This fatayer can be shaped into an empanada or sambusa style, where it is fully covered. It can made it into a boat shape, where the center of the pie is uncovered. In this recipe, I prefer to make my cheese fatayer into a boat-shaped since it is easier for me.
Difference between Arabic and Turkish style?
This fatayer is an Arabic style which I am using feta cheese that is a bit salty. Also, the size of my pie is smaller compared to the Turkish version.
In Turkey, this recipe is called a Pide instead of Fatayer, which is mix with Cheddar and Mozzarella cheese. Furthermore, their pide is big and not as salty as the Arabic style.
Recipe Ingredients for the Topping
Here are the important ingredients I used to make my cheese fatayer recipe:
Cheese: The cheeses I used in this recipe are Feta and Mozzarella cheese. You can alternatively use Akkawi instead of Feta.
Herbs: To add some herbs to the cheese, I use parsley, which I mix it with the cheese.
Egg: The egg is important because it serves as a binding agent when combining with cheese and parsley.
Recipe ingredients for the Dough
The ingredients to make the dough for the fatayer are similar to my pizza, flatbread, and pide recipes. Here are the ingredients I used to make my dough:
White All purpose flour
Extra Virgin Olive oil
Yeast
Salt
Sugar
Water or Milk
How to make the Dough
To make the dough of the cheese fatayer, I first mix with yeast, warm milk/water, and brown sugar in a large cup. Set aside.
In a large bowl, I add the all-purpose flour, olive oil, salt, and yeast mixture. Mix using the large spoon and then knead using your hand till it turns soft and fluffy After that, cover the with a plate or towel and leave for 1 to 1 ½ hours to let the dough grow.
How to make the Cheese Topping
While waiting for the dough to grow, I use my remaining time to make a cheese topping for my fatayer.
In a large plate bowl, I add the shredded feta & mozzarella cheese, egg, and chopped parsley and mix it together. I set aside until the dough is done.
How to Assemble the Fatayer
When the dough already grew in size, transfer it to a clean table. I roll the dough to make into a long cylindrical shape, which I use the knife to divide into smaller pieces. Furthermore, make sure you shape each of them into a ball shape.
To make a fatayer, I use the rolling pin to make it into an oval shaped dough. Also, make sure you don't make it too thin or big, for this will break the dough.
To add the topping, I add 1 ½ teaspoon of cheese mixtures in the dough, and I spread on all sides. Next, I fold them on all sides and squeeze them at each end of the side to make a boat-shaped dough.
Lastly, I brush each side of the dough with egg wash before I transfer them into the oven. Bake it for 200 C or 390 F for 15 minutes and you are done.
Frequently Asked Question (FAQ's)
1. Can I add other herbs or vegetables in my fatayer?
Aside from parsleys, you can add mint or spinach, which they blend well with the cheese fatayer
2. What other cheeses I can use in this recipe?
In the Middle East, we use a Levantine cheese called Akkawi cheese. However, because it is rare to find in other countries, I use Feta cheese which is popular alternative to Akkawi. In addition to that, you can use other cheeses like Mozzarella or Cheddar.
3. What can you serve this fatayer with?
This cheese pie is rarely eaten alone and it is served during breakfast or snacks with other foods. We usually serve it with hot tea and other breads/pie like zaatar manakish, spinach fatayer or mini pizza.
4. Can you store in the fridge for later use?
You can keep it in the fridge for up to 5 days without worrying about the fatayer getting spoiled. However, to last longer, I recommend in the freezer since it can store up to 2 months.
5. Can I make my cheese fatayer into a vegetarian friendly recipe?
I cannot make this recipe vegan-friendly since it contains cheese. But, to make into vegetarian-friendly, you can use olive oil instead of an egg when combining the cheese and the herbs. It can serve as a binding agent.
Related Middle Eastern Recipes to Try
Here are other related bread or dough-based Middle Eastern recipes that you may be interested:
Cheese Fatayer Recipe
Prep Time:
1 hour
15 minutes
Total Time:
1 hour
30 minutes
Cheese Fatayer is a Lebanese pie recipe which is mixed with feta & mozzarella cheese and chopped parsley
Ingredients
Ingredients for the Dough
2 cup of white flour
1 cup of milk or water
1 ½ tablespoon of Extra Virgin Olive oil
1 tablespoon of brown sugar
1 teaspoon of yeast
½ teaspoon of salt
Ingredients for Cheese Topping
1 large egg
¾ cup of feta cheese
½ cup of chopped parsley
½ cup of mozzarella cheese
Instructions
Making the Dough
Mix warm milk, yeast, and brown sugar in a large cup. Set aside
Add flour, salt, olive oil and yeast-water mixture in a large bowl.
Mix using the Wooden Spatula followed by Kneading until it turns smooth and fluffy.
Cover it with the towel or plate and leave for 1 hour to 1 ½ hours to let it grow in size.
Making the Cheese Topping
Shred the feta cheese & mozzarella cheese, and chop the parsley.
Transfer all of them into a large plate bowl.
Pour the egg and start mixing all of them using the spoon. Set aside
Assembling the Fatayer
Remove the dough and transfer into a clean table.
Use your hand to roll into long cylindrical shape
Divide into 10 to 12 pieces using the knife. Shape each into a ball
Use the rolling pin to make into a oval shaped dough
Add the cheese mixture into the dough and spread in all sides using spoon
Fold and close at each end of the side to have a boat-shaped dough. Make sure the center remain opened
Brush the surrounding edge of the dough with egg wash to have a golden color before baking
Transfer into the oven and let it bake for 15 minutes in 200 C or 390 F.
Once done, serve with hot tea or other breads you like.




Notes
To make it vegetarian friendly, you can use olive oil instead of egg
Nutrition Information
Yield

10
Serving Size

1
Amount Per Serving
Calories

182
Total Fat

7g
Saturated Fat

3g
Trans Fat

0g
Unsaturated Fat

3g
Cholesterol

35mg
Sodium

268mg
Carbohydrates

22g
Fiber

1g
Sugar

2g
Protein

7g