Cheese Pide is a Turkish-style baked pizza recipe that is topped with cheddar and mozzarella cheese. It is simple yet delicious, which they can be served during breakfast, lunch, or brunch.


Jump to:
While living in the Middle East, I have tried and eaten many Arabian and Middle Eastern flatbread and pizza recipes. In Kuwait, I came across a Turkish baked shop that made delicious baked bread called Pide.
There are several kinds of pide in Turkey which includes meat and vegan dishes. But, one that I enjoy so much is the cheese pide. Their cheese pizza is similar to the Arabic version, which we call "Fatayer", which the only difference that it uses feta cheese and spinach.
Because it is tasty yet simple to make, I am going to show you my recipe for Turkish Cheese Pide.
Recipe Ingredients
When making the cheese pide, the dough-based ingredients are similar to my other bread recipes. The only exception is that I added more cheese to this recipe.
DOUGH: To make the dough, the ingredients you need are white flour, yeast, salt, sugar, milk, and olive oil. I prefer to use milk over water since it gives a sweet flavor to the bread. And the olive oil will make the dough fluffy.
CHEESE: The cheeses are the main star of this recipe, which I am using Mozzarella and Cheddar cheese. They are not salty compared to other types of cheeses but they make the bread tasty.
OTHER INGREDIENTS: Other ingredients I am using include an egg, which I use to brush the bread dough before baking. And sesame seeds to sprinkle on the edge/crust of the bread.
What kind of Equipment is Needed?
To make this Turkish Pide, you need an oven to bake this pizza. Without an oven, it is not possible to make this recipe.
In addition to that, you need a roller pin to flatten the dough bread and a large plastic or stainless steel bowl for the dough to rise. Lastly, although not necessarily, you need a pastry brush to spread the edge of the bread.
Cooking Instruction
To make the cheese pide, you need to first make the pizza dough, followed by topping with cheeses and then baked in the oven.
I. Making the Dough
Firstly, I mixed with yeast, sugar, and milk in a large cup, which I pour into the flour along with olive oil, and salt in a large bowl. Mix it either with the wooden spoon or spatula, followed by kneading using your hand until it becomes soft and fluffy.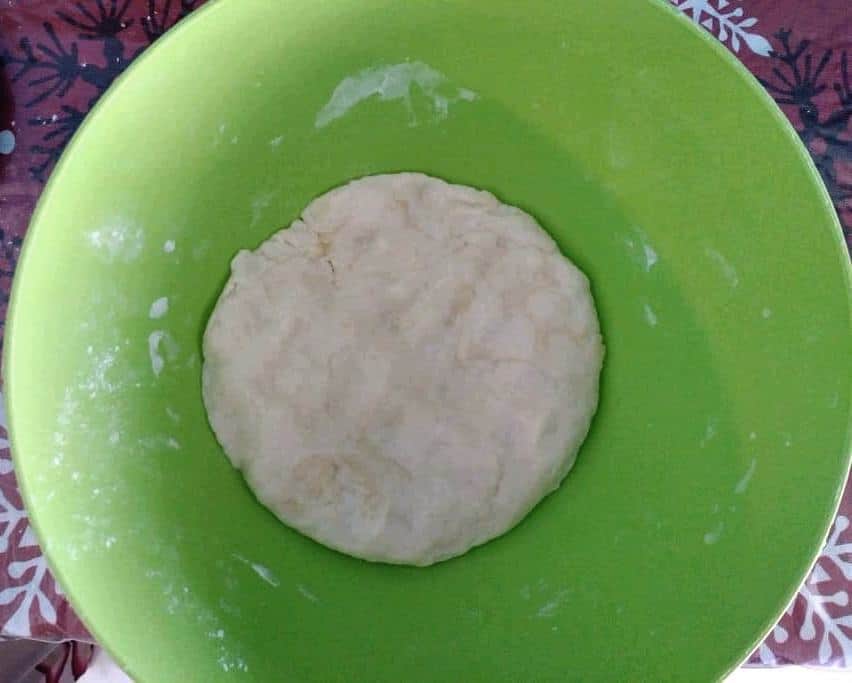 Cover it with a towel or a plate, and leave it for 1 or 2 hours. The dough will expect to double in size.
II. Making a Pizza and Topping with Cheese
Once the dough grows in size, I remove it from the bowl and divide them into 4-5 pieces. Make each of them into a ball shape before flattening them.
Once you are made into a shape of a ball, use the rolling pin to make it into an oval-shaped dough, not pizza-like circle dough.
Fold on each side of the dough and squeeze at each end of the side. You will expect to have a boat-shaped dough similar to the picture shown in the recipe card.
Next, I added the mozzarella and cheddar cheese into the center of the pide and brush each side of the dough with egg wash, and garnish it with sesame seed before baking in the oven.
III. Baking in the Oven
Preheat the oven in 200 C or 390 F to start making the oven hot.
Later, I transfer the pide into the oven. Let it bake for 12-15 minutes maximum or until you have a nice golden color. And you're done.
Recipe Frequently Asked Question's (FAQS)
1. Can I add other topping in my cheese pide?
Of course, in addition to mozzarella and cheddar cheese, you can mix and add other vegetables like eggplants, bell pepper, spinach, or tomatoes. They blend well with cheese.
2. What do if the dough is sticky or dry during kneading process?
I. If the dough is sticky, it means you pour too much water. Add more flour until it becomes less sticky.
II. If the dough is too dry, you probably put too much flour. This will make your dough bread too rubbery when baking. To fix this, add ¼ cup of water and check if it becomes less dry. Repeat the process if it's needed.
3. What do I eat and serve this recipe with?
This pide is finger food, which I like to serve with other baked flatbread like a mini pizza, spinach fatayer, and zaatar bread. And of course, I include hot drinks like tea.
4. How do you reheat the pide for other time?
To reheat this Turkish pide, I put it in the microwave in medium to medium-high intensity, which I heat for 30 seconds to 1 minute maximum.
5. How long can I store in the fridge for later use?
If you store it in the fridge, it can last up to 5-7 days before it will get spoiled. However, if you will like to store it for a longer time, I suggest you put it in the freezer. This will help last up to 2 months.
Recommended Recipes to Try
If you are looking for other delicious flatbread and pizza recipes, here are the related recipes you can make in your kitchen
📋 Recipe Card
Cheese Pide Recipe
Cheese pide is a Turkish style pizza recipe which is topped with mozzarella and cheddar cheese.
Ingredients
2

cup

of all purpose white flour

2

tablespoon

of extra virgin olive oil

1

cup

of milk

1

tablespoon

of brown sugar

1

teaspoon

of yeast

1

teaspoon

of sesame seeds

½

teaspoon

of salt

1.5

cup

of mozzarella cheese

1.5

cup

of cheddar cheese

1

egg
Instructions
Making the dough

Mix yeast, sugar, and milk in a large cup. Set aside

In large bowl, add flour, salt, olive oil and the yeast mixture. Mix using the Spatula or Wooden Spoon

Continue Kneading the dough using your hand until it becomes elastic and fluffy.

Cover with towel or plate and leave it for 1 hour to 1 ½ hour to help the dough grow in size.

Making and Topping the Turkish Pizza

Brush the surrounding side of the dough with egg wash using the pastry brush and garnished it with sesame seed.

Baking in the Oven

Preheat the oven in 200 C or 390 F

Let it baked for 12 to 15 minutes or until the crust is golden color.
Notes
If the dough is too sticky, add more flour. But, if the dough is too dry, add more water
Nutrition
Serving:
1
g
Calories:
420
kcal
Carbohydrates:
56
g
Protein:
30
g
Fat:
35
g
Saturated Fat:
16
g
Polyunsaturated Fat:
15
g
Cholesterol:
130
mg
Sodium:
880
mg
Fiber:
2
g
Sugar:
4
g