Arabic Biryani is a Gulf Arabian chicken spiced rice dish which is mixed with spices and garnished with fried onion. This is an Indian-inspired recipe that is made using Middle Eastern spices and herbs. It is best to serve either with yogurt garlic sauce or tomato daqoos sauce.


Jump to:
When I was living in Kuwait, I learned that Biryani is originally from India, which is popular among Muslims. But, there are many varieties of this meat rice dish, which is found in Pakistan, South East Asia, and Gulf Arab countries.
In this post, I will like to share with you my version of the Iraqi or Gulf Arabic Biryani recipe that I learned from my experience in Kuwait. This dish is made during a special occasion, family gathering, Ramadan, and Eid holidays.
This recipe is mixed with biryani spices, cinnamon, cloves, and bay leaves, which I garnished with fried brown onion. The plain yogurt is added to the chicken meat while cooking to make it moist and tender. And lastly, the rice is cooked separately which I mixed with turmeric to make it yellow.
Difference between Indian and Arabic Style?
Indian Biryani used red and green chilies, which makes the rice spicy. Also, they use their local spices like Garam Masala. I noticed the color rice is red.
On the other hand, the Iraqi or Gulf (Khaleeji) Arabic style is not spicy since no chilies are added. The color of the rice is yellow since we used turmeric. And we don't use Garam Masala, but Middle eastern spices mentioned in the previous paragraph.
Recipe Ingredient
Here are the important ingredients that I used to make this Gulf Arabic Biryani recipe:
MEAT: I am using Chicken poultry as my meat protein. In Middle East, Chicken is a popular protein which is easier to cook compared to Mutton.
SPICES:I am using ready-made Biryani spices, which is much convenient since you don't need to prepare each spice. You can purchase these ready mixed spices in any Indian or Middle Eastern grocery store. In addition to that, I am using cloves, bay leaves, and cinnamon sticks.
RICE: I am using long-grain rice which you can use any brand you like. You can use basmati rice if you want, but any long-grain rice is enough. Also, to make the rice yellow, I add turmeric powder for coloring the rice.
HERBS and VEGETABLES: To enhance the flavor of the chicken and the sauce of the biryani, I add grated garlic and ginger. In addition to that, onion is an important condiment, which I fried in a separate pan till it turned brown. The fried brown onion will be used to garnish the rice before serving. With this, this Arabic biryani will be mouthwatering.
What to do first before cooking this recipe?
Before I cooked this recipe, I first fried the onion till it turns brown and set it aside for later garnish. The fried brown onion will give a nice aroma and enhance the flavor of my Arabic Biryani rice.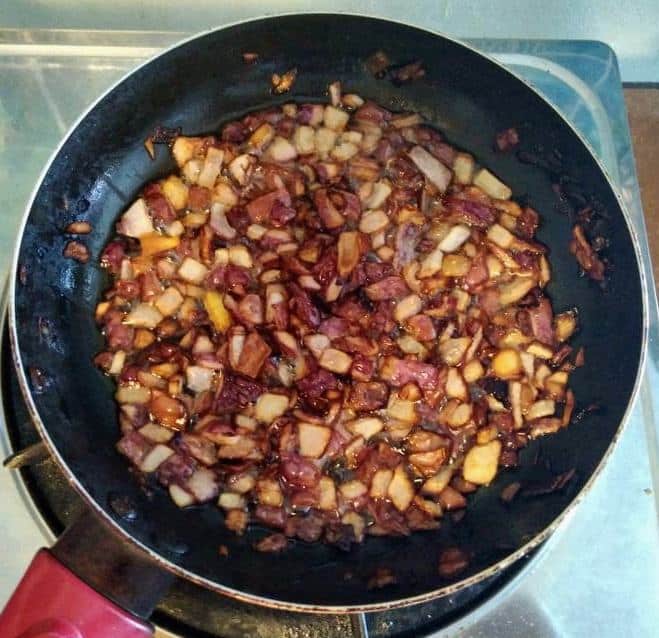 To me, I find this very important because, without it, the biryani will be underwhelming, unless if you're serving with a sauce.
Furthermore, before you cook the rice, make sure you soak the long-grain rice in warm water for 30 minutes. This will help reduce the starch, which will prevent sticking the rice together, and it will help cook the rice faster.
Cooking Instruction
As similar to cooking other Middle Eastern rice recipes, Arabic Biryani is a bit time-consuming. That is because you have to make the chicken-biryani sauce, cook the rice separately, and then assembled them.
Making the Chicken Biryani Sauce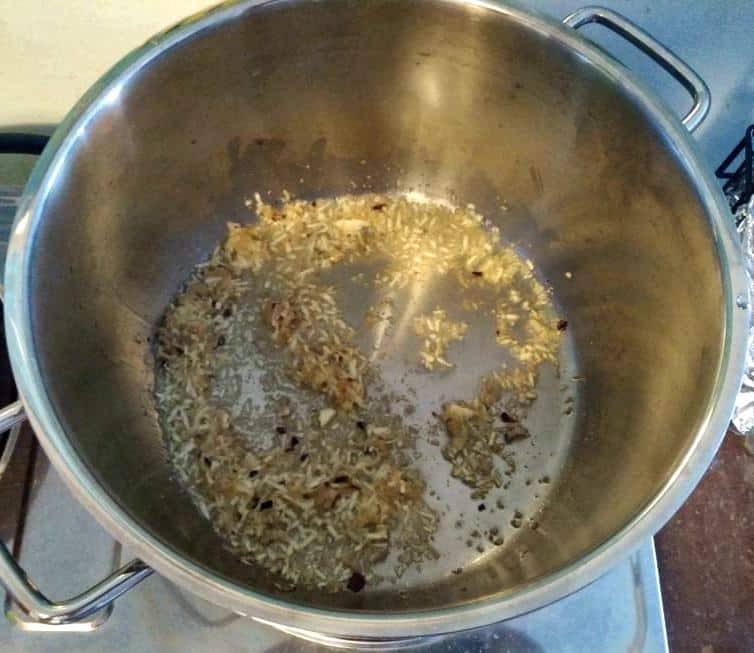 Firstly, I add vegetable oil to the pot. Once it is hot, I add grated garlic and ginger and stir for 1 minute before I add chopped tomatoes.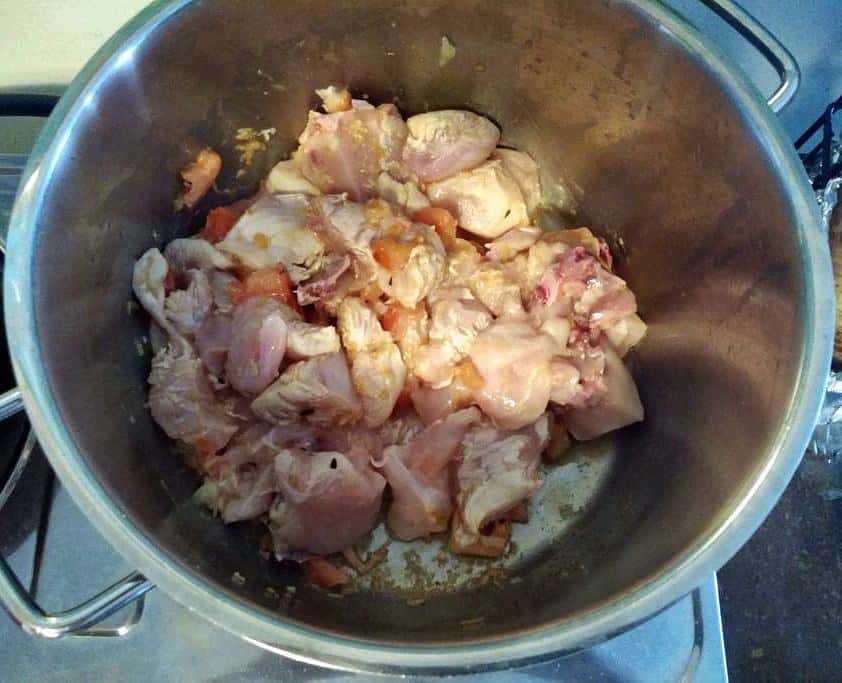 Next, I add the chopped chicken breast and stir for several minutes until it started to release the juice. I add the yogurt and all the spices including cinnamon sticks, bay leaves, and cloves. Stir to combine. If you wish to make the sauce a bit red, you can add tomato paste.
Cooking the Rice
In this recipe, I add vegetable oil in a separate pot, which I add the drained soaked long grain rice and turmeric powder. I stir them before I pour water.
Once it started to boil and there is less water, change it to a low simmer and let it cooked for additional 10 minutes or until the rice is soft.
Assembling the Meat and Rice
Remove half of the marinated chicken-biryani sauce from the pot, and transfer it to a plate bowl.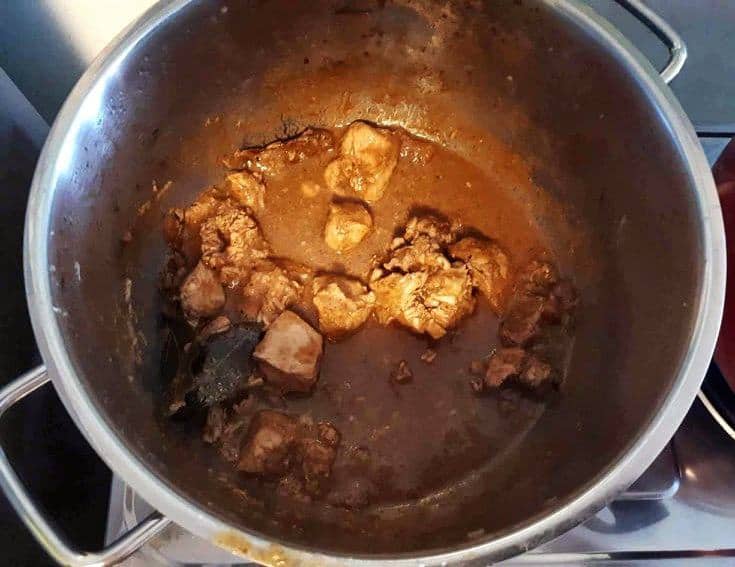 Add some rice to that pot, and then pour the sauce from the plate bowl. Continue adding the remaining rice followed by the remaining sauce. Once you spread it, cover with the lid and let it cook in low heat for additional 5 minutes.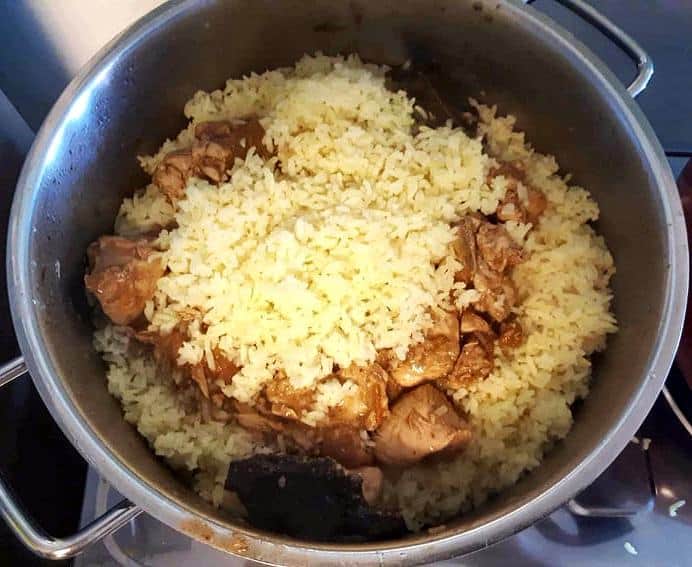 Before serving, I slowly mix everything (the rice & sauce) using my large serving spoon. And lastly, I garnished my rice with fried brown onion on a plate.
Note: Instead of garnishing, you can put the fried brown onion directly on the pot before mixing them with your large serving spoon. This will let the chicken biryani rice mixture absorb the flavor of the fried onion, making it more delicious.
Question and Answer
1. What add other meats I can use in this recipe?
Aside from chicken, you can use mutton, beef, shrimp, or boneless fish. They all blend well in this dish.
2. Is serving sauce needed for this Biryani recipe?
To me, it tastes way better if you serve with yogurt garlic sauce or Tomato garlic sauce (Daqoos). But, if you don't have sauce, then it is fine. The spices and the fried onion will still make the rice dish delicious without using the sauce.
3. What else I can serve with my Arabic Biryani?
Like most Middle Eastern rice dishes, I highly recommend serving with Arabic salads. In Arab countries, you can't eat rice dishes without salads.
4. Can I keep in the fridge for other days?
Yes, you can store in the fridge for other time when you want to eat this biryani. However, rice dishes with spices tend to spoil earlier, so I suggest you consume the food within 5 days.
5. Can I add vegetables in this rice dish?
Absolutely. You can add potatoes, carrots, or green peas if you like. Furthermore, raisins are also commonly used in Biryani.
Related Recipes to Try
Here are other delicious Middle Eastern Rice recipes to try:
📋 Recipe Card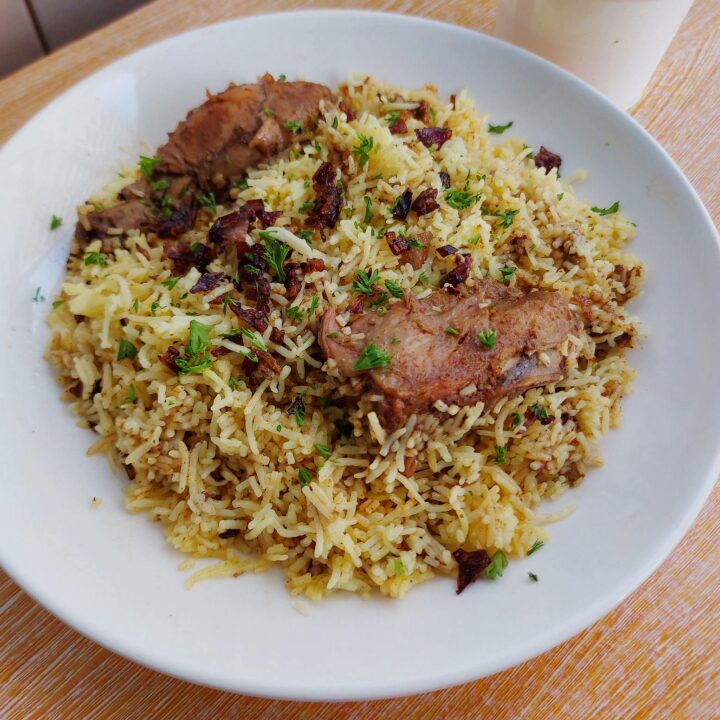 Arabic Biryani Recipe
Arabic Biryani is a Gulf Arabic spiced rice dish mixed with chicken and garnished with fried onion.
Ingredients
2.5

cup

of long grain rice

1

cup

of chopped tomatoes

1

cup

of chopped red onions

5

bay leaves

1

cinnamon stick

7

cloves

1

kilo

chicken breast

3

tablespoon

of biryani spices

1

teaspoon

of turmeric

1

tablespoon

of grated garlic

2

teaspoon

of grated ginger

1

cup

of yogurt

1

cup

of water

5

cup

of water (For cooking the rice)

Salt and black pepper for taste
Instructions
Chicken Biryani Sauce
Add vegetable oil to the cooking pot. Once hot, add grated garlic and ginger. Stir for 1 minute

Add chopped tomatoes. Continue stirring for another minute

Add chopped chicken breast, and stir to combine. Let the chicken continue cook until the juice is released and dries out

Pour the yogurt & water, and add the biryani spices, cinnamon stick, bay leaves, and cloves. Stir to combine

Continue simmering for 3 to 5 minutes before turning off the heat. Set aside.
Making the Yellow Rice
Assembling the Meat and Rice
Remove half of the marinated chicken biryani from the pot. And transfer into the plate bowl.

You will be making a layer, where the sauce comes first, followed by the rice.

On the same pot, add the yellow rice, and then pour the chicken biryani sauce from the plate bowl. Next, add the rice again followed by the remaining sauce, and then the remaining rice.

Once it is fully spread with the rice, cover it with the lid of the pot.

Let it cook in a very low fire for additional 5 minutes before turning off the heat

Use the large serving spoon to mix the rice and sauce before serving

When serving on the plate, garnished with the fried brown onion. Bon Appetite.
Notes
Although not required, I highly recommend to serve this recipe with Yogurt sauce or tomato garlic sauce.
Nutrition