Chicken Afritada is a Filipino tomato-based stew dish that is mixed with potatoes, carrots, bell pepper, and green peas. It is commonly made on special occasions which are best served with white rice.


Jump to:
While living in the Philippines, I have eaten many kinds of tomato-based sauce dishes that are delicious. The first time I tried this dish was in a Filipino carinderias- a small eatery place for local residents, which is a common dish they serve in their store. Also, this dish is made during an important event like Christmas, Fiesta or Family gathering.
I love tomato-based stew dish, and this is one local dish that I enjoyed eating it. It has full of vegetables which makes it healthier and nutritious. Also, the bell pepper adds a nice aroma to the stew. With this recipe, you don't even need to marinate or serve other side dishes, except rice, since it has everything we need.
In my experience, if you tried afritada, you will know that they are different than Menudo and caldereta, which are all tomato sauce-based dishes.
Afritada vs Calderata vs Menudo?
To me, it is even confusing to tell the difference since they all use similar ingredients. For example, they all use potatoes, carrots, bell peppers, and tomato paste/ sauce in their dishes.
Thankfully, my Uncle from the Philippines, who is an expert in cooking, managed to explain everything. And here is what makes it different from afritada:
Calderata: Their sauce is a bit thicker since they use liver spread and/ or shredded cheese. And it more common to use pork, goat or beef than chicken as their protein.
Menudo: This is a stew dish which is similar to Afritada. However, what make's it different is that pork meat and pork liver are more common than chicken. Also, some likes to add garbanzo beans and raisin in this recipe.
Now you know the differences, I am sure this ease your confusion about how to make a Chicken Afritada recipe.
Recipe Ingredient
Here are the important ingredients that I use to make my Chicken Afritada Recipe:
MEATS: I am using chicken drumsticks since I like meat with bones and they are moister than the breast.
VEGETABLES: The vegetables I use include Bell pepper, green peas, potatoes, and carrots.
CONDIMENT: To add a nice flavor to the stew, I add fish sauce and chicken bouillon cube. This will make the afritada flavorful and tastier. The bouillon cube or stock cube is found in any grocery store. Also, if you don't like fish sauce, you can instead switch to soy sauce.
SAUCE: To make the stewed red, I add tomato sauce and tomato paste. If you prefer to use either one of them, that is fine.
Step by Step Instruction
In some recipes, when they cook Chicken Afritada, they marinate it first with soy sauce. But, to me, I just skip that part.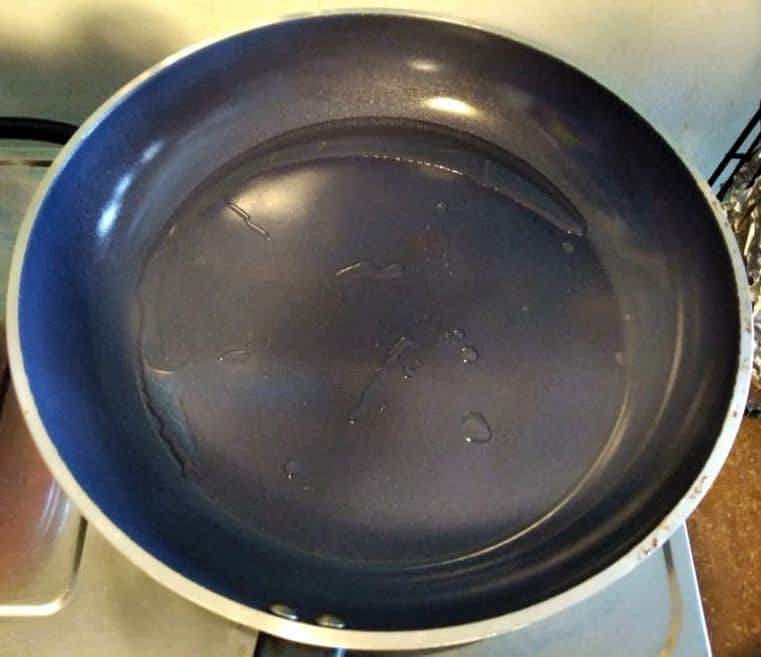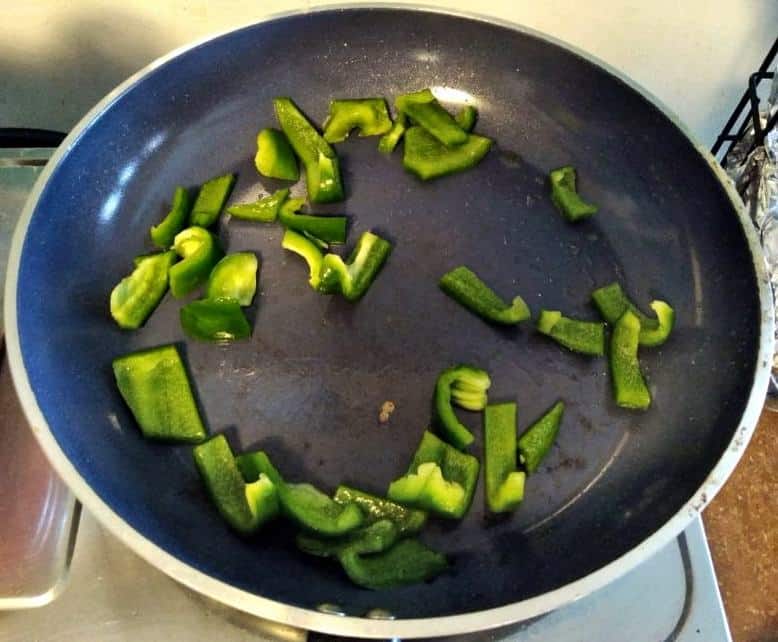 Firstly, I saute the potatoes, carrots, and bell pepper in a separate pan. I just half cook them since the rest will be done through simmering in the pot. In the same pan, I browned the chicken on both sides before I transfer all of them into a plate. And then I set aside.
Now in a separate cooking pot, I add garlic & onion and the browned chicken. I add the tomato sauce, tomato paste, water, fish sauce, and bouillon cubes. Let it boil or simmer for 25 minutes.
Lastly, I added the half-cooked potatoes, carrots, and green peas to let simmer for 10 minutes or less. And then I add the bell pepper. The bell pepper should be the last to be added since they cooked faster. Once done, serve with white rice.
Recipe Faqs
1. Why is my afritada sauce thicker?
If this happened, it could be because you add more tomato paste and less water. I will suggest you pour an additional 1 cup of water. However, some don't mind having their sauce as thick as Calderata
2. Can I make this recipe without tomato sauce?
Yes, you can use tomato paste instead of tomato sauce. Just add 1 tablespoon of tomato paste and you can have a nice red stew.
3. Can I use other meats in this recipe?
Like Calderata, you can use beef or goat. However, you will have to simmer a bit longer since the meat doesn't get tender that fast. I will suggest you boil them in a separate pan or use a pressure cooker before you will start mixing them with the sauce and vegetables.
4. What can I serve my chicken afritada recipe with?
Usually, serving with white rice is enough since it already has vegetables, stew soup, and chicken as a protein. However, in fiesta and family gatherings, where we serve many foods, we kinda like to add other side dishes to one plate. 
To me, I like to serve with a crispy spring roll called Vegetable lumpia and my Filipino noodle called Pancit Sotanghon Guisado 
5. Can I store in the fridge for other days?
Yes, you can keep it in the fridge for maximum of 5 days to prevent spoiling the food.
Recommended Filipino Recipes to Try
If you love this dish, here are other delicious Filipino food recipes with chicken as my ingredient: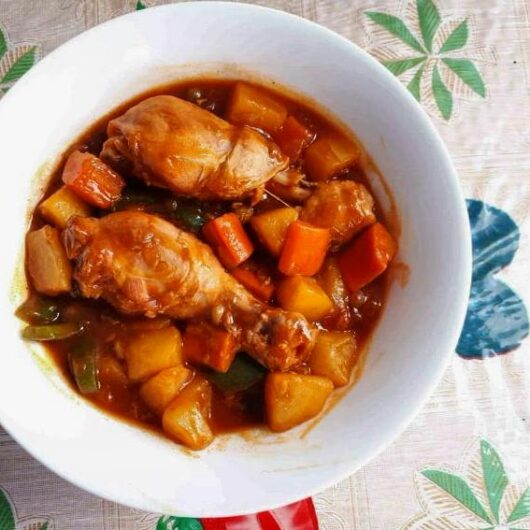 Chicken Afritada Recipe
Chicken Afritada is a Filipino stew dish mixed with potatoes, green peas, carrots, bell pepper and tomato sauce. It is best serve with white rice.
Ingredients
6 pieces of chicken drumstick
2 small potatoes
1 medium carrot
1 medium bell pepper
1 cup of green peas
3 cup of water
1 cup of tomato sauce
1 teaspoon of tomato paste
2 tablespoon of fish sauce
½ cup of chopped onion
2 teaspoon of minced garlic
1 bouillon cubes
5 tablespoon of vegetable oil
Instructions
In a pan, add 2 tablespoon of vegetable oil. Once hot, add potatoes and carrots.
Stir and let it sauté until they are partially cooked.. Remove and transfer into the plate. Set aside.
Add chopped Bell Pepper, and continue stirring for a minutes. Do not overcook the bell pepper. Remove and transfer into a plate.
Add one tablespoon of vegetable oil and then add the chicken drumstick.
Make sure you brown the chicken on both side before removing and transferring into the plate.
In a separate cooking pot, add two tablespoon of vegetable oil. Once hot, add chopped onion and garlic. Stir to mix till it turns transparent
Add the browned chicken drumstick. Stir to mix for few minutes
Pour tomato sauce, tomato paste and water into the pot. Stir to combine
Once it started to boil, add fish sauce and the bouillon cubes. Covered the pot with the lid and let it simmer for 25 minutes.
Add the green peas and the half cooked potatoes, and carrots. Continue simmering for additional 10 minutes.
Lastly, add the bell pepper and continue cooking for 3 minutes before turning off the heat.
Notes
If you can either use tomato paste or tomato sauce. You don't have to add both.
Nutrition Information
Yield

6
Serving Size

1
Amount Per Serving
Calories

364
Total Fat

20g
Saturated Fat

3g
Trans Fat

0g
Unsaturated Fat

15g
Cholesterol

116mg
Sodium

700mg
Carbohydrates

21g
Fiber

4g
Sugar

6g
Protein

26g