Filipino Chop Suey is a stir-fry vegetable recipe mixed with chicken, quail egg, and soy & oyster sauces, in which the cornstarch is added to thicken the sauce. This healthy and nutritious is commonly served as a side dish that is eaten with rice.

Jump to:
Although Chopsuey is part of an American-Chinese food, other countries have their version of this vegetable dish. In the Philippines, this is one of my favorite vegetable dishes since it is healthy and nutritious. It is popular and widely eaten among Chinese Filipinos and the locals.
A few months ago, I went to my Aunt's house because there was a fiesta in her hometown. She made this delicious stir-fried vegetable dish, which is savory, sweet, and yet healthy. I eat it with rice and other Filipino side dishes since this what we do here in the Philippines.
I have tried Filipino Chop suey in many restaurants and other places, but for her seems to be the best. In this post, I am going to show you how to make this savory stir-fried vegetable dish which I learned from my Aunt.
Why is this the must try recipe?
Here are my 4 reasons why this Filipino Chop Suey is a must try recipe:
It is a very healthy and nutritious dish since it contains full of vitamins, minerals, and protein from the chicken.
It is very simple to cook since it only took 20 to 25 minutes to make this chop suey.
It is perfect to serve with your families and friends, especially during special occasions like holidays, fiesta, or parties
It is affordable since the vegetable ingredients are not expensive. Also, you can keep it in the fridge and serve it on other days
Difference between the Filipino and Chinese American version?
If you tried chop suey, you will notice that they both use the same vegetables and the cooking method is similar too.
However, I noticed the American Chinese Chop Suey added Bean sprouts, and Chinese wine, and they sometimes served with noodles. On the other hand, the Filipino version does not add any of these ingredients to their dish and they mostly served with rice.
Recipe Ingredients
To make a Filipino Chop Suey requires a lot of vegetables since they are the main ingredients of this recipe.
VEGETABLES: In this recipe, I only use 5 kinds of vegetables- Cabbage, Broccoli, Cauliflower, Bell Pepper, and Carrot. You can add other green vegetables of your choice, but to me, this is more than enough.
MEAT: In the Philippines, we include meats in our chopsuey, which I add chopped chicken breast and quail egg. The quail egg makes this stir-fried vegetable dish tasty, and chicken breast is much healthier than other types of meats.
OTHER INGREDIENTS: In addition to vegetables, the sauces are important to make the chop suey flavorful and savory. The soy sauce, oyster sauce, and sesame oil add savoriness, sweetness, and nuttiness to the dish. In addition to that, I add the cornstarch-water mixture to make the sauce thick. This will prevent making your dish watery or soupy.
What do you serve this recipe with?
In the Philippines, when we cook Filipino food, we usually eat with other side dishes or choice of food. You will notice we put different dishes such as rice, meat, vegetables and noodle on one plate. It may seem too much, but this is normal in our Philippine culture.
For example, with this vegetable recipe, we eat it either with white rice or fried rice. To me, I like to serve this with my Shanghai fried rice which is Chinese style fried recipe or Beef Chao Fan. In addition to that, I like to eat and serve along with my Filipino noodle recipe- Chicken Pancit Canton.
Things to know to avoid confusion
If you encountered a dish called American chop suey, that is not the same as the Filipino or American Chinese chop suey.
The American Chop Suey is a pasta casserole that is mixed with ground beef, macaroni, and tomato paste. While the Chinese or Filipino version is mixed with different vegetables, soy sauce, and protein meat.
Step by Step Instruction
The step to cook this delicious Filipino chop suey is easy and straight forward.
Firstly, I add three tablespoons of vegetable oil to the large pan. Once the oil is hot, add the chopped onion and garlic and give a stir.
Next, add the chopped boneless chicken breast and have it sautéed till the chicken is cooked.
After that, I add the soy sauce and oyster sauce and then 1 cup of water. Once it started to boil, add the cut floret cauliflower, broccoli, and bell pepper.
Lower the heat to let it simmer for 2 minutes or until the vegetables look cooked.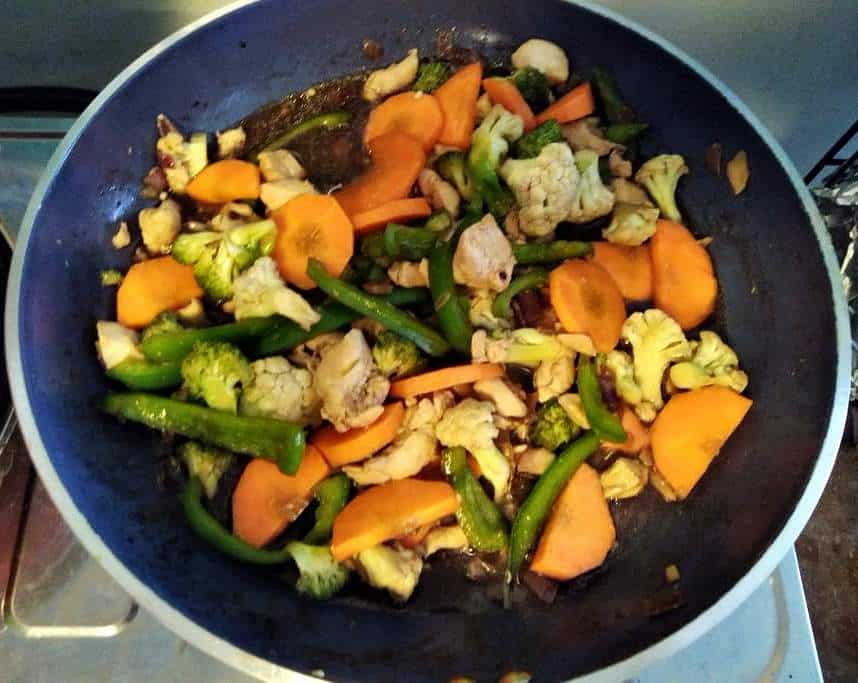 Next, add the carrots, and let it simmer for another 3 minutes or till it becomes soft.
Add the cabbage and sesame oil and then stir to mix. Let it cook for additional 30 seconds and then add the cornstarch water mixture. Do not overcook the cabbage.
Give a quick stir for less than 10 seconds before adding the cooked quail egg. Mix for one more time before turning off the heat.
Serve it with rice of your choice and other meat dishes.
Tips and Hints
The cabbage should be added in the last part along with the quail egg. Simmer it for just less than 30 seconds to prevent having a soft and soggy cabbage
If you want to maintain the crisp texture of the vegetable, parboil it first and then transfer it to cold water
Use cornstarch to thicken the sauce
Use a large pan or skillet to accommodate all the vegetables.
If you want your Filipino chop suey to have a stronger flavor, use chicken stock or broth instead of water.
Substitution
You can add any protein like chopped chicken breast, liver, shrimp, or squid ball
You can add other vegetables like baby corn, sliced mushrooms and snow peas
You can use either ordinary cabbage or Chinese cabbage (Petchay)
When making the sauce, you can use chicken stock instead of water to enhance the flavor of the Filipino chop suey
Recipe Faqs
I. How to make my Filipino Chop Suey vegan friendly?
To make this dish vegan friendly, simple remove the chicken breast and quail egg. Also, switch the oyster sauce with one teaspoon of brown sugar. This will make your chop suey a pure vegan dish.
II. How long can this be stored in the fridge?
If you keep a cold temperature in the fridge, it can last up to 5 to 7 days. I don't recommend placing it in the freezer since it will ruin the texture of the vegetables.
Other Filipino Vegetable Recipes
Here are other delicious Filipino vegetable foods to try at home
📋 Recipe Card
Filipino Chop Suey
A Filipino Chop suey is a vegetable stir fry mixed with different vegetables, chopped chicken breast, soy sauce & oyster sauce, and the sauce is thickened with corn starch.
Ingredients
300

gram

of chopped chicken breast

8

pieces

of quail egg

1 ½

cup

of chopped cabbage

1 ½

cup

of floret cauliflowers

1 ½

cup

of floret broccoli

1

medium

carrot, sliced into circle shape

3

cloves

of garlic

½

cup

of chopped red onion

1

medium

bell pepper, cut into a stripe

3

tablespoons

of soy sauce

2

tablespoons

of oyster sauce

1

tablespoon

of sesame oil

3

tablespoon

of vegetable oil

1

tablespoon

of cornstarch with ½ cup of water

1

cup

of water
Instructions
Add vegetable oil to the pan. Once the oil is hot, add chopped onion and garlic. Stir for a few minutes till the color turns transparent.

Add chopped chicken breast. Stir to mix and then let it cook for 3 minutes.

Add soy sauce and oyster sauce. Stir to mix and then add a cup of water.

Once it started to boil, add the floret cauliflower & broccoli and sliced strip bell pepper. Stir to mix and then lower the fire to low heat to let it simmer for 3 minutes.

Add the carrots and let it simmer for another 3 more minutes or till it become soft

Pour sesame oil and add chopped cabbage. Stir to mix. Leave it to cook for 30 seconds.

Pour the cornstarch water mixture and give a quick stir to mix to thicken the sauce.

Turn off the heat and then add the cooked quail egg. Stir to mix for one more time.
Notes
Do not overcook the cabbage
Nutrition
Calories:
286
kcal
Carbohydrates:
10.9
g
Protein:
21.3
g
Fat:
17.8
g
Saturated Fat:
3.2
g
Cholesterol:
200
mg
Sodium:
824
mg
Potassium:
628
mg
Fiber:
2.4
g
Sugar:
4.5
g
Calcium:
62
mg
Iron:
2
mg