Ginisang Sayote with Chicken is a Filipino vegetable dish that contains tomatoes, chayote, carrots, oyster sauce, and sesame soil. This recipe is traditionally served and eaten with white steamed rice.

Jump to:
If we think of Filipino food, you may pop up your mind adobo, Lechon, Jollibee chicken, or spaghetti. But Filipino food has many delicious vegetable dishes that you can cook at home.
Many common Filipino vegetables include Kabocha squash (kalabasa), green beans, bitter gourd (ampalaya), kangkong leaves, spinach, and many others. Traditionally, we used these vegetables to make soup, and noodles or sauté them with chicken or other meat.
In this post, I will like to share with you one of my favorite local vegetables called sayote or chayote, which I used to make my homemade recipe Ginisang Sayote.
What is Sayote?
Sayote, also known as choko or mirliton, is a type of plant which is in a form of pear-shaped and colored green. When it is sauteed or lightly cooked, it retains a crispy consistency which you will notice when chewing it.
In some countries, sayote or chayote can be eaten raw which you can serve as salad or salsa. But in the Philippines, it is one of the popular stape vegetables which we cooked to make into a sautéed (ginisang) dish. Also, we sometimes boil and mixed with other vegetables and chicken to make a stew soup (tinola). Of course, these dishes are always served with rice.
Sayote is not only delicious, but it is also healthy since it is shown to help reduce fatty buildup in the liver, decrease cholesterol, and it is rich in Vitamin C.
Recipe Ingredient
Here are the ingredients I used to cook this delicious Ginisang Sayote with Chicken recipe:
Chayote: You can buy this in a supermarket or Filipino grocery store. You will need to peel off the skin and cut it into chunk pieces. Make sure you remove the seeds.
Chicken: I am using boneless chicken breast which I chopped into smaller pieces
Carrots: This is optional but it adds the flavor of this dish. I julienne the carrot.
Herbs: I added tomatoes, onion, and garlic. They are important to enhance the flavor of this dish.
Condiments: Two important condiments you will need are oyster sauce and sesame oil. They make the sauce of the ginisang sayote very tasty.
Water: You will need 1 cup of water to simmer the chayote and carrot. This will help make it soft yet maintain a crispy consistency.
Vegetable Oil: I use canola oil to saute the onion, garlic and the rest of the ingredients.
How to prepare Sayote?
The thing you need to know about chayote is that it releases a white sticky resin that could irritate your skin.
There are two ways to fix this:
Wear gloves when peeling off the skin and cutting into chunk pieces

You need to cut the 1-inch top of the sayote and then rub it in a circular motion until the sap releases a white foam-like consistency. This will help remove the stickiness, which will be easy for you to peel the skin and cut it into pieces without worrying of having skin irritation.
Step by Step Instruction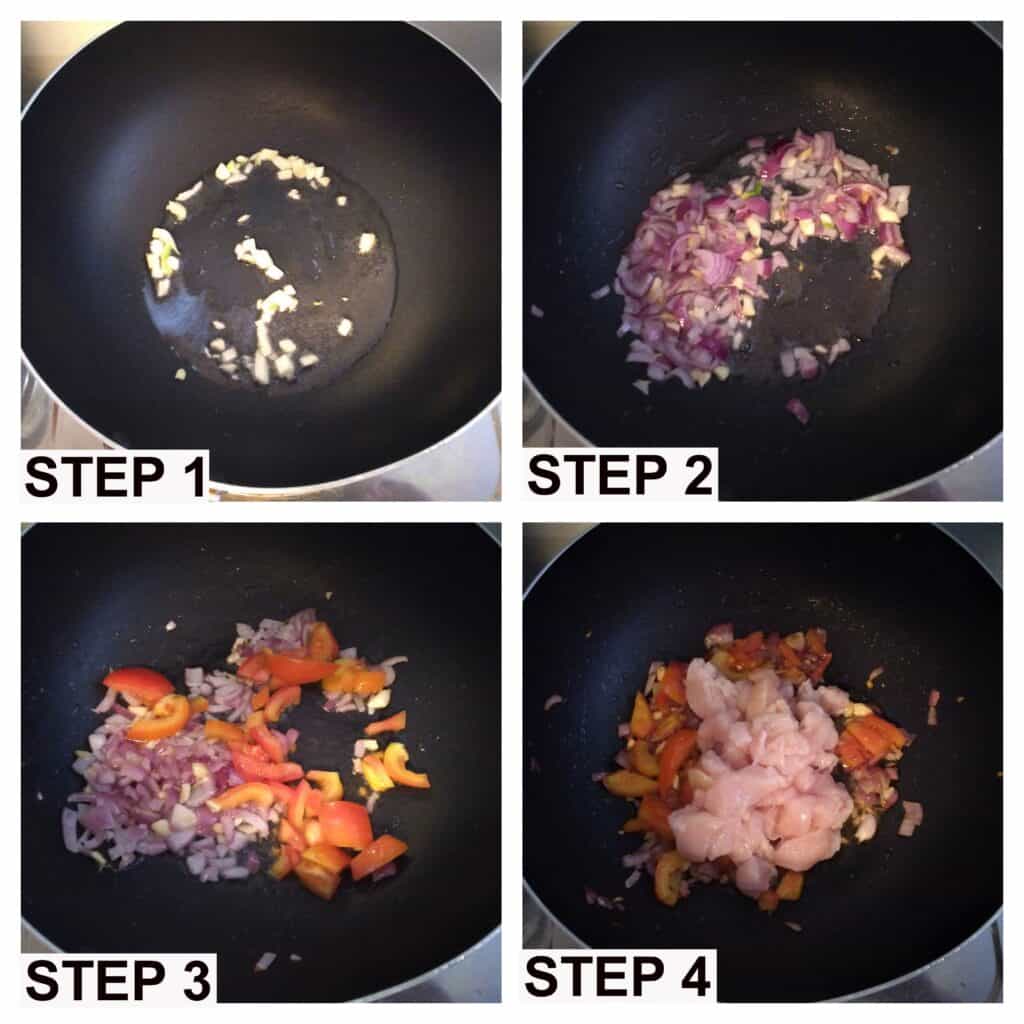 Firstly, I pour two tablespoons of vegetable oil into the pan. Add the garlic first, followed by the onion, and then the tomatoes. Stir to mix till it becomes translucent.
Next, I added the chopped chicken breast which I let stir and sautéed for a few minutes before adding the oyster sauce.
After that, add the chayote and poured the water. Once it is boiling, lower the heat to let it simmer for less than 5 minutes.
Add the julienned carrot and then continue simmering till the chayote is soft.
Lastly, pour the sesame oil and give it a quick stir. Once done, turn off the heat and serve with rice.
Frequently Asked Question (FAQ's)
1. What to serve this sayote recipe with?
Like most Filipino food, this sayote recipe is traditionally eaten and served with rice. In addition to that, it also goes well with my homemade baked bangus, beef lumpia, or any grilled meat.
2. How long can this last in the fridge?
You can store it in the fridge in an air-tight food container for up to 5 days. I will not suggest having stored in the freezer since it will make the chayote mushy.
3. How to reheat the ginisang sayote?
You can use a microwave to reheat this chayote recipe for 1 minute in a medium-high setting.
4. What other meat I can use aside from chicken?
You can use ground beef or shrimp instead of chicken.
Other Ginisang Recipes to Try
Here are my other delicious Filipino Ginisang (sauteed) recipes that you cook in your kitchen:
📋 Recipe Card
Ginisang Sayote with Chicken
This delicious Filipino sayote recipe is mixed with chayote, carrots, tomatoes, garlic, and onion. oyster sauce and sesame oil. It is best to eat and serve it with rice.
Ingredients
1

Whole

Chayote squash, cut in chunks

150

Gram

Boneless chicken breast, chopped

1

Cup

Julienned Carrot

1

Whole

Large tomatoes, chopped

½

Cup

Red Onion, chopped

2

Cloves

Garlic, chopped

1

Cup

Water

2

Tablespoons

Vegetable Oil

2

Tablespoons

Oyster Sauce

1

Tablespoon

Sesame Oil

Salt and Black Pepper for Taste
Instructions
Add 2 tablespoons of vegetable oil in the large pan

Once hot, add the chopped garlic and onion. Stir till it turns translucent

Add chopped tomatoes. Stir to mix for few minutes

Add chopped chicken breast. Stir to combine and wait till the chicken is almost cooked and there is less juice.

Add the oyster sauce. Mix to combine

Add the chunk chayote / sayote. Stir to combine before pouring the water

Once it started to boil, lower the heat to simmer.

Add the julienned carrot and continue simmering till they are both soft and fork tender.

Add sesame oil, salt and black pepper. Stir to combine before turning off the heat.

Serve with rice and grilled or fried protein dishes.
Notes
Store in an air-tight food container for up to 5 days

Do not store in the freezer since this will cause the chayote / sayote to be mushy

To reheat this sayote recipe, use the microwave for 1-2 minutes on a medium-high setting.
Nutrition
Serving:
4
g
Calories:
187
kcal
Carbohydrates:
5.7
g
Protein:
11.7
g
Fat:
13.3
g
Saturated Fat:
1.8
g
Cholesterol:
33
mg
Sodium:
99
mg
Potassium:
229
mg
Fiber:
1.6
g
Sugar:
2.2
g
Calcium:
27
mg
Iron:
1
mg