Ginisang Monggo is a Filipino Mung Bean soup recipe that is mixed with spinach leaves and green beans. It is a healthy vegetarian dish that is best served with white rice.


Jump to:
In the Philippines, there are many delicious vegetable dishes that are nutritious and delicious. However, they don't have an overwhelming flavor as compared to Thai and other Southeast Asian cuisines.
For example, they don't put spices like curry, but only simple condiments like fish or soy sauce. Nonetheless, if you prefer a healthy and simple dish, I highly recommend you to try my Filipino Mung Bean Soup.
What is Ginisang Monggo?
In English, Ginisang is a Filipino term meaning "Sautee or Stir-Fried" while Monggo or Munggo means "Mung Beans"
Just to avoid confusion, we don't sautee the mung beans, but rather it is boiled till it turns soft turning into a soup
The reason why is it called Ginisang because we sautee the onions, garlic, and other ingredients. After that is when we transferred the mung bean soups that were boil from another pot.
Some people like to add meats or other vegetables, but I prefer a purely vegetarian dish since it is healthier, and I am going to show you how.
Recipe Ingredients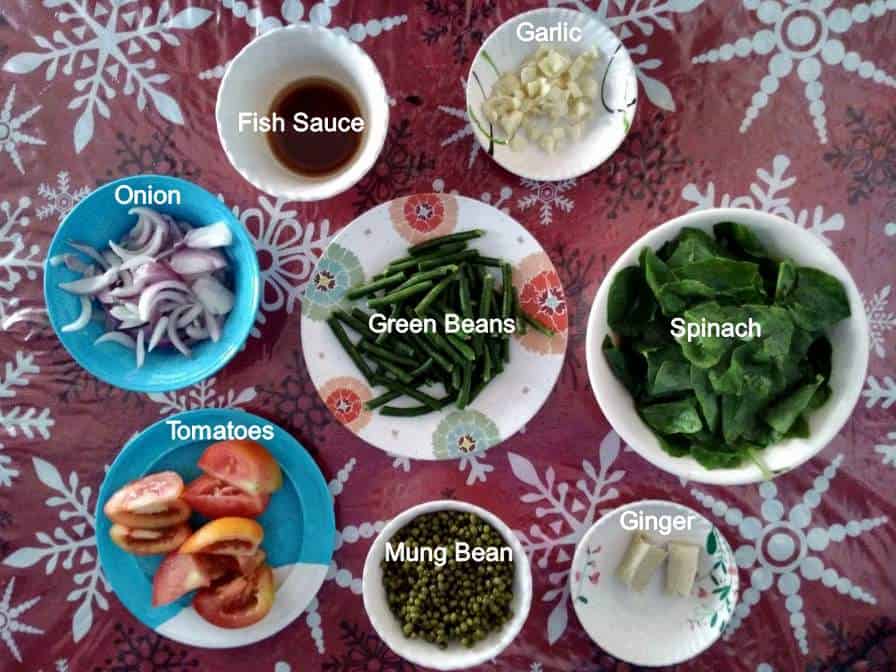 Here are the ingredients you need to make this delicious Ginisang Monggo:
VEGETABLES: The main ingredient you need for this dish is the Mung Beans. You can find this in any Asian grocery store. Other vegetables I am using are Spinach leaves, tomatoes, and green beans.
CONDIMENTS & HERBS: To enhance the flavor of the mung bean soup, I use ginger, garlic & onion when sautéing, and fish sauce.
WATER & VEGETABE OIL: Other ingredients you need include water when boiling the mung beans and oil when sautéing.
Step by Step Instruction
As long you have the ingredients, making Ginisang Monggo is straight forward.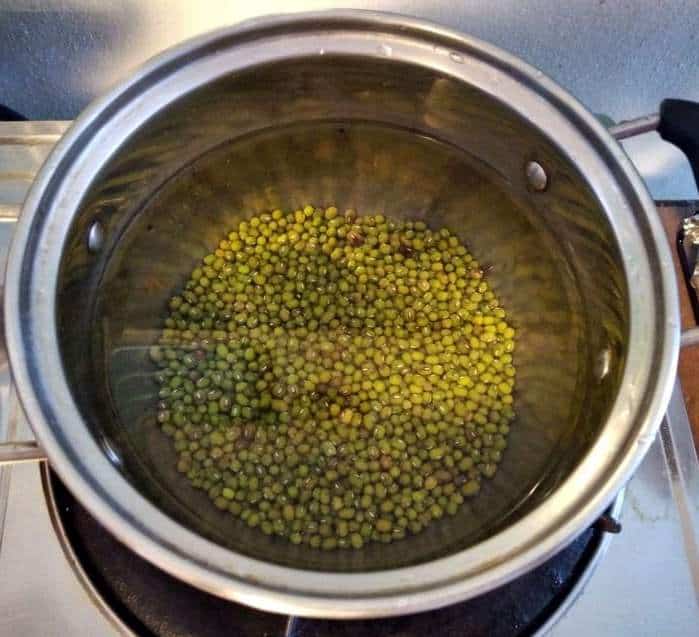 Firstly, in a separate pot, I pour hot water and mung beans, which I let simmer till it turns soft.
Now in another pot, I add vegetable oil, which I sauté the onion, garlic, ginger, tomatoes, and green beans. That is when I transferred the soft mung bean along with the soup into that pot.
After that, I seasoned it with fish sauce, salt, or black pepper. And then, I add the spinach leaves. Let it simmer for additional 5 minutes before you turn off the heat. And that's it, easy isn't it?
As a half Filipino, we commonly serve and eat this with white steamed rice.
Variation
Instead of Spinach Leaves, you can add other vegetables like Kalabasa (Squash), Ampalaya (Bitter Melon), or Kang Kong (Water Spinach).

You can add any meat to this dish such as chicken/pork, shrimp, or fish.

To make this dish vegan-friendly, don't use fish sauce. Adding salt and Black Pepper will be enough to season the soup.

To make the soup creamy and tastier, you can add ½ cup of coconut cream or milk into the boiled mung beans.
Freqently Asked Questions (Faq's)
1. What can you serve this Mung Bean Soup with?
In my experience in the Philippines, we usually like to serve this with white steam rice, and other grilled meat dishes like fish or chicken.
2. How long can this last in the fridge?
The Ginisang Monggo can last up to 5-7 days in the refrigerator.
3. How to reheat this dish?
You can reheat through the microwave for 1-2 minutes on medium-high heat. Or on the cooking stove using the pan.
4. Can I make my soup spicy?
Yes. You can add green or red chilies to spice it up.
5. Why is my Mung Bean Soup bland?
This could be because you add too much water. To fix this, add more fish sauce or fish Dilis (Anchovy)
Filipino Soup Recipes to Try
Here are other delicious Filipino Food Soup dishes that you can make in your kitchen
Ginisang Monggo Recipe
A Filipino Mung Bean Soup dish called Ginisang Monggo which is mixed with spinachs, tomatoes and green beans.
Ingredients
1 cup of Mung Beans (washed and drained)
3 to 4 cups of water
50 gram of spinach leaves
2 pieces of tomatoes (sliced)
1 cup of green beans
1 thumb size of ginger
1 medium onion (sliced)
3 cloves of garlic (chopped)
2 tablespoon of fish sauce
Instructions
In a cooking pot, pour water and mung beans. Let it simmer for 25-30 minutes or till it becomes soft. Set aside
In a different pot, add vegetable oil in medium-low heat. Once hot, add sliced onion and chopped garlic. Stir till it turns translucent
Add sliced tomatoes and green beans. Stir to combine
Transfer the boiled mung bean soup along with the water into the same pot. Mix gently.
Seasoned the soup with fish sauce, salt, and black pepper.
Add the spinach leaves into the pot. Let it simmer for an additional 5 to 10 minutes before turning off the heat.
Notes
You can add other vegetables like squash, bitter melon or kang kong
Nutrition Information
Yield

4
Serving Size

1
Amount Per Serving
Calories

103
Total Fat

1g
Saturated Fat

0g
Trans Fat

0g
Unsaturated Fat

0g
Cholesterol

0mg
Sodium

754mg
Carbohydrates

20g
Fiber

7g
Sugar

5g
Protein

6g