Chicken Papaya is a traditional Filipino soup recipe that is mixed with unripe green papaya and spinach. The broth is flavorful which is infused with ginger, garlic, onion, fish sauce, and chicken bouillon cubes.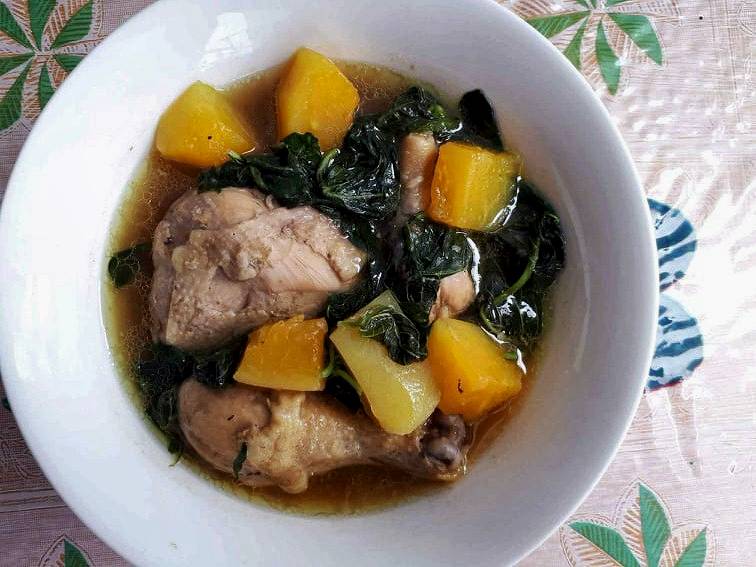 Jump to:
While living in the Philippines, I have tried many delicious soup-based recipes which are either sour, like my sinigang recipe, or savory dish. It mostly serves as a main dish which we pair with white rice. Also, one delicious Filipino soup recipe I enjoyed is Chicken Papaya Soup, which the locals called this dish Tinolang Manok.
What is this recipe?
Chicken Papaya is a Filipino soup that is nutritious and flavorful. The dish is simple since we don't use any spices, but because of the herbs infused broth and fish sauce, the soup is very tasty. Also, what makes it healthy since has papaya, spinach, and all kinds of herbs.
To make it a full meal, we serve it with white rice since, in the Philippines, this is a very important staple food. Furthermore, if you are on diet, living in cold weather, or are sick, you can eat this soup without rice.
The locals call this recipe Tinolang Manok, which the word Tinola means "soup" and Manok means "Chicken". But, I will rather call this dish Chicken Papaya soup since it is easier to understand among readers.
Recipe Ingredients
Here are the ingredients I use to make my nutritious Chicken Papaya soup recipe: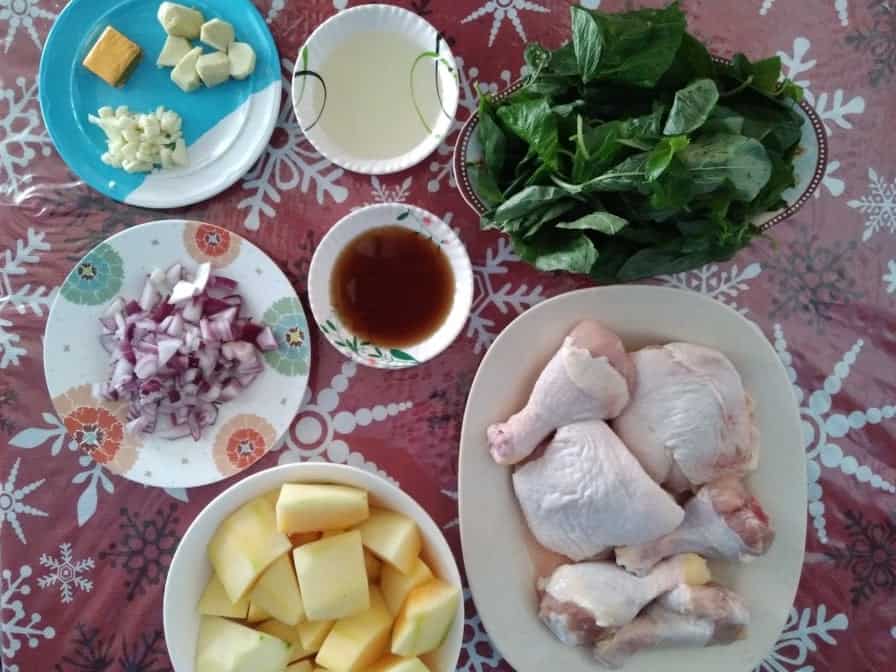 MEAT: I am using chicken drumsticks and thighs since they are my favorite chicken part, and they are moist.
VEGETABLES: I am using green papaya which is unripe, and fresh spinach. The papaya is the important ingredient for this recipe since the sweetness will balance the saltiness of the other ingredients. Traditionally, we use green unripe papaya but you can use ripe orange papaya if you like.
HERBS: To make sure the broth is nutritious, I am using herbs like ginger, garlic, and onion in my soup.
CONDIMENTS: The chicken bouillon cubes and fish sauce are important condiments that I added to make the soup more flavorful.
Cooking Instruction
As long you have all the ingredients you need, cooking this Papaya Soup is easy and straight-forward.
Firstly, I add vegetable oil to a cooking pot. Once it becomes hot, that's when I add and saute the ginger, garlic, and onion.
Next, I add the chicken drumstick and thigh and stir it before I pour water. Next, when the water started to boil, I added the fish sauce and chicken bouillon cubes. And then I let it simmer for 15-20 minutes or until the chicken is cooked.
Lastly, I add the green papaya and the spinach and let it simmer for less than 5 minutes, and then I turned off the heat and you're done. Don't forget to serve it with white rice.
Frequently Asked Questions (Faq's)
1. What other vegetables I can use in this recipe?
In addition to green papaya and spinach, you can use moringa leaves, potatoes, or Chinese cabbage (pechay) in your Tinolang Manok recipe.
2. What other meats I can use in this dish?
You can use fish, shrimp, beef or pork. Also, if using fish, I will suggest you choose boneless fish like Spanish Mackerel, Salmon, or Snapper (Maya-Maya)
3. What can you serve with this chicken papaya soup?
To me, I like to serve this dish with white rice, my Chicken Pancit Canton, and any crispy fried side dishes like my Beef Lumpia. In our Filipino food cultures, we tend to serve this with other main dishes.
4. Is there other condiments I can use instead of Bouillon cubes?
If you don't like to add bouillon cubes, you can switch with lemongrass, which gives a nice flavorful soup.
5. How long can this Tinolang manok recipe last in the fridge?
You can keep in the fridge for up to 5 to 7 days before it get spoiled.
Other Chicken Filipino Recipes
If you love this recipe, I highly recommend my other Filipino Chicken recipes that you can try to make at home:
📋 Recipe Card
Chicken Papaya Soup
Chicken Papaya is a Filipino soup dish mixed with green papaya and spinach. The broth is seasoned with ginger, garlic, fish sauce and chicken cube.
Ingredients
6

pieces

of chicken

80

gram

of fresh spinach

1

medium papaya

1

cup

chopped red onion

3

cloves

of garlic

1

thumb size of ginger

1

chicken bouillon cubes

2

tablespoon

of fish sauce

2

tablespoons

of vegetable oil

4 to 5

cup

of water
Instructions
Add vegetable oil to a cooking pot in medium heat. Once hot, add ginger and chopped garlic. Stir for a minute.

Add chopped red onion. Give a quick stir till it turns transparent.

Add chicken and stir to mix for 5 minutes before pouring water

Once it started to boil, add fish sauce and chicken bouillon cubes.

Lower to fire to low heat to let it simmer for 20 minutes. Make sure you cover the pot with the lid to let it cook faster.

Add green papaya in the pot, and let simmer for 3 minutes

Add the spinach, and let it simmer for additional 2 minutes before turning off the fire. Do not remove the lid of the pan since the steam will help continue cooking the vegetables.
Notes
If you are using chicken broth, do not use fish sauce or bouillon cube.
If you don't like spinach, you can add pechay (Chinese cabbage) or moringa leaves (malunggay)
Nutrition
Serving:
1
g
Calories:
298
kcal
Carbohydrates:
11
g
Protein:
26
g
Fat:
15
g
Saturated Fat:
4
g
Polyunsaturated Fat:
9
g
Cholesterol:
61
mg
Sodium:
692
mg
Fiber:
2
g
Sugar:
5
g