Chicken Adobo with potatoes is a savory Filipino recipe that is mixed with soy sauce, vinegar, brown sugar, and garlic. It is considered an unofficial national dish of the Philippines which is best served with white rice.


Jump to:
Filipino foods are mostly sweet and savory, which is different compared to other Southeast Asian cuisines. As a half Filipino, I have tried and eaten many delicious local foods made by my mother and relatives.
While living here, I have learned that their cuisines have a Chinese and Spanish influence. One of the famous Pinoy recipes that interested me is Chicken Adobo, which is a popular recipe to serve during fiesta, birthdays, or family gatherings.
What is Filipino Adobo?
Adobo is a Spanish word "adobar" meaning "marinade" which makes sense since we marinate our meat. Among the Filipinos, adobo is a cooking process that involves marinating and stewing the meat in vinegar, soy sauce, and garlic till the meat becomes soft and tender.
The taste of this dish involves mild saltiness from the soy sauce & sourness from vinegar. Furthermore, it has a bit of sweetness taste from the brown sugar. Unlike other Filipino food recipes, this adobo has less sauce which blends well with white rice.
There are different varieties of Adobo, which include squid, seafood, or pork. Also, some like to add vegetables to their dish which is not traditional. But, in this recipe, I made my version of Chicken Adobo with Potatoes, which is my mother's special recipe.
Recipe Ingredients
To make this Chicken Adobo, I use these ingredients that are commonly used in the Philippines.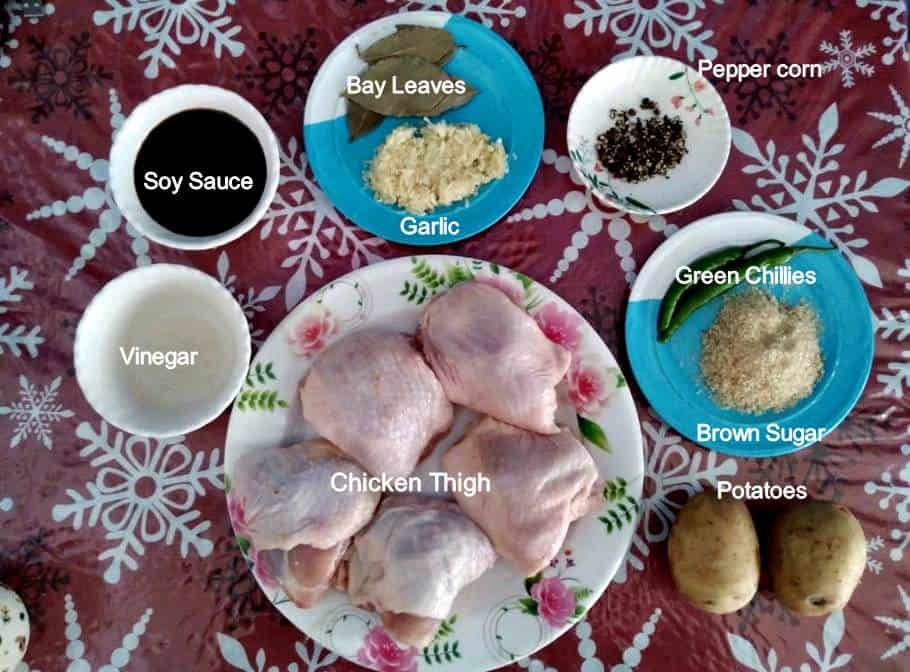 MEAT: Based on the picture, it seem I am using Chicken Thigh. But actually, I am using Chicken Drumstick as my protein. I prefer to use meat with bones since it gives better flavor of the adobo sauce.
VEGETABLES: Although not traditional, I am using potatoes as an add-on for my recipe.
CONDIMENT: Soy sauce and vinegar is two of the most important ingredient for this dish. Without them, you can't make this recipe
OTHER INGREDIENTS: I use tons of garlic, and bay leaf, brown sugar & vegetable oil. Garlic is a very important ingredient since it gives a savory flavor.
What to do before cooking this dish?
Before you start making this recipe, it is important to marinate the chicken first. I mixed together the soy sauce, vinegar, brown sugar and the chicken in a large bowl, and keep it in a fridge.
Although not recommended, I suggest you leave it marinated for 6 hours since it will help absorb the flavor of your chicken. But, if you are in a hurry, 1 hour is more than enough to make your delicious chicken adobo.
Step by Step Instruction
After you marinated the chicken overnight or hours ahead, cooking chicken adobo with potatoes recipe is simple and straight-forward.
Firstly, pour vegetable oil into the pan and then add the 1.5 to 2 inches cubed potatoes to fry. Just half-cooked the potatoes when frying. Once done, transfer to the plate and set aside
Firstly, I add two tablespoons of vegetable oil to a large pan, and then I added the chopped garlic to the pan. After that, add the chicken drumstick to the pan. Sauté it for 5 minutes before I pour the marinated sauce and water.
Next, add the bay leaves, peppercorn and brown sugar (if needed). Stir to mix and then let it simmer for at least 30 minutes or until the chicken is soft and cooked.
Lastly, add the half-cooked chopped cubed potatoes and continue simmering for 5 more minutes or until the potato is soft. Serve it with white rice and enjoy
Recipe Frequently Asked Question's (FAQs)
1. What other vegetables I can add in this recipe?
In addition to potatoes, you can add carrot, broccoli, and onion. Not only do they blend well, but they make this dish nutritious.
2. What goes well with this recipe?
In Filipino cultures, we serve different foods at one table along with rice. Of course, chicken adobo is served well with white rice or fried rice. And in addition to that, I prefer to serve with vegetable side dishes like Vegetable Lumpia or Filipino Chop Suey.
3. How long can you store in the fridge?
This recipe can last in the refrigerator for up to 1 week. While in the freezer, it can last up to 3 months.
4. Is there other protein meats I can use aside from chicken?
It is common in Filipino tradition that they use chicken or pork. However, I don't eat pork, and you can switch with other meats like Boneless fish or beef.
Recommended Recipes
I have other great Filipinos recipes that are delicious:
📋 Recipe Card
Chicken Adobo with Potatoes
Chicken Adobo with potatoes is a authentic and famous Filipino chicken recipe that is mixed with soy sauce, vinegar, garlic, and potatoes.
Ingredients
7

pieces

chicken drumsticks

½

cup

of soy sauce

¼

cup

of vinegar

1

cup

of water

1

tablespoon

of brown sugar

1

teaspoon

of crushed peppercorn

2

small potatoes

4

pieces

of bay leaf

7

cloves

of garlic

2

pieces

green chilies

optional

1

piece

chicken bouillon cube

2

tablespoon

Vegetable oil (For Sauteing)

1

cup

Vegetable Oil for frying
Instructions
Pour soy sauce, vinegar, brown sugar and the chicken drumstick in the large bowl. Use your hand to mix it well. Let it marinate for 30 minutes to 1 hour.

Pour vegetable oil in the pan. Once hot, add the chopped cubed potatoes. Do not fully cooked the potatoes. Just make sure it is half-cooked only. The rest will be done when simmering it.

Remove the half-cooked potatoes. Transfer into the plate. Set aside

In a separate pan, add vegetable oil and garlic. Stir for less than 30 seconds.

Add the marinated chicken (exclusing the sauce). Stir to mix

Pour the marinated sauce and water.

Add the bay leaves, peppercorn and chicken bouillon cube. Stir to mix

Cover with the lid. Let it simmer for at least 30 minutes or until the chicken is cooked.

While simmering, you can add the green chilies (optional)

Add the half fried potatoes on the chicken adobo. Cover with the lid and let it simmer for 5 more minutes until the potatoes is soft..

Serve with white rice or any rice, and vegetable side dishes.
Notes
Before starting to cook, marinate the chicken by mixing the soy sauce, bay leaves, garlic, peppercorn and vinegar in a large bowl for an hour. For better flavor, leave it for 6 hours.
Nutrition
Serving:
1
g
Calories:
314
kcal
Carbohydrates:
16
g
Protein:
29
g
Fat:
15
g
Saturated Fat:
3
g
Polyunsaturated Fat:
10
g
Cholesterol:
135
mg
Sodium:
990
mg
Fiber:
2
g
Sugar:
3
g