Bistek Tagalog recipe is a Filipino beef steak that is braised in soy sauce, oyster sauce & vinegar. It is a flavorful dish that is best served with white rice.
Jump to:
Soy sauce and vinegar are very important condiments in Filipino cuisines, which the locals prefer sweet or salty dishes. I notice that they love to add these sauces to their chicken, beef, or pork dish. Also, unlike other Southeast Asian cuisines, Filipino foods are rarely spicy, and it is mostly sweet or salty.
In the Philippines, pork is more popular than beef since it is affordable. And as you know, I don't eat pork since I am a Muslim. So my mother, who is from the Philippines, made some Filipino beef recipes that we are familiar with.
One example dish I will like to share with you is a traditional Filipino beef dish called Bistek Tagalog.
What is Bistek?
It is Filipino beef steak which is cook through braising or slow cooking method. We use a thinly sliced beef, preferably sirloin or round steak, which we sautee first before simmering in the pan for 35 to 45 minutes. When simmering, we mix with soy sauce, oyster sauce, vinegar, and water to help make the beef tender. And when it's tender, we half cook the onion-shaped ring and put it above the beef before serving.
We all know that Filipino foods have Spanish and Chinese influence. And according to my relatives, because of the Spanish colonization, there is a similarity between Filipino and Caribbean foods. For example, in Caribbean cuisines, bistec de palomilla or bistec ranchero is similar to our Filipino bistek, which is not surprising since these countries are all former Spanish colonies.
Bistek is one of the first Pinoy beef dish I tried when living in the Philippines. It kinda remind me the Filipino Chicken Adobo, since they both use soy sauce and vinegar.
Recipe Ingredients
There are some ingredients you need to make this delicious bistek Tagalog recipe.
Firstly, I am using thinly sliced beef, which could be either round steak or sirloin. A thinly sliced beef will help cook & tender the meat faster.
Secondly, there are 3 sauces you need for this recipe: Soy sauce, oyster sauce, and vinegar. The soy sauce gives the saltiness, the oyster sauce adds the sweetness, and the vinegar adds the sourness of my Filipino bistek.
Thirdly, I prepared my ring-shaped onion, which I will fry, and put it above the beef before serving. It is traditional in the Philippines which is similar to bistec de palomilla in Cuba and Mexico.
Lastly, the rest of the ingredients are mentioned in the recipe card.
Things to do before Cooking
My cooking technique is a bit different compared to others. That is because before I sauté the beef, I marinated it with garlic, brown sugar, bay leaves, soy sauce, oyster sauce, and vinegar. It will help the beef absorb the flavor, making it more tasty and flavorful.
Note: This is considered optional if you prefer to cook the beef steak right away without marinating it. You can skip that part if you don't like to marinate your sirloin or steak.
Step by Step Instruction
Once the beef is already marinated, you can start cooking the Bistek Tagalog recipe
Firstly, add two tablespoons of vegetable oil to the pan. Once the oil is hot, add the marinated sliced beef steak or sirloin to the pan.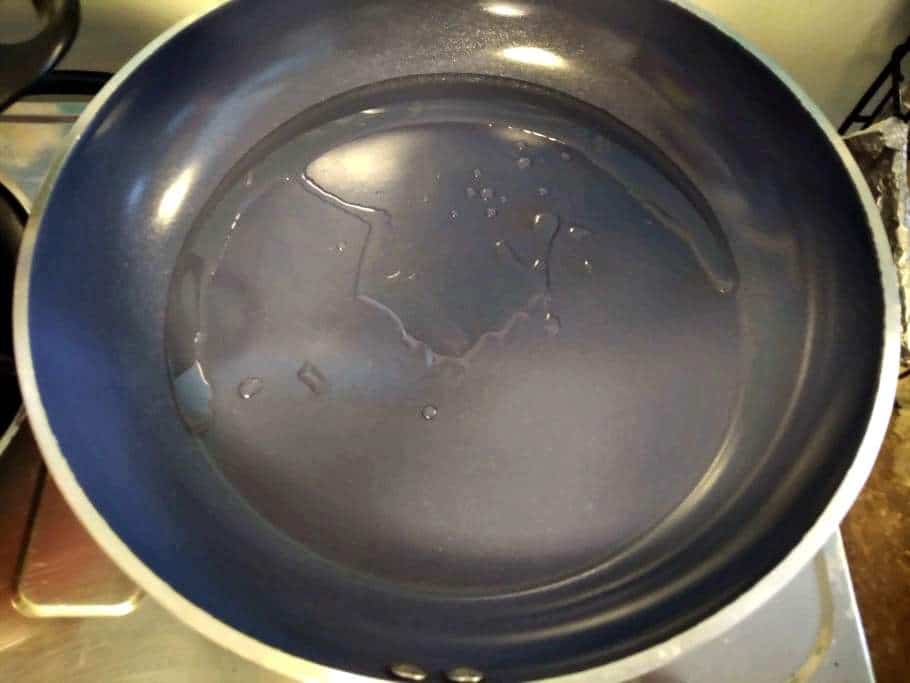 Sauté for 5 minutes until the juice of the beef fully evaporates. Remove the beef, and set aside. You don't have to make the beef fully cooked since the rest will be done through simmering.
In the same pan, add the chopped onion and give a stir until the onion is cook. Pour the marinated sauce and water, including the bay leaves and the garlic. Add the beef, and stir lightly. Lower the heat, and let it simmer for 35 to 45 minutes or until the beef steak becomes soft and tender. Add more water if needed.
In a separate pan, add another tablespoon of vegetable oil. Fry the ring-shaped onion in the pan until it becomes soft. Do not fully cook the onion.
When the beef is cooked, place the onion ring above the beef bistek and serve with hot steam rice.
Recipe Faqs
I. What type of Beef I can use in my Bistek?
In my Filipino beef steak recipe, I am using round steak. But, you can use sirloin beef too. Also, make sure you thinly sliced them so the meat will cook faster. If the meat is thick, it will be rubbery, or you might need to cook a little longer.
II. Can you use other meat aside from Beef?
You can use chicken, which we called it Chicken Adobo. Or you can use pork, which in the Philippines, we call this pork bistek. But, I don't use that meat in my dish since I don't eat pork.
III. What do you serve Bistek Tagalog with?
We eat this beef bistek with steamed white rice since it is a popular staple food in the Philippines. In addition to that, I love to eat this with vegetarian side dishes such as Ginisang Ampalaya or Vegetable Lumpia.
IV. Can you store it in the refrigerator or freezer for later use?
Yes, if you have left-over, you can keep your Filipino bistek in the refrigerator, which is good for 7 days. Also, if you prefer a freezer, they can last longer for up to 1 month.
Other Filipino Beef Recipes to Try
Here are other delicious filipino beef food recipes to try at home:
Nutrition Facts
1 servings per container
Serving Size4 servings
---
Calories367
Amount Per Serving% Daily Value *
Total Fat 18.1g

28

%
Cholesterol 112mg

38

%
Sodium 800mg

34

%
Amount Per Serving% Daily Value *
Potassium 616mg

18

%
Total Carbohydrate 9.5g

4

%

Dietary Fiber 1g

4

%
Sugars 4.9g

Protein 39.8g

80

%
Calcium

2

%
Iron

136

%
Vitamin D

1

%
* The % Daily Value tells you how much a nutrient in a serving of food contributes to a daily diet. 2,000 calories a day is used for general nutrition advice.