Beef Lumpia Recipe is a Filipino egg roll dish that is mixed with beef, vegetables, and sauces. Among locals, we called it Lumpiang Shanghai, which is one of the most popular street foods in the Philippines.  


Jump to:
There are varieties of lumpia in the Philippine, which could be either fresh or fried. But, in this post, we are focusing mostly on a popular Filipino fried beef lumpia.
During my stay in the Philippines, you can find this Filipino egg roll dish almost everywhere- from street food to high-end restaurants. The first time I tried a fried egg roll was during my childhood made by my mother.
This is so far one of the tastiest and recommended Filipino food to try. You can even find this dish in other street foods and in the carinderia- a food place where they sell and serve Filipino foods. In the Philippines, we call this spring roll a Lumpiang Shanghai.
What is Lumpiang Shanghai?
Lumpiang Shanghai is a Filipino spring roll which is fried in deep oil to have a nice crispy texture. It is commonly eaten with rice, and served with sweet or vinegar sauce.
It is one of the most popular local dish in the Philippines, which is popular among local and foreign tourist. This Filipino spring roll can be either beef, chicken or pork. But in this recipe, I will be showing you how to make this delicious Beef Lumpia.
Recipe Ingredients
To cook this amazing Filipino lumpia, you will need several ingredients for this recipe.
First of all, you need fresh ground beef, which is found in most large grocery stores or supermarkets. In the Philippines, most locals cook lumpiang shanghai dish using ground pork, but because I don't eat pork, I am using beef instead,
Secondly, 3 of the most important vegetables you will need are Onion, Garlic and Carrot.
In this dish, I use a lot of onion since it will give a nice taste of the ground beef. This is my mother's secret ingredient to make the lumpiang shanghai delicious, and she said that you will need a lot of onion. I grated the onion, and the other vegetables using the grater rather than chopping them off. This method can help make sure the vegetables are well mixed with ground beef.
Thirdly, to season the ground beef, I add soy sauce and oyster sauce. These sauces will prove the saltiness and the sweetness of this dish. For this reason, I don't use salt or sugar. In addition to that, I added egg since this will help stick the ground beef and the other ingredients together.
And lastly, to wrapped the lumpia, I bought a ready-made egg roll wrapper which is found in most Asian grocery stores. This is needed to wrap the ground beef mixture and make it into an egg roll. The wrapper I have is a philippine-made, however, you can find other egg roll wrappers made in other Asian countries like Malaysia.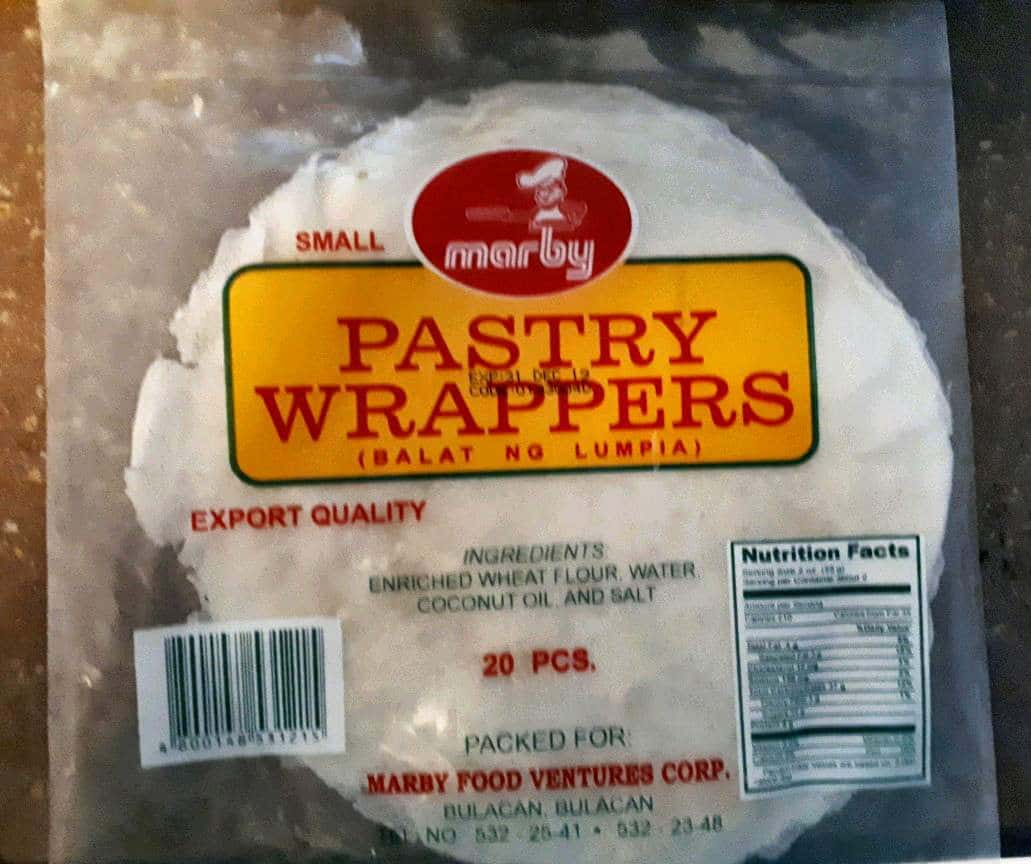 What are the kitchen equipment / utensils you need before cooking lumpia?
For Beef Lumpia Recipe, you will need a Filter Spoon to remove the excess oil when picking the lumpia, and large pot or deep frying pan.
Also, when using cooking oil, I highly recommend using canola vegetable oil since it is healthier than most cooking oils.
Step by Step Instruction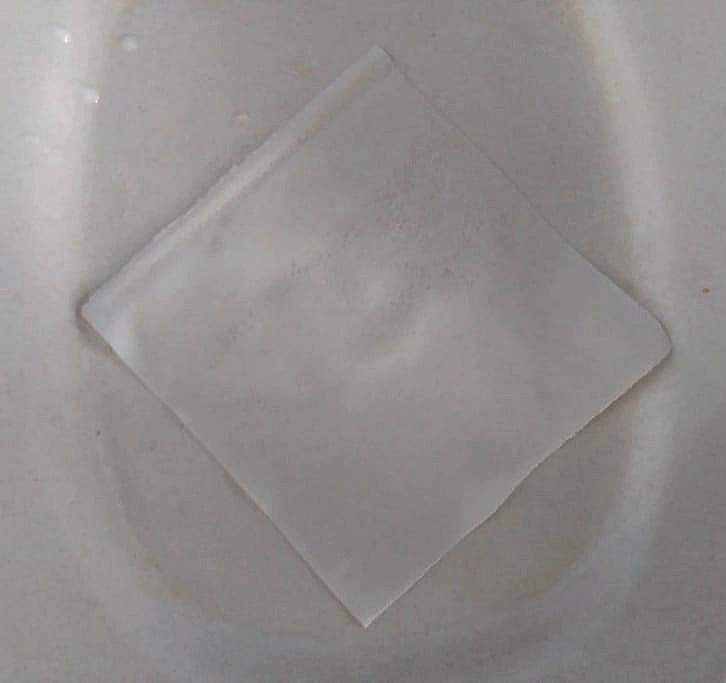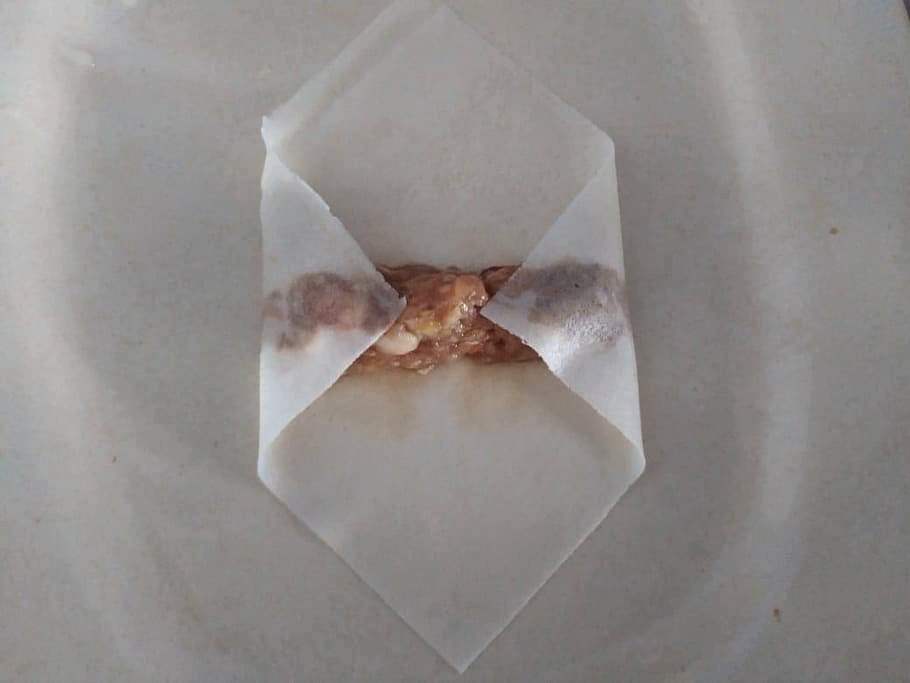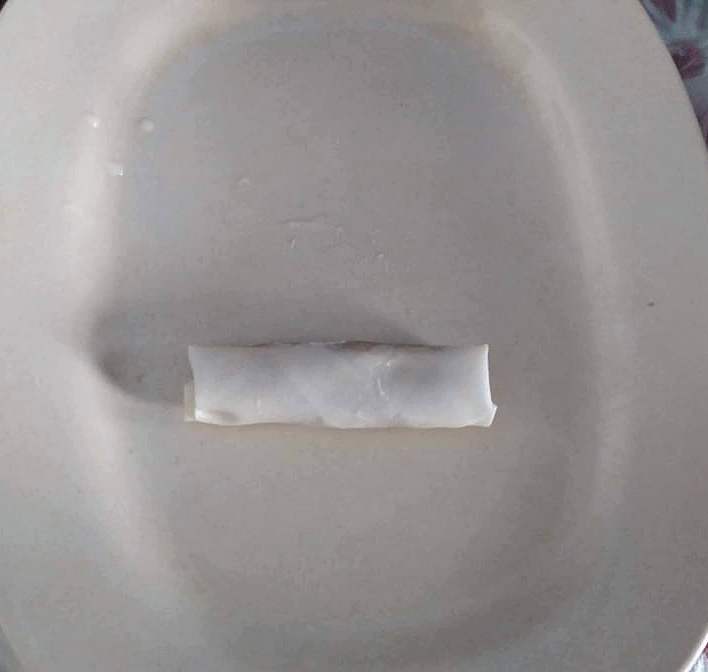 To cook Beef Lumpia is extremely easy and straight forward. Firstly, put the ground beef in a large bowl. Grate all the onion, garlic and carrot, and put it in the ground beef. Add the soy sauce and oyster sauce in the bowl, and the egg. Mix it all well.
Once they are well mixed, prepare the egg roll wrapper, and an egg white to help stick the wrapper together. Put one tablespoon of the meat filling into the center of the wrapper. Make sure in the meat filling there is 2 inches space wide.
First, fold the meat filling across the triangular end of the lumpia wrapper, and roll them from the bottom till the center. Add egg white on the upper end to help seal the wrapper. Continue rolling till you get a log shape. Add more egg white on the end edge to helpfully sealed the egg roll wrapper.
Next step, add vegetable cooking oil in the pot or deep frying pan. Once the oil is hot, add the lumpia and let it fry for 5 minutes or till it turns golden brown. Transfer the cooked lumpia into the plate with a paper towel to help drain the excess oil. Once you are done, served with vinegar sauce or any sauce you like.
Variation
Instead of meat, you can use pure vegetables. Here is my vegetable lumpia (Lumpiang Gulay)
Aside from ground beef, you can use ground chicken, turkey or tuna.
For the fillings of beef lumpia, you can add or switch with other vegetable ingredients like green pepper, celery or cabbage.
Question and Answer
1. Can you store the Lumpia in the Refrigerator and Freezer?
That really depends. If the Beef lumpia is already fried, you can keep in the refrigerator for up to 3 to 5 days. That way, the food will not spoil easily. However, if you decided to put in the freezer, the cooked fried lumpia can last up to 3 weeks. I have done this before, and the quality and texture of my lumpia is still fresh.

On the other hand, if you will store the uncooked assembled lumpia in the freezer, they can last up to 1 month. They will not spoil easier since it wasn't cooked yet. However, this is not the same if you keep in the refrigerator. They only work if the meat or the lumpia are cooked. Also, it can be stored for only 1 day if you don't want to wait for the lumpia to unfrozen before frying.
2. Can you cook frozen lumpia in an Air Fryer?
Absolutely. They work perfectly when cooking in the Air Fryer. However, it might be a bit dry since it wasn't fried in deep oil. Air fryer doesn't use oil so the beef lumpia is really dry but still crispy and healthier.
3. How do you reheat and make the lumpia crispy again?
When reheating the lumpia, you can either re-fry them using deep fry oil or in an air fryer. I highly suggest you reheat your delicious lumpia using air fryer. Since the cooked lumpia already contain oil, the airfryer will help make this delicious spring roll crispy without making it dry.

DO NOT reheat your lumpia using microwave if you want it crispy. The microwave will make your spring roll really soft.
Related Filipino Beef Recipes to Try
If you love Filipino foods, I have other recipes that you may enjoy cooking at your kitchen
Beef Lumpia
Beef Lumpia Recipe is a filipino egg roll dish that is mixed with beef, vegetables and sauces.
Ingredients
500 gram of Ground Beef
1 cup of grated onion
4 cloves of garlic
½ cup of grated carrot
1 tablespoon of soy sauce
1 and ½ tablespoon of oyster sauce
2 egg
Lumpia / egg roll wrapper
Vegetable Cooking Oil for frying
Salt and Black pepper
Instructions
Add the ground beef, onion, garlic, carrot, soy sauce, oyster sauce, and egg in the bowl.
Mix all of them together. After that, prepare the egg roll wrapper for filling the meat
Add one tablespoon of meat filling in the wrapper. Fold them across the triangular end of the lumpia wrapper, and roll them till you get a log shape. Use egg white on the sides to help seal the wrapper.
Prepare a cooking oil in the pot or deep frying pan. Wait till the oil is hot.
Once it is hot, put the beef lumpia wrapper into the oil. Let it cook for 5 minutes or till it becomes golden brown.
Once it becomes golden brown, transfer into the plate with paper towel to help drain the excess oil. Serve with sweet sauce or vinegar sauce


Notes
You can use egg white or water with flour for sticking the lumpia wrapper
Cutting the beef lumpia into two is just an optional, you can leave it that way
Nutrition Information
Yield

15
Serving Size

1
Amount Per Serving
Calories

104
Total Fat

6g
Saturated Fat

2g
Trans Fat

0g
Unsaturated Fat

3g
Cholesterol

43mg
Sodium

149mg
Carbohydrates

4g
Fiber

1g
Sugar

1g
Protein

8g