Cornsilog is a Filipino recipe that is mixed with garlic rice, fried egg, and corned beef. It is a traditional breakfast dish that is commonly served with hot drinks like coffee.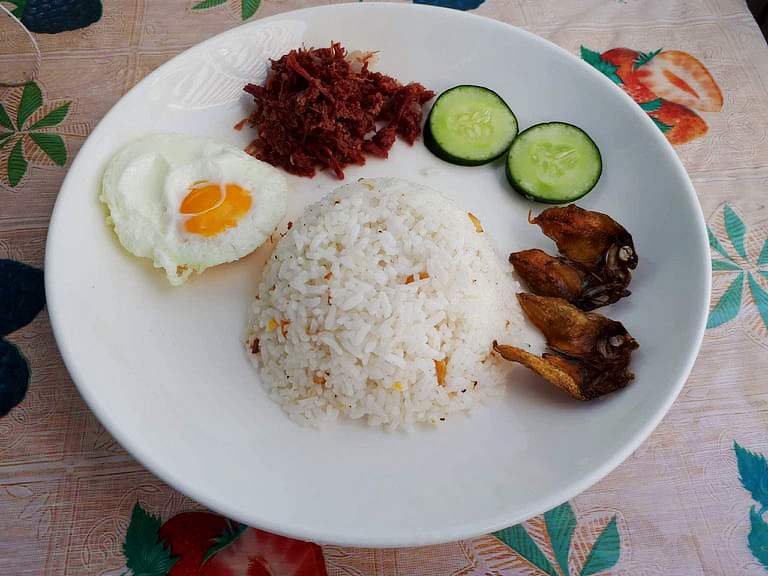 Jump to:
If you live in the Philippines, you will know that rice is always served at breakfast, lunch, and dinner. That is because it is considered the most popular and favorite staple food among the locals.
Unlike other countries, we love to serve rice dishes at breakfast with egg and hot drinks. If you tried a popular fast-food chain called Jollibee, they serve this famous breakfast meal called Silog.
What is Silog?
Silog is a breakfast meal that is composed of Filipino garlic fried rice called Sinangag, fried egg, and any choices of protein meat.
There are many kinds of silog which the name is based on the choice of meats, most of them are processed meats. These choices include luncheon meat, hot dog, beef tapa, corned beef, longganiza, tocino, and many more others.
In my opinion, it may not be healthy, but it is a delicious meal which will satisfy your stomach. You can find it in Jollibee, hotels that serve breakfast, and other small eateries.
In this post, I will be sharing the recipe of one of my favorite breakfast recipes called cornsilog.
Recipe Ingredients
Here are the list of ingredients I am using to make my delicious cornsilog recipe:
Corned Beef: I am using canned corned beef which you can find in most Filipino grocery stores. It doesn't matter what brand is this canned good, but to me, I prefer Purefood brand since it tastes better.
Fried Rice: To make sinangag (Fried rice), I am using a bowl of leftover white rice that I cooked yesterday. Also, you need vegetable oil and chopped garlic to saute the fried rice.
Danngit: This is just optional, but I like to add a salted dried fish called Danngit, which you can also find in any local grocery store. It is a low sodium dried fish, so it is not salty to eat it.
Other ingredients: The rest of the ingredients you need include egg where you can to make sunny-side-up; chopped onion for sautéing the corned beef; and salt & black pepper for seasoning.
Step by Step Instruction
To make cornsilog, there 3 things you should do to cook this recipe: Cooking the corned beef; Cooking the Garlic Rice, and Making the egg.
I. Cooking the Corned beef
Firstly, I added ½ tablespoon of vegetable oil in the pan which when it becomes hot, I add chopped onion. Stir until it turns translucent.
Next, I added the canned corned beef, which I stir to mix for a minute.
I add salt and black pepper for a taste before I turn off the fire. Set aside.
II. Making the Sinangag (Garlic Rice)
To make the garlic rice, I add vegetable oil to the pan.
Once it turns hot, that's when I added garlic which stir till it turns brown
And then I added the cooked white rice. Mix to combine and then add salt & black pepper for taste.
Once done, I turned off the heat and set it aside.
III. Making the Egg
When making the egg, you can either fry it in the pan or cooked in the microwave.
I just brush the small plate bowl with oil or butter and then I put the egg on it.
After that, transfer to the microwave and turn ON in medium heat for 1 ½ to 2 minutes.
Note:
If you don't find this technique comfortable, you can fry the egg in the pan.
For frying the Danggit, just add oil to the pan and then fry it till turn's crispy.
Recipe Frequently Asked Questions (FAQs)
1. What other side dishes you can add in cornsilog?
In addition to dried fish (Danggit), you can add sliced cucumber or tomatoes, and other vegetable side dishes such as Ginisang Ampalaya. They blend well in this dish
2. What other variation you can recommend for this dish?
You can use ordinary plain white rice instead of garlic fried rice. Or you can cook your egg either into the scrambled or boiled egg.
Other Silog recipes to try
Aside from corned beef silog, there are other type of dish you can try to make while at home:
Cornsilog Recipe
Cornsilog is a Filipino breakfast corn beef meal which compose of garlic fried rice, fried egg, and cucumber.
Ingredients
200 gram of canned corned beef
4 cup of cooked white rice
6 cloves of garlic
1 small onion
4 egg
Fried Fish Danggit (Optional)
2 tablespoon of vegetable oil
Salt and Black Pepper for Taste
Instructions
Cooking the Corned Beef
In medium heat, add ½ tablespoon of vegetable oil in the pan.
Once the oil is hot, add chopped red onion. Stir till it turns translucent
Add the canned corned beef and mix to stir.
Add salt and Black pepper for taste before turning off the heat. Set aside
Making the Garlic Rice (Sinangag)
Add 2 tablespoon of vegetable oil in a large pan.
Once hot, add chopped garlic. Stir till it turns brown
Add the cooked white rice in the pan.
Stir to mix gently, and then add salt and black pepper for taste.
Once done, set aside.
Making the Egg
If using microwave, add vegetable oil or butter on a plate bow before cracking the egg.
Transfer into the microwave. And heat it in medium heat for 1 to 1 ½ minutes.
If using the pan, add vegetable oil before cracking the egg. Let it fry till its ready
Making the Danggit Dried Fish (Optional)
Pour vegetable oil in the pan.
Once hot, add the dried fish. Fry on each side till its cooked and crispy.





Notes
You can use any brand of canned corned beef
Nutrition Information
Yield

4
Serving Size

1
Amount Per Serving
Calories

501
Total Fat

20g
Saturated Fat

5g
Trans Fat

0g
Unsaturated Fat

12g
Cholesterol

229mg
Sodium

676mg
Carbohydrates

49g
Fiber

2g
Sugar

1g
Protein

25g