Lebanese Moussaka is a vegan dish that is mixed with eggplant, chickpeas, onion, garlic, and tomatoes. It is called Maghmour which pairs well with pita bread or rice.


Jump to:
Lebanese and Levantine foods offer one of the best vegetarian dishes you will ever try. The Levantine cuisines, such as Jordanian, Syrian or Lebanese, are quite similar to Mediterranean foods. It is healthier, flavorful, and rich in herbs and spices.
As you know, eggplant is one of my favorite vegetables which I use in most of my dishes. Fortunately, in the Middle East, we have many delicious eggplant dishes like Baba Ganoush or Makdous.
In my experience, some countries have their version of moussaka. But, in this post, I want to share with you one amazing Lebanese dish that I tried in Amman, Jordan called Maghmour. And yes, we have a lot of Lebanese food in Jordan, which is popular among locals.
What is Lebanese Moussaka?
The Lebanese Moussaka, also known as Maghmour, is an eggplant vegan dish mixed with chickpeas. It is sautéed in the pan with garlic, onion, and chopped tomatoes. After that, water is added along with tomato paste to simmer the chickpeas.
If you tried with Mediterranean cuisines, then I am sure you are familiar with Greek Moussaka, which is like a layer with eggplant and bechamel sauce. The only difference is that the Greek version does not use tomato sauce. Also, the Lebanese version does not contain ground beef since this is a vegan dish.
This is a recipe that l learned from my father, which I am sure you will love this moussaka dish.
Recipe Ingredients
The recipe ingredients of my Lebanese Moussaka is simple since they are purely vegetarian.
Eggplant
Chickpeas
Garlic
Red Onion
Extra Virgin Olive oil- You can use ordinary olive oil if you want to.
Tomato Paste
Spices- Cumin, Cinnamon and Curry powder.
Water
Vegetable oil- For frying the eggplant
Seasoning for Taste- Salt, Black Pepper and Brown sugar
Step by Step Instruction
Here are the step on how to cook this delicious Lebanese Moussaka or Maghmour.
I. Frying the Eggplant
Firstly, I pour vegetable oil into the pan to prepare to fry the eggplant. I slice it into a circle shape but you can use the slice in any shape as you like.

Once the oil is hot, that is when I add each slice of eggplant into the pan. Remove each of them when they both turned brown.

Before you transfer the fried eggplant to the plate, add a paper towel to help absorb the excess oil. Set aside for the next step.
Note: One downside of frying the eggplant is that you need a lot of vegetable oil since the it absorbs a lot of oil when frying. If you prefer less messy, you can bake it in the oven at 180 C or 356 F in 20 minutes. Just drizzle it with olive oil before baking it.
II. Cooking the chickpeas and the rest of the ingredients.
In the next step, you need a separate pot where you cook the chickpeas, onion, tomatoes, and the rest of the ingredients.

Add olive oil to the pot, and once it becomes hot, add the chopped garlic, onion, and tomatoes. Give a stir for several minutes till it turns translucent and soft.

Next, I added the chickpeas and tomato paste. Stir again before you pour water. Let it simmer for 10 minutes or when the chickpeas become soft.

Add all the spices and the fried eggplant. Stir to combine for few minutes to help them absorb the flavor of the eggplant.

Lastly, before you turn off the heat, season it with salt, black pepper, and sugar for taste. Serve with pita bread or rice.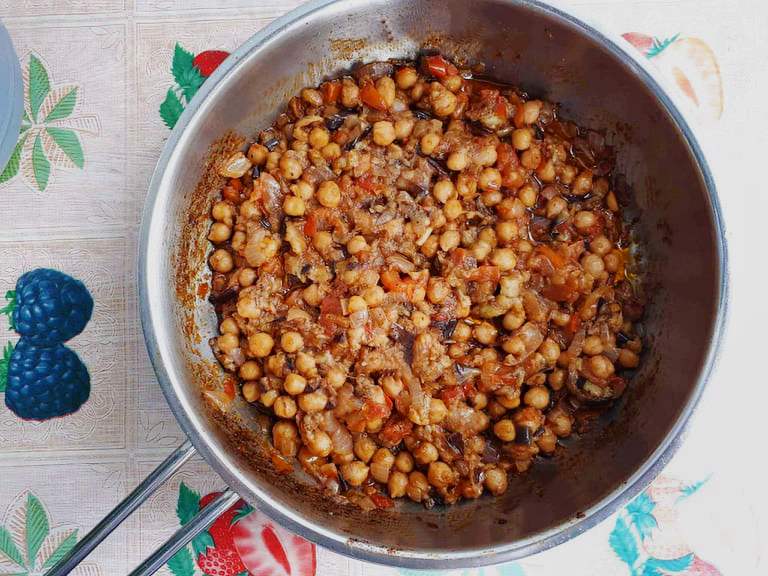 Variation
If you want to add some spiciness, add cayenne pepper powder or red chilies.

You can add other vegetables such as okra or green bell pepper.

I am using Extra Virgin Olive Oil since it gives a better flavor to this dish.

In this recipe, I am not making it into a stew or soupy since less sauce gives a stronger taste. If you want to make it into a stew, add more water or tomato sauce.

As mentioned in the previous paragraph, you can bake the eggplant in the oven instead of frying.
Substitution
I am using canned chickpeas since it is easier and faster to cook. But if you prefer to use dry chickpeas, that is fine. But make sure you boil it using a pressure cooker to make it soft right away

Instead of tomato paste and water, you can use either tomato sauce or canned diced tomatoes.
Frequently Asked Questions (Faqs)
1. Can I serve my Lebanese Moussaka cold or hot?
You can serve it either hot or cold, but I prefer it former since it taste better
3. How long can you store it in the fridge or freezer?
If in the fridge, it can last up to 5 days before it gets spoil. However, if you want to last it longer, you can put it in the freezer which can last up to 2 months.
Other Eggplant Recipes to try
Here are more foreign eggplant recipes from around the world to try:
Lebanese Moussaka (Maghmour)
A delicious Lebanese Moussaka which is a vegan dish made with eggplants and chickpeas. It is best serve with flatbread or rice.
Ingredients
3 Long Sliced Eggplants
400 gram Canned Chickpeas
3 Medium Chopped Tomatoes
2 teaspoon of Tomato Paste
¾ cup of water
1 medium chopped onion
5 cloves of chopped garlic
3 tablespoon of Extra Virgin Olive Oil
½ teaspoon of cumin powder
¼ teaspoon of cinnamon powder
½ teaspoon of curry powder
2 teaspoon of salt
1 teaspoon of black pepper
½ tablespoon of brown sugar
Vegetable oil (For frying)
Instructions
Frying the Eggplant
Pour vegetable oil in the large pan on medium-low heat.
Sliced the eggplant into a circle shape. Once hot, add them into the pan.
Fry till it turns light brown. Flip and repeat the process.
Remove the eggplant and transfer it to the plate with a paper towel to help absorb the excess oil. Set aside.
Cooking the Chickpeas and the rest of the ingredients
Add olive oil to the pot on medium heat.
Once hot, add chopped garlic and onion. Stir for few minutes till it turns translucent
Add chopped tomatoes and continue stirring till it turns soft and translucent.
Add drained canned chickpeas and tomato paste. Stir to combine before pouring water. Let it simmer for 10 minutes.
Add cumin, cinnamon & curry powder, and fried eggplant. Mix gently and continue simmering to let it absorb the flavor of the fried eggplant.
Add salt, black pepper, and brown sugar for taste. Mix for one more time before turning off the heat.
Serve with rice or flatbread

Notes
You can bake the eggplant into the oven instead of frying in 180 C or 356 F in 20 minutes
You can use either canned or dried chickpeas. But you will need to boil the dry chickpeas to make it soft
Nutrition Information
Yield

6
Serving Size

1
Amount Per Serving
Calories

302
Total Fat

12g
Saturated Fat

1g
Trans Fat

0g
Unsaturated Fat

9g
Cholesterol

0mg
Sodium

610mg
Carbohydrates

47g
Fiber

13g
Sugar

8g
Protein

8g