Chicken Pastil is a Filipino Muslim recipe that is served with steamed rice topped with shredded chicken. It is introduced from a Muslim region of Mindanao which is a popular breakfast meal.


Jump to:
Before I learn how to make my version of the Pastil recipe, my brother introduces this dish to me. I was not aware that this food even existed until his Muslim friend recommends this to him.
Because this is a Muslim dish from Mindanao, it makes me excited to eat it. That is because it has similarities to Indonesian and Malaysian cuisines.
In my opinion, this is one of my favorite Filipino dishes not just because it is mouthwatering, but it is also halal friendly.
What is Pastil?
Pastil; also called Patel, Patil, or Pater in Muslim Mindanao is made with steam rice topped with shredded meat.
The shredded meat could either be chicken, beef, or fish, which they call kagikit. To make the meat, it is sauteed in vegetable oil with onion, garlic, and soy sauce until it turns brown.
Traditionally, they wrapped the rice and the meat in banana leaves to help absorb the flavor. But in my Chicken Pastil recipe, I will not be using any leaves since I am cooking and serving this at the same time.
Banana leaves are usually used when you sell in the food stalls, bring them to your workplace, or anywhere you go.
Recipe Ingredients
Here are the ingredients that I use to my delicious version of Chicken Pastil: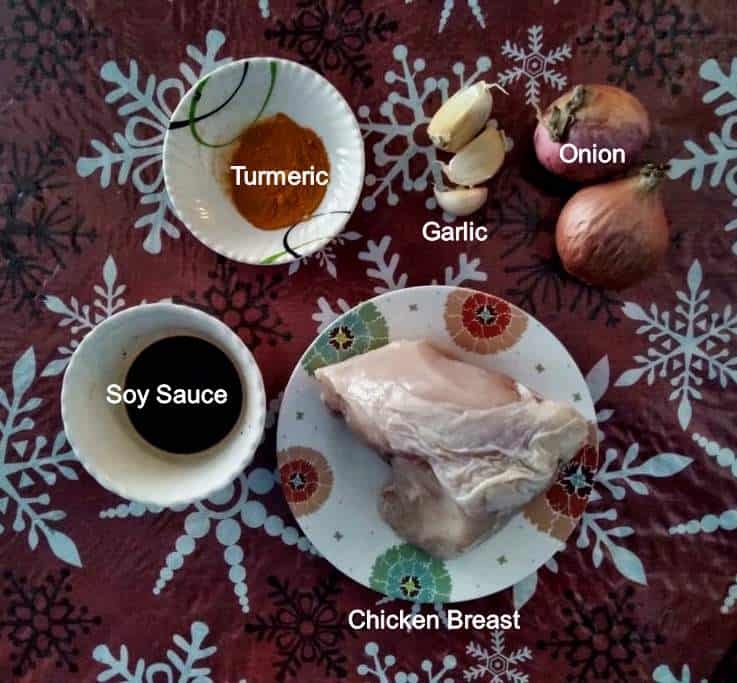 MEAT: I am using chicken breast since it is easier to shred the meat once you boiled them, and they cook faster than drumstick or thigh.
HERBS & SPICES: To enhance the flavor of the chicken, you need chopped onion and garlic. Also, I like to add turmeric since it is rich in antioxidants, and it gives a nice aroma to the meat.
CONDIMENTS: Soy sauce is a common condiment that you need to season the shredded chicken Kagikit.
OTHER INGREDIENTS: For the rest, you will need cooked white rice, vegetable oil for cooking, and salt & black pepper for seasoning.
What do you serve it with?
My Filipino Chicken Pastil is almost similar to the Malaysian Nasi Lemak dish in many ways.
Firstly, instead of sambal sauce, we serve this with a spicy Filipino condiment called Palapa, which is a combination of chopped onion, ginger, turmeric, and labuyo chili.
Secondly, like Nasi Lemak, you can also serve it with sliced cucumbers, and a boiled egg or scrambled egg.
In addition to that, I like to serve this recipe with my Filipino vegetable side dishes like Ginisang Ampalaya.
Step by Step Instruction
For boiling & shredding the meat
In a large pot, I pour water and the whole chicken breast. Let it boil for 15-20 minutes or until the chicken is cooked.
Drain the water and transfer the meat to the plate. When it cools down, that's when I manually shred the chicken into smaller pieces using my hand. You can use a fork or knife if you prefer that way.
To cook the shredded meat (Kagikit)
In a large pan in medium heat, I add vegetable canola oil and when it turns hot, that's when I add chopped garlic and onion. Stir for few minutes till it turns translucent.
Next, I added the shredded chicken, soy sauce, and turmeric. Stir to mix till the meat turns light brown.
Season it with salt and black pepper for a taste before you turn off the fire.
For serving Pastil
On a plate or in a banana leaf, I add a cooked white steamed rice, and then I topped it with shredded chicken.
You can serve it with palapa, cucumbers, or boiled egg.
In this recipe, I am not using banana leaves unless if I will bring them with me to my work and send it to my relatives or friends.
Variation and Hints
Instead of chicken, you can use beef or boneless fish.
For the Pastil recipe, you can use any brand of short or medium-grain rice.
Banana leaves or Pandan leaves works fine in this recipe.
Although this is traditionally a breakfast meal, you can serve this during lunch or dinner.
To add spiciness, you can green chilies or labuyo chilies.
If you don't have soy sauce, you can instead use oyster sauce.
To help the rice maintain its shape, you use short-grain rice. But if using medium rice, you can mix with a bit of glutinous rice.
Other Filipino Chicken Recipes
Here are other delicious Filipino Chicken dishes you can make at home:
Chicken Pastil Recipe
A Filipino Muslim rice dish called Chicken Pastil which is topped with seasoned shredded chickens.
Ingredients
500 grams of chicken breast
2 chopped medium onion
4 cloves of garlic
4 tablespoon of soy sauce
½ teaspoon of turmeric
½ cup of vegetable oil
Salt and Black Pepper for Taste
Cooked White Rice
Instructions
For Boiling and shredding the chicken
Pour water and chicken breast into a large pot.
Let it boil for 15 minutes or till it is cooked and soft
Drain the water and transfer the chicken to the plate.
Once it cools down, shred the chicken breast into smaller pieces using your hand or fork, Set aside.
Cooking the Shredded Chicken (Kagikit)
In medium heat, add vegetable oil to the pan.
Once hot, add chopped garlic followed by onion. Stir till it turns translucent.
Add the shredded chicken and continue stirring.
Add soy sauce, turmeric, and black pepper. Mix to combine
Add salt for taste if necessary.
Serving the Pastil
On a plate or banana leaf, add cooked white rice. Use the spoon and your cleaned hand to make it into a rectangular shape.
At the top of the rice, add the shredded chicken kagikit.
Serve with sliced cucumbers, boiled egg, or palapa (if you have one). Enjoy.




Notes
I am not using Banana leaf in this recipe unless if I bring it with me at work.
You can use short grain or medium grain rice in this recipe.
To add spiciness, use green or red chilies.
Nutrition Information
Yield

6
Serving Size

1
Amount Per Serving
Calories

310
Total Fat

22g
Saturated Fat

2g
Trans Fat

0g
Unsaturated Fat

18g
Cholesterol

71mg
Sodium

694mg
Carbohydrates

13g
Fiber

1g
Sugar

2g
Protein

28g