Chicken Tocino is a sweet and savory chicken recipe that is marinated in brown sugar, pineapple juice, and garlic. It is a popular Filipino breakfast meal that is best served with garlic rice and egg.


In the Philippines, when we have our breakfast, we usually serve with white rice or garlic rice, egg, and pan-fried meat dishes. Pan-fried meats include corned beef, tapa, sausage, or hotdog.
In my previous recipe post, I have written a popular Filipino breakfast dish called Chicken Longganisa, which is a sweet and savory sausage. But in this post, I will like to share with you another similar delicious Filipino breakfast dish called Chicken Tocino.
What is Tocino?
Tocino can be either Pork or Chicken, which are both popular proteins in the Philippines. But, in this recipe, I am using chicken as my protein.
It is a sweet and savory dish, similar to Longganisa, that is marinated in brown sugar, paprika, pineapple juice, garlic, and oyster sauce. It is marinated for at least 24 hours in the freezer.
Also, to cook Tocino, you boiled it first using the marinated sauce. And once it started to dry's out, that is when we pan-fried it by adding vegetable oil. When we pan fry it, we make sure it turns brown before you remove it from the pan.
Lastly, it is best to serve this with either garlic rice / white rice and a sunny-side up egg. I am sure you know that in the Philippines, rice is a very important staple food.
Recipe Ingredients
Here are the list of recipe ingredients I use to make my Chicken Tocino:
CHICKEN BREAST: I am using a boneless chicken breast which I sliced into 3 inches size. You can also use boneless chicken thigh if you like
SEASONING & SPICES: To season my chicken, I am using brown sugar & pineapple for sweetness, and oyster sauce, garlic, salt & black pepper for A savory taste.
Food Coloring: To make the Tocino red, I use ketchup and Spanish paprika. You can use either one of them if you like.
Step by Step Instruction
There are two things to do when making Chicken Tocino: Marinating and Cooking the Tocino.
A. Marinating the Chicken
To marinate, I mix the chicken breast with pineapple juice, paprika, brown sugar, ketchup, and all the rest of the ingredients together in a plastic food container.
Once you gently mix them, I store them in the fridge for at least 24 hours. This will help the chicken absorb the flavor of the marinated sauce. If you are in hurry, you can just skip that part.
B. Cooking the Tocino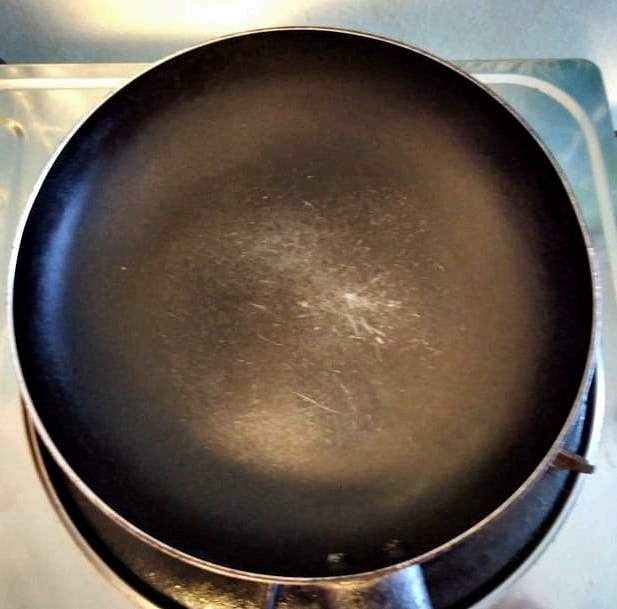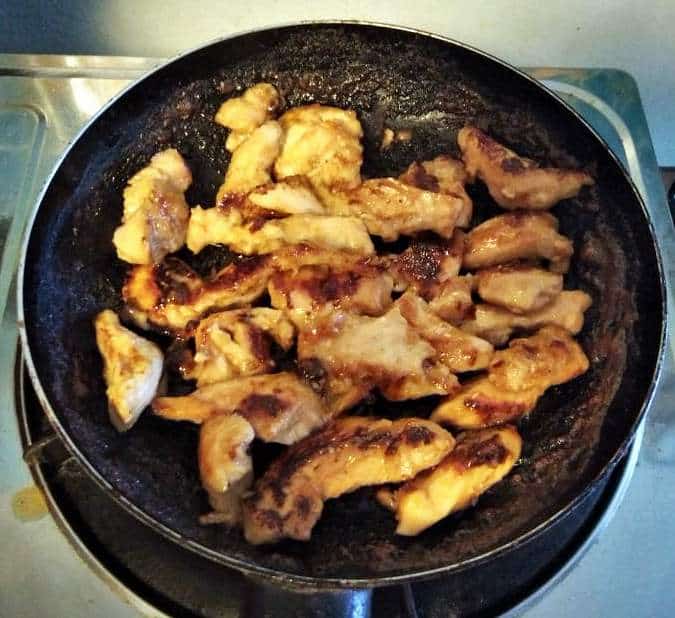 First, you prepare an empty pan in medium heat, and then I add the chicken along with the marinated sauce.
The marinating sauce will be used to boil the chicken. Once the sauces started to evaporate, that is when I add vegetable oil, in the same pan, to pan-fry the meat.
Make sure both sides are brown, and then I add a pinch of paprika, and then I mix to stir before turning off the fire.
Recipe Frequently Asked Question
1. What do you eat this dish with?
I serve my chicken dish with garlic rice or white, sunny side up egg and cucumber. These are common breakfast meal we eat here in the Philippines
2. Is there other ways to cook this dish aside from pan-frying?
If you don't like to fry or use too much oil, you can just bake in the oven. I set it to 350 F or 180 C and bake it for 25 minutes, and then I broil it for additional 5 minutes to char the chicken.
Another option is you can cook it through a charcoal grill. But, make sure you cover it with foil so it will not become overcooked because of the sugar.

3. How do I reheat a cooked chicken tocino?
To reheat the chicken, I just use the microwave, which I set in a medium-high setting, and heat it for 1-2 minutes.
4. If I don't have paprika or ketchup to make my tocino red, what are the alternative?
You can use atsuete or annatto powder if you don't have ketchup or paprika. But because this is in a form of small seeds, you have to soak it in water so it can release its natural red color. That is why you can transfer it into the chicken.
5. After cooking this dish, how can long can it last in the fridge?
If you still have leftover, you can store in the fridge which can last up to 5 days. If you want to last it longer, I recommend you keep it in the freezer, which can last up to 2 months.
Related Filipino Chicken Recipes
If you are looking for similar recipes, here are other delicious Filipino chicken dish to try at home:
Chicken Tocino Recipe
Chicken Tocino is a sweet and savory Filipino breakfast dish that is best serve with garlic rice and egg.
Ingredients
2 Chicken Breast (Sliced at 3 inches long)
2 ½ tablespoon of brown sugar
½ cup of pineapple juice
2 teaspoon of garlic powder
3 tablespoon of ketchup
½ teaspoon of Spanish paprika
1 tablespoon of oyster sauce
½ teaspoon of salt
½ teaspoon of black pepper
2 tablespoon of vegetable oil (For Pan-frying the chicken)
Instructions
Marinating the Chicken
In a plastic food container, combine the chicken breast, pineapple juice, brown sugar, oyster sauce, ketchup, and the rest of the ingredients.
Gently mix them using a spoon or your hand before keeping them in the fridge for at least 24 hours. (You can skip that part if you prefer to cook on the same day).
Cooking the Chicken
Prepare an empty cooking pan.
Pour the marinated sauce along with the chicken breast. The sauce will be used to boil the meat.
Once the sauce is fully evaporated, add two tablespoons of vegetable oil.
In low heat, pan-fry on each side till it turns brown and caramelized.
Add a pinch of paprika or a tablespoon of ketchup, and give a quick stir for just 5 seconds before turning off the heat.
Serve with garlic rice / white rice and egg when serving.

Notes
If you don't have paprika, you can use annatto powder
Nutrition Information
Yield

3
Serving Size

1
Amount Per Serving
Calories

297
Total Fat

12g
Saturated Fat

2g
Trans Fat

0g
Unsaturated Fat

10g
Cholesterol

68mg
Sodium

526mg
Carbohydrates

21g
Fiber

1g
Sugar

17g
Protein

26g