Korean Mozzarella Corn Dog is a Korean-style corndog that is coated in batter & breadcrumb and then deep-fried in oil. It is a popular Korean street food that is delicious, cheesy, and crunchy.

Some countries, like the United States, have their version of corn dog but the Korean style seems to be my favorite. It is crunchier, has mozzarella cheese and it looks prettier than your average corn dog.
I haven't gone to South Korea but the Korean cultures, such as Kpop, movies, and cuisines, are very popular in the Philippines. And because of that, it is not surprising to say that we have many Korean restaurants and food courts in our country.
What is Korean Corn Dog?
Korean Corn Dog, also known as gamja-hotdog (감자핫도그) in Korea, is one of the most popular street food in South Korea It may not be healthy compared to other traditional Korean foods, but it tastes really good.
To make this, the hot dog and mozzarella cheese are placed in a skewer. It is coated in seasoned flour egg mixture and bread crumb which is deep-fried in oil.
And lastly, we drizzle it either with mayonnaise, ketchup, mustard, or 3 of them together. But to me, I made a mayo-ketchup sauce, and then I put it on my corn dog.
3 reasons why this is the best corn dog?
I have tried different versions of a corn dog, and I promise you the Korean style is way better than the American corn dog.
Here are my 3 reasons why my Korean gamja-hotdog is better than the ordinary corn dog:
It has cheese inside which makes it better. If you are a customer and the shop sells corndog with mozzarella cheese, you will be tempted to buy one. Think of it as a combination of hot dogs and mozzarella sticks. Delicious, isn't it?

Panko or breadcrumb is added to this recipe, which makes it crispier and crunchier than the ordinary corn dog.

It is a combination of sweet, savory, crispy, and cheesy which tastes way better than any corn dog you tried.
Recipe Ingredients
Here are the important ingredients you need to make Korean Mozzarella Corn Dog:
Batter: To make a batter mixture, I use flour, egg, yeast, sugar, and milk. You have to make sure the batter is thick enough to coat the sausage and cheese.
Meat: I am using beef hot dog in this recipe, but you can use chicken or pork if you like.
Cheese: The cheese I am using is Mozzarella cheese. This is the most common cheese they use in making Korean corn dogs.
Breadcrumb: I am using a Panko breadcrumb to make my coating crispy and crunchy. You can use any breadcrumb since it wouldn't make any difference.
OIL: Of course, I use vegetable oil to deep fry my corn dog. I use canola oil since it is the healthiest or the least fatty oil.
Step by Step Instruction
To make the Korean Mozzarella Corn Dog, there are 3 things you should do: Making the Batter, Coating, and Deep Fry.
I. For making the Batter
To make the Batter, I added yeast, brown sugar, and milk to a plate bowl which I mix them gently. And then in a separate bowl, I added the flour, salt, and egg.
Next, I transfer and pour the milk yeast mixture into the bowl. Mix gently using the spoon until it is fully dissolved. Transfer into a tall glass for preparing on coating the corn dog.
II. For Coating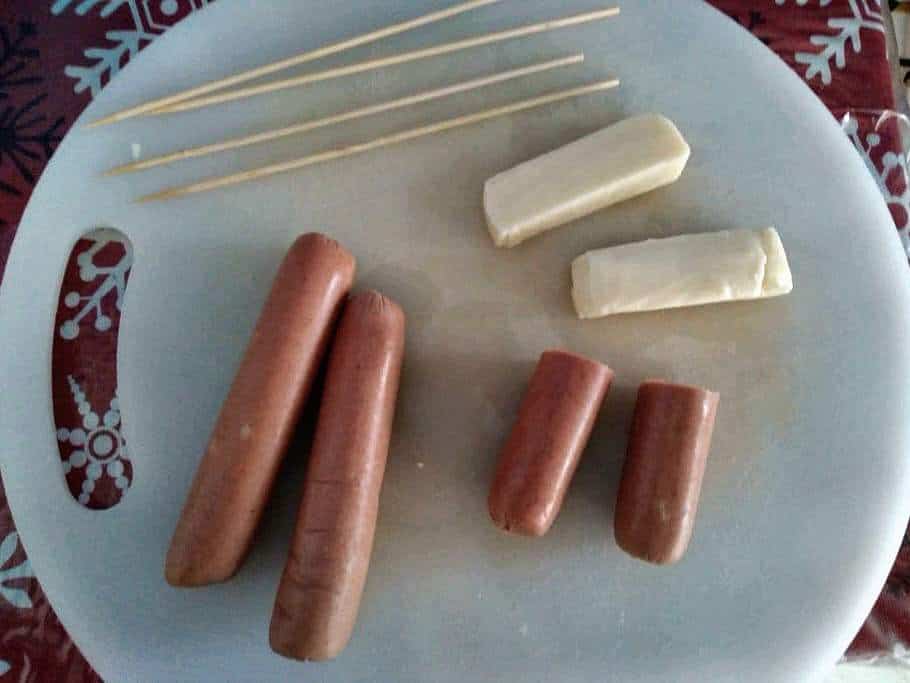 Once you prepare the wooden chopstick, cut the mozzarella cheese and hotdog in half. The cheese should be 3 inches long and the same width as the hotdog. Next, I assemble the hotdog and cheese into the skewer, which the cheese should be placed above.
Now to make the coating, dip the hotdog-cheese in wooden chopstick into the batter, and turn in one direction until it is fully coated by the batter
Lastly, I transfer the coated cheese corn dog to the plate where I put the breadcrumb, and roll until it is covered.
Notes:
Make sure the corn dog is fully covered by the breadcrumb to prevent the cheese from leaking out when frying.
If coating the hot dog cheese using the glass is hard for you, transfer the batter into the shallow pan. This will make the coating process simpler.
III. For Frying
This step is much easier compared to coating and making batter.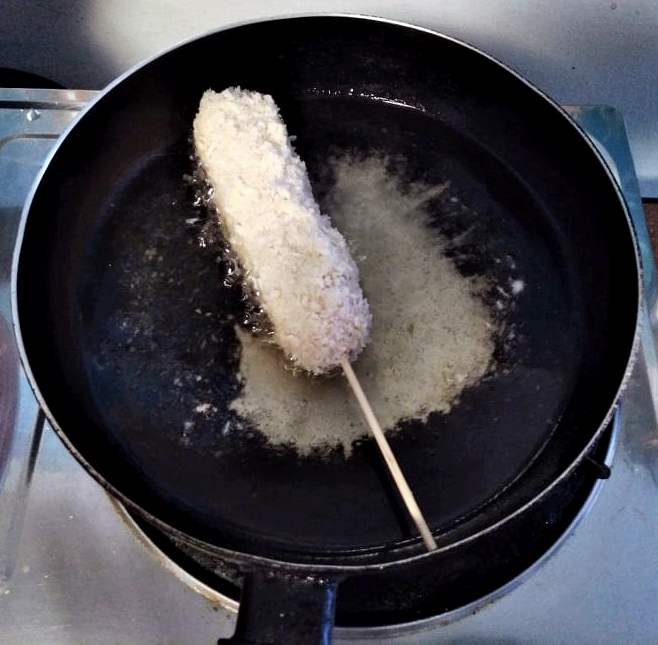 I pour the vegetable oil into a pan. Once the oil becomes hot, add the corn dog. Let it cook until it turns golden brown. Flip to the opposite side and repeat the process.
Now before serving, I drizzle it with mayo-ketchup. And you are done.
Variation and Tips
Instead of Panko breadcrumb, you can use crushed ramen noodle or cornflakes that is sold in grocery stores.

In some recipes, others add Potatoes into their corn dog. This works by mixing cubed or chopped potato fries with breadcrumb during the coating process. This will take your Korean Corn Dog to the next level.

If you don't have Mozzarella Cheese, you can use White Cheddar or Pepper Jack Cheese.

Instead of hotdog, you can use fish cake or squid.

If you prefer Gluten-free, you can corn flour instead of the all-purpose flour that I used in this recipe.
Recipe Frequently Asked Questions
I. Why is my cheese oozing out when frying?
If your mozzarella cheese leaks out during frying, it could be one of these reasons:
1. Your mozzarella cheese was already warm, and it must be chilled enough to hold it together.
2. Your batter mixture should be kept in the fridge till it becomes cold.
3. You did not fully coat well or covered with the breadcrumb
II. Can you keep in the freezer for other days?
If you don't plan to cook all the gamja-hotdog at the same time, you can keep the rest in the freezer. Not only it will store for longer days, but it can help hold them together and prevent the cheese from leaking out when frying
III. How to reheat a cooked corn dog?
To reheat it, you can use either microwave, air fryer, or oven bake.
For Microwave: Use high setting for 60 seconds. The only downside to using a microwave is that it makes your corn dog soggy.
For Air Fryer: Adjust the setting to 400 F / 200 C and heat it for 5 minutes.
For Oven Bake: Baked for 10-15 minutes in 400 F.
Other Korean Food Recipes
If you are looking for other Korean foods, here are my other recommended recipes you can try cooking at home:
📋 Recipe Card
Korean Mozzarella Corn Dog
A delicious street food Korean Mozzarella Corn Dog that is coated in batter & breadcrumb, and then deep fried in oil.
Ingredients
3

Jumbo Beef Hotdog

6

wooden chopstick

1 ½

cup

of panko breadcrumb

Vegetable Oil for Frying

Ketchup and Mayonnaise

Mozzarella Cheese

Cut in 3 inches long and must be same width as hotdog
For Batter
1 ½

cup

of all purpose flour

2

tablespoon

of brown sugar

1

teaspoon

of yeast

½

teaspoon

of salt

1

egg

¾

cup

of low fat milk
Instructions
Making the Batter

In a plate bowl A, add yeast, brown sugar, and milk. Mix to combine

In plate bowl B, add flour, egg and salt.

Transfer the milk-yeast mixture (Plate bowl A) and pour into the plate bowl B.

Stir gently using the spoon until the flour is fully dissolved.

Coating the Corn Dog

Cut the Mozzarella cheese into 3 inches long with the same width as the hotdog. Divide the jumbo hotdog into 2 pieces.

Assemble the hotdog and cheese into the wooden chopstick. The cheese should be placed above the hotdog

Transfer the Batter into a tall glass or shallow pan (whichever you prefer). Dip the hotdog cheese in a wooden chopstick into the batter, Roll in one direction until it is fully coated.

Transfer into the breadcrumb, and turn until it is fully covered,

Frying

Pour vegetable oil in a pan or cooking pot on low heat.

Once the oil is hot, add the corn dog.

Let it cook on each side till turns a golden brown. Flip it and repeat the process

Remove the corn dog from the pan, and dry it with paper towel.

Drizzle with mayo ketchup sauce

Nutrition
Serving:
1
g
Calories:
385
kcal
Carbohydrates:
54
g
Protein:
14
g
Fat:
15
g
Saturated Fat:
5
g
Polyunsaturated Fat:
9
g
Cholesterol:
51
mg
Sodium:
710
mg
Fiber:
2
g
Sugar:
8
g