Makdous is a Levantine recipe which is a stuffed eggplant with walnut, garlic and red chili pepper cured in olive oil. It is a popular eggplant dish in Jordan, Lebanon and Syria which is eaten breakfast or dinner.

Jump to:
When I was in Kuwait, we had our dinner in my late grand father's house. We were eating middle eastern food, and most of these foods were eaten using pita bread. I noticed one of the foods we eat is a lebanese pickled eggplant called Makdous.
Levantine and Middle Eastern food offers some of the best and healthiest food in the world. Some of their foods contain spices and olive oil which makes the dish healthy. Specifically, in the Levantine region (Palestine, Jordan, Syrian, Lebanon, and Israel), their diet is similar to the Mediterranean and Spanish diet because of the high uses of olive oil.
Today, I will be making you a delicious healthy Makdous Recipe. In English, Makdous is a pickled eggplant that is it is soaked with olive oil. And it is mix with walnut, garlic, and red chili flakes. Furthermore, Makdous Recipe is a popular dish among Syrian, Lebanese, and Palestinian locals.
Recipe Ingredients
To make a Makdous recipe, you need a baby eggplant or aubergine and this is a MUST. Because I am living in a tropical country in the Philippines, long eggplant is the only eggplant that is available in this country, which is one of the obstacles of making this recipe. To resolve this, I just slice the long eggplant into two pieces to make sure it can fit into the jar.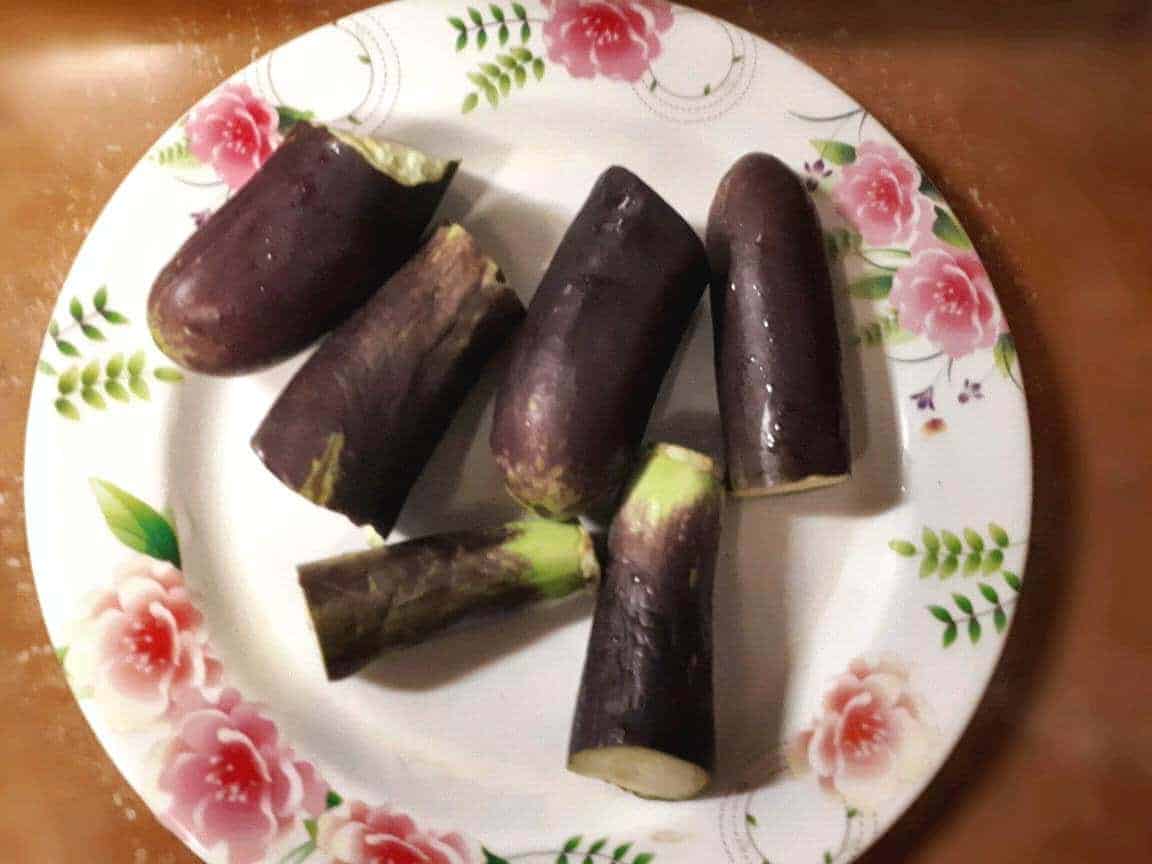 Furthermore, you need garlic, walnut, and red chili flakes for seasoning and filling the eggplant. Also, you need salt for boiling the water, and for removing the excess juices of the eggplant, which I will be explaining how in the next paragraph.
Lastly, one of the most important ingredients you need is Olive oil. The olive oil will be used to soak the eggplant in the jar. The jar must be filled to help maintain the quality and increase the life span of Makdous.
What are the Kitchen Equipment or Utensil needed
There are two things you need to make Makdous. First, you need a large pot where you will be boiling the eggplant for a few minutes. And second, you need a large jar where you will be putting the eggplant and covered it in olive oil.
What to serve this pickled eggplant with?
This Makdous is usually served as part of a Mezze platter which you serve with other Middle Eastern appetizers or side dishes. It is commonly eaten during breakfast or dinner.
Example of assorted dishes I like to serve as part of a Mezze platter includes my Cheese Manakish, Zaatar Bread, Scrambled egg, Hummus, Baba Ganoush, Olives, and other Pickled vegetables.
Also, this pickled eggplant is eaten using Kuboos or Arabic pita bread which is a popular staple food in the Middle East and Arab countries.
Step by Step Instruction
Firstly, you boiled the eggplant for 6 to 10 minutes or until it is a bit soft. Make sure it is not too soft for it will break the eggplant.
After you boiled the eggplant, transfer into the colander to remove all the water.
Later, sliced the center of the eggplant into a vertical shaped like a hotdog bun, and filled each of them with salt.
Covered with a plate or tray, and leave it up to 24 hours to help remove excess juices. Some prefer to keep it in room temperature, but I prefer to put in the refrigerator to prevent spoiling the eggplant.
Separately, mixed all the garlic, walnut, and red chili flakes, and prepare this for filling each eggplant.
Once you remove all the liquid, stuff the eggplant with these ingredients, and put it all into the jar where you will fill it up with olive oil. Leave it in the refrigerator 1 week before serving.
Tips and Hints
You can start serving this recipe if it is stored in the fridge for at least 2 weeks. But if you cannot wait that long, you can just wait for 1 week.
The longer it is stored in the fridge, the stronger will be the flavor of the Makdous
If you consumed all the pickled eggplant do not discard the leftover olive oil. You can use it to drizzle on the labneh, hummus or baba Ganoush
When stored in the jar, make sure the olive oil fully covered the eggplant. If it is not fully covered, this will cause mold formation since the eggplant is exposed to the air.
Use extra virgin olive oil that has a stronger flavor than regular olive oil. It will make your makdous more delicious
Substitutions
If you don't have baby eggplant, you can use the long eggplant but just sliced it into two pieces
If you cannot find walnut, you can use pecan or almond seeds
Extra Virgin Olive Oil is a highly recommended oil to cure eggplant. If you don't have it, use regular olive oil. 
Frequently Asked Questions
1. Is Makdous Healthy?
This Eggplant is nutritious since it is rich in potassium and fiber. Furthermore, the extra virgin olive oil, that is poured on the eggplant, is healthier than most cooking oil since it is rich in monounsaturated fatty acid- a type of fat that helps reduce the bad cholesterol in your body.
2. How long does Makdous last in the fridge?
If the pickled eggplant is fully submerged in olive oil and is properly stored in a clean jar, then this will last for up to 1 year. If it isn't fully covered in olive oil, this will put you at risk of forming a mold.
Related Stuffed Vegetables Recipes
If you enjoyed this Levantine stuffed Eggplant, then here are other stuffed vegetables recipes to try:
📋 Recipe Card
An Easy Makdous Recipe (Pickled Eggplant)
A Makdous is a Levantine pickled eggplant that is stuff with walnut and herbs, and soaked with olive oil.
Ingredients
3 long eggplant or 6 baby eggplant or aubergines

1 and ½ teaspoon of grind garlic

½

cup

of walnut

1

teaspoon

of red chilli flakes

salt

Pure or Extra Virgin Olive oil
Instructions
Add water in the pot. Once the water is boiling, add the eggplant in the pot. Let it boil for 6 to 10 minutes or till it is soft

Transfer the pot into the colander to remove all the excess water off the eggplant. Sliced the center of each eggplant into a vertical shaped like a hotdog bun, and transfer into a plate. Fill each eggplant with salt

Cover the eggplant with a plate or tray and keep it in the refrigerator overnight or up to 24 hours. The salt and the pressure of the plate/tray will further help remove the excess juices of the eggplant.

Separately, grind the walnut, garlic and red chili flakes in a food processor, blender or wooden mortar. Mix together, and put in a plate or bowl for later use.

After 24 hours, remove the eggplant from the refrigerator, and stuff each of these eggplants with the mixed walnut/garlic/red chili flakes. After filling each eggplant, transfer them into the clean jar

After putting all the stuffed eggplant into the jar, fill the jar up with olive oil, and cover with a lid. Make sure the lid is tightly closed to prevent air going into the jar.

Transfer the jar into the refrigerator, and keep it there for at least 1 week before serving.
Notes
If you do not have enough walnut, you can mixed walnut with almond since it doesn't make any difference in term of the taste
Nutrition
Calories:
300
kcal
Carbohydrates:
27
g
Protein:
7
g
Fat:
14
g
Saturated Fat:
1.5
g
Sodium:
200
mg
Potassium:
1010
mg
Fiber:
13
g
Sugar:
8
g