When I was in Kuwait, we had our dinner in my late grand father's house. We were eating middle eastern food, and most of these foods were eaten using pita bread. I noticed one of the foods we eat is a popular Levantine dish called Makdous.
Levantine and Middle Eastern food offers some of the best and healthiest food in the world. Some of their foods contain spices and olive oil which makes the dish healthy. Specifically, in the Levantine region (Palestine, Jordan, Syrian, Lebanon, and Israel), their diet is similar to the Mediterranean and Spanish diet because of the high uses of olive oil.
Today, I will be making you a delicious healthy Makdous Recipe. In English, Makdous is a pickled eggplant that is it is soaked with olive oil. And it is mix with walnut, garlic, and red chili flakes. Furthermore, Makdous Recipe is a popular dish among Syrian, Lebanese, and Palestinian locals.
Ingredients needed to make Makdous
To make a Makdous recipe, you need a baby eggplant or aubergine and this is a MUST. Because I am living in a tropical country in the Philippines, long eggplant is the only eggplant that is available in this country, which is one of the obstacles of making this recipe. To resolve this, I just slice the long eggplant into two pieces to make sure it can fit into the jar.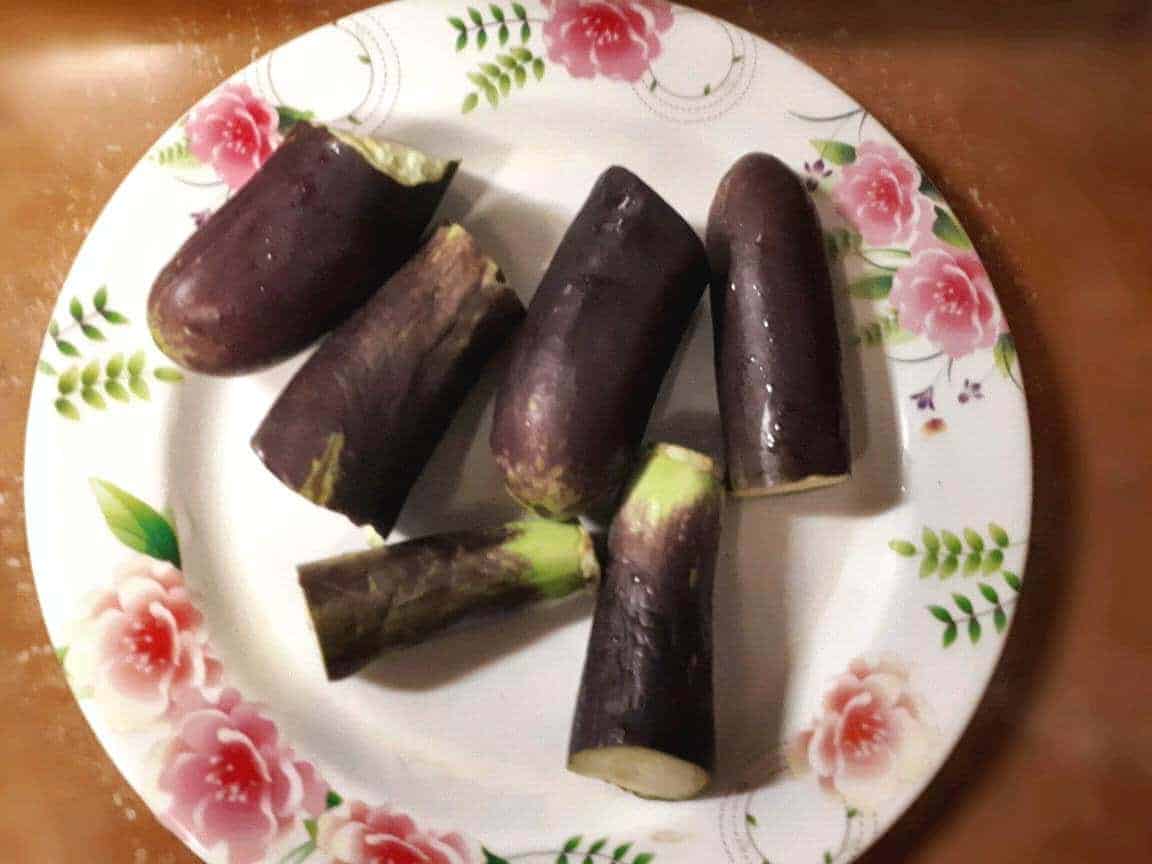 Furthermore, you need garlic, walnut, and red chili flakes for seasoning and filling the eggplant. Also, you need salt for boiling the water, and for removing the excess juices of the eggplant, which I will be explaining how in the next paragraph.
Lastly, one of the most important ingredients you need is Olive oil. The olive oil will be used to soak the eggplant in the jar. The jar must be filled to help maintain the quality and increase the life span of Makdous.
What are the Kitchen Equipment or Utensil needed
There are two things you need to make Makdous. First, you need a large pot where you will be boiling the eggplant for a few minutes. And second, you need a large jar where you will be putting the eggplant and covered it in olive oil.
Instruction when making Makdous Recipe
Firstly, you boiled the eggplant for 6 to 10 minutes or until it is a bit soft. Make sure it is not too soft for it will break the eggplant.
After you boiled the eggplant, transfer into the colander to remove all the water. Later, sliced the center of the eggplant into a vertical shaped like a hotdog bun, and filled each of them with salt. Covered with a plate or tray, and leave it up to 24 hours to help remove excess juices. Some prefer to keep it in room temperature, but I prefer to put in the refrigerator to prevent spoiling the eggplant.
Separately, mixed all the garlic, walnut, and red chili flakes, and prepare this for filling each eggplant. Once you remove all the liquid, stuff the eggplant with these ingredients, and put it all into the jar where you will fill it up with olive oil. Leave it in the refrigerator 1 week before serving.
Below is the full instruction of the Makdous Recipe
Nutrition Facts
6 servings per container
---
Calories300
Amount Per Serving% Daily Value *
Total Fat 14g

22

%
Sodium 200mg

9

%
Amount Per Serving% Daily Value *
Potassium 1010mg

29

%
Total Carbohydrate 27g

9

%

Dietary Fiber 13g

52

%
Sugars 8g

Protein 7g

15

%
Vitamin A

6

%
Vitamin C

15

%
Calcium

5

%
Iron

3

%
* The % Daily Value tells you how much a nutrient in a serving of food contributes to a daily diet. 2,000 calories a day is used for general nutrition advice.