Kousa Mahshi is a Lebanese stuffed zucchini that has fillings of ground beef, rice, and other spices & herbs, cooked in tomato sauce. It is one of the most popular Middle Eastern dish which is perfect for family gatherings.


Jump to:
Foods that are made from stuffed vegetables have been part of Middle Eastern cuisines since the Ottoman period. These include stuffed cabbage rolls, grape leaves, zucchini, or eggplant.
I remember back in the old days when I was living in Kuwait and Jordan, I tried many delicious stuffed vegetable dishes. When I was young, we had a weekly family gathering in our grand parent's house in Kuwait.
And I remember when my grandmother made this Arabic stuffed Zucchini, I was so excited since it's my favorite. We call this dish Kousa, which is one first few Middle Eastern dishes that is my favorite until now.
What is Kousa Mahshi?
In Arabic, the word "Kousa" means zucchini or squash, while "Mahshi" means stuffed. This comfort food is one of the most popular Middle Eastern food which is served during family gatherings, inviting guests, or during special events.
Kousa Mahshi (كوسا محشي) is a zucchini dish stuffed with rice, ground beef, and spices & herbs. It is cooked in a seasoned tomato broth using a pressure cooker or an ordinary cooking pot.
In Jordanian, Lebanese and Arab cuisines, we are using a Middle Eastern Zucchini called "Magda". Just not to be confused, in other countries they call it a Mexican Grey Squash or Grey Zucchini. The color is lighter and it has mild sweetness, which makes it better for this kousa recipe.
This recipe I learned is from my Grandmother, which she taught to my mother and then me.
🥘Recipe Ingredients
These are the ingredients you need to make this delicious Kousa Mahshi recipe:
ZUCCHINI: Although it is traditional to use the Lebanese or Grey Zucchini, the type of zucchini I am using is a Black Beauty zucchini which is a darker green color. I lived in a South East Asian country, and it is impossible to find Grey Zucchini. Nonetheless, it still tastes the same, only the texture is different.
RICE: I am using medium-grain rice for this recipe. It doesn't matter if you are using short, medium, or long-grain rice since it will not make any difference in terms of taste and texture.
TOMATO BROTH: For making the broth, I am using tomato paste, water, cumin, garlic, and salt & black pepper.
Notes: You might notice the garlic is not shown in the picture. That is because I forgot to include it after taking a picture.
RICE STUFFING: In addition to the rice, I am using ground beef, allspice, coriander & dill leaves, and onion. Traditionally, we use mint leaves, but I learned from my grandmother that using dill and coriander gives a better flavor of the rice stuffing.
🍽 What Kitchen tool you need for this recipe?
You will need a Zucchini corer which in Arabic we call "Manakra". The corer will be used to hollow out the zucchini. If you don't have that, you can use an apple corer, which both work well.
If this is your first time, you may have a hard time making this Lebanese stuffed zucchini since you need to know how to remove the inside using the zucchini corer. I made several mistakes, but eventually, I managed to do it right. All it takes is just practice and you can core the zucchini.
In addition to that, I am using a pressure cooker since this can help cook this Lebanese Kousa faster. You can use an ordinary cooking pot, but it will take at least 1 hour just to cook the stuffed zucchini.
🔪 Step by Step Instruction
There are 5 things to do when cooking this delicious Arabic stuffed Zucchini: Coring the Zucchini; Making the Stuffing; Preparing the Tomato Sauce; Stuffing the Zucchini; Cooking the Kousa.
I. Coring the Zucchini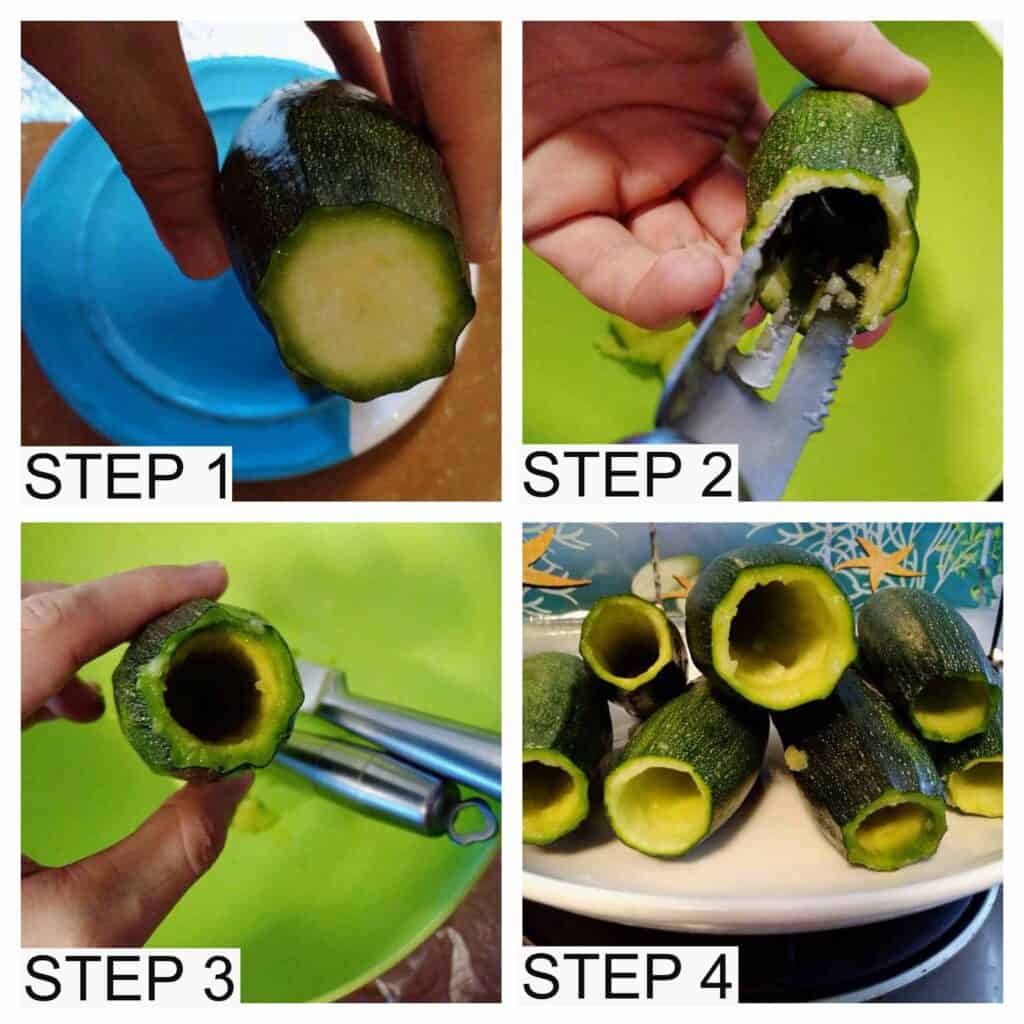 Firstly, I cut off the top tip of the zucchini. If you notice the shape around it is small, you can slice the zucchini for an inch to make sure you have a big hollow opening

Next, I used the corer to remove the inside of the squash. This might be hard if this is your first time, so make sure you do it gently.

Once you complete the rest of the zucchinis, wash them with salt water. Set aside.
II. Making the Stuffing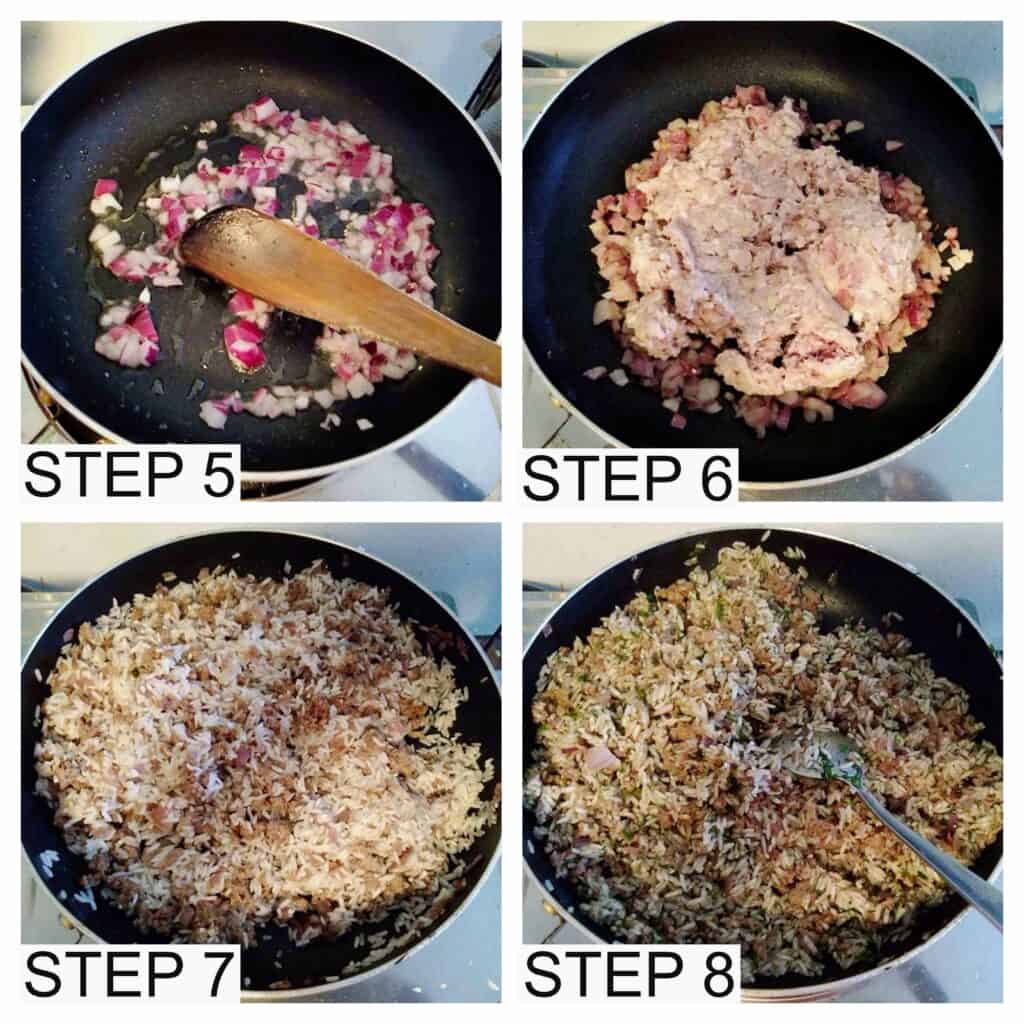 In a pan, I add olive oil and saute the chopped onions, followed by ground beef, soaked uncooked rice, and then the rest of herbs and spices.

Make sure you season it with salt and black pepper for taste. Once done, I set it aside.
III. Preparing the Tomato Sauce
To make the sauce, I just combine the tomato paste, warm water, grated garlic, cumin, and the rest of the ingredients. Mix to combine using the wooden spoon and set aside. You don't have to boil it yet since you can do that after stuffing the zucchini.
IV. Stuffing the Zucchini
All I do here is fill up the empty zucchini from the stuffing mixture using the spoon. Make sure you provide a small space with at least 1 inch near the top to let the rice expand and cook properly.

You can cover the top with grape leaves or the stalk of the zucchini that I cut earlier.
V. Cooking the Kousa
In the pressure cooker, I add first the grape leaves, cut tomatoes, and chicken breast on the bottom. After that, I add the stuffed zucchini on the top of it. Also, I include some slices of potatoes. This will make the meal complete.

Lastly, I pour the tomato broth into the pressure cooker. Make sure to close the lid and place the valve properly, and I let it cook for 20 to 25 minutes.

Once done, I remove the valve first and wait till there is no more hissing sound.

Transfer the Lebanese Kousa to a plate and pour the sauce on top of it before serving. And you are done.
📖 Variation and Substitution
You can use ground chicken or lamb instead of ground beef.

If you prefer healthier and lower calories, you can use cauliflower rice instead of white rice

Instead of Tomato Broth, you can use yogurt with herbs & spices. In Middle East, we call this dish Kousa Bil Laban.

If you don't have Zucchini, you can use eggplant which we call Kousa Batinjan.

If you prefer vegan dish, you can just skip ground meat when making the stuffing for the Zucchini
⭐Recipe FAQ's
1. Can I use any types of Zucchini for my Kousa?
For traditional Lebanese and Middle Eastern cuisines, we use Magda or the Grey Zucchini. But, it is understandable that most of us live in different countries that do not have this type of Zucchini.

I live in the Philippines, and Black Beauty Zucchini is the only type of this vegetable that is available. You can use any green zucchinis like Green Bush, Cocozelle, or Caserta Zucchini.
2. Why do you have to soaked the rice?
When you soak the rice, you will remove the excess starch which will prevent the rice from becoming sticky. Furthermore, it will help cook the rice faster so that it will not be hard.
3. What can I do with flesh of the Zucchini / Squash that was remove?
You can use it to make a fritter or scrambled egg. Also, you can even just saute with onion and herbs & spices like this recipe.
4. How long can I store it in the fridge or freezer?
You can store this Lebanese stuffed Zucchini in the fridge for 5-7 days, while in the freezer it can last up to 3 months.
5. What can you serve Kousa with?
I like to serve with my Arabic Kuboos bread and Plain yogurt. Additionally, to balance my diet, I also serve with my Arabic salad as a side dish.
🥗Other Lebanese Stuffed Vegetable Recipes
If you are looking for similar recipes, I have other delicious Lebanese stuffed vegetables dishes you may like to make at home:
Kousa Mahshi (Lebanese Stuffed Zucchini)
Kousa Mahshi is a Middle Eastern stuffed Zucchini recipe that has fillings of rice, ground beef, and spices & herbs.
Ingredients
8 Zucchini, Black Beauty
2 Large tomatoes, chopped
Grape Leaves (For making layers)
1 Large Potatoes, Sliced
1 Boneless Chicken Breast
For Stuffing
¾ cups of white rice
½ cups of ground beef
¼ cup of coriander leaves, chopped
¼ cup of dill leaves, chopped
½ cup of chopped red onion
½ teaspoon of allspice
2 tablespoon of olive oil
Salt and Black Pepper
For Tomato Sauce
2 tablespoon of tomato paste
5-6 cups of water
½ teaspoon of cumin
4 cloves of garlic, grated
1 teaspoon of salt
½ teaspoon of black pepper
Instructions
Coring the Zucchini
Cut off the tip of the zucchini. Don't discard it since you will be using it to cover the zucchini when cooking.
Use the zucchini corer to make a hollow opening by removing the squash from the inside. Repeat the rest of the zucchini
Wash them with warm salt water to keep it firm. Set aside.
Making the Stuffing
Add olive oil in the pan. Once hot, add chopped red onion. Stir to combine till it turns translucent
Add the ground beef. Stir to mix for few minutes till the juices released by the meat will be fully evaporate
Add the soaked uncooked rice, allspice and coriander & dill leaves. Mix to combine for few minutes
Add salt and black pepper for taste. Once done, set aside.
Preparing the Tomato Sauce
In a large bowl, add the tomato paste, warm water, cumin, grated garlic, salt and black pepper.
Use a wooden spoon to stir to combine till it is fully dissolved. No need to boil or heat it yet since it will be done after stuffing the zucchini. Set aside.
Stuffing the Zucchini
Use the spoon to fill up the inside of the zucchini with rice stuffing mixtures.
Make sure there is at least 1 inch space between the top and the filling to allow the rice to expand when cooking.
Use the stalk or the grape leaves to cover the zucchini. Repeat the rest
Cooking the Kousa
Add the grape leaves, chopped tomatoes and chicken breast on the bottom of the pressure cooker
Add the stuffed zucchini, and then again the grape leaves followed by the sliced potatoes.
Pour the tomato broth into the pressure cooker. Before turning on the fire, cover with the lid and close it properly.
Once it started to boil, place the valve on the pressure cooker. Starting timing for 20 minutes once you heard the hissing sounds from the valve.
When done, carefully remove the valve and wait till no more hissing sounds and the steam. That is when it is safe to open the lid.
Transfer the cooked stuffed zucchini into plate together with potatoes and chicken. Include pouring the tomato sauce on the plate as well.
Serve with Arabic salad, plain yogurt and pita bread.



Notes
Soaked the rice for 30 minutes to help reduce the excess starch.
In this recipe, I am using a Black Beauty Zucchini since I can't find Magda or Mexican Grey Squash.
Instead of tomato paste, you can use canned tomatoes or fresh tomatoes.
If you are confused with the instruction, look at the step-by-step pictures shown on the post.
If you are using an ordinary cooking pot, cook it on low heat for 1 hour.
Nutrition Information
Yield

4
Serving Size

1
Amount Per Serving
Calories

411
Total Fat

18g
Saturated Fat

5g
Trans Fat

0g
Unsaturated Fat

11g
Cholesterol

45mg
Sodium

657mg
Carbohydrates

39g
Fiber

9g
Sugar

13g
Protein

19g