Beef Chao Fan is a Chinese inspired Filipino Fried Rice recipe that is mixed with ground beef, chopped vegetables, onion & garlic, and it seasoned with soy and oyster sauce. This rice dish is an inspiration from a popular Filipino fast-food restaurant Chowking.


Jump to:
Fried Rice is originally from China, which was introduced from the Sui Dynasty. Because of its popularity, most Asian countries and the United States, have their variation of this fried rice. Some of their rice have darker colors or is saltier, while others are just lighter and weaker flavor.

In the Philippines, our Filipino foods are influenced by Chinese cultures. Rice is a popular staple food, and because of this, we have our version of this fried rice dish.

While living in the Philippines, I notice that aside from Jollibee, Chowking is one of the most popular Filipino fast-food restaurants that serve Chinese food. In Chowking, they serve this delicious rice called Chao Fan, which is one of my favorite fried rice dishes.
What is Chao Fan?
Chao Fan is my Chowking inspired stir-fry Fried rice that is mixed with ground meat, chopped cabbages, carrots, and left-over rice. It is seasoned with oyster & soy sauce and garlic to add the savory flavor of the rice
Compared to other variations from other countries, this chowking style fried rice is lighter and has a milder taste. Also, this rice dish can serve as one meal since it contains all vegetables, protein, and rice. You can eat this stir-fried rice either for Breakfast, Lunch, or Dinner.
Whenever I go to Chowking, I always order Beef Chao Fan since that is my favorite. Because of that, I am inspired to cook my version of this Chowking style fried rice dish.
Things you need to know
If you go to a Chinese or Hong Kong restaurant, you might encounter in their menu that they serve a food dish called "Chow Fun". It is important to know that this is different from a rice dish "Chao Fan"
Chow Fun is a Cantonese rice noodle dish that is mixed with beef, bean sprouts and other vegetables, while the another one is a fried rice dish.
Recipe Ingredients
Here are the list of recipe ingredients I used to make my Beef Chao Fan:
Beef: I am using ground beef since it is easier and faster to cook.

Vegetables: I am using chopped cabbages, carrots and corns.

Oyster Sauce: This will help darken the fried rice

Soy Sauce: This will add the umami flavor of the rice. Also, it serves as an alternative to salt if you add more of it.

Rice: This is a 1 day old left-over medium-grain rice

Egg: Aside from beef, this will add more protein on your rice, making it more nutritious.

Other ingredients: Vegetable canola oil, chopped garlic, red onion and spring onions.
What to serve this Fried Rice with?
Although you can eat this alone, I will rather serve it with some other side dishes that are fried and crispy.
Some crispy and deep-fried side dishes that can be served with my Chao fan include Beef lumpia or Vegetable Lumpia, where you can top it above the rice. Also, if you don't like fried side dishes, you can serve them with my steamed beef siomai. If you go to Chowking, they serve this fried rice together with siomai.
Lastly, if you want vegetable side dishes, I highly recommend serving with my Filipino Chop Suey.
Step By Step Instruction
There are two things to do when making Chao Fan, which must be cooked in a separate pan: Cooking the Scrambled Egg & Making the Fried Rice.
I. Cooking Scrambled Egg
Making the scrambled egg is the same as any other egg recipe.
I just add vegetable oil in the pan, and then I pour the egg on it. Make sure you season the egg with salt and black pepper. Stir till the egg is fully cooked.
And then lastly I use the fork to cut into smaller pieces. Set aside.
II. Making the Fried Rice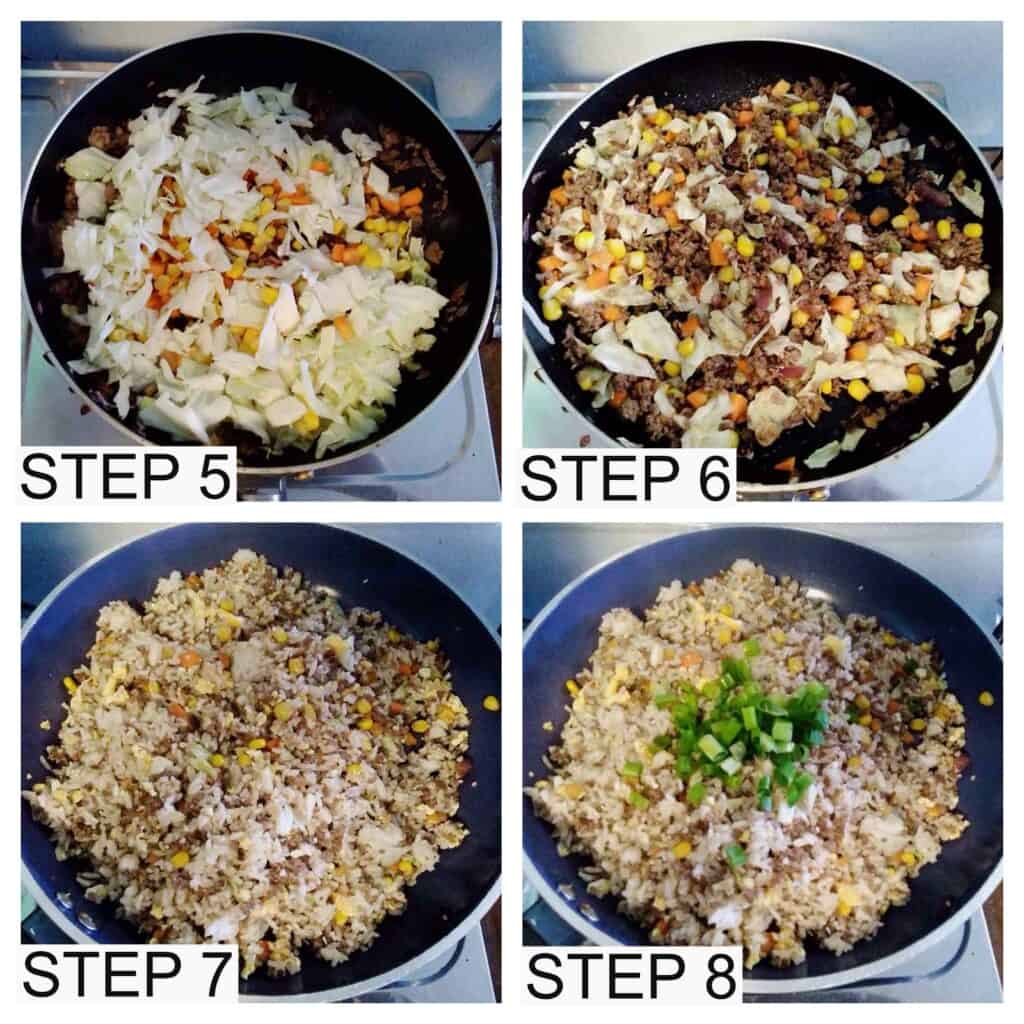 In a large pan, I add vegetable oil which when it's hot, I add chopped garlic and onion. Stir till it turns translucent.
Next, I add the ground beef which I let cook for a few minutes till the juices are fully evaporated. Add the soy sauce and oyster sauce and then stir again.
After that, I add all the vegetables, except the spring onion, which I mixed to stir before I add the leftover cooked rice.
Once the rice and vegetables are fully mixed, that is when I add the scrambled egg and the spring onion. Mix one more time before serving. And you are done.
Recipe Frequently Asked Question's (Faqs)
1. What other vegetables I can add in this fried rice?
Although not traditional, you can add chickpeas, green beans, or beansprout with other vegetables.
2. Why is my fried rice mushy?
If your fried rice is mushy, it could be you are using short-grain rice. The fried rice only works if you are using medium or long grain rice.
Also, you will have to use cold leftover rice that is at least 1 day old. If you are using the rice that is recently cooked, they are usually soft and moist, which might make the rice soggy.
3. Can I use olive oil for my Chao Fan fried rice?
If you are using refined olive oil, that will be fine. But, if extra virgin olive oil, it tends to have a strong aroma and flavor, which will ruin the taste of your fried rice.

To resolve this, you need to use a neutral oil that does not have a strong aroma or flavor. An example would be Vegetable Oil, Canola Oil, or refined olive oil.
4. How long do this fried rice last in the fridge?
My Chowking style fried rice can last up to 5 to 7 days. Beyond that will not be safe t consume since it will probably be spoiled.
Related Rice Recipes
Here are other delicious rice recipes to make at home:
Beef Chao Fan Recipe
This is an Chowking inspired Beef Chao Fan which is mixed with ground beef, vegetables, soy sauce and egg.
Ingredients
4 cup of cooked white rice
250 grams of ground beef
1 cup of red onion, chopped
3 cloves of garlic, chopped
2.5 tablespoon of soy sauce
2 tablespoon of oyster sauce
½ cup of chopped carrot
½ cup of corn kernel
2 cup of cabbage, chopped
½ cup of spring onion stalk, chopped
2 eggs
4 tablespoon of canola oil ( 2 for scrambled egg and 2 for the fried rice)
Salt and black pepper for taste
Instructions
Cooking Scrambled Egg
Add 2 tablespoons of vegetable oil to the pan in medium heat.

Crack the egg into a small bowl, and add salt & black pepper. Stir to mix
Once the oil is hot, pour the egg into the pan. Stir gently till the scrambled egg is cooked.
Use a fork or a wooden spoon to cut into smaller pieces. Set aside.
Making the Fried Rice
Add vegetable oil to a large pan. Once hot, add chopped garlic. Stir for 30 seconds and then add the chopped red onion. Stir again till it turns translucent.
Add the ground beef. Stir again and let it cook till the juices are almost evaporated.
Add the soy sauce and oyster sauce and continue stirring for 15 seconds
Add the chopped cabbages, carrots, and corn kernel. Give a quick stir.
Add the cooked leftover white rice, Gently stir to mix,
Transfer the scrambled egg and chopped spring onion stalk. Mix to stir for one more time before turning off the heat.
Serve with lumpia, siomai, or chopsuey.
Notes
For leftover white rice, you can use either medium or long-grain rice.
Use neutral oil, such as canola, vegetable, or refined olive oil, when stir-frying the rice
Nutrition Information
Yield

5
Serving Size

1
Amount Per Serving
Calories

401
Total Fat

23g
Saturated Fat

5g
Trans Fat

0g
Unsaturated Fat

16g
Cholesterol

119mg
Sodium

747mg
Carbohydrates

51g
Fiber

4g
Sugar

5g
Protein

23g