Turkish moussaka is a baked eggplant recipe that contains ground beef, tomatoes, and other spices and herbs. This Turkish style is one of the best moussaka dishes, which you can eat with rice or pita bread.

Jump to:
Eggplant is one of my favorite vegetable dishes since you can use it to make sandwiches, meat dishes, or dips.
If you heard of Moussaka, you will probably think that it comes from Greek. But, do you know that in the Middle East and Turkey, they too have their variation of Moussaka?
You might wonder why do Middle Eastern countries have their version of this eggplant dish.
That is because the Middle East was once colonized by the Ottoman Empire, which the Turkish food culture has influenced the Arab cuisines.
Difference between Greek, Turkish and Lebanese Moussaka
If you are familiar with this eggplant dish, you will know there is a variation of moussaka from other countries. If not, then you might be confused about the difference between the Lebanese, Greek, and Turkish version.
GREEK- The Greek style is mixed with eggplants, ground beef, and a white sauce called Bechamel. This type of moussaka is similar to ordinary lasagna since it is topped with béchamel sauce. The only difference is that it doesn't contain tomato sauce.
LEBANESE: The Lebanese style, also called Maghmour, does not contain meat, which means it is a purely vegetarian dish. Also, it is not baked, and it contains chickpeas and herbs & spices.
TURKISH: The Turkish style, which is the recipe for this post, is similar to the Lebanese style, except it does not have chickpeas. Also, it contains ground beef, eggplant, tomato sauce or paste, green bell pepper, and other spiced & herbs. Out of all Moussaka, Turkish is my favorite, which I will show you how to make one.
Note: Take note there are other variations including Egyptian and Gulf Arabic. But, these 3 above are the most popular moussaka dishes.
Recipe Ingredients
These are the ingredients I used to make a delicious Turkish Moussaka Recipe:
MEAT: I am using ground beef which is 90% lean and 10% fat. Honestly, it doesn't matter the ratio of fat and meat. As long you cook it longer to remove the excess juices, that will be fine.
VEGETABLES: I am using green bell pepper since it gives nice aroma, and eggplant.
TOMATOES: Chopped tomatoes and tomato paste is used in this recipe.
SPICES & HERBS: To make the dish tasty, I use curry, cinnamon, & curry powder, garlic, onion, and basil leaves for topping.
What to serve this moussaka with?
When eating Turkish Mussaka, I like to serve it either with rice or a Middle Eastern Pita bread Kuboos. You can use any kind of flatbread or pita bread if you like.
Also, to balance my diet, I serve it with a healthy Turkish salad side dish called Shepherd salad.
Step by Step Instruction
There are 3 things to do when making this Turkish eggplant dish: Frying the Eggplant; Cooking the Ground Meat; and Baking in the Oven.
I. Frying the Eggplant
I pour vegetable oil into the pan, and when it becomes hot, that is when I add the sliced eggplant.
I made sure it turns brown on each side before I remove them from the pan.
Don't forget to use a paper towel to help remove the excess oil.
II. Cooking the Ground Meat
In a pan, I add olive oil, garlic, and onion, which I stir till it turns translucent.
Next, I added the ground beef and let it cook till there is no more juices.
After the ground beef is cooked, I added chopped tomatoes, tomato paste, and other spices and herbs. Stir to combine before turning off the heat.
III. Baking in the Oven
Preheat the oven to 220 C. In here, all you have to do is make a layer of sliced eggplant that was fried, followed by the ground beef mixture. You are doing like lasagna, except it has no white sauce.
Before you put it in the oven, add chopped basil leaves as a topping.
And then lastly, I let it bake for 15 minutes to have a nice brown layer.
Once done, serve it with rice or pita bread.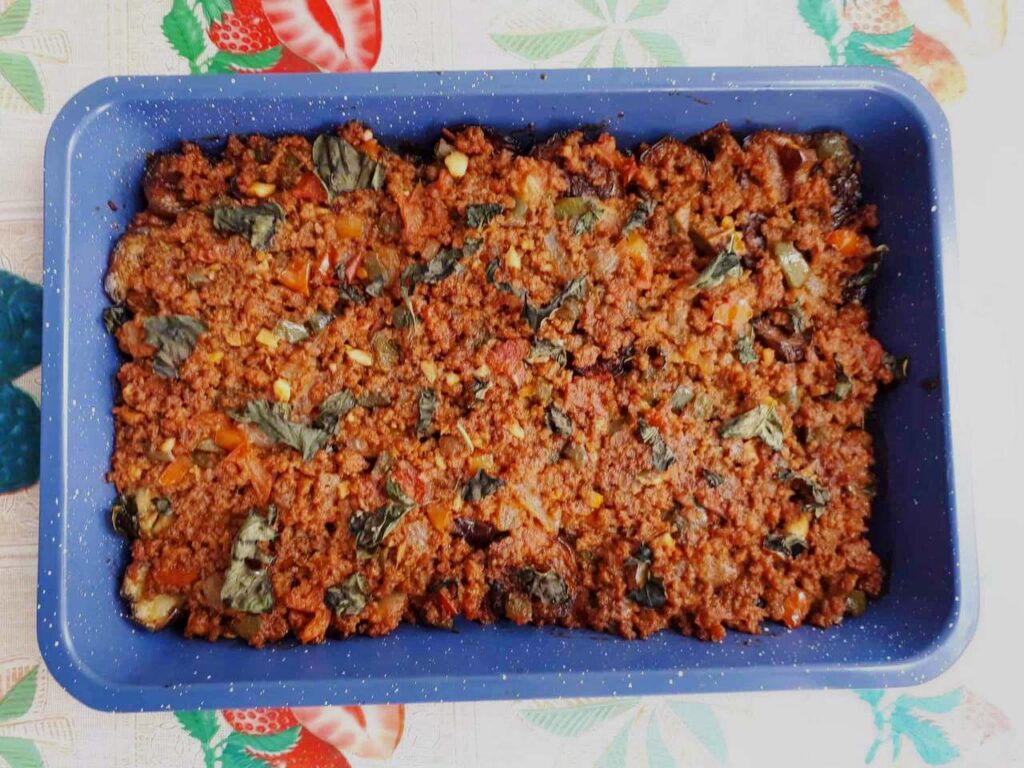 Variation and Hints
You can use Red Bell pepper instead of green bell pepper.

If you prefer healthier, you can bake the eggplant in the oven instead of frying.

You can add other vegetables like Potatoes which you can either fry or bake in the oven.

Do not add too much cinnamon since it has an overwhelming flavor.

For garnish or topping, you can use chopped parsley instead of basil leaves.
Related Beef Recipes to Try
Here are other recommended Mediterranean and Middle Eastern Recipes to cook in your kitchen:
📋 Recipe Card
Turkish Moussaka Recipe
An baked eggplant dish called Turkish Moussaka that is mixed with ground beef, green bell pepper and other spices and herbs.
Ingredients
400

gram

of Ground Beef

3

Thin eggplant

2

tablespoon

of tomato paste

2

medium tomatoes

chopped

1

medium bell pepper

chopped

1

large onion

chopped

4

cloves

of garlic

grated

1

teaspoon

of cumin

¼

teaspoon

of cinnamon

1

teaspoon

of curry powder

1

tablespoon

of brown sugar

1 ½

teaspoon

of salt

1

teaspoon

of black pepper

½

cup

of water

2

tablespoon

of extra virgin olive oil

Vegetable Oil

For Frying

Basil leaves for Topping
Instructions
Frying the Eggplant
Pour vegetable oil in a pan. Once hot, add the sliced eggplant.

Let it fry until it turns brown. Flip it and repeat the process

Once the eggplant is cooked, by becoming brown, remove it and transfer into the plate. Use paper towel to remove the excess oil. Set Aside.
Cooking the Ground Beef
Add olive oil in the pan. Once hot, add the chopped garlic and onion. Stir till it turns translucent

Add the chopped green bell pepper. Stir for a minute before adding the ground beef.

Let the ground beef cook for several minutes till it's juices fully evaporate.

Add chopped tomatoes and tomato paste. Mix to stir.

Pour water and let it simmer till there is less liquid. Add the spices, brown sugar, salt and black pepper. Stir to mix.
Baking in the Oven
Preheat the oven in 200 C or 400 F.

By using a baking tray, add first the fried eggplant, followed by the cooked ground beef, and repeat the process. Make sure the last layer should be the ground beef.

Add the chopped basil leaves and place it above as a topping before transferring into the oven.

Let it baked for 15 minutes.

Once done, serve it with rice or pita bread.

Nutrition
Serving:
1
g
Calories:
322
kcal
Carbohydrates:
34
g
Protein:
22
g
Fat:
13
g
Saturated Fat:
5
g
Polyunsaturated Fat:
6
g
Trans Fat:
1
g
Cholesterol:
59
mg
Sodium:
605
mg
Fiber:
9
g
Sugar:
14
g