Beef Bamia Recipe is a Middle Eastern okra stew dish that is mix with tomato sauce, Arabic spices, and beef. It is healthy and flavorful, which is best to serve with rice and salad.


Jump to:
Bamia is an Arabic word meaning Okra, which is a popular in Kuwait and in the Middle East. The first time I ate this dish was at my grandparent's house in Kuwait when I was a kid.
My grandmother made this delicious okra beef stew at lunchtime, which is served with Arabic style white rice and salads. Initially, I was ignorant of okra, but my grandmother's beef bamia dish has caused me to change my mind about this vegetable. It became one of my favorite tomato okra soups since it is tasty, and it is rich in spices, but it is not spicy.
Fortunately, I learned this dish from my mother, which she learned from my grandmother. In this post, I will be showing you how to make an authentic Middle Eastern Beef Bamia Recipe.
Recipe Ingredients
To make Arabic Bamia recipe, there are several spices you need for this dish:
Coriander powder
Allspice powder
Black Pepper
Garlic
Bay leaves
Black Lemon
These are popular spices that are used in Middle Eastern and Arabic cuisines. My father sends me these spices from Kuwait, but you can purchase it in many Middle Eastern grocery stores.
Out of all these spices, the Black Lemon or Dried Lime is the most difficult to find in the Philippines. It adds a slight sourness of the bamia stew which makes the dish very tasty.
In addition to the spices, you also need garlic, onion, fresh tomatoes, tomato paste, olive oil, and okra. Olive oil gives a nice flavor when cooking the beef and making a stew, and it is also much healthier than other vegetable oil.
Lastly, I am using beef with bones, and the stock from the beef meat that I boiled.
Notes: You should stir fry the okra and boil the beef earlier before you start cooking. That way, it will be more convenient when preparing the ingredient
What is the best way to cook the okra?
There are two ways you can cook the bamia: Stir frying or boiling along with the rest of the ingredient.
When people try okra, most of them say it is very sticky or slimy. It is possible when making the soup you put directly in the pot while boiling this vegetable.
Having your tomato okra soup slimy does not look appetizing. So what I did first, I stir-fried the okra with a tablespoon of olive oil in the pan for several minutes. While stir-frying, this will help remove the sliminess of the okra. I just half cook the okra since I only focus on reducing the sliminess of this vegetable.
Once you are done, you can start transferring into the pot and simmer together with the beef and the other ingredients. These techniques work in both fresh and frozen okra which you can use either one of them for your bamia recipe.
How to cook the Beef?
There are 2 ways to cook the beef: Using pressure cooker or cooking on the pot.
If you are boiling the beef on the pot, it will take at least 2 hours which is time consuming. Also, you will have even less beef stock to make a soup since boiling for a long time can cause the liquid to evaporate.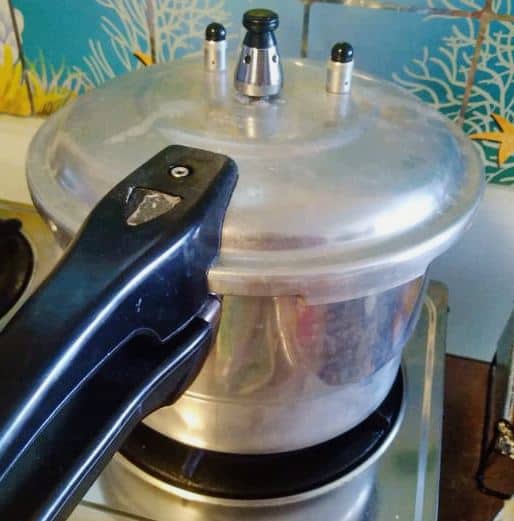 For this reason, I prefer pressure cooker since you have a very tender meat, and yet you also have more stock to make the soup. Cooking in the pressure cooker takes only 35 to 45 minutes which is faster.
Cooking Instructions
Once you are done half cooking the okra and boil the beef ahead, it will be easier to cook the beef bamia.
Firstly, add oil in the pan and then add onion & garlic when the oil is hot. Stir it for few minutes or till they are almost cooked. Add the beef in the pan, and stir again till it has a nice light brown color (do not overcook)
Later, add the tomatoes and stir to mix. Once the tomatoes are cook, add all the powder spices except the black lemon and bay leaves. Give one more stir till the spices are well mixed with the beef.
Next, transfer the beef-spice mixture into the large pot. Add equal to 4 stocks from the boiled beef in an empty cooking pot. If the stock is not enough, use water instead. Switch on the fire, and wait till it started to boil.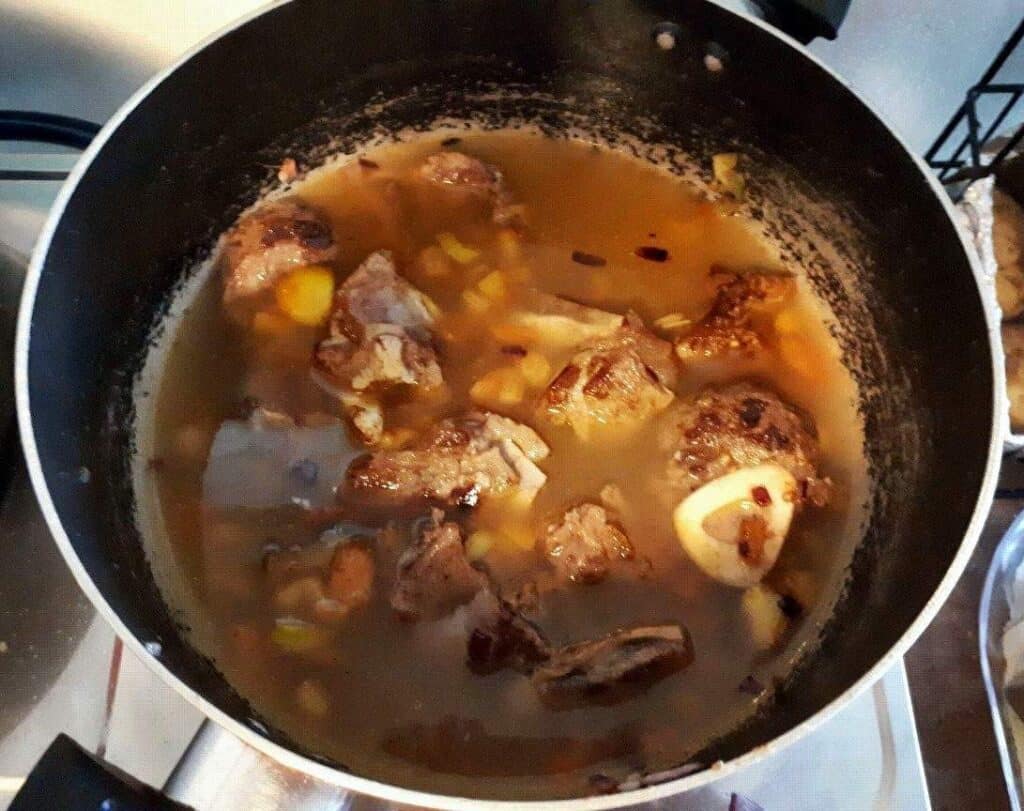 Add bay leaves, black lemon, and okra in the pot. Lower the heat to low and let it simmer for 10 to 15 minutes. Lastly, add salt for taste and chopped coriander for garnish before serving. Best to serve this dish with rice and salad
Frequently Asked Question (Faq's)
1. What do you serve Bamia with?
This dish must be eaten with rice and salad. This Beef Bamia recipe is best serve and eaten with arabic style vermicelli rice, basmati or any long grain rice. Also, I serve it with Middle Eastern salad such as Arabic Salad, Tabouleh, or Fattoush salad.
2. How long can it last in the fridge?
This recipe can last up to 5 days before it gets spoiled.
3. What are the variation of this recipe?
Instead of okra, you can put long green beans or white beans. In Middle East, we called this dish Fasolia
4. What type of Beef can I use in this dish?
You can use beef with bones, sirloin or steak. To me, I prefer to use beef that has bones since it is more tender. Also, the beef stock from the bones gives a delicious flavor of the stew.
5. How to cook Bamia if you don't have pressure cooker?
If you don't have pressure cooker, you can just boil in the pot, but this will take at least 2 hours for the beef to become soft.
Other Middle Eastern Recipes
Here are other Arabic and Middle eastern dish you may like to try cooking at home.
Another delicious western style beef recipe I will recommend is the slow cooking pot roasted beef
📋 Recipe Card
Arabic Beef Bamia Recipe (Okra Beef Stew)
Beef Bamia Recipe is a Middle Eastern tomato okra soup that is mix with tomato sauce, arabic spices, and beef.
Ingredients
3

Cloves

Chopped Garlic

2

Medium

Chopped Onion

3

Medium

Fresh tomatoes

1.5

Tablespoon

Tomato paste

3

Tablespoon

Olive oil

150

gram

Okra.

500

gram

Beef Bones, Steak or Ribs

4

cup

Beef Stock and Water
Spices
½

teaspoon

Coriander powder

½

teaspoon

Allspice powder

½

teaspoon

Black Pepper

Bay leaves

Black Lemon
Instructions
Add oil in the pan. Once it is hot, add the garlic and onion. Stir for few minutes till it is almost cooked.

Add the beef in the pan, and stir again till it has a light brown color. Do not overcooked the beef.

Add the tomatoes and stir to mix.

Later, add the coriander, allspice, black pepper, except bay leaves and black lemon. Stir to mix with the beef.

Once the spices are mixed well with the beef, transfer all into an empty large pot.

Add the stock from the boiled beef or combined beef stock & water (if the stock is not enough) in the pot. Turn on the heat.

Once it started to simmer, add the bay leaves, black lemon, and the half cooked okra.

Lower the heat and continue simmering for 10 to 15 minutes.

Add salt for taste and chopped coriander (optional) for garnished.

Serve it with rice and salad. Enjoy!
Notes
Stir fry the okra in a separate pan to help remove the sliminess before putting in the pot. You can just half cook the okra since you will still need to simmer it.
You can use any type of beef such Beef bones, Steak, Ribs or even Boneless Beef
Nutrition
Serving:
4
servings
Calories:
401
kcal
Carbohydrates:
13.7
g
Protein:
29.7
g
Fat:
36.8
g
Cholesterol:
84
mg
Sodium:
859
mg
Potassium:
614
mg
Fiber:
3.9
g
Sugar:
6.1
g