Beef kofta kebab recipe is an Arabic-style minced meat dish that is mix with Middle Eastern spices, ground meat, and green herbs. It is popular street food in the Middle Eastern, which is served with spiced rice or flatbread, and white yogurt garlic sauce.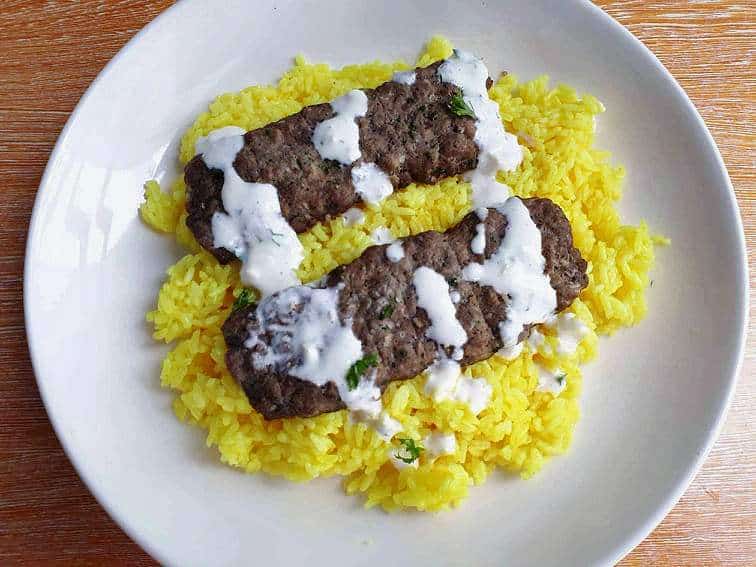 As a half Jordanian with Middle Eastern roots, Kebab is considered a traditional food in our Jordanian culture. When I was living in Kuwait, it is the first food I ate, which is my favorite meat dish.
Back in old days, we had a family gathering in the desert, where my Jordanian relatives were having a picnic. We've done this usually during the evening since the weather is not humid or hot.
We were grilling many delicious Jordanian foods, and one of them is beef kofta kebab. I was observing my Grandmother, and my Father was making the kofta meat from scratch. And they were mixing the spices, herbs, onion, and minced meat, which they grilled in a charcoal fire.
The meat is extremely tender, which is delicious, flavorful, and it has a pleasant aroma of spices. Lastly, we serve it with pita bread, which you mix with yogurt garlic sauce and Arabic salad.
What is Kebab and Kofta?
Kebab and Kofta are similar since they are both made from minced meat mix with spices. The only difference is the method of cooking. Kebab is found in street food, which they are cooked in a skewer. It is served with pita bread/flatbread and salad.
Kofta or Kafta, on the other hand, does not use a skewer, and it is handmade which is baked in the oven. Unlike kebab, it can be shaped into a meatball, which you eat either with rice or bread. In some countries like Jordan or India, Kofta is poured with tomato, tahini, or curry sauce. Also, the kafta can made either beef, mutton, chicken, or vegan-based meat.
In the post, I am making my Jordanian Beef kofta kebab, which is minced beef baked in the oven. It is my Grandmother's special recipe that I learned during my frequent desert experience in Kuwait. Fortunately, she passes this recipe to my father which he shared it with me.
Recipe Ingredients
The ingredients to make this Middle Eastern Style Beef Kofta Kebab recipe require spices, herbs, and minced meat.
Firstly, since this is a beef recipe, I am using minced beef, which is 80% lean and 20% fat. It is best to buy fresh minced beef and have it minced by the worker in the shop. If you buy the direct ground beef, it may not be fresh, and you can't tell if the lean to fat ratio is 80:20.
Secondly, I am using different spices and herbs, which includes cumin, cinnamon, allspice, chopped parsley, and coriander leaves. If you notice the kebab in Jordan, Lebanon, and Middle Eastern, the beef kafta meat is mix with chopped green leaves. We love adding coriander and parsley leaves, which makes our kebab unique.
Lastly, I am using unsalted butter in my minced meat. Using butter is not common, but to me, this makes my ground beef mixture moist. Unlike mutton, ground beef is much drier, which is why I added butter to my meat mixture.
Note: If you are mixing with ground mutton, you don't need to use butter since the mutton makes the kafta meat moist.
How do you cook the Beef Kafta?
Firstly, you will have to mix the minced beef along with the spices, onions, herbs, etc. Once they are well mixed, that is the time you can start shaping the kafta meat.
When I made this delicious Beef Kofta Kebab, there are two ways you can do it- Either using with the wooden skewer or without the wooden skewer.
With Wooden Skewer
Prepare a wooden skewer and make sure your hand is clean. In each skewer, grab a small amount of beef kafta meat mixture that is equal to 3 tablespoons. Shaped them into a long cigar liked shaped into the skewer.
Once you are done shaping each kebab, transfer all into the tray to prepare baking them in the oven. You can optionally line the tray either with aluminum foil or parchment paper. And lastly, make sure you brush with olive oil to prevent the meat from sticking on the tray.
Transfer the tray that has kebab into the oven, and let it baked for 15 minutes at 180 C or 350 F. Once you are done, transfer it into the upper third rack of the oven. Let it broiled for 5 minutes or until the kebab turns brown.
Without using the Wooden Skewer
Using without a wooden skewer is much simpler since you don't need to worry about the kebab falling off from the skewer.
Transfer all the kafta meat mixture into the baking tray. In that tray, use your hand to shape the meat mixture into a long cylindrical shape. You can also shape them into meatballs or hamburger-like patties.
Put into the oven and let it baked for 15 minutes at 180 C or 350 F. Again, you transfer into the top rack of the oven and let it broiled for 5 minutes.
Note: If your oven does not have a broiling setting, adjust the temperature to 240 C.
What do you serve this recipe with?
As a half Middle Eastern, kebab is eaten with salads, rice, or flatbread.  To me, I like to eat it using my greek flatbread recipe, Arabic salad, or shepherd salad recipe. Eating with salad is a must, and they blend well.
Also, if you prefer rice over bread, this kebab is best to serve with yellow rice. I prefer to eat my beef kafta using the rice from my shawarma rice without including the meat from that recipe.
Lastly, the sauce is an important condiment for this recipe, which I love using my yogurt garlic sauce recipe. You can use it on the rice, flatbread, or directly on the salad.
Other Middle Eastern Food Recipes
If you love Middle Eastern food, here are other delicious recipes to make in your kitchen:
📋 Recipe Card
Beef Kofta Kebab Recipe
A Jordanian style Beef Kofta Kebab Recipe which is mixed with minced beef, middle eastern spices and herbs. It is served with rice and drizzle with yogurt sauce.
Ingredients
500

gram

of ground beef (80% lean to 20% fat)

2

tablespoon

of unsalted butter

⅓

cup

of chopped parsley

⅓

cup

of chopped coriander leaves

1 medium of grated onion

2

tablespoon

of grated garlic

½ teaspoon of cumin powder

½ teaspoon of allspice powder

¼ teaspoon of cinnamon powder

¾ teaspoon of salt

½ teaspoon of black pepper
Instructions
A. Using Wooden Skewer
Add the ground beef, spices, herbs, and the rest of the ingredients in a large bowl. Mix it using your hand.

In each skewer, use your clean hand to get a small portion of the kofta meat mixture and shaped them into a long cigar-shaped. Set aside to prepare to transfer them in an oven tray

Preheat the oven to 180 C or 350 F. Cover the tray with aluminum foil, and brush them with oil to prevent sticking into the tray.

Place the kafta kebab on the tray, and transfer into the oven. Baked it for 15 minutes in the middle rack of the oven

Once done, transfer the tray into the upper third rack of the oven. Broil the kebab for 5 minutes to make the kebab brown.

Lastly, once done broiling the kofta kebab, remove it from the tray, and serve it with yellow rice OR flatbread AND any Middle Eastern or Mediterranean salads.
B. Without using the Wooden Skewer
Like the same step using with a wooden skewer, mix the ground beef and the rest of the ingredients using your hand.

Preheat the oven to 180 C or 350 F. Adding aluminum foil to the tray is optional

Transfer all the kafta meat into the baking tray. Use your hand to shape the meat into a long cylindrical shape. In a separate tray, shaped the rest into a meatball, or whatever you prefer.

Follow the steps as similar to Step 4A to Step 6A
Notes
If your oven does not have a broiling setting, adjust the temperature to 240 C
This Kebab is best to serve with yellow or spiced rice, salads, pita bread and white yogurt garlic sauce
Nutrition