Lebanese Vermicelli Rice is an Arabic white rice recipe which is mix with long-grain rice, olive oil, and vermicelli noodle. This rice dish is simple that is commonly served and eaten with other Middle Eastern meat and salad dishes.
During my 18 years living in Kuwait and Jordan, I have learned that rice is a popular staple food in the Middle East. When I visited my grandparent's house in Kuwait, they serve this delicious yet easy white rice dish called Vermicelli Rice.
The white rice doesn't have much taste, but it has a nice aroma from the olive oil. Just for your information, this Arabic rice is not eaten alone. But, it is usually served with meat stew dishes and salad.
Although it is a Lebanese dish, it is popular in other Levantine regions like Palestine, Jordan, and Syria. My grandmother taught this recipe to my mother, which I learn from her, and I will be showing how to make this simple rice dish.
Recipe Ingredients
The recipe ingredient of Lebanese Vermicelli Rice is one of the easiest white rice to make since it is straight forward.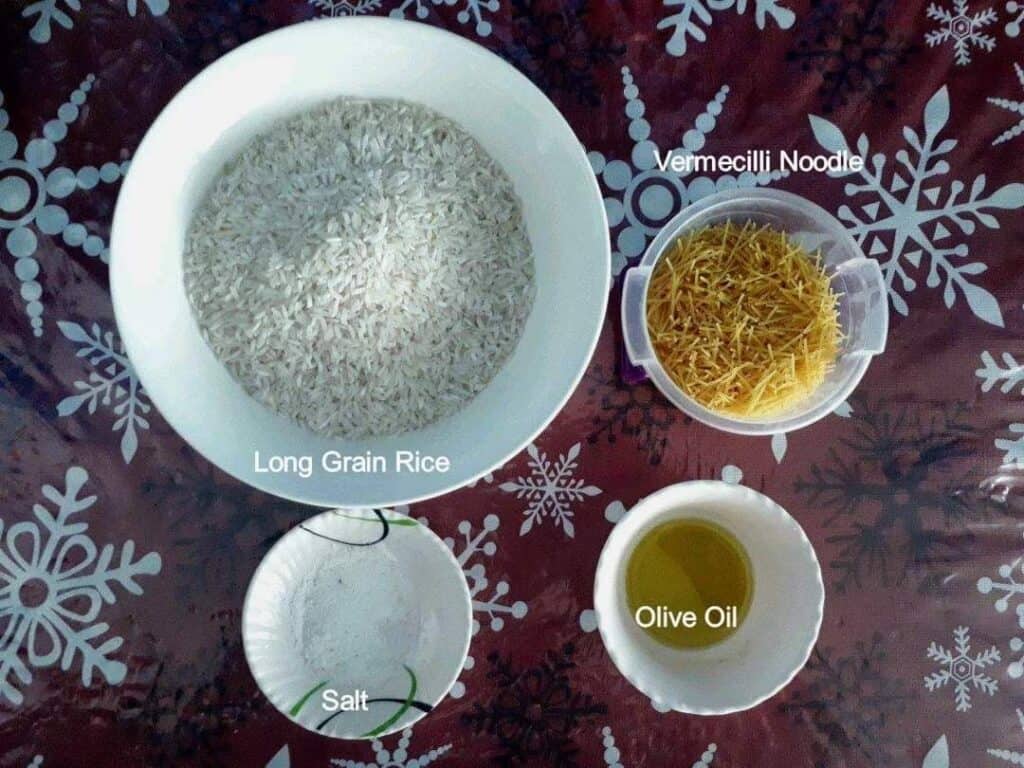 RICE: I am using a long grain white rice for this recipe. Example of long grain rice you can use includes American Long-grain rice, Basmati rice, or Jasmine Rice.
COOKING OIL: I am using Extra Virgin Olive Oil (EVOO) when sautéing the rice before boiling. The EVOO gives a nice enhance flavor of the rice which makes it tastier.
PASTA NOODLE: One of the main ingredients of this rice is Vermicelli noodle. It is a type of pasta noodle which is much thinner than spaghetti. We use this noodle when mixing the rice. Alternatively, you can use Capellini noodle if you can't find Vermicelli in the grocery stores.
SALT & WATER: I use salt when seasoning the rice, and water to pour in the rice to boil.
What do you eat this rice recipe with?
In the Middle East, we don't eat this rice alone, and it is pair with salads and meat or stew dishes. In my experience, these are great food recipes that I like to pair with my Lebanese vermicelli rice:
MEAT: Galayet Bandora, Baked Chicken & Potatoes, Beef Kebab, Kofta/Kafta, Middle Eastern style Roasted / Grilled Chicken,
STEW: Bamia, Molokhia, Laban Immo, Middle Eastern Tomato Stew dishes
SALAD: Arabic Salad, Shepherd Salad, Fattoush, Tabouleh Salad
Cooking Instruction
Making an Authentic Vermicelli Rice is extremely simple, which you can finish quickly.
Firstly, add olive oil in the cooking pot in a LOW heat. Once the oil is hot, add the vermicelli noodle and stir for 30 seconds or until it turns brown.
Next, add the long-grain white rice & pinch of salt and give a quick stir for 30 seconds to 1 minute. Pour the water in the pot to boil the rice.
Switch to high heat till the rice started to boil. When the rice is boiling, switched back to low heat, and let it simmer for 10 minutes or till the water evaporated. Once done, serve it with a meat dish and salad. Bon Appetite!
Nutrition Facts
6 servings per container
---
Calories339
Amount Per Serving% Daily Value *
Total Fat 7.4g

12

%
Sodium 396mg

17

%
Amount Per Serving% Daily Value *
Potassium 73mg

3

%
Total Carbohydrate 60.4g

21

%

Dietary Fiber 1.3g

6

%
Sugars 0.1g

Protein 6.3g

13

%
* The % Daily Value tells you how much a nutrient in a serving of food contributes to a daily diet. 2,000 calories a day is used for general nutrition advice.