Lebanese Vermicelli Rice is an Arabic white rice recipe which is mix with long-grain rice, olive oil, and vermicelli noodle. This rice dish is simple that is commonly served and eaten with other Middle Eastern meat and salad dishes.


Jump to:
During my 18 years living in Kuwait and Jordan, I have learned that rice is a popular staple food in the Middle East. When I visited my grandparent's house in Kuwait, they serve this delicious yet easy white rice dish called Vermicelli Rice.
The white rice doesn't have much taste, but it has a nice aroma from the olive oil. Just for your information, this Arabic rice is not eaten alone. But, it is usually served with meat stew dishes and salad.
Although it is a Lebanese dish, it is popular in other Levantine regions like Palestine, Jordan, and Syria. My grandmother taught this recipe to my mother, which I learn from her, and I will be showing how to make this simple rice dish.
What is Vermicelli Rice?
Vermicelli Rice is an Arabic or Lebanese rice dish made from a small pasta noodle called Vermicelli pasta. It is very similar to capellini noodles but thinner.
In the Middle East, we call this rice ruz ma shariyah (أرز الشعيرية), which the word "ruz" mean rice while shariyah / shareeyah mean "vermicelli"
Also, do not be confused with Rice Vermicelli because this is a Rice Noodles commonly used in Asian cuisines. The word "Rice Vermicelli" and "Vermicelli Pasta" have a similar meaning, but they are both considered different types of noodles.
Recipe Ingredients
The recipe ingredient of Lebanese Vermicelli Rice is one of the easiest white rice to make since it is straight forward.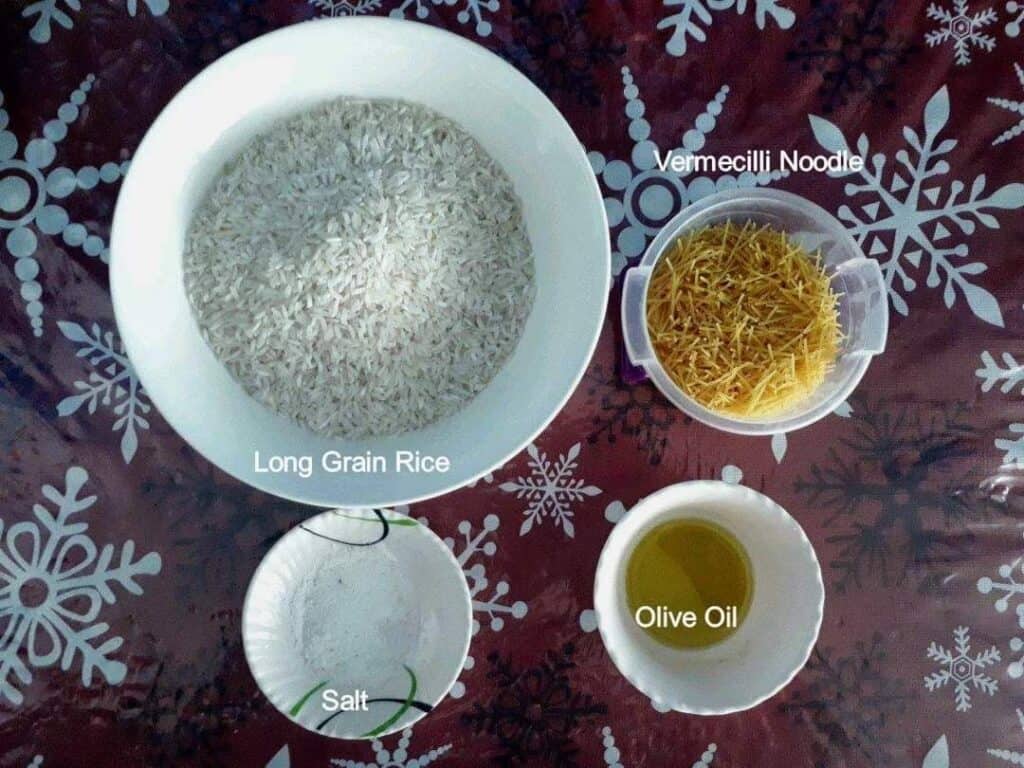 RICE: I am using a long grain white rice for this recipe.
COOKING OIL: I am using Extra Virgin Olive Oil (EVOO) when sautéing the rice before boiling. The EVOO gives a nice enhance flavor of the rice which makes it tastier.
PASTA NOODLE: One of the main ingredients of this rice is Vermicelli noodle. It is a type of pasta noodle which is much thinner than spaghetti. We use this noodle when mixing the rice. Alternatively, you can use Capellini noodle if you can't find Vermicelli in the grocery stores.
SALT & WATER: I use salt when seasoning the rice, and water to pour in the rice to boil.
What do you eat and serve this rice with?
In the Middle East, we don't eat this rice alone, and it is usually pair with salads and meat or stew dishes. In my experience, these are my recommended Middle Eastern and Mediterranean food recipes that I like to pair with my Lebanese rice:
MEAT: Galayet Bandora, Beef Kofta Kebab, Chicken Kafta, or any Middle Eastern style Roasted / Grilled Chicken,
STEW: Bamia, Molokhia, and Fasolia
SALAD: Arabic Salad, Fattoush, or Tabouleh Salad
Step By Step Instruction
Making an Authentic Arabic Rice (Ruz Ma Shariyah) is extremely simple, which you can finish quickly.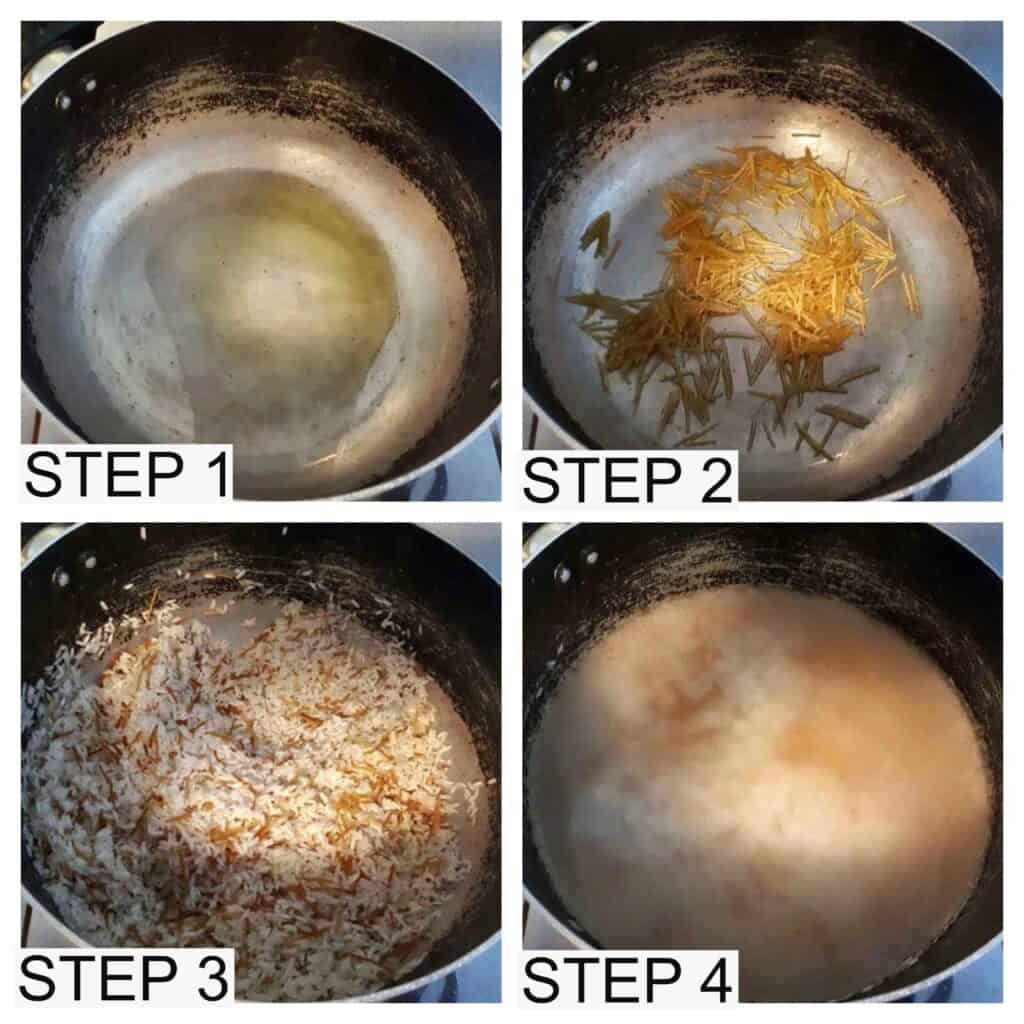 Firstly, add olive oil in the cooking pot in a LOW heat. Once the oil is hot, add the vermicelli noodle and stir for 30 seconds or until it turns brown.

Next, add the long-grain white rice & pinch of salt and give a quick stir for 30 seconds to 1 minute. Pour the water in the pot to boil the rice.

Switch to high heat till the rice started to boil. When the rice is boiling, switched back to low heat, and let it simmer for 10 minutes or till the water evaporated. Once done, serve it with a meat dish and salad. Bon Appetite!
Tips and Hints
If you are using Basmati Rice, the ratio of water to rice is 1.5-2 cups to 1 cup. But if you are using Jasmine or American Long-grain rice, the ratio is 2-3 cups to 1 cup.

Soak the rice for 20 to 30 minutes before cooking. This will help reduce the excess starch of the rice, hence, reducing the chance of making the rice sticky.

If you prefer healthier rice, I recommend Basmati rice since it has lower calories or brown rice.

When cooking the vermicelli noodle in oil, you have to stir continuously because they can easily turn brown right away. Once they turned brown, add the rice right away before it will start to burn
Recipe Frequently Asked Question (FAQ's)
1. Why is my rice so sticky?
If this happened to you, there are probably two reasons:

A. You have not either rinsed or soaked the rice. When you did that step, you will be removing the excess starchiness, which is responsible for making the rice sticky

B. You are probably using short or medium-grain (depends on what brand) rice since they make your rice sticky.
2. I don't have vermicelli noodle, can you recommend me other types of noodle pasta?
If you don't have Vermicelli, you can use capellini or angel hair pasta noodles. They are both great alternatives for making this delicious rice recipe.
3. What type of Long-grain rice I can use for this recipe?
You can use American Long-grain rice, Basmati rice, or Jasmine Rice.
4. How long can it the rice in the fridge?
This Lebanese rice can be kept in the fridge for up to 5 days. You can keep it in the freezer, which can last up to 1 month, but I wouldn't recommend it since it will make the rice watery caused by the formation of the ice, and you will not appreciate the texture of the rice.

Other Middle Eastern Rice Recipes
Here are my other recommended Middle Eastern or Arabic rice recipes to make at home:
Lebanese Vermicelli Rice
Lebanese Vermicelli Rice is an authentic Arabic white rice that is mix with long-grain white rice, olive oil and vermicelli noodle.
Ingredients
2 cup of Long-grain rice
½ cup of Vermicelli pasta noodle
4.5 cups of water
1 teaspoon of salt
3 tablespoon of olive oil
Instructions
Add olive oil in the pot. Once it become hot, add the vermicelli pasta noodle
Stir the noodle for 30 seconds till it become brown
Add long-grain white rice & pinch of salt. Stir to mix for 30 to 60 seconds.
Pour water in the pot, and switch to High heat to let the rice boil.
Once the rice start boiling, switch back to Low heat and let it simmer for 10 minutes or till there is no more water.
Once the water fully evaporated and rice looks soft, give a final quick stir before turning off the heat
Serve with Meat / Stew and Salad Dish
Notes
If you don't have vermicelli noodle, you can instead use capellini noodle
Other white long-grain rice includes Basmati, Jasmine, and American white rice
Nutrition Information
Yield

6
Serving Size

1
Amount Per Serving
Calories

179
Total Fat

7g
Saturated Fat

1g
Trans Fat

0g
Unsaturated Fat

6g
Cholesterol

0mg
Sodium

361mg
Carbohydrates

25g
Fiber

1g
Sugar

0g
Protein

3g