Fasolia (فاصوليا) is a Middle Eastern recipe which is mixed with white beans, beef cut, coriander leaves, and tomato sauce. It is a popular Arabic beef stew dish in Jordan, Lebanon, and Iraq which is best served with rice.


Jump to:
When I lived in Middle East for more than 18 years, I have tried many delicious foods, which I find it one of the best in the world. I find their food unique since they are rich in spices, it is flavorful and delicious.
Back in old days, when we had a family gathering, my grandmother made this white bean beef stew dish. It is one of the best Arabic foods I have tried in my life which is best served with rice and salad. As a half Jordanian & Arab, we serve this dish during a family gathering, Ramadan, and other special occasions.
Although my grandmother passed away, she shared this recipe with my mother, which I learned from her. Most of the Middle Eastern recipes I learned come from my grandmother. And in the post, I will be sharing with you how to make an authentic Middle Eastern Beef with Fasolia recipe
Recipe Ingredients
In this recipe, I am using fewer spices compared to other Middle Eastern recipes I made. Here are the ingredients of my grandmother's fasolia recipe:
Firstly, I am using boneless beef cubes, which I simmer for few hours or till they get soft and tender. You can use other types of beef cuts if you like.
Secondly, I am using fresh coriander leaves and dry white beans for this recipe. You can use any kinds of white bean you like. These two are the most important ingredients, and without them, you can't make this Arabic white bean stew dish.
Lastly, other ingredients I use include olive oil, tomato paste, black pepper, onion, garlic, and curry powder.
Things to do first before cooking
Before you cook the Fasolia, soak the dry white beans in water overnight. It will help makes it soft, which will reduce the cooking time when boiling the beans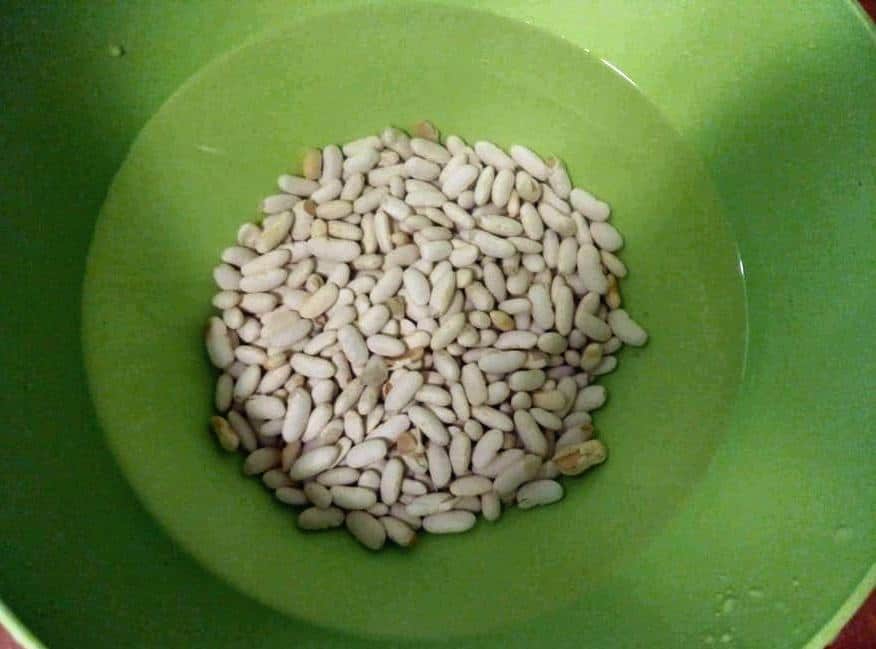 Also, make sure you have a cooking pot, where you will be using to boil the meat and the white beans
Cooking Instruction
To make Fasolia Recipe, you first have to boil the beef and the white beans until it gets soft and tender. They are both boil in a separate pot, in which the white bean takes 45 minutes, while the beef takes 1 ½ to 2 hours at least.
After that, I remove the beef and the white bean from the pots and transfer each of them into a large bowl.
In a different pot, I add olive oil and then chopped garlic and onion. Stir for few minutes till they both look transparent and cooked.
Next, I add the beef cut and curry powder, and then I continue stirring for a minute. Add water and the remaining beef broth; that I used to boil the meat, and the cooked white beans. Stir to mix.
When it started to boil, lower the fire to low heat and add tomato paste and coriander leaves. Stir to combine and then let it cook for an additional 5 to 10 minutes with the lid covered. Add salt and black pepper for taste.
Once done, serve with rice and salad. I recommend vermicelli rice and any Middle Eastern salads like Fattoush or Tabouleh Salad
Notes: If you have a pressure cooker, you can put the white beans and the beef cubes together, which takes only an hour. It is much faster than using in the cooking pot.
Recipe Frequently Asked Questions
I. Can I make this dish vegan friendly?
Yes, you can remove the beef and just white beans in this recipe. You can add chopped potatoes or carrots if you like. It will make your dish purely vegan.
II. Are there other ways I can cook the white bean faster?
If you don't want to boil the white beans, you can use the canned white bean found in the grocery stores. It will save your time since you don't need to boil the bean.
III. Will there be any difference between canned or dry white beans?
In terms of taste, they are both the same. However, the dry white beans are healthier since their nutrients are still there. On the other hand, canned white beans are processed, which might have fewer nutrients.
IV. What do I serve this Fasolia recipe with?
Traditionally in the Middle East, we serve this dish with salads and Arabic rice. This recipe is best to serve with Arabic Salad and Lebanese Vermicelli Rice. Although it is originally Lebanese, it is popular rice dish among locals in Jordan, Iraq, and other Arab countries.
V. What other meats I can use in this recipe?
Aside from beef, we can use chicken or lamb. These three kinds of meats are eaten among locals, including myself, in the Middle Eastern and Arab countries.
VI. How long can this be stored in the refrigerator?
This recipe can last in the fridge for up to 5 to 7 days.
Other Middle Eastern Recipes
Here are other delicious Jordanian, Lebanese and other Middle Eastern Beef recipes you can try at home:
📋 Recipe Card
Fasolia Recipe (Arabic White Bean Stew)
Cook Time:
1 hour
25 minutes
Total Time:
1 hour
40 minutes
Fasolia is a Middle Eastern white bean stew recipe which is mixed with beef cubes, coriander leaves and tomato sauce
Ingredients
500 gram of boneless beef cubes
2 cup of dry white beans
1 ½ cup of chopped coriander leaves
1 cup of chopped onion
2 cloves of garlic
4 tablespoon of olive oil
2 tablespoon of tomato paste
½ teaspoon of curry powders
4 cup of water and beef broth
Salt and Black Pepper for taste
Instructions
Boil the beef and the white beans in a separate pot in medium-high
heat. The meat will be boiling for 1 ½ hours and the white bean for 30 to 45 minutes.
Once they are both soft and tender. Remove them from the pot, and set
them aside on a plate for later use. Do not throw the beef broth away.
In a different pot, add olive oil and chopped garlic and onion. Stir
for few minutes till the color turns transparent
Add the cooked beef cubes and curry powder. Stir to combine
Add water and the remaining beef broth and cooked white beans. Wait
till it started to boil
Add the coriander leaves and tomato paste. Lower the fire to low heat
and simmer for 5 to 10 minutes
While simmering, add salt and black pepper for taste
Once done, serve with Arabic vermicelli rice and Arabic salads.


Nutrition Information
Yield

6
Serving Size

1
Amount Per Serving
Calories

334
Total Fat

26g
Saturated Fat

8g
Trans Fat

0g
Unsaturated Fat

15g
Cholesterol

73mg
Sodium

317mg
Carbohydrates

21g
Fiber

5g
Sugar

3g
Protein

29g