Asian Cuisines is home to one of the world's best seafood dishes that are rich in spices and herbs. There are many delicious kinds Asian seafood recipes from different countries to choose which includes from Thai crab fried rice to Indian Fish Curry.

Jump to:
While living in an Asian country, the Philippines, I have the chance to eat and cook many delicious seafood dishes. The best part is that other Asian cuisines such as Japanese, Indian, Korean or Chinese foods are popular in the Philippines you can find them everywhere.
I have tried all kinds of fish, shrimp, and other seafood dishes and I can tell the Asian seafood recipes are much different than the western dishes, but in a good way. It involves using many unique spices and herbs, and it is cooked in a form of soup, noodles, fried rice, or oven-baked.
Common Seafood Ingredients used in Asian Cooking
When it comes to the ingredients, it depends on each country since some of them use different herbs & spices. Not to mention, they also have condiments that are unique to their food cuisine.
Korean Cuisines- Kimchi and Gochujang Paste are popular condiments that they used in most of their cooking recipes. It is mildly spicy but so delicious that they are used in their soup and meat-based recipes. Also, other popular ingredients they use in their dish include garlic and spring onion.

Indian Cuisines- It is not surprising to say that dry spices & herbs are typically used in Indian dishes. These include cumin seeds, coriander powder, cinnamon, chili powder, garam masala, and many other spices. Additionally, when making it into a sauce or gravy, they usually combine red onion, garlic, ginger, and tomatoes to blend into a paste.

Japanese Cuisines- Sugar, Soy Sauce, and Mirin is a popular condiment sauces they use in most of their fish and other grilled seafood dishes. This example will be the Teriyaki Sauce. Also, when making a soup, they use this popular soybean fermented seasoning called Miso.

South East Asian Cuisines- In South East Asian countries such as Thailand, Malaysia, Singapore, or Vietnam, they mostly use ingredients like lemongrass, ginger, garlic, shallot, and fish sauce in their cooking. Also, when cooking a curry-based recipe, coconut milk is an important ingredient for making a delicious soup.

Filipino Cuisines- In the Philippines, soy sauce, vinegar, and sometimes oyster sauce is a popular condiment used when cooking, baking, or grilling their seafood or meat recipes. Other ingredients used include onion, garlic, ginger, and tomatoes.
Frequently Asked Questions
1. Is Seafood Healthier than other Meat?
Seafood is considered white meat which is healthier than other red meats like beef or pork. That is because it is high in omega-3 fatty acids which makes it a healthy protein.
2. What are the common seafood used in Asian cooking?
Common Asian seafood includes fish, shrimp or prawns, squid, clam and crab.
3. What is the common cooking method used in Asian seafood?
In most delicious Asian seafood recipes, common cooking methods include grilling, simmering, steaming, Stir & Deep frying, and sometimes baking in the oven
Now I provided you the overview background, here are the 25 mouthwatering Asian Seafood Recipes that you can cook at home:
I. Fish
1. Baked Pompano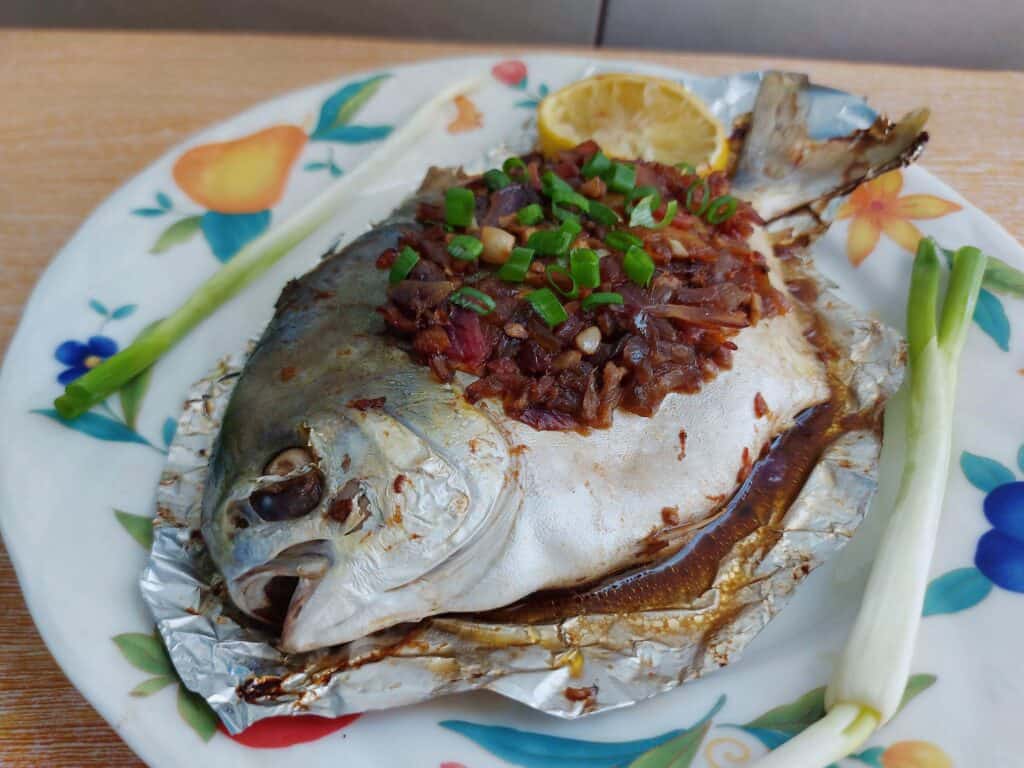 Baked Pompano is an Asian inspired whole baked fish recipe that is topped with sautéed onion, ginger, and tomatoes with soy sauce which is best paired with white rice.
2. Fish Sinigang
Fish Sinigang is a Filipino mildly sour soup recipe that is mixed with boneless fish and cabbages. It is a popular local dish that is best paired with white steam rice.
What makes it sour is that the soup is made from either tamarind broth or lemon juice. There are different variations of sinigang which includes pork and shrimp, and you can add other vegetables such as eggplant or spinach.
3. Thai Fish Green Curry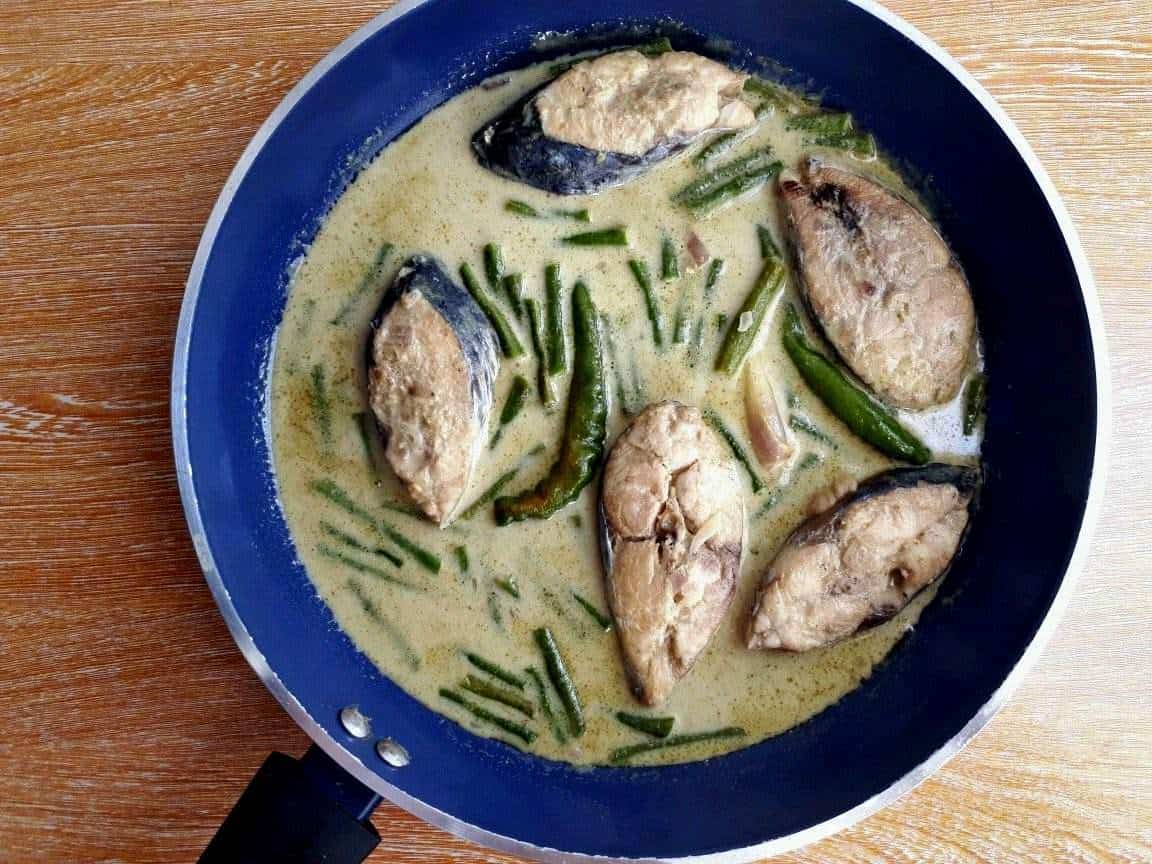 Thai Fish Green Curry is a Thai Curry dish that is mix with coconut milk, green vegetables, boneless fish, and Thai green paste. This mildly spicy curry dish is very flavorful which is best to serve with white rice.
4. Baked Bangus (Filipino Milkfish)
A delicious Filipino Baked Bangus which is an oven baked milkfish recipe topped with onions, tomatoes, ginger and soy sauce. It is very tasty and meaty which you can find the boneless milkfish in most grocery stores.
The word Bangus comes from the Filipino word meaning "milkfish" which is considered the national fish of the Philippines.
5. Steamed Pompano with Soy Sauce
Steamed Pompano is a fish recipe that is seasoned with herbs and steamed with water in a cooking pot. It is poured in soy sauce that is mixed with ginger and spring onion leaves. The pompano is a bit fatty which makes the meat moist and juicy.
6. Sindhi Fish curry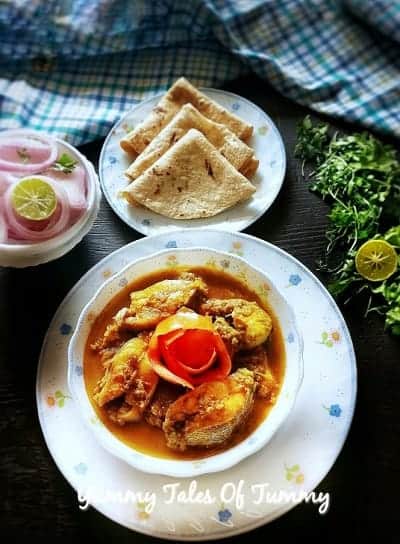 Sindhi Fish curry recipe is made using green herbs gravy, an authentic dish from Indian, Sindhi cuisine which is almost oil free, very quick and easy to make.
In this recipe, the fish is marinated with turmeric, chili, and coriander powder which is then pan-fried in little oil. And then later it is cooked in a masala gravy so it will become a curry dish.
This is best serve with rice or you can substitute with chapati or Pulao
7. Sri Lankan Fish Curry
This authentic Sri Lankan Fish Curry that is mixed with different spices & herbs. Easy to make, and bursting with flavor which paired best with white rice.
What makes this fish curry unique is that it has a mild sour flavor from the tamarind and coconut milk is used instead of water to make the curry creamy.
8. Bangus Sisig
Bangus Sisig Recipe is a Filipino sizzling flaked milkfish dish mixed with chopped onion, chili peppers, soy sauce, and vinegar. This sisig is best to eat with rice
The milkfish is first fried in oil which is then deboned and flaked into smaller pieces. When serving, the sisig is served on a sizzling plate to help retain the heat of this dish,
9. Cha Ca La Vong
Vietnamese turmeric fish with dill and vermicelli noodles (Cha Ca) is an iconic dish of Hanoi which the fish is plated on a bed of aromatic green scallions and dill. The dish looks stunning and tastes sophisticated.
10. Saeng sun Jun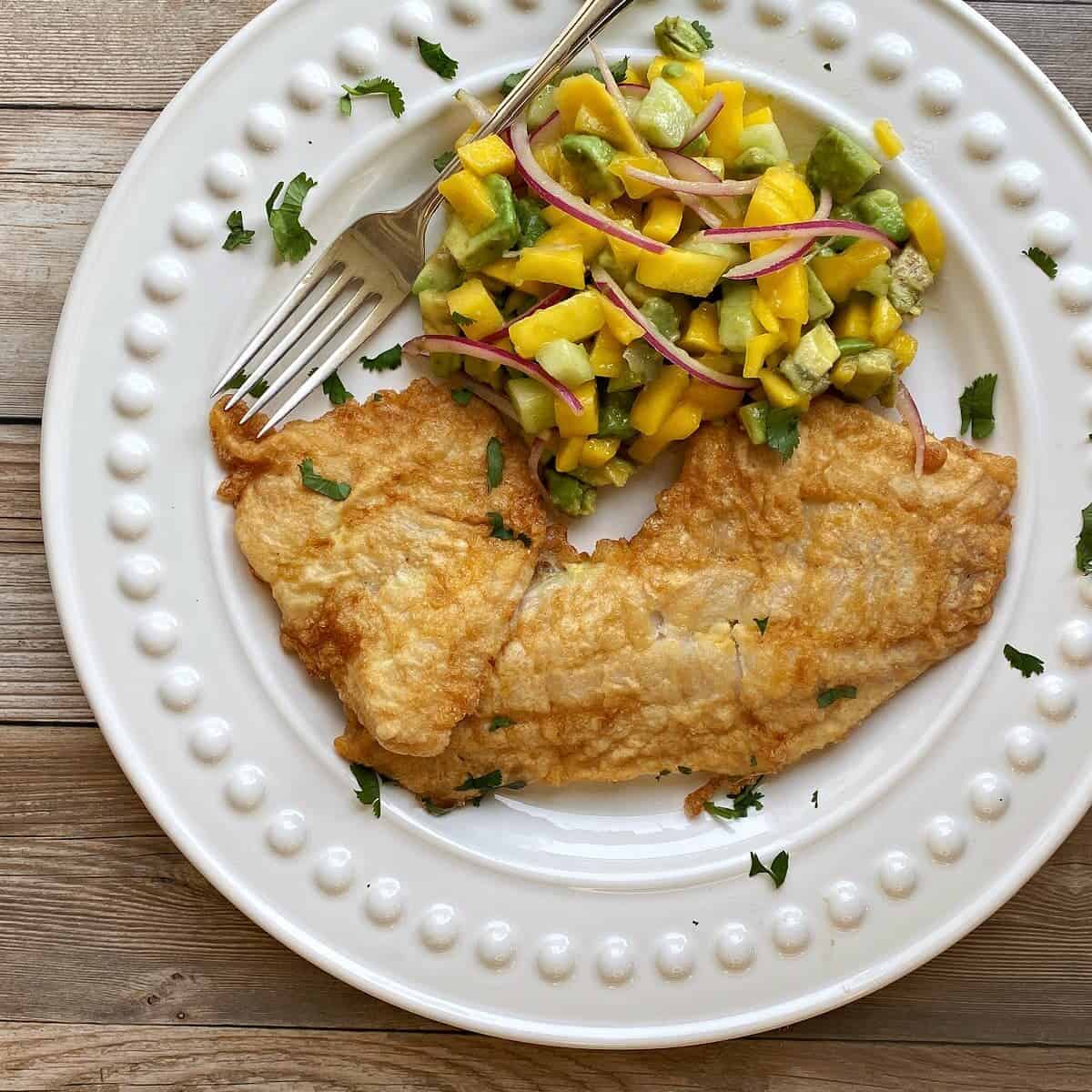 Saeng sun Jun, or Korean-style flour and egg battered fish, is a simple pan-fried fish that can be served as an appetizer or a light main dish. Ready to eat in less than 15 minutes!
11. Pinakbet Ilocano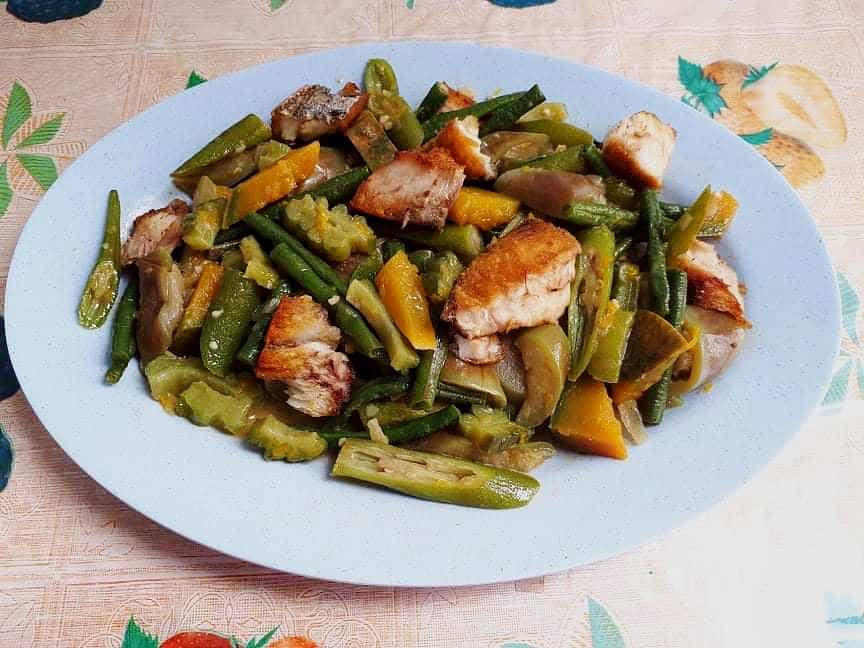 Pinakbet ilocano is a Filipino vegetable saute dish which is combined of mixed vegetables, bagoong monamon dilis (fermented anchovies) and chopped fried fish.
The word Pinakbet is the Filipino word meaning "shrunk or shriveled" since the vegetables are simmered in water for 5 minutes which makes their size smaller and wrinkled.
12. Assam Fish Curry
The tamarind juice gives Singapore assam fish curry a delicious tanginess and adding the coconut cream, which is unusual for this dish, lets us get away without adding palm sugar (which usually goes hand in hand with tamarind)- just as delicious as the original but healthier!
13. Jollibee Tuna Pie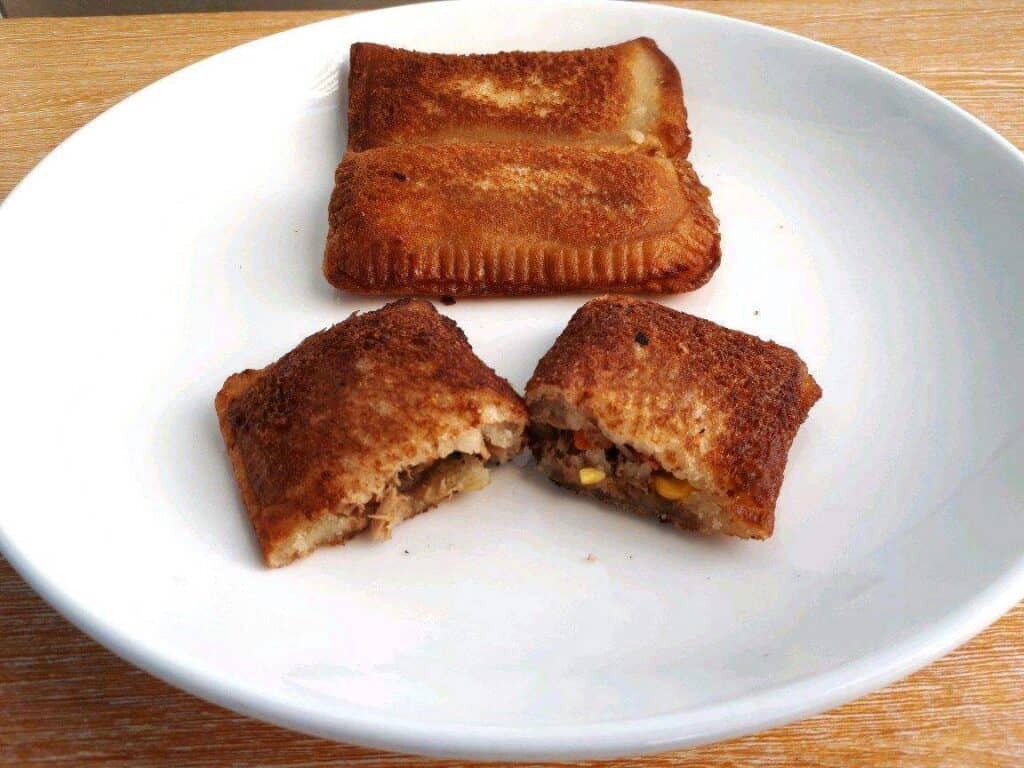 This is a Jollibee inspired tuna pie recipe using sliced bread which is a Filipino snack pie mixed with mayonnaise, tuna, and mixed vegetables.
14. Salmon Sushi Bowl
These Spicy Salmon Sushi Bowls feature broiled salmon, wasabi sauce, and all of the fresh toppings you want. Served over rice, these deconstructed sushi bowls are perfect for both lunch and dinner and can be made in under 30-minutes!
II. Shrimp / Prawns
15. Prawn Masala
Prawn Masala is a spicy Indian prawn dish that is mix with authentic spices, coconut milk, herbs, and tomatoes which is best to eat with plain rice or roti.
The coconut milk makes the sauce creamy and the spices blend well with the prawns which enhances the flavor of the masala
16. Thai Red Prawn Curry
A Thai Red Prawn Curry is quick, easy, full of flavour, and ready in just 15 minutes. Prawns and vegetables are cooked in a spicy coconut milk curry sauce and served with rice or noodles
In this recipe, the curry is prepared from the red curry paste & coconut milk, and snow peas & bell pepper is added as a vegetable for this dish
17. Shrimp Lo Mein
This Shrimp Lo Mein is a stir fried Chinese noodle which is made using ramen noodle and the vegetables added include carrot, broccoli and red pepper. This can be made in about 20 minutes, and tastes better-than-take-out! Easy to make with your favorite veggies, this is a flavorful meal the whole family will love.
18. Shrimp Fried Rice
This Chinese Shrimp Fried Rice Recipe is the way we made it at home growing up! This shrimp stir-fried rice is combined with frozen mixed vegetables such as corn, peas, carrots, diced ham, and chopped mushrooms.
The fried rice is seasoned with soy sauce and sesame oil to enhance the flavor of this dish. This makes it perfect for lunch or dinner.
19. Shrimp Yaki Udon
Shrimp Yaki Udon is a super flavorful, restaurant-quality Japanese-inspired noodle stir-fry that's better and healthier than take-out! It's packed with veggies, thick and silky udon noodles and seared shrimp and super quick and easy to make.
20. Banh Mi Chien Tom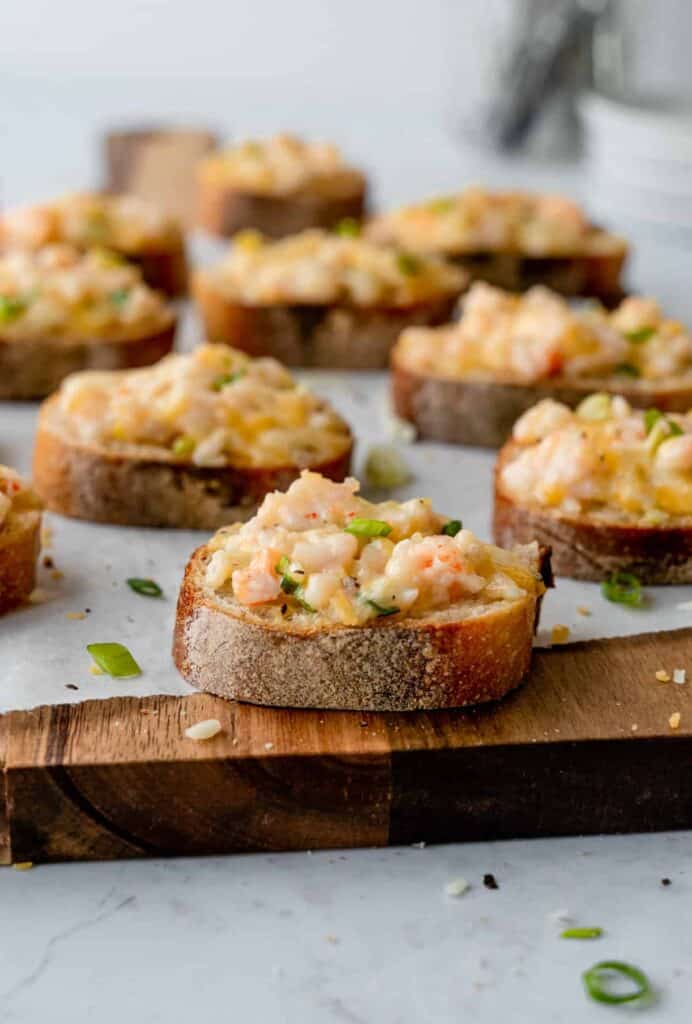 Vietnamese Shrimp Toast, or Banh Mi Chien Tom, is the ultimate party appetizer! Shrimp, mayonnaise, and cheese are spread onto a baguette and baked to perfection. This easy authentic recipe only requires 30 minutes and 7 ingredients, and can be made in the oven or air fryer.
21. Hunan Shrimp
Hunan Shrimp is a sticky sweet and savory Chinese that is mixed with chili paste, Asian staple sauces and assorted vegetables.
What makes it sweet and savory is because of the Hunan sauce which is a combination of sambal chili paste, soy sauce, tomato ketchup, rice wine, and sugar. This dish is best served with rice or noodle.
22. Tandoori Prawn Tikka
Tandoori prawn tikka is an Indian-style prawn starter recipe that can be easily made on a pan, outdoor grill, or in the oven.
This prawn tikka is marinated with yogurt, chili powder, garam masala, and other spices which are then baked or grilled. Make this tandoori jhinga for your next party and wow your guests!
III. Crab
23. Crab Fried Rice
This is Asian fried rice where it is stir-fried with onion & garlic and then poured in beaten egg to scramble it. The fried rice is seasoned with soy sauce and sugar but the crab gives the main flavor of this dish.
Crab fried rice recipe delivers buckets of flavor despite its simplicity of method and ingredients. This Thai comfort food meal is so easy to recreate at home.
24. Crab Kani Salad
This Spicy Crab Kani Salad is a thinly shredded imitation crab tossed in a homemade Asian-inspired Sweet and Spicy Mayo Sauce. This salad can serve as a side dish for salmon, katsu or any meat dishes.
25. Crab Rangoon
Traditional Crab Rangoons with creamy crab filling and light, crispy shell are the most popular appetizer at any dinner party and way better than take-out!!