Thai Fish Green Curry is a popular Thai curry recipe that is mix with coconut milk, vegetables, fish, and spices. It is served with white rice and other vegetable dishes.
Thai food is one of my favorite cuisines in the world in which they are rich in flavor and spices. Furthermore, I have tried many of their food, and I noticed their dishes are very diverse, which is sour, spicy, sweet, and salty. It is not surprising to say that Thai cuisine is considered one of the best foreign food in the world.
Beside Chicken Pad Thai, one of my favorite Thai foods that I enjoy is Thai Fish Curry. What fascinates me is that the curry from Thailand is different than the one in India or the Middle East. It is usually in the form of a paste that is mix with coconut milk, lemongrass, and fresh spices. Also, I find it spicier and healthier since it is rich in vegetables and green leaves, which by the way, I love spicy food.
Because I love Thai food, I will be making my spicy and easy recipe for Thai Fish Green Curry.
Recipe Ingredient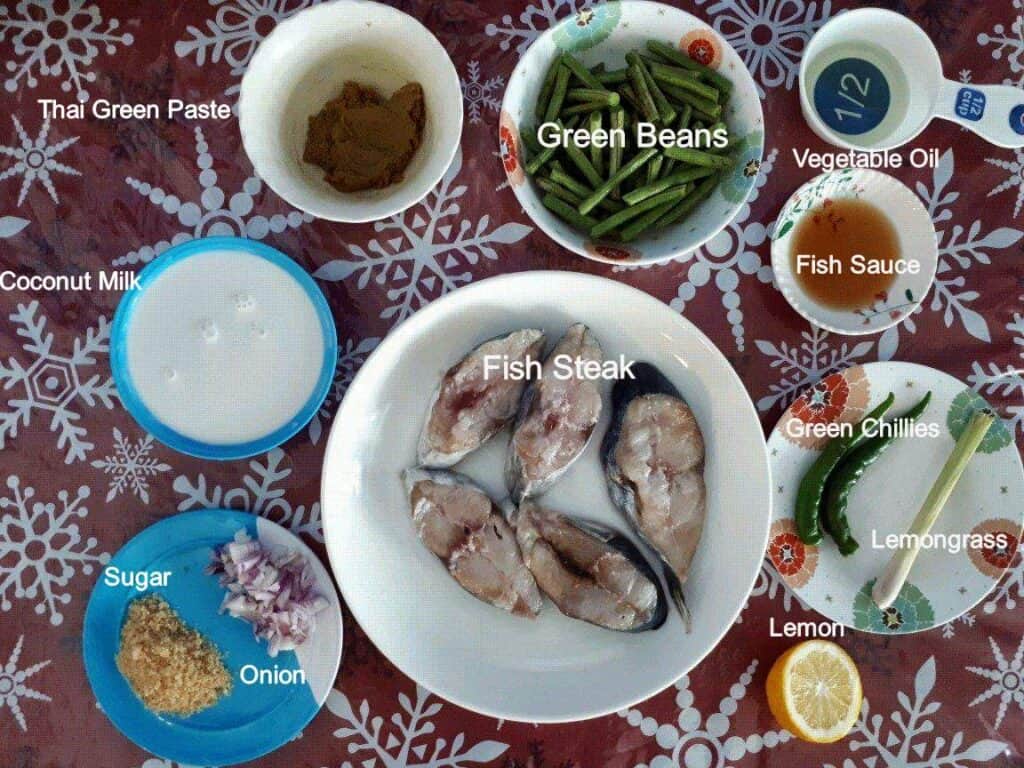 The ingredients of cooking a Thai Fish Green Curry Recipe is quite easy. Here is the ingredients you need below:
PROTEIN: Since this is fish curry, I am using fish steak or boneless fish. I don't suggest using small fish or fish with bones since you may spend time removing the bones while eating. In my experience, I lost my appetite if the fish has many bones.
SPICES: The main ingredient you need for this recipe is the Thai green paste, which you can find it in any Asian grocery store. The paste itself is mildly spicy, and it contains all the spices of ginger, garlic, lemongrass, green leaves & plants. That way, it is more convenient when cooking this dish.
VEGETABLES For healthy vegetables, I use green beans in my dish. And to enhance the spiciness, I add the green chilies. If you don't want your green curry too spicy, the chilies are optional.
PLANT: One green leave or plant that gives a nice flavor of the fish green curry is lemongrass. I add one stalk of lemongrass on the sauce while simmering, which will guarantee the curry to be flavorful.
CONDIMENT: Fish sauce, brown sugar, yellow lemon, and coconut milk are 4 important condiments that will enhance the flavor of the curry sauce. The fish sauce provides the fishy taste and saltiness which serve as an alternative to salt. The lemon is used for adding sourness of the curry. The Sugar and Coconut milk will add the sweetness to the sauce. Lastly, the coconut milk will also be used to fill up the sauce.
OTHER INGREDIENTS: I use red onions and vegetable oil for sauteing the paste and the rest f the ingredients.
Cooking Instruction
Cooking the Thai Fish Green Curry Recipe is easy and straightforward.
Firstly, add the vegetable oil in a saute pan or skillet. Once the oil hot, add red onion and stir for a minute or till it is almost cooked. After that, add the Thai green paste and give a quick stir.
Once the green paste is mixed, add the boneless fish in the pan. Slowly stir to mix the fish with the paste for a few minutes. Later, add the coconut milk, fish sauce, sugar, and lemongrass in the pan. Stir to mix.
When the sauce of the Thai curry started to boil, add the green chilies and green beans. Adjust the gas stove to low heat and let it simmer for 10 to 15 minutes. While simmering, drizzle with a drop of lemon juice. Mix for one more time before turning off the heat.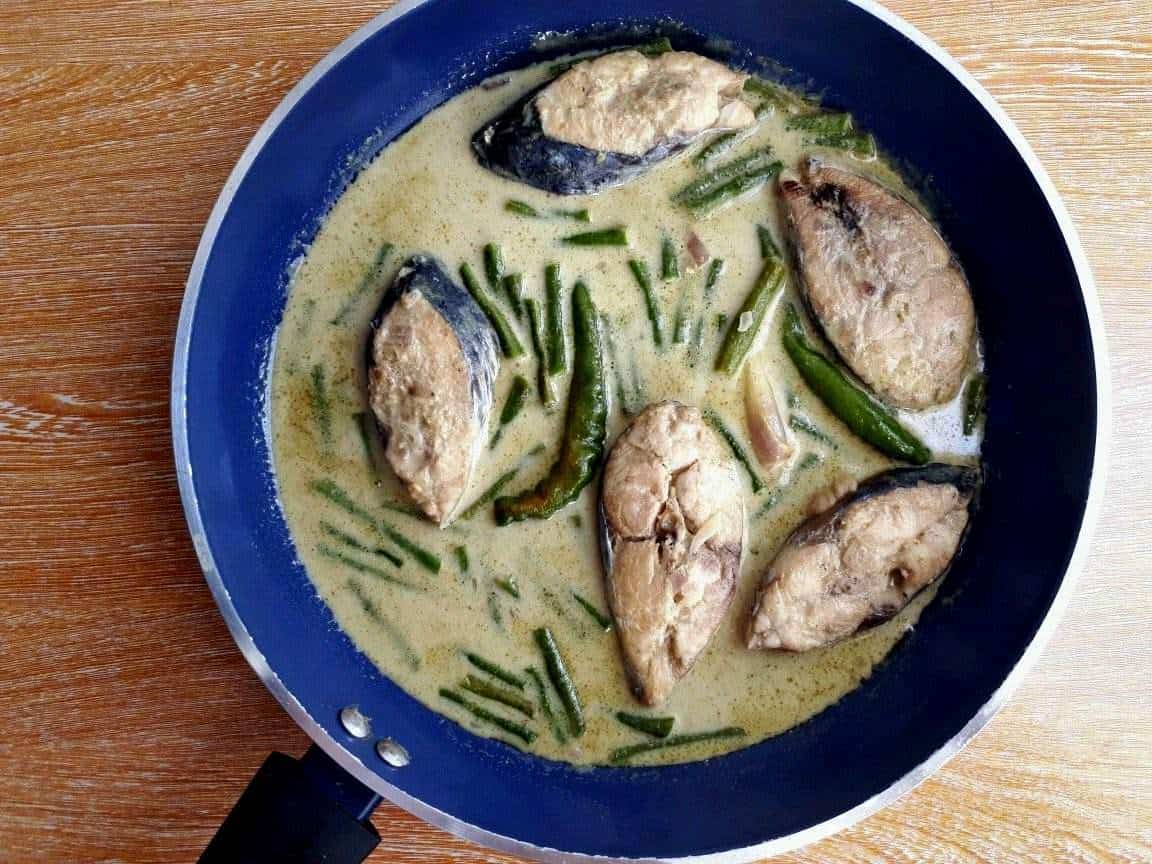 Serve the Thai green curry with white rice and other desired dish. Enjoy!
Recipe FAQS
1. What type of Fish I can use for this Thai Curry?
In this recipe, I am using Spanish Mackerel Steak since it has more meat and fewer bones. But, you can also use Snapper, Grouper, Salmon, or any boneless fish you like.
2. What other vegetables I can add in my Fish Thai Green Curry Recipe?
Aside from Green beans, you can add Spinach or Thai basil. They blend well in most Thai dishes.
3. Is it necessary to wash the fish before cooking?
If the fish is fresh, I don't wash them at all, and I cooked it right away.  However, if the fish has a strong odor, I wash it with water first; then add a pinch of salt and add a drop of lime/lemon juice, and then I let it sit there for few minutes. It will help remove the smell of the fish.

Note: There is no need to rewash the fish with water.
4. Does this recipe works in Thai Red Curry Paste instead of Green curry?
Absolutely! These ingredients work well if using Thai Red Paste. The only thing is that the taste will be different.
5. What do you serve and eat this dish with?
Fish Thai Green Curry is best eaten with white rice. You can use either long grain Jasmine rice or short-grain rice. Also, I like to serve it with my Asian vegetarian side dishes such as Stir-Fried Bitter Melon with Egg and Vegetable Lumpia.