A Jollibee inspired tuna pie recipe using sliced bread is a Filipino pie that is mix with mayonnaise, tuna, and mixed vegetables. It is delicious and considered a simple snack in the Philippines.
During my time in the Philippines, I occasionally go to Jollibee, a popular Filipino fast food, when having my breakfast or lunch. One menu that I caught my eye is their tuna pie.
It is made from crispy sliced bread. Also, it is mix with tuna and mayonnaise which I find tasty. It is one of my favorite snacks that I eat in Jollibee.
Because I love this pie, I am going to show you my Jollibee inspired Filipino Tuna Pie recipe using bread. And I promise you, it is much healthier and tastes better.
Recipe Ingredients
My version of Jollibee Tuna Pie Recipe is almost similar, except I add some vegetables to make my pie healthier.
Firstly, I am using a canned tuna that I bought from the grocery store. It is more convenient, and it tastes good. Secondly, I am using mayonnaise and chopped onion since it makes my pie creamy and tasty.
Thirdly, I am using frozen mixed vegetables in my dish. Although Jollibee Tuna pie doesn't use vegetable, I love to add frozen mixed vegetables in my pastry pie since it is healthier, and it has good sources of fiber and minerals.
Lastly, I am using ordinary white sliced bread and vegetable oil for frying the pie. I realized that in Jollibee, they use sliced bread when making this delicious crispy pastry pie.
Cooking Instruction
There are 3 steps to cook my version of Jollibee Tuna pie- Stir Frying the tuna and vegetables; Assembling the pie; and Deep-frying the pie.
I. Stir Frying the Tuna and Vegetables
Firstly, add the oil in the pan. Once it is hot enough, add the onion and stir for a few minutes till it turns light brown. Later, add the frozen mixed vegetable and again stir for several minutes till it is cook.
Next, add the canned tuna and then mayonnaise. Stir to mix and then add salt and black pepper for taste. Once you are done, transfer into a small bowl to prepare for assembling into the sliced bread.
II. Assembling the Pie.
Prepare the white sliced bread for putting the tuna spread in each of them. Use the rolling pin to flatten the sliced bread. After that, add the tuna spread in the center of the bread. Fold the sliced bread and use the fork to press the edge of the bread.
III. Deep Frying the Tuna Pie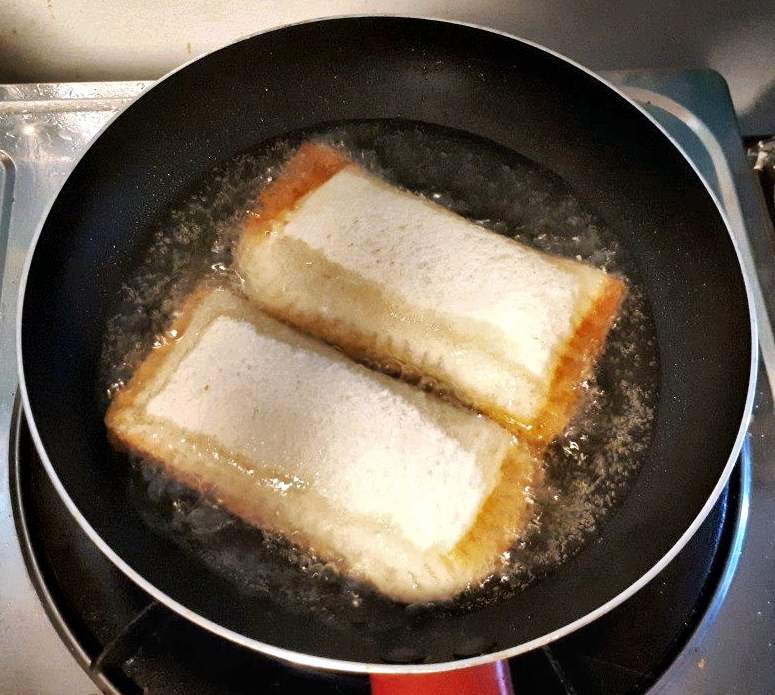 Add vegetable oil in the pan. Once it is hot, put each pie in the pan. Flip to the opposite side when it becomes brown. Once both sides become brown, transfer into the plate with a paper towel to help drain the excess oil.
Repeat the rest of the remaining pies and add more vegetable oil if not enough.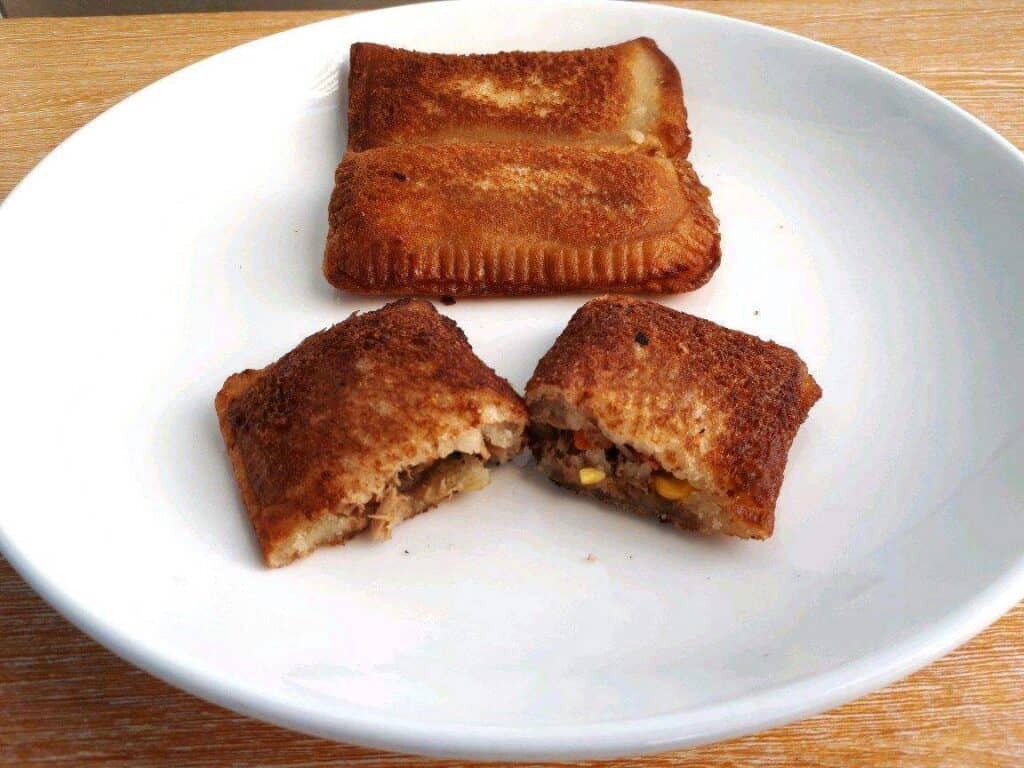 Frequently Asked Questions (FAQS)
1. How can you reheat the Tuna Pie for later use?
If you want to reheat the tuna pie for later use, I highly suggest you use an air fryer instead of a microwave. When heating through microwaves, you will lose the crispy texture of the pie, which may not look appetizing at all.
Another option you can reheat using the oven by baking in 180 C for 5 minutes
2. Is there other healthy ways to cook the pie without deep frying?
You can cook the pie through air fryer for 10 minutes, or through the oven for 15 minutes with both sets of 200 C. Make sure you drizzle first with oil before switching on the setting. It will prevent having your pie dry, and it gives a nice crispy texture.
3. What can you serve with this recipe?
This pie is a popular snack which you can eat alone or with something else. However, in my experience, it goes well with pasta dishes.
I love to eat this with my pasta recipes such as my Filipino style Spaghetti, Penne Carbonara or Chicken Alfredo Pasta.
4. Can you store the cooked pie in refrigerator or freezer for other time?
Once you are done cooking or frying the pie, you can keep it in the fridge, which can last for up to 7 days. Or you can store in the freezer that can last for a month.
Other crispy Filipino Recipes
Here are other crispy Filipino food recipes you may like to try at home: