Penne Carbonara is one of my favorite pasta I tried in my life. In my experience, I tried many pasta dishes in many restaurants, and most of them taste different but delicious. These pasta include spaghetti, lasagna, alfredo or carbonara.
Today, I will love to share to you my delicious creamy penne carbonara recipe pasta. This is a creamy pasta dish that is mixed with sausage and a lot of cheese. If you followed my food blog, you will know that I already made a chicken pasta dish called chicken alfredo, which is also an amazing dish to try. 
Recipe Ingredient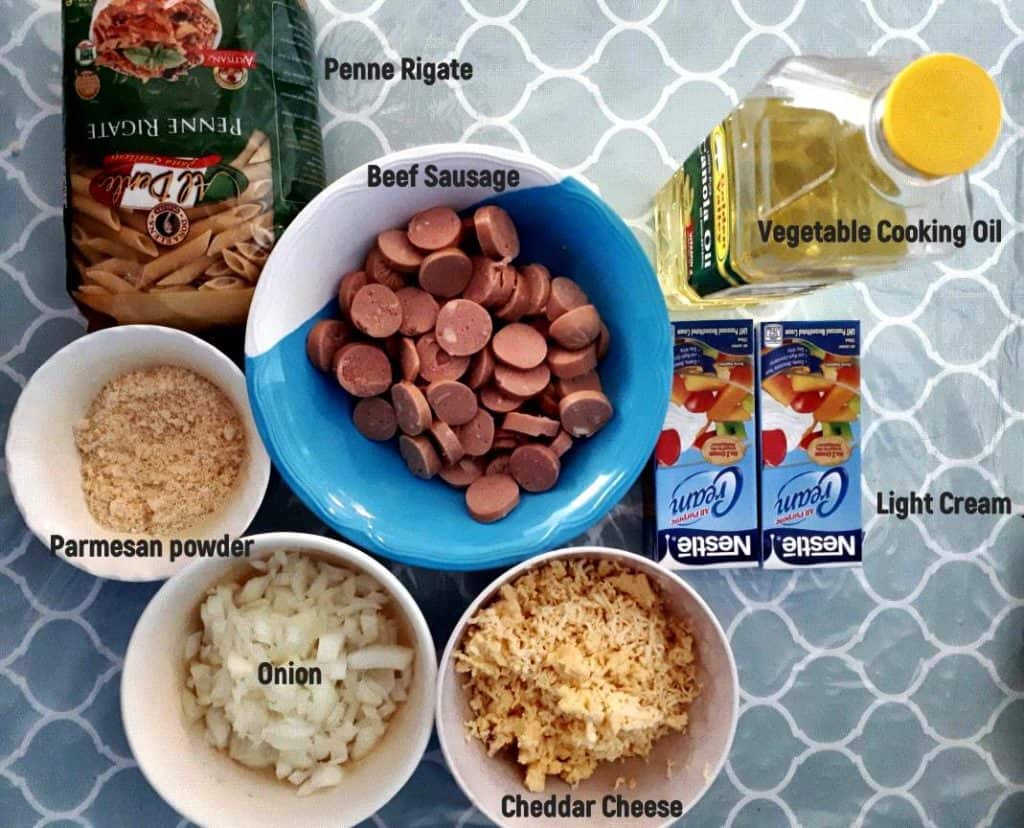 To make Penne Carbonara, you will need to use a specific type of pasta called Penne. I like to use penne pasta because this is my favorite. But, this dish works on fettuccine or spaghetti if you want to cook carbonara pasta.
Furthermore, I am using light cream since this will provide more sauce and moisten my pasta dish. I want to make sure my pasta will be creamy and not dry because this will ruin the taste. Also, I use two kinds of cheeses in my dish: Cheddar and Parmesan cheese. I grated first the cheddar cheese so that it will be easy to dissolve during cooking. On the other hand, I use parmesan cheese powder since it is convenient, and you do not need to grate them.
Lastly, I am using beef sausage for my protein meat. Eating carbonara without meat will be a little weird since it is incomplete. Of course, you can use ham, bacon, or other hotdogs if you like. I like using smoked beef since it gives smoky flavor in my penne carbonara pasta.
Things you need to prepare before cooking
When I am cooking my penne carbonara, I simultaneously boiled my penne pasta. This is because you don't need to consume more time when waiting for the noodle pasta.
To boil the pasta, just follow the instruction of the package, but it is usually between 5 to 10 minutes. Also, to have a nice pasta taste, add a tablespoon of oil and salt to give good flavor and prevent the stickiness of the penne. You have to make sure it remains moist, and it does not stick together after you drained the pasta.
Instruction to cook this dish
To cook penne carbonara, you first add oil in the pot. Once it is hot, add onion and stir it for up to 2 minutes or till it turns light brown. After that, add the sausage in the pot. Again, stir it quickly and let it cook for 3 to 5 minutes. Later, you add the cream & water and mix well. Lastly, add both mozzarella and cheddar cheese. Mix it, and then let it simmer for a few minutes.
Once you are done, turn off the heat, and then transfer the drained pasta from the colander into the saucepot, and mix it gently. And that's it you are done. Like my chicken alfredo pasta, I highly recommend you eat this dish along with my homemade garlic bread, which I provide a recipe in a separate link if you are interested. 
Below is the full instruction of a Creamy Penne Carbonara Recipe.
A Creamy Penne Carbonara Recipe
Penne Carbonara is white creamy pasta dish that is mixed with penne noodle, parmesan & cheddar cheese and sausage.
Ingredients
500

gram

of Penne Pasta

4 large Beef Sausage (2 cup of chopped beef sausage)

1 medium onion

4

tablespoon

of parmesan powder

1

cup

of grated cheddar cheese

2

cups

of light cream or milk

1

cup

of water

Salt and Black Pepper for taste
Notes
If you don't have beef sausage, you can use Ham, Bacon, Hotdog or any meat you prefer
Nutrition