Philippine cuisines offer one of the most delicious vegetable recipes to try in Asia. Its food is very diverse since it has a Chinese, Spanish and American influence.
Jump to:
When you think of Filipino food, you might wonder if we even incorporate vegetables in our dishes. That is because when foreigners try Filipino food, they were rarely introduced to vegetable dishes. Most people only think about Adobo, Jollibee, Pancit, Sisig, or Spaghetti when we talk about Filipino cuisine.
In the Philippines, vegetable is one of the most important ingredients that we add to our dish. This is especially true if you live in a province since the locals always incorporate vegetables in their food. Although it is not vegetarian, we tend to add vegetables in our soup, sautéed, or stir fry dishes.
But I can promise you that they are delicious and nutritious too
What Vegetables are used in Filipino Cooking?
These are the most common type of vegetables used in Filipino Cooking:
Kang Kong- Water Spinach
Sitaw- Long Green Beans
Sayote- Some called it chayote or Mirliton
Okra- In some countries, they called it a Ladies finger
Ampalaya- It is a called a Bitter Melon in English
Pechay-A Chinese Cabbage
Talong- An eggplant
Green Papaya- This is unripe papaya that we used to add in our soup or tinola
Malunggay- It is a Moringa leaves
Kalabasa- In English, we called this a squash or Kaboucha squash. Some will call it pumpkin.
Based on the list above, these vegetables are used when making a soup or stew, or making a stir-fry or sautéed dish.
For example, Kalabasa, Malunggay, Pechay, Green Papaya and Okra are common vegetables we put in our soup or stew dish.
On the other hand, ampalaya, sayote, and Sitaw are mostly used for Sautee or stir frying a dish.
Lastly, Kang Kong Leaves, Talong and Pechay can be used both for soup/stew or sauteed dish.
Are Filipino dishes a vegetarian?
Although we love adding vegetables to our dishes, most Filipino vegetable recipes are not vegetarian.
That is because we mixed our vegetables with different meats like chicken, fish, beef, pork, or egg. For example, pinakbet or chop suey is sometimes mixed with chicken or fish. Or Ginisang Ampalaya is mixed with scrambled egg
Additionally, the condiments that we added to our stew or stir-fried dish contain seafood content. Examples of these condiments include oyster sauce, fish sauce, and bagoong.
Here are the 21 best Filipino vegetable recipes that you can make at home
I. Stew / Soup
1. Ginataang Kalabasa with Malunggay
This Ginataang Kalabasa with Malunggay is a Filipino Vegetarian stew Recipe that is mixed with coconut milk, squash, and malunggay (moringa) leaves. This Filipino stew dish is best eaten and serve with rice.
2. Ginisang Monggo
Ginisang Monggo is a Filipino Mung Bean soup recipe that is mixed with spinach leaves and green beans. It is a healthy vegetarian dish that is best served with white rice.
3. Law Uy (Utan Bisaya)
A Filipino vegetable soup called Law Uy (Utan Bisaya) that is mixed with eggplant, squash, spinach leaves, okra and different vegetables. It is healthy and nutritious soup which is best to eat with rice.
4. Ginataang Langka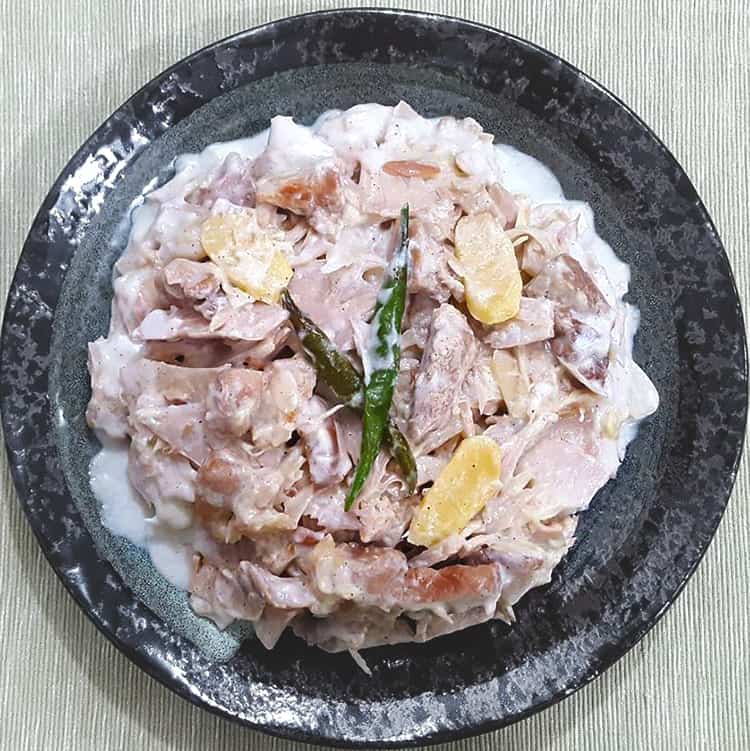 It is a Filipino Vegetable stew that contains unripe jackfruit mixed with coconut milk and different spices. It is easy to make, and it is best to eat with rice.
5. Gising Gising
This Gising Gising is a Filipino vegetable stew recipe that is mixed with beans, coconut milk, labuyo chili, garlic, onions, and shrimp bagoong. This serves as a perfect side to grilled meat like bangus or chicken inasal.
6. Laing
This is a Filipino shredded or whole taro leaves that are cooked in coconut milk, and it is spiced with lemongrass, onion, garlic, ginger, labuyo chili, and shrimp bagoong. Like most Filipino dishes, this is commonly eaten and served with rice.
II. Sautee or Stir-Fry
7. Ginisang Sayote
Ginisang Sayote with Chicken is a Filipino sauteed vegetable dish that contains chopped chicken breast, tomatoes, chayote, carrots, oyster sauce, and sesame soil. This recipe is traditionally served and eaten with white steamed rice.
8. Filipino Chop Suey
A Filipino Chop suey is a vegetable stir fry mixed with different vegetables, chopped chicken breast, soy sauce & oyster sauce, and the sauce is thickened with corn starch. It is healthy and nutritious is commonly served as a side dish that is eaten with rice.
9. Adobong Sitaw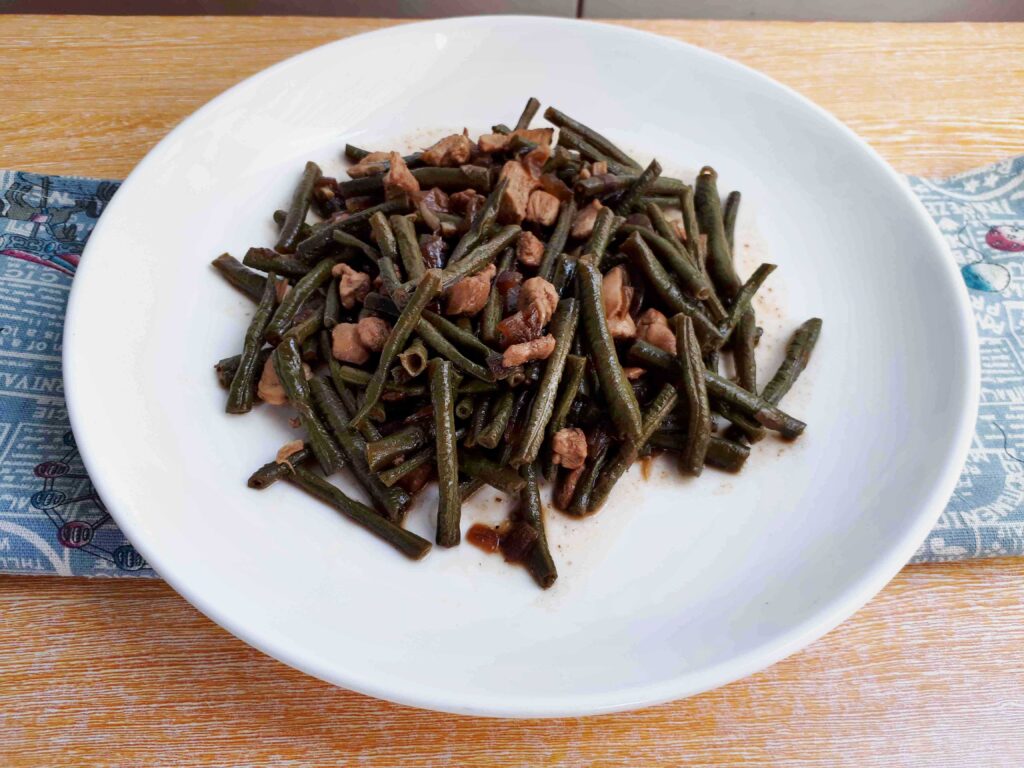 A Filipino green beans recipe called Adobong Sitaw mixed with chicken, soy sauce, vinegar and oyster sauce. It is simple and healthy which is best to eat with rice.
10. Pinakbet Ilocano
A delicious Pinakbet Ilocano dish that is a combined of mixed vegetables, bagoong monamon dilis (fermented anchovies) and chopped fried fish. It is the first Sautee in vegetable oil and then followed by simmering in water till the vegetable is cooked. This recipe is one of the most popular Filipino vegetable dishes eaten among locals.
11. Adobong Kangkong with Tofu
Adobong Kangkong with Tofu is a Filipino sauteed vegetable recipe that is mixed with fried tofu, kangkong leaves (water spinach), oyster sauce and soy sauce. It is one of the most classical dishes based on Filipino adobo which is best eaten with rice.
12. Ginisang Ampalaya
Ginisang Ampalaya is a Filipino stir-fried bitter melon with an egg that is mixed with onion, garlic, and scrambled egg. It is a popular vegetable side dish in the Philippines which is perfect to eat with white rice.
13. Ginisang Repolyo
Ginisang Repolyo is a sauteed cabbage that is mixed with oyster sauce carrot, onion, and garlic. You can add any meat you like chopped breast chicken, shrimp, or beef.
14. Ginisang Bok Choy
This is a sauteed petchay or Chinese cabbage that is mixed with garlic and oyster sauce. It is a very simple dish and is best to eat with rice.
15. Ginisang Togue
It is a sauteed mung beans recipe that contains beansprout, carrots, beans and ground meat. This recipe can be used to make a vegetable lumpia
III. Other Appetizers and Side Dishes
16. Vegetable Lumpia
Vegetable Lumpia, also known as Lumpiang Gulay is a deep fried Filipino spring roll which is mix with potatoes, green beans, & carrots. It is a vegetarian fried dish that is commonly eaten with white rice.
17. Dynamite Lumpia
Cheese Dynamite Lumpia is a green chilies lumpia recipe that is stuffed with mozzarella or cheddar cheese, and deep fried in vegetable oil. It is a popular appetizer in the Philippines, which is spicy, cheesy, and crunchy.
18. Ensaladang Talong
Ensaladang Talong is a Filipino eggplant salad that is mixed with onion, roasted eggplant, tomatoes and added with vinegar. This serves as a side dish, for dinner and lunch, which pairs with rice and other meat dishes
19. Tofu Sisig
Tofu Sisig is a Filipino sisig recipe that is mixed with deep-fried tofu, white onion, green chilies, soy sauce, and mayonnaise. This vegetarian crispy dish is healthier and is best served with white rice.
20. Lumpiang Sariwa
Also known as Lumpiang Ubod, is a fresh lumpia that contain different fillings of vegetable wrapped in a thin egg crepe, and served with peanut sauce. This Filipino appetizer is called "fresh" because this lumpia is not fried.
21. Tortang Talong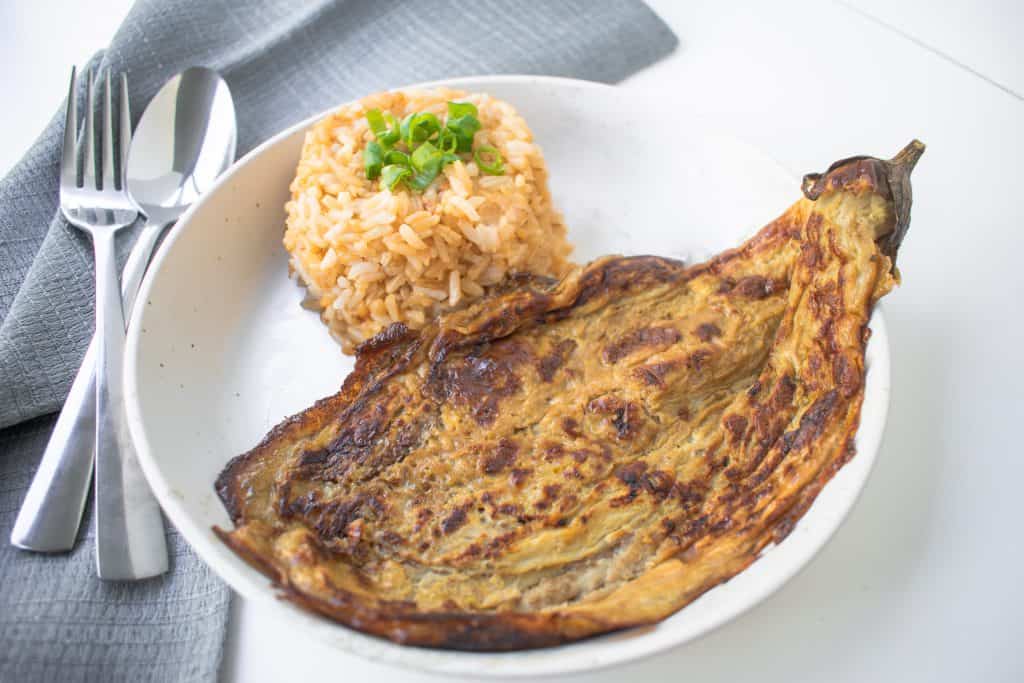 It is a Filipino eggplant omelet in which the eggplant is boiled or roasted first, followed by dipping in egg mixture before it is pan-frying in oil. It is considered a popular Filipino breakfast and lunch meal.
Conclusion
There are many kinds of Filipino vegetable recipes. But the list I have enumerated above is the most common yet delicious recipes that are eaten by locals.
Although they are vegetable recipes, they are not necessarily vegetarian food since most of these recipes are mixed with chicken, pork, seafood, or beef. In addition, we use popular condiments like fish sauce or oyster sauce, and by the name of it, they contain meat products.