Pinakbet Ilocano is a Filipino vegetable saute recipe which is mixed with different vegetables, anchovy sauce, and fried fish steak. As the name implies, it is originally from a Northern region in the Philippines called Ilocos Region.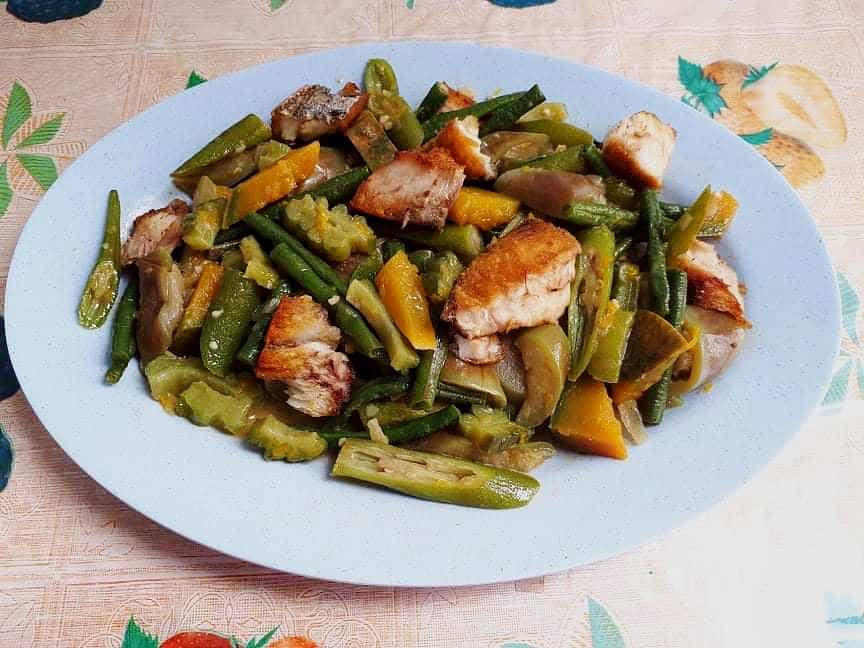 Jump to:
In the Philippines, the country is divided into thousands of islands. And each of these regions has varieties of food dishes. If you travel to Manila or other regions, you will notice the cooking method and the dish is quite different.
For example, we have a Filipino dish called Pinakbet, which is made from a mixed vegetable that is sautéed with fermented shrimp or fish sauce.
In Manila and other Tagalog speakers, their version of this dish is called Pinakbet Tagalog. While in the Ilocos region, which I am going to focus this recipe, is called Pinakbet Ilocano.
What is Pinakbet?
Specifically, Pinakbet is a combination of different vegetables such as bitter melon (ampalaya), eggplant, squash, long green beans, and okra. It is the first Sautee in vegetable oil and then followed by simmering in water till the vegetable is cooked.
Furthermore, fried pork belly is traditionally added to provide protein in their meal. However, because I don't eat pork, I am using fried fish steak, which in my opinion is healthier.
After simmering, you will notice the vegetable decrease in size which looks like it's overcooked, but it is not. That is why in Ilocano, the word "Pinakbet" means "shrunk" or "shriveled." Make sense, isn't it?
And lastly, this can be served as a side dish or main dish which we eat with white rice. Of course, as half Filipino, everybody knows that rice is a popular staple food in the Philippines.
Ilocano vs Tagalog style
There is a difference between the Pinakbet Ilocano and Tagalog version
The Pinakbet Tagalog uses a shrimp paste called Bagoong shrimp, while the Ilocano style uses fermented anchovy paste Bagoong monamon dilis.

The Pinakbet Ilocos style doesn't add squash (Kalabase) in their vegetable dish. However, I like to add different vegetables, which I included squash in my recipe.
Recipe Ingredients
Here are the ingredients I am using to make my version of Pinakbet Ilcano
VEGETABLES: The list of vegetables I am using in this recipe includes Bitter melon, eggplant, long green beans, okra, squash, onion, garlic, and ginger.

PROTEIN: Traditionally, they use deep-fried pork belly called Bagnet. But, because I am Muslim and I don't eat pork, I am using instead fried fish steak. Specifically, I am using fried Tanigue steak (Spanish Mackerel).

CONDIMENTS: Of course, the most important thing that makes this dish Ilocano is the Filipino fermented anchovy called Bagoong Monamon Dilis. You can find this product in any Filipino grocery store or the Asian section in the supermarket.
Notes: You might notice I didn't add tomatoes in this recipe. That is because I am not a fan of putting tomatoes in my pinakbet dish, which I replaced with squash instead. However, in your case, you can add tomatoes if you want.
Step by Step Instruction
When cooking this recipe, it may not be as authentic as you think. I am cooking my way, but I promise you it is delicious and simple to make. Especially if you don't eat pork, you will appreciate my Pinakbet Ilocano.
There are two things you should do: Cooking the Vegetables and Frying the Tanigue Steak.
I. Cooking the Vegetables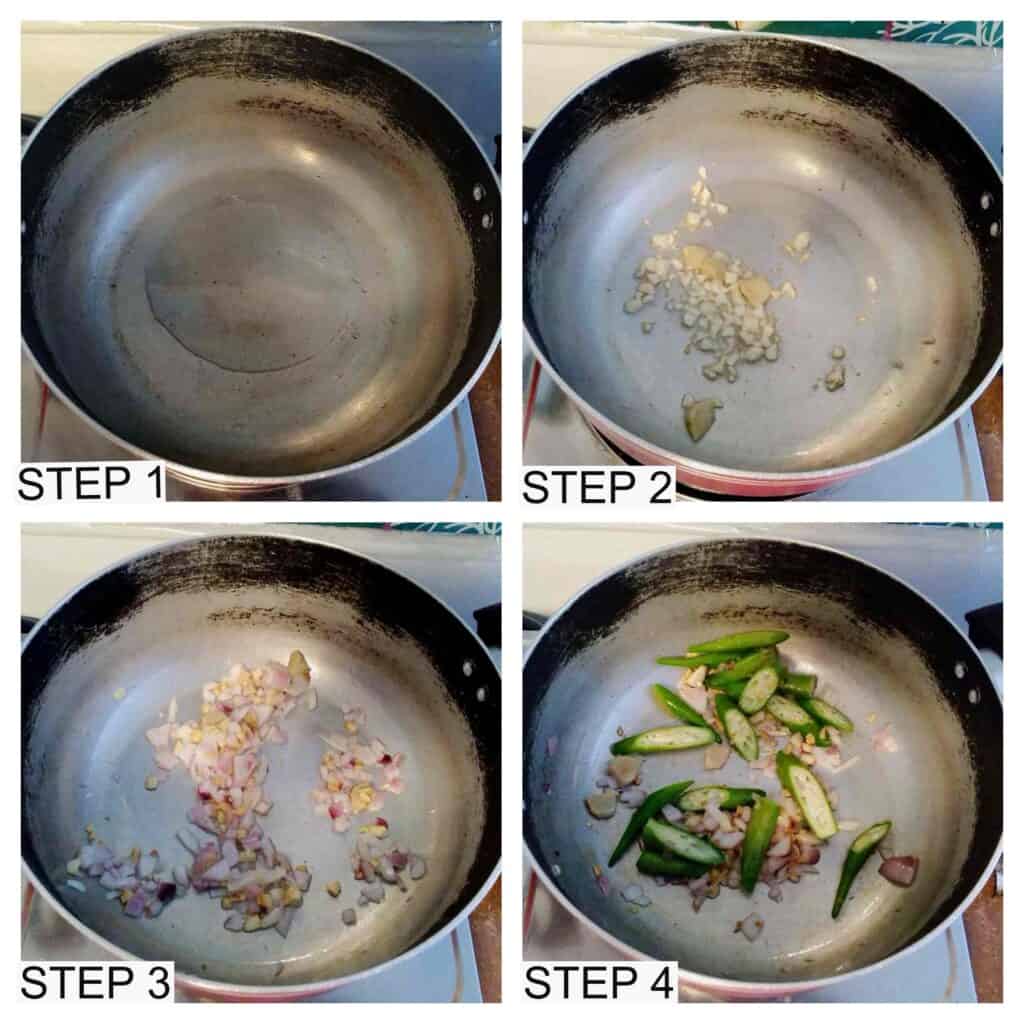 Firstly, I add vegetable oil to the pot. Once hot, I add the ginger, garlic, and onion. I stir for a few minutes till it is already cooked.
Next, I add okra and bitter melon first, which I saute and stir for a few minutes before I add the rest of the vegetables. Lastly, I add water and the fermented anchovy sauce, and I let it simmer for 5 to 10 minutes until it is already cooked.
Notes: The reason why I added okra and bitter melon first because sautéing will help remove the sliminess from the okra. Also, it will lessen the bitterness from the bitter melon.
II. Frying the Fish Tanigue Steak
This step is easier. All you have to do is add vegetable oil to the pan. Once it becomes hot, add the Tanigue (Spanish Mackerel) steak and let it fry till both sides turn brown. Transfer into the plate and let it cool down.
After that, I remove the bones and chop the fish steak into 1 to 2 inches thick. When serving the pinakbet, you will top the chopped fried fish steak on the vegetables.
The topping of the fish on the pinakbet Ilocano looks like the picture below.
Related Filipino Vegetables Recipes
If you are looking for other delicious vegetable (NOT vegetarian) based Filipino dishes, here are other recommended local food recipes to try:
Question and Answers
1. If I don't have Tanigue steak, what other substitution I can do?
In this recipe, I am using a Spanish Mackerel (Tanigue in Filipino) steak, which I deep-fried and then chopped into pieces.

If you don't have steak, you can use any deboned fish belly like Bangus (milkfish) or Salmon belly, which is a perfect alternative to my fish steak.
2. What other vegetables I can use in my pinakbet ilocano?
If you like to add different types of vegetables, you can include Tomatoes, Luffa (Filipino Patola), or Sayote.
3. Traditionally, Bangnet (dee-fried pork belly) is used in pinakbet. But, why do you use Fish instead? Any other type of meats I can use?
Because I am a Muslim, and I don't eat pork. So I am replacing it with Fish steak or Salmon Belly, which I deep fried it as well.

If you don't like deep-fried or oily meat, you can use boiled or sauté chicken or shrimp. It works perfectly.
4. Can I use other types of Bagoong like shrimp paste?
Sadly you can't because the main ingredient to make a pinakbet Ilocano is you need a bagoong monamon dilis, which is a fermented anchovy.

If you are using shrimp paste, that is a Pinakbet Tagalog, which is another variation of this vegetable dish.
Pinakbet Ilocano Recipe
A delicious pinakbet ilocano dish that is a combined of mixed vegetables, bagoong monamon dilis (fermented anchovies) and chopped fried fish.
Ingredients
1 large eggplant, cut diagonal into 1 to 2 inches thick
1 cup bitter melon (ampalaya), cut into 1 inch thick
8 pieces of okra, cut into 1 inch halve diagonal
½ bunch of green long beans, cut into 3 inches length
1 cup squash, cut diagonal into 1 to 2 inches longth
1 small chopped onion
3 cloves chopped garlic
1.5 inches thumb-size ginger, chopped into 3 pieces
1 cup of water
4 tablespoon of bagoong monamon dilis (fermented anchovies)
2 tablespoon of vegetable oil (For saute)
For Frying the fish
1 Fish Tanigue (Spanish Mackerel) Steak
Vegetable oil (for frying the fish)
Instructions
In a large pot, add 2 tablespoons of vegetable oil in medium-low heat
Once hot, add garlic and ginger. Stir for 1 minute before adding chopped onion. Continue stirring till the onions turns translucent
Add okra and bitter melon. Stir to combine to reduce the sliminess of the okra, and to help soften & reduce the bitterness of the ampalaya (bitter melon) for a few minutes.
Add the rest of the vegetables (eggplant, green long beans, and squash). Mix to combine for a few minutes before pouring water. Increase to high heat to let it boil.
Once it started to boil, reduce to low heat to simmer. for 5 to 10 minutes. Add the bagoong monamon dilis (fermented anchovies). Give a quick stir.
Once there is less water and the vegetable is soft enough (not overcook). Turn off the fire and set aside.

To fry the fish
Pour vegetable oil into the pan. Wait till the oil is hot.
Add the Spanish Mackerel fish steak into the pan. Let it fry for a few minutes till it turns brown.
Flip to the opposite side. Repeat the process.
Remove the fish and transfer into the plate with a paper towel under it to help absorb the excess oil
Once it cools down, debones and cut the fried fish into small pieces, approximately 1 to 2 inches thick.
Topped it above the vegetable pinkabet. You can stir to mix or leave it that way.
Serve it on a plate. Best to serve and eat with
Notes
If you don't have Spanish mackerel (tanigue) fish steak, you can use and fry bangus (milkfish) belly or salmon belly.
If you are confused with the steps, please look at the step by step pictures on the recipe post
Squash is not a traditional vegetable used in Ilocano dishes, and you can add vegetables like chayote, tomatoes or Luffa.
Nutrition Information
Serving Size

1
Amount Per Serving
Calories

361
Total Fat

12g
Saturated Fat

2g
Trans Fat

0g
Unsaturated Fat

10g
Cholesterol

24mg
Sodium

274mg
Carbohydrates

40g
Fiber

14g
Sugar

18g
Protein

23g