In the Middle East, if you live in Kuwait, Jordan, or other Arab countries, you will notice that Lebanese cuisines are very popular.
Jump to: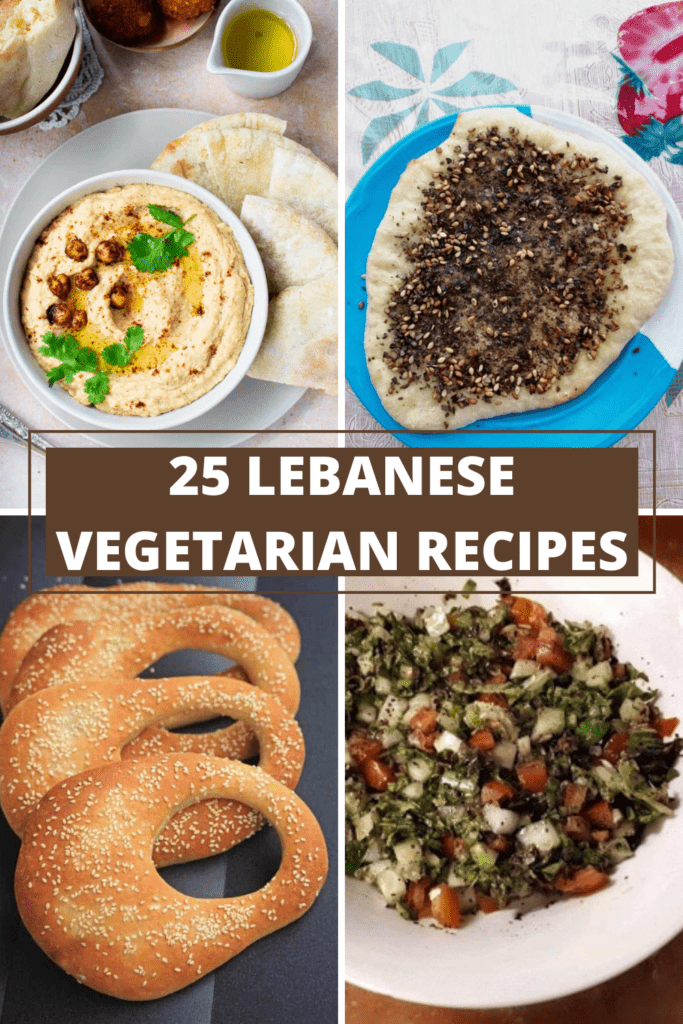 I was born in Kuwait which I lived there for more than 18 years. The locals, including myself, love Lebanese food, and you can find it everywhere. Not only because it is delicious, but it is very healthy and nutritious.
In my experience, Lebanese foods are similar to other Levantine cuisines like Jordanian, Syrian and Palestinian dishes. For example, hummus, falafel, baba ganoush, or fatayer is found in most Middle Eastern nations.
One thing that I love about Lebanese and Levantine cuisines is that they have many delicious vegetarian and vegan dishes. Their food is not bland and it is very flavorful and mouthwatering.
Because of similar culture, religion, and language in the Middle East, it is fortunate that you can find these delicious vegetarian foods in other neighboring countries.
Common Ingredients used in these recipes
In Lebanon and Levantines, they love using these ingredients that makes their vegetarian and vegan recipes:
OLIVE OIL: As similar to Mediterranean cuisines, extra virgin olive oil is highly incorporate in most of their meat and vegetarian dishes. Also, it is very nutritious and healthy, which is rich in omega 3 fatty acids, and has an anti-inflammatory effect.

FRESH HERBS: In most Levantine vegetarian cuisines, we add green leafy herbs like coriander, parsley, and mint leaves. These 3 are the most popular herbs used in most salads, vegetarian, and even meat dishes.

SPICES: One of the most important ingredients that make Lebanese and Arab dishes unique is we love adding baharat spices. The spices are what make the food flavorful, and without them, the vegetable dishes will be bland. The spices include cumin, cinnamon, sumac, allspice, and other middle eastern spices.
Recipe Frequently Asked Question
1. What makes it Lebanese if it is found in other Middle Eastern countries?
The Lebanese and Levantine vegetarian cuisines (Jordan, Syria, or Palestine) are the same. I know this because I am half Jordanian and the food is no different at all. It is only when it started to influence other countries like Gulf Arab, Egypt, or even North African nations.
2. If they are the same, then what makes Lebanese vegetarian recipes different?
1. In Lebanese cuisines, they tend to slightly add different ingredients. For example, the Lebanese Tabbouleh contains more parsley compared to other countries that use bulgur wheat.

2. Recipes like Fasolia, Bamia or Warak Enab (Grape Leaves), they don't like adding meats. Unlike some Arab countries, Beef or Lamb is commonly added into these recipes.
3. What are the kitchen appliances you need when making this roundup recipes?
Food Processor and Baking Oven are 2 kitchen appliances you need when making these roundup recipes. Making Hummus, Falafel, or Baba Ganoush is possible if you have Food Processor in your kitchen.

Furthermore, to make Fatayer, pita bread, or any dough-based recipes, you should have a baking oven in your house. Or else, it will be impossible to make this delicious vegetarian recipe.
Now I have explained the similarities of Lebanese and Levantine vegetarian recipes, here are the best and most delicious Lebanese vegetarian and vegan recipes, which I divided into several parts.
I. Salads
1. Arabic Salads
Arabic Salad Recipe is a traditional Middle Eastern salad that is mixed with cucumber, tomatoes, parsley, olive oil, and sumac spices. It commonly serves as a side dish for main meals that have meat and rice dishes.
2. Fattoush Salad
Fattoush is a Lebanese salad that is mixed with fried pita bread, lettuce, and chopped vegetables such as cucumber, tomato, and radishes. It is also popular in other Levantine countries like Jordan and Syria
3. Tabbouleh Salad
Lebanese Tabbouleh Recipe is a green herby citrusy vegetable side dish that is mixed with parsley, mint, cucumber, and bulgur wheat. It is a perfect side dish for shawarma, kebab and other meat dishes
II. Bread and Dough-based Recipes
4. Zaatar Manakish
Zaatar Manakish is a Lebanese zaatar flatbread recipe that is mixed with thyme, sumac, marjoram, sesame seed, and salt. It is a popular breakfast or Appetizer dish which you can serve with Hot Tea and other Middle Eastern side dishes.
5. Spinach Fatayer
Spinach Fatayer is a Lebanese spinach pie that has fillings of onion, sumac spices, olive oil, lemon, and fresh spinach. In Arabic, we called this dish Sabanekh fatayer, which is a popular Appetizer dish in the Levantine countries.
6. Cheese Fatayer
Cheese Fatayer is a Lebanese cheese pie that is mixed with feta & mozzarella cheese and chopped parsley. This fatayer has a saltiness taste from the feta but it is warm and delicious.
7. Ka'ak Bread
Ka'ak Bread | Lebanese Purse Bread, is a very popular flatbread found in the streets of Beirut, Lebanon. The bread is often shaped in a tear drop shape with a hole in the center making it look like a purse
8. Pita Bread
This fluffy pita bread is a traditional Middle Eastern bread that you use for making sandwiches, or great for dipping hummus and baba ganoush. Not only it is found in Lebanon, but you will find it in Jordan, Israel, and most Middle Eastern and Mediterranean countries.
III. Appetizer
9. Baba Ganoush
Baba Ganoush is a roasted eggplant that is mix with tahini, olive oil, garlic, lemon juice, and parsley. It is creamy, nutritious, and a popular appetizer that pairs best with pita bread.
10. Makdous
This delicious Makdous is a Lebanese pickled eggplant that is stuff with walnut and herbs. It is soaked in olive oil in a jar, which is kept in the fridge for 1 week before serving. It is commonly eaten with Pita Bread.
11. Falafel
Falafel is a deep-fried ball that is made from chickpeas and fresh herbs & spices. It is one of the most popular middle eastern dishes, which is found in Lebanon, Jordan, Israel, and most Middle Eastern Countries.
The crispy on the outside followed by the soft herby chickpea on the inside is what makes this vegan dish delicious
12. Hummus
This is the silkiest, creamiest and most indulgent Lebanese hummus ever. Perfect for snacks, when you have friends over or as part of a Mezze lunch.
13. Batata Harra
Batata Harra is a Lebanese appetizer and side dish, which is mixed with potatoes and other herbs and spices. It is one of the few spicy Lebanese dishes that I will recommend since it is mouthwatering which I like to serve it with pita bread.
IV. Main Course
14. Warak Enab (Contain Meat)
Warak Enab is a Lebanese stuffed grape leaves recipe that has fillings of rice, spices & herbs. This recipe, has a filling of ground beef, however, to make into vegetarian-friendly, just remove the ground beef fillings. Some versions prefer to add ground meat while others don't put meat at all.
15. Maghmour
Maghmour is a Lebanese Moussaka vegan dish that is mixed with eggplant, chickpeas, onion, garlic, and tomatoes. This stew dish can be eaten with rice or pita bread.
16. Lebanese Vermicelli Rice
This Lebanese white rice dish is mix with long-grain rice, olive oil, and vermicelli noodle. This is a popular rice dish in Lebanon, Levantine, and other Arab countries which is commonly paired when serving stew or meat dishes.
17. Bamya Okra
Bamya is a delicious and nutritious Arabian dish that is mixed with okra and tomato stew dish that is served over white rice.
18. Mujadara
Mujadara is a simple Lebanese Middle Eastern dish of rice and lentils garnished with crispy caramelized onions. It is a budget-friendly, nutritious, and gluten-free vegan recipe
19. Lebanese Cabbage Roll (Malfouf)
These Lebanese cabbage rolls are stuffed with a spiced lentil and rice mixture, and cooked with lots of mint, lemon and garlic until tender. They're so delicious and perfect for feeding the whole family
20. Fatteh
Fatteh is a Lebanese salad which is mixed with crunchy fried pita bread, spicy chickpeas, eggplant and yogurt.
21. Loubia
Loubia, also called Fasolia, is a Lebanese green bean dish that is mixed with tomatoes, garlic, olive oil, and other spices and herbs. This dish is best paired and eaten with vermicelli rice or any rice dish you like. In Morocco, Loubia is traditionally made using white beans, while the Lebanese used green beans.
V. Condiments
22. Toum
Lebanese Garlic Sauce, also called Toum, is a garlic sauce mixed with garlic, oil, and lemon juice. It is a popular condiment that is used in shawarma sandwiches, falafel, or kebab meat.
23. Labneh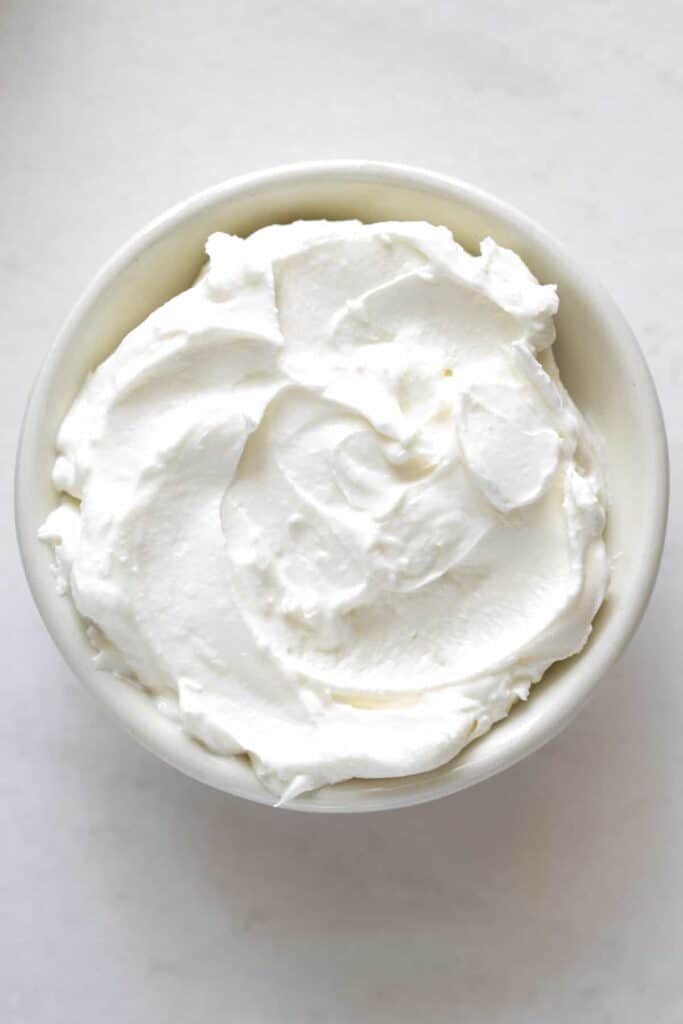 This homemade labneh recipe is the traditional Lebanese yogurt made from milk. This labneh is a popular condiment that can be used to eat with kubus (pita bread), topped on the Middle Eastern rice dish, or spread on bread.
VI. Desserts and Drinks
24. Baklawa
Baklawa is a Lebanese sweet dessert which is a golden filo pastry mixed with crushed nut and drizzle with sugar syrup. It is similar to Turkish baklavah, but these sweets are a Lebanese version.
25. Lebanese Fruit Cocktails
Lebanese Fruit Cocktails is a delicious fruit recipe is layers of fresh fruit and fruit puree or sorbet topped with ashta cream, shopped pistachios or almonds, and honey
Conclusion
Lebanese vegetarian recipes offer one of the best foods in the world. The roundup recipes listed above are all rich in spices, herbs and full of flavor. These cuisines are similar and found in other Levantine countries like Jordan, Iraq, Syria, or Palestine
If you notice in the recipe roundup, one of the recipes has meat. That is because some variation in Lebanon and even in other Middle Eastern countries they like to incorporate beef or lamb in their dish.
These recipes that you can add meat include Bamia, Fasolia, Malfouf, and Warak Enab. Of course, if you want a vegan dish, you can definitely use the same ingredient while excluding the meat.