Ensaladang Talong is a Filipino eggplant salad that is mixed with onion, roasted eggplant, tomatoes and added with vinegar. During Lunch or Dinner, this serves as a side dish when serving together with rice and other meat dishes.


Jump to:
In the Philippines, there are not much of vegetable side dishes, except if they are used for desserts or appetizers. But, I notice that eggplant is one of the popular vegetables that we like to use in our cuisine.
Decades ago, when I was still new in the Philippines, my neighbor invited us to their house for lunch since it's Fiesta. Fiesta is a Filipino holiday festival, that is celebrated in town due to religious occasions.
At lunch, they serve many kinds of food in a form of catering or buffet. I remember there are chicken adobo, lumpia, pancit, and many more dishes. And of course, one of the dishes I encountered is the Ensaladang Talong.
What is Ensaladang Talong?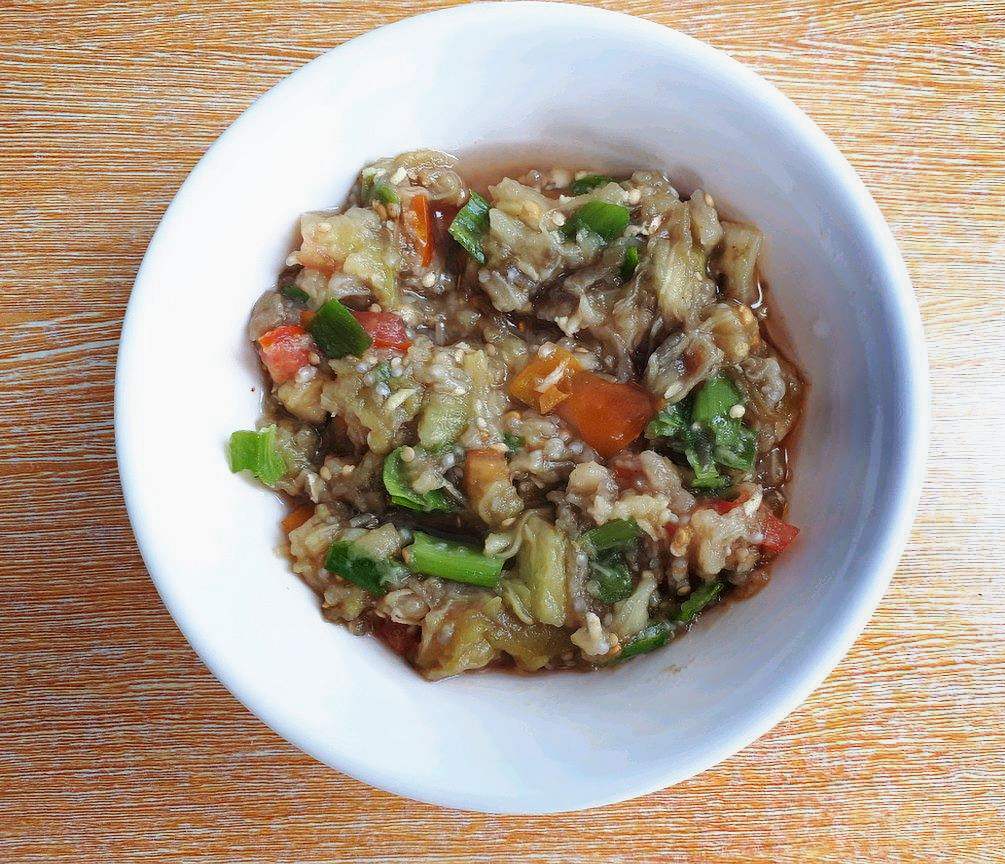 In English, the word "Ensaladang" means salad, while the word "Talong" means Eggplant. This dish is a combination of chopped onion, tomatoes, and ginger. To cook the eggplant, I like to roast it directly in the fire since it gives a nice smoky flavor.
Also, one important part of this dish is the vinegar, which you mixed with everything. Because it contains vinegar, this eggplant salad has an acidic flavor. And that is why it should be eaten with rice and other Filipino dishes you like.
This is one of my favorite Filipino vegetarian side dishes, and in this post I am going to show you how to make this recipe.
Recipe Ingredients
Here are the list of ingredients I am using to make Ensaladang Talong Recipe:
Eggplant

White Onion

Ginger

Tomatoes

Vinegar

Salt

Black Pepper
What to serve this dish with?
This Filipino eggplant salad is a side dish that is not eaten alone but rather is served with rice and other main dishes.
Here is the list of Filipino main course dishes that go well with this recipe:
Step by Step Instruction
Making Ensaladang Talong is straightforward since you only use a few ingredients, and it is fast. There are two things you should do- Roasting the Eggplant, and Mixing & Assembling the Eggplant.
I. Roasting Eggplant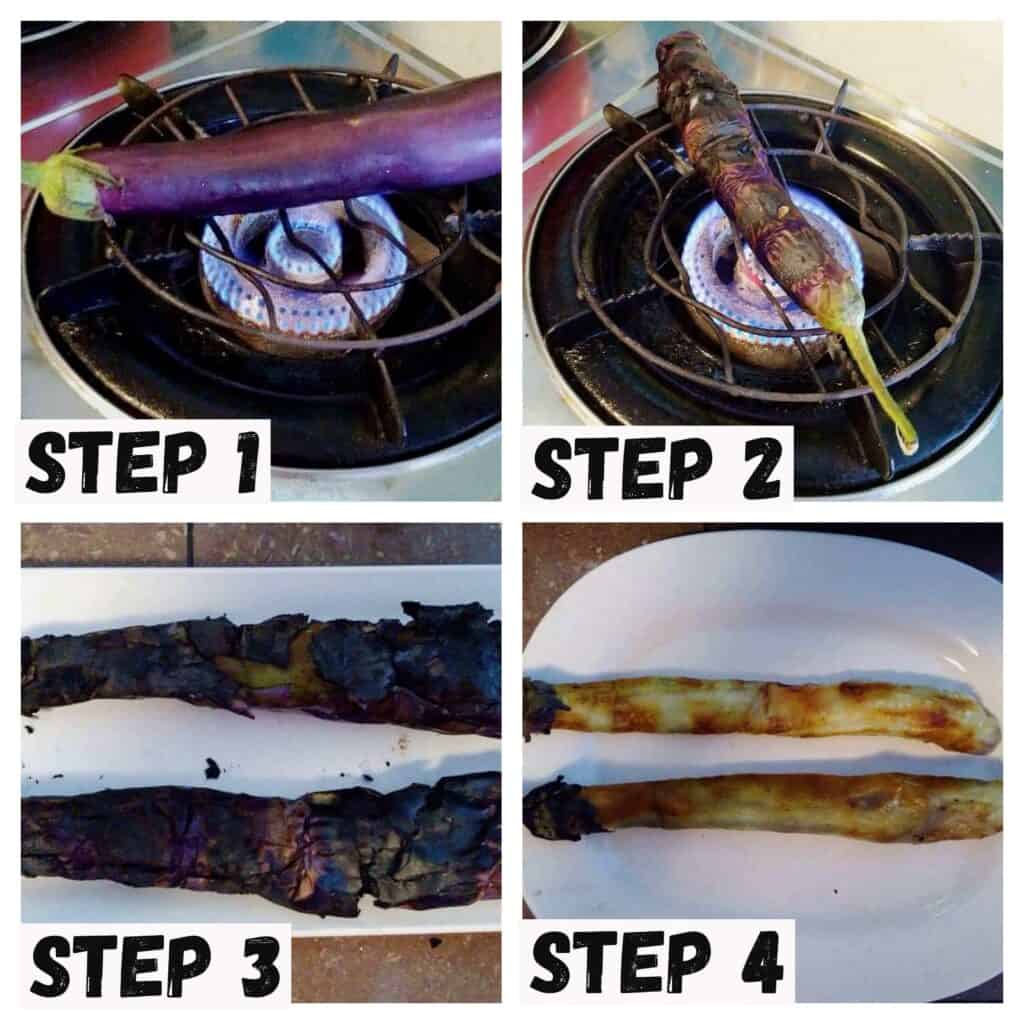 To roast the eggplant, I just put it directly on the fire and cook it on both sides. You can tell it is already cooked if the eggplant is becoming wrinkles.
Next, I transfer to the plate, and once it cools down, I peel the skin of the eggplant.
II. Mixing & Assembling the Eggplant
Once you peel the skin, cut off the stem and use the fork to mash it into smaller pieces.
After that, I transfer it into the bowl, and that is where I added the chopped onion, ginger, tomatoes, and vinegar. Make sure you add salt and black pepper for taste.
Mix everything using the spoon before serving, and you are done. Easy, Isn't it?
Notes: This is not eaten alone, and it must be served with rice and other dishes. I may have repeated it several times, and it is important. Or else you will not enjoy this vegetable side dish.
Frequently Asked Question (FAQ's)
1. Is there any variation for this recipe?
You can switch white onion with red onion or spring onion leaves. If you see one of the pictures above, I am using spring onion in my Filipino eggplant salad.
2. Is there other ways to cook the eggplant?
If you don't like to cook directly in the fire, you can just bake in the oven at 200 C or 400 F for 30 minutes, or until it turns dark brown.
3. Is this a vegan-friendly dish?
Yes, because I don't add any meat or seafood products in this recipe.
Related Filipino Vegetables Recipes
Here are other Filipino Vegetable Recipes that you may like to try at home:
Ensaladang Talong (Filipino Eggplant Salad)
This is a Filipino Eggplant Salad which is mixed with chopped onion / spring onion, tomatoes, ginger and vinegar.
Ingredients
2 pieces of Chinese Eggplant
½ cup of chopped tomatoes
½ cup of chopped white onion or spring onion
1 thumb size ginger, chopped
½ cup of vinegar
Salt and Black Pepper for Taste
Instructions
Switch on the gas flame
Put the eggplant on the fire. Let it roast on all side till it turns dark brown and wrinkle
Remove it from the gas flame. Wait till it cools down.
Peel off the skin of the eggplant. And remove the stem.
Use the fork to mash into smaller pieces. Transfer into the plate bowl
Add chopped onion, tomatoes and ginger into the bowl.
Pour vinegar. Mix everything.
Add salt and black pepper for taste. Mix again
Serve it with rice and any Filipino dishes.
Notes
Instead of White onion, you can use red onion or spring onion,
You don't have to chop the ginger into smaller pieces since it might be inconvenient to eat them
Instead of roasting the eggplant on the gas flame, you can bake it in the oven at 200 C / 400 F for 30 minutes.
Nutrition Information
Yield

4
Serving Size

1
Amount Per Serving
Calories

70
Total Fat

0g
Saturated Fat

0g
Trans Fat

0g
Unsaturated Fat

0g
Cholesterol

0mg
Sodium

151mg
Carbohydrates

16g
Fiber

4g
Sugar

6g
Protein

2g