Adobong Sitaw is a Filipino vegetable dish that is stir-fry string beans adobo mixed with chicken. It is simple and healthy which is best to eat with rice.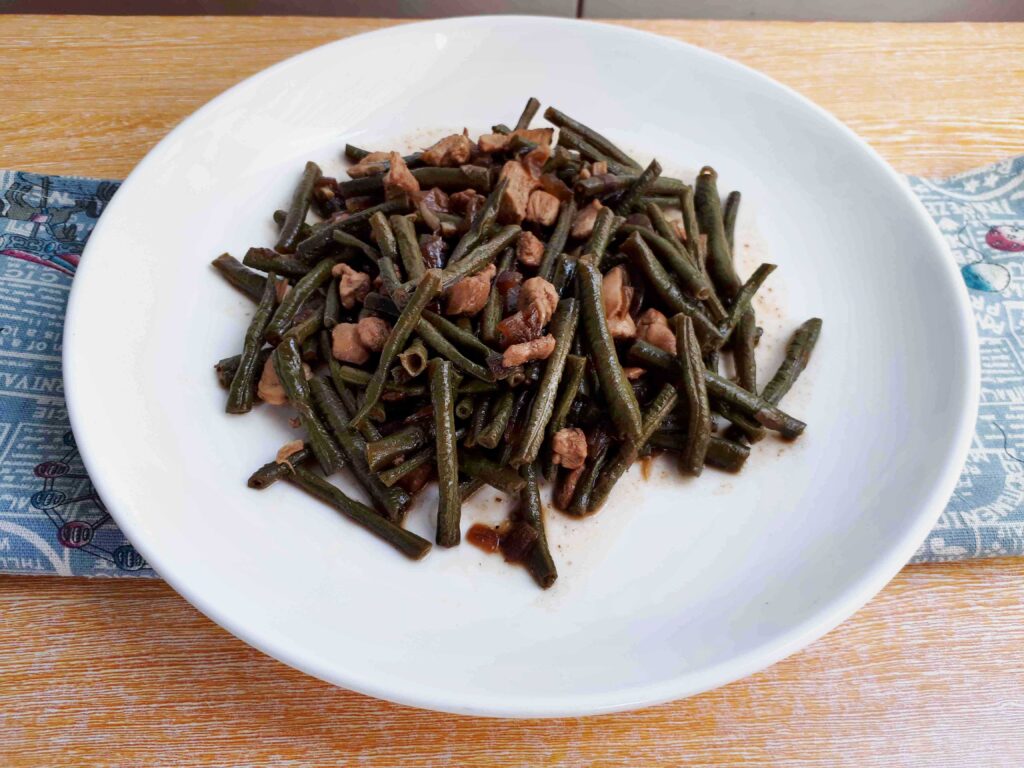 Jump to:
Adobo is a sauce that is made using two important ingredients- Soy Sauce and Vinegar. In the Philippines, there are different types of variations of adobo dishes which include meats, seafood, and vegetables. But, in this post, I will like to share with you my Adobong Sitaw with chicken recipe.
My mother introduced this stir fry green bean dish to me when I was young. At first, I was very ignorant because I am not a fan of green/string beans. But, as time goes by, I started to grow fond of my mother's adobong sitaw.
Ever since this day, it has become one of my favorite Filipino vegetable dishes, and I will show you how to make one.
Recipe Ingredients
Here are the ingredients that I used to make my delicious adobong sitaw recipe:
Green Beans: This type of beans is a long shape which we cut into 2 inches in length. To avoid confusion, in other countries it is known with different names like String Beans, Chinese Long Beans, or French Beans.
Condiments: Important condiments to add adobo sauce includes vinegar, soy sauce and oyster sauce.
Meat: Traditionally, most locals they use pork belly, but I am using chicken breast since it is healthier and low fat.
Other Ingredients: The rest you will need red onion, garlic and water.
Step by Step Instruction
Cooking this recipe is straightforward since you only use less ingredients.
Firstly, I am adding vegetable oil to the pan, and when it turns hot, that's when I add chopped garlic and onion. Stir it until it turns translucent.
Next, I add chopped chicken which I mixed to stir before adding the string beans. Make sure you mix it gently before adding the condiments, and then water. Let it simmer until the beans are soft and ready to eat. That's it.
Variations of Adobo
Chicken Adobo- This type of adobo is mixed with chicken and potatoes

Beef Bistek Tagalog- The beef steak is braised in Adobo-style sauce like vinegar and soy sauce.
Frequently Asked Question (FAQ's)
1. What do you serve or eat Adobong Sitaw with?
This Filipino long beans dish is commonly served as a side dish. I like to serve it with any meat dishes like Fried Chicken or Steamed Pompano and white rice. Rice is an important staple food in the Philippines, and there is a way you cannot eat this dish without rice.
2. Can I make this recipe a vegan-friendly?
If you want to make your dish vegan-friendly, you can just skip the chicken and the oyster sauce. Furthermore, you can use tofu as an alternative to meat. It is healthier and it tastes good.
3. Aside from chicken, what other meats I can add in this dish?
If you don't like chicken, you can use shrimp, ground beef, tofu, or pork belly. For your information, I don't eat pork since I am a Muslim.
Related Filipino Vegetable Recipes
Here are other Filipino Vegetable-based recipes that you may like to make at home:
Adobong Sitaw with Chicken Recipe
A Filipino green beans recipe called Adobong Sitaw mixed with chicken, soy sauce, vinegar and oyster sauce.
Ingredients
25 pieces of green long beans, cut into 2 inches length
200 gram of boneless chicken breast
3 tablespoon of soy sauce
2 tablespoon of oyster sauce
1 tablespoon of vinegar
1 medium red onion, chopped finely
3 cloves of garlic, chopped
½ cup of water
Instructions
Add vegetable oil to the pan. Once hot, add chopped garlic. Stir for a few seconds before adding the chopped onion. Continue stir till it turns translucent.
Add the chopped boneless chicken breast. Stir to mix till the chicken is cooked.
Add the green beans. Mixed to combine for a minute
Pour the soy sauce, vinegar, and oyster sauce. Mix to combine and then pour the water. Increase the heat.
Once it started to boil, lower the heat and let it simmer for 10 minutes till the green beans is cooked.
Serve it with rice

Notes
To make this recipe a vegetarian, switch the chicken with tofu, and don't add the oyster sauce.
Nutrition Information
Yield

5
Serving Size

1
Amount Per Serving
Calories

307
Total Fat

3g
Saturated Fat

1g
Trans Fat

0g
Unsaturated Fat

2g
Cholesterol

19mg
Sodium

650mg
Carbohydrates

41g
Fiber

11g
Sugar

14g
Protein

12g