Law Uy is a Filipino vegetable soup recipe that contains eggplant, patola, okra, squash, spinach leaves, and green beans It is also called Utan Bisaya, which is best served with rice.

Some foreigners and other people I know have this impression that Filipino cuisines are either fried or fatty food. But that is not true since many delicious Filipino foods are rich in vegetables.
If you go to the provinces, you will see locals cook many healthy dishes. Most of their vegetable or vegetarian recipes are either in a form of soup or sautéed dishes.
Many examples of dishes I tried include ginisang ampalaya, pinakbet, tinola, and law-uy. In this post, I will like to share with you my mother's Law-Uy (Utan Bisaya) recipe.
What is Law Uy?
Law Uy is a Filipino vegetarian dish in which the vegetables are boiled in water. This recipe originated from the Visayas region in the Philippines, which is why some people called it Utan Bisaya. It is one of the easiest Filipino vegetable recipes since all you do is just boil the vegetables and season the soup.
My mother is from Cebu, one of the Visayas provinces, and this is one of her favorite vegetable soup dishes. It is considered a healthy, nutritious, and simple dish to make. Also, it can be comfort food, especially during the rainy season when you need to warm yourself.
Lastly, in some variations, to add more flavor, you can add fried fish like tilapia or other meats to the soup. But, I prefer to make this dish simple without adding any meat.
Recipe Ingredients
Here are the ingredients I need to make Law Uy (Utan Bisaya) recipe:
Vegetables: Important vegetables you need includes Spinach Leaves, Patola, Eggplant, Squash, Okra, Long Beans, and Spring Onion

Condiments & Herbs: To add the flavor to the soup, I use the stalk of the lemongrass, ginger, red onion, and chicken bouillon cube.
Step by Step Instruction
Cooking Law Uy is very simple as long you have the vegetables you need.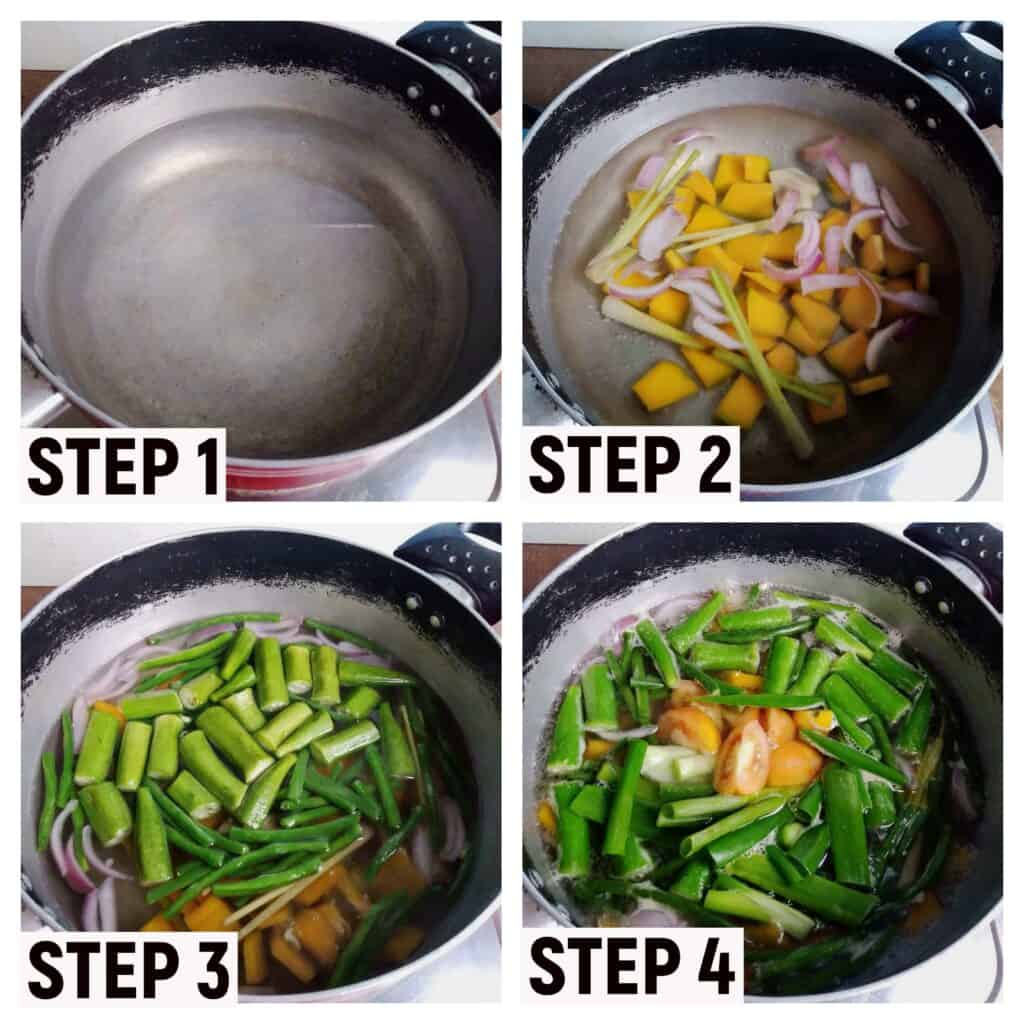 Firstly, I poured water into the pot, and then I added the lemongrass, red onion, and ginger. Next, once it's boiling, add the cubed squash and let it simmer for a few minutes or until it becomes soft.
After that, I added the bouillon cube for flavor, okra, green beans, tomatoes, and spring onion. Stir, and then let it simmer.
Next, I added the eggplant and the spinach leaves. Let it simmer for 5 minutes before you add the patola. Simmer for 1 more minute before you turn off the heat. Serve it with rice, and you are done.
Related Filipino Recipes to Try
If you are looking for other similar recipes, here are my recommended Filipino vegetable recipes that you can make at home:
Frequently Asked Question
1. What do you serve Law Uy with?
You can serve this Filipino vegetable soup recipe with white rice and any other fried fish or meat dishes like fried tilapia / Bangus, or fried chicken.
2. What other vegetables I can add in this recipe?
In different variation, you can replace spinach leaves with saluyot leaves.
3. How long you can store it in the fridge?
It can last in the fridge for up to 5 to 7 days.
4. Is Law Uy a vegan dish?
No, because it contains chicken bouillon cube. However, if you want to make this dish vegan-friendly, you can switch to vegetable bouillon cube.
📋 Recipe Card
Law Uy Recipe
A Filipino vegetable soupcalled Law Uy (Utan Bisaya) that is mixed with eggplant, squash. Spinach leaves,okra and different vegetables.
Ingredients
2

pieces

Chinese Eggplant, diagonal sliced

1

piece

Patola / Luffa, sliced into round piece

8

pieces

okra, cut into 2 to 3 inches long

8

pieces

Green Long Beans, cut into 3 inches long

1.5

cup

squash, cubed

2

cups

spinach leaves

3

stalk

lemongrass

3

pieces

spring onion, cut into 3 inches long

3

pieces

Tomatoes, quartered

1

piece

medium red onion, quartered

1

thumb-size ginger

1

chicken bouillon cube

5

cups

water

1

teaspoon

salt
Instructions
Pour 5 cups of water on the pot.

Add the lemongrass, ginger and red onion. Wait till it boil

Add the squash. Let it simmer for 3 to 5 minutes or when it become soft

Add okra and green long beans. Give a quick stir. Let it simmer for 3 minutes

Add spring onion and tomatoes. Stir to mix

Add eggplant. Mix to sir and let it simmer for 2 to 3 minutes

Add spinach leaves. Stir to mix and let it simmer for 5 minutes

Add the patola. Let it simmer for 1 minutes before turning off the heat.
Notes
Peel off the skins of the patola before cooking them
The spinach leaves and squash takes the longest time (5 minutes) to boil while the patola takes the shortest time (1 minute)
For vegan friendly, replace chicken with vegetable bouillon cube  
Nutrition
Serving:
1
g
Calories:
260
kcal
Carbohydrates:
59
g
Protein:
14
g
Fat:
2
g
Monounsaturated Fat:
1
g
Sodium:
311
mg
Fiber:
13
g
Sugar:
14
g