Bangus Sisig Recipe is a Filipino sizzling flaked milkfish dish that is mixed with chopped onion, chili peppers, and seasoning sauces. This is a Kapampangan dish that originated from a philippine province on the Island of Luzon called Pampanga. It is one of my favorite local dishes in the Philippines which is perfect to eat with rice.

While living in the Philippine, I notice there are several kinds of sisig recipes. These include pork sisig, tofu sisig, and other seafood sisig. These dishes are mostly found in restaurants and they are not readily available in any street foods.
The first time I tried this dish was when I was in a local restaurant in Cebu city in the Philippines. While checking the food menu, I was very curious when checking the sisig. I decided to order bangus sisig, and surprisingly, it is very delicious. This is one of the best and tastiest local foods I tried. 
Also, I observed that when serving this food, they put it on a sizzling plate where it continuously keeps the sisig hot. The picture below is an example of how I cooked my Bangus sisig on an iron skillet and transferred it into a sizzling plate. This will help maintain the heat when serving.
Ingredients of Bangus Sisig
When cooking Bangus Sisig, there are several ingredients you need to make this delicious food.
Firstly, you need frozen boneless milkfish that are found in Asian grocery stores or a supermarket. Most grocery stores, they sell both marinated and non-marinated Bangus milkfish.
I prefer to buy a non-marinated milkfish since I want to season my dish. However, if you don't like to season your fish and you prefer to fry it right away, then I think marinated milkfish will be more convenient for you.
In addition to that, I am using garlic and onion. These are very important herbs to make sisig delicious. Also, to spice it up, I am using green chilies since it gives a nice aroma and a little spiciness to my dish. I love spicy food, and if you don't like spicy, you can replace this with bell pepper.
The calamansi / lime and vinegar are used to provide the sourness of the milkfish. I used the vinegar for marinating the fish before frying it in the pan, and this is a must ingredient.
Furthermore, I am using soy sauce to give a nice saltiness to my dish. Also, I am using mayonnaise and oyster sauce for adding sweetness and creaminess to my sisig. If you don't like adding mayonnaise, you can just use sugar instead. Lastly, you need vegetable cooking oil for frying the fish and cooking the sisig.
Ingredients for Marinating the Milkfish
Although I mentioned the ingredients for bangus sisig, these are the important ingredients you need to marinate the milkfish before frying in the pan.
Soy Sauce
Vinegar
Salt
Black Pepper
How to Marinate the Milkfish?
To marinate the bangus, you first remove the head & tail of the fish. After that, that is when you can marinate it with soy sauce, vinegar, salt & black pepper.
To have a strong flavor of the milkfish, it is recommended to leave it marinated for 1 hour. However, in my experience, I just marinated for 15 to 30 minutes.
Step-By-Step Instructions
There are 2 things to do when cooking this delicious bangus sisig recipe: Frying & Flaking; and Cooking & Assembling.
I. Frying & Flaking the Bangus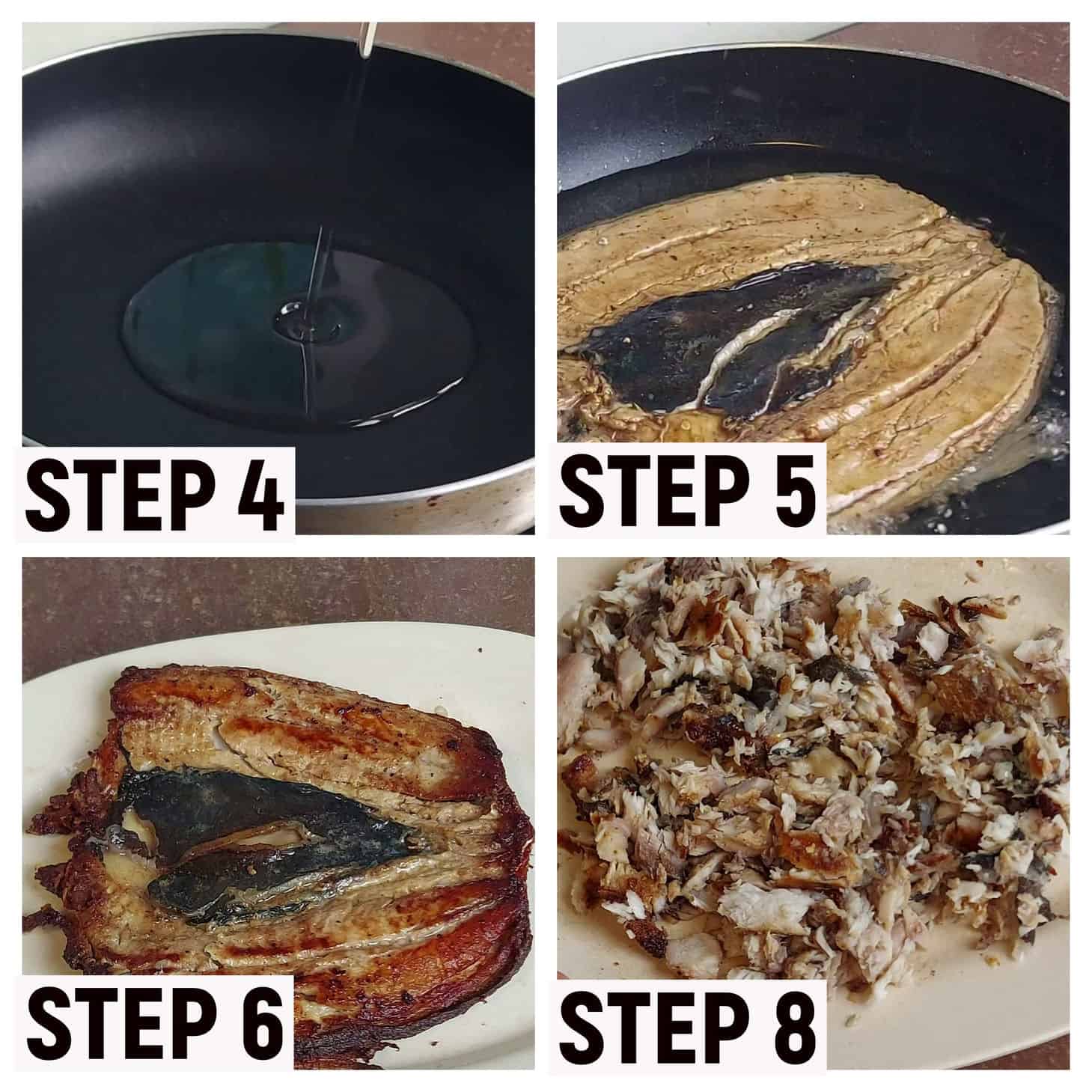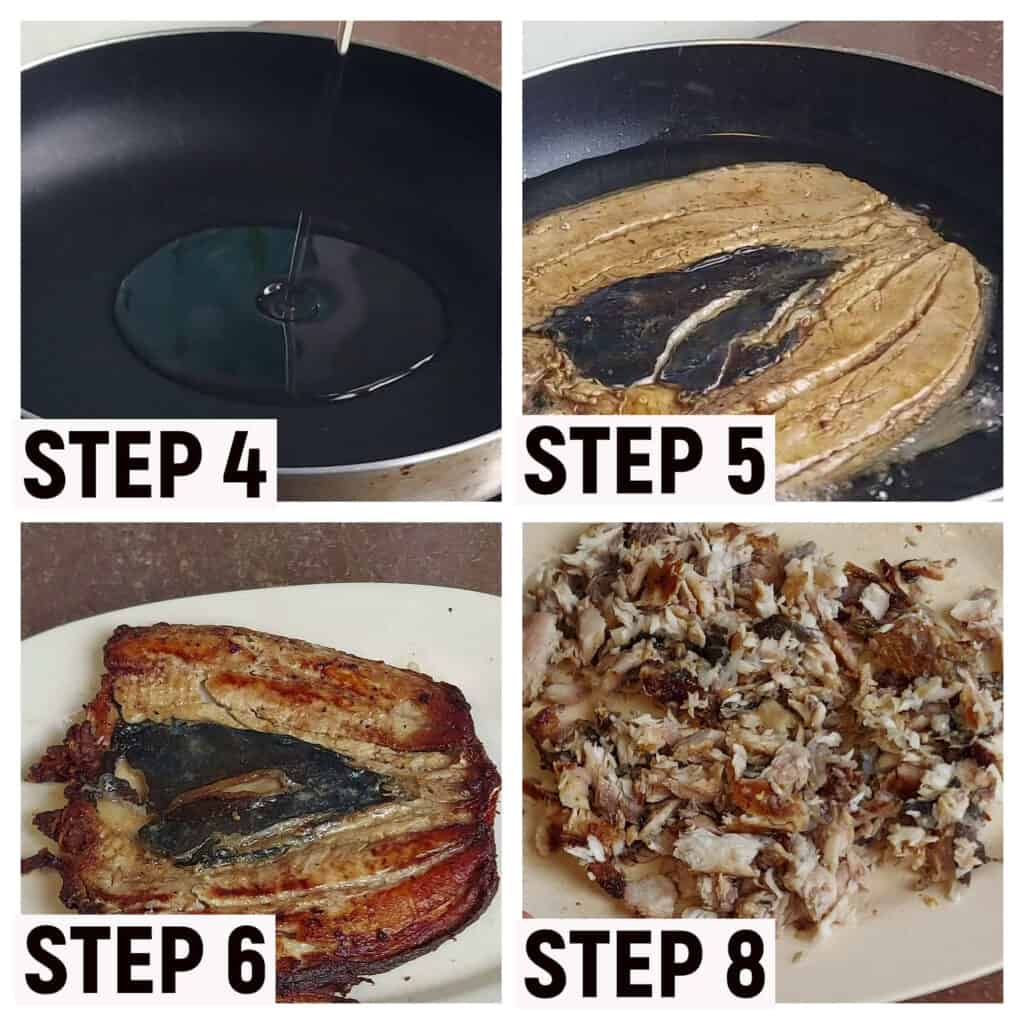 Once you are done marinating the milkfish, pour vegetable oil into the pan to fry the fish. After that, transfer to the plate and flaked the bangus using the fork. Do not include any bones or the skin of the milkfish.
II. Cooking & Assembling
In this step, add a few tablespoons of the same vegetable oil that you used to fry the bangus in the pan. Add garlic, followed by onion, and then green chilies. Next, I added the flaked bangus to the pan. After that, mayonnaise, soy sauce, black pepper, and calamansi (lime juice). Mix it well.
Lastly, I prepared a cast-iron skillet where you put a half tablespoon of unsalted butter. Let it melt before you add the sisig. Make sure you add the raw egg to the center of the bangus sisig before you transfer it to the sizzling plate. Serve it with rice.
Notes:
You don't have to use the sizzling plate. You can just cook it in an ordinary pan and serve it right away with raw egg on the top of sisig.
When marinating, you can add grated ginger and garlic for stronger flavor.
Other Filipino Recipes
Sisig is an example of a Filipino dish, and if you are looking for other Filipino food, I have other recipes you may like to try at home.
📋 Recipe Card
Bangus Sisig Recipe
Bangus Sisig Recipe is a Filipino dish that is mixed with herbs, seasoning sauces, and milkfish which is perfect to eat with rice.
Ingredients
1

large

boneless bangus / milkfish

2

tablespoon

of soy sauce

1

large

chopped onion

3

cloves

chopped garlic

5

green chilies

1.5

tablespoon

mayonnaise

1

tablespoon

of calamansi or lime juice

1

egg

2

tablespoon

of cooking vegetable oil
Marinating the Milkfish
1

tablespoon

of vinegar

2

tablespoon

of soy sauce

Salt and Black Pepper

Vegetable Oil for frying the fish
Instructions
Frying and Flaking the Milkfish
Add vegetable oil in the frying pan. Wait till the oil is hot

Add the milkfish into the frying pan. Let it fry in low heat for 3 minutes each side or until it become light brown. Invert the fish and fry for another 3 to 5 minutes.

Remove the bangus from the pan. Debone and flake the milkfish. Make sure every drop of bones are removed from the milkfish
Cooking & Assembling
Add vegetable oil into the new pan. Once it is hot, add chopped garlic. Stir it for few minutes before adding the chopped onion and green chilies.

Add the debone milkfish, and stir for less than 1 minute.

Add soy sauce, mayonnaise, and lime juice. Mix it well. Once done, set aside.

In an iron skillet, add unsalted butter. Wait till it melted

Add the flaked bangus, and make a small space in the center of the sisig so that you can add the egg. Do not stir or mix.

Transfer into the sizzling plate. Serve it with rice and calamansi.
Notes
If you don't like to seasoned the milkfish, you can buy the marinated bangus from a filipino grocery stores
If you don't like to you use mayonnaise, you can add 1 tablespoon of brown sugar instead.
Nutrition
Serving:
4
servings
Calories:
298
kcal
Carbohydrates:
17
g
Protein:
16.1
g
Fat:
18.5
g
Saturated Fat:
4.4
g
Cholesterol:
78
mg
Sodium:
750
mg
Potassium:
101
mg
Fiber:
0.9
g
Sugar:
7
g