Cabalen Restaurant is a popular Filipino buffet restaurant which is located in several branches in the Philippines. It offers authentic Filipino cuisines that serve appetizers, main dish, and desserts.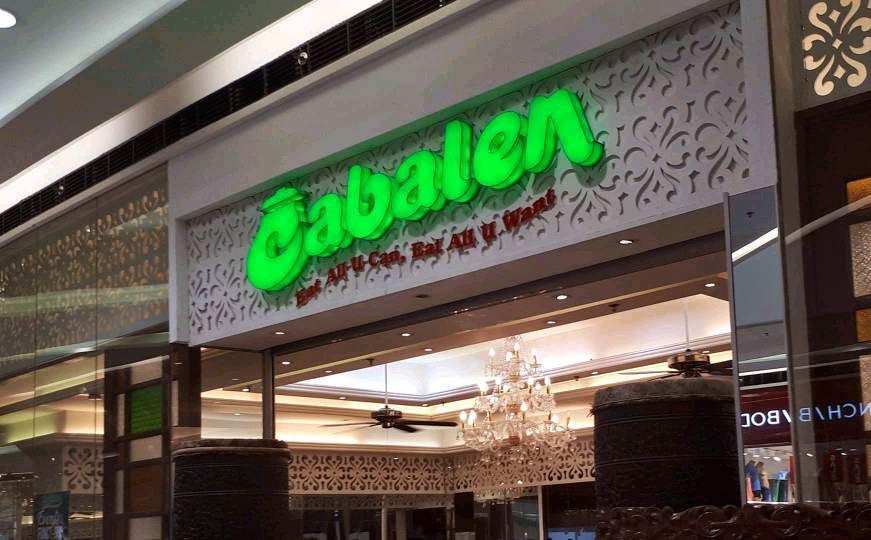 The first time I tried in this restaurant when I was invited by my Uncle during his birthday. When he told me that we will be eating in Cabalen Buffet, I wasn't familiar with this restaurant. In fact, I was curious and excited to try their food.
I found out that despite it is a Philippine restaurant, the food in Cabalen Restaurant is mostly influenced by Pampangan cuisine. Just for your information, Pampanga is a province located in Luzon in the Philippines. What fascinates me is that Pampanga is actually a culinary capital of the Philippines. So it is not surprising that most of the popular food are found in this province.
In this post, I will be sharing you my experience and my honest review in Cabalen Buffet.
Location and Price
Cabalen Restaurant has several branches around the Philippines which is mostly located in a shopping mall. Specifically, they are found in SM malls and Robinson Malls. In addition to that, I found out that Cabalen Buffet has also a branch in San Bruno California. I think that is because, in that town, there is a predominant Filipinos or Filipino-American.
Regarding the price, I found out that the rate of the buffet depends on the branches. Some branches have a rate of ₱298 philippine peso while others have a rate of ₱398 philippine peso. I am not sure why, but I think it has something to do with more food options.
My Experience
In this post, I will be making review based on my experience in eating Cabalen Restaurant in Sm Seaside in Cebu City which is one of the branches in the Philippines.
When I entering the Cabalen Buffet, there were many local food options to choose from. I observed there are tons of pork dishes, and if you love pork, then this is a good place to go.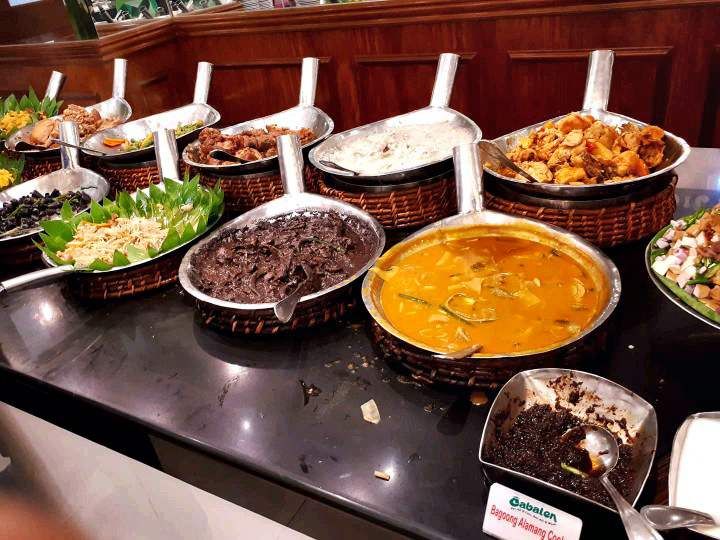 There are 4 different food sections in this restaurant. Firstly, they have the main dishes where they serve the main Filipino dishes. Their main dishes include Kare-Kare (A peanut sauce dish), Chicken Pork Adobo, Krispy Kang Kong, Dinuguan and other Filipino dishes.
Secondly, they have a salad section which includes vegetables like chopped lettuce, cucumber, carrot or corn. Thirdly, they have another section where they served sisig, grilled fish, Lechon kawali (deep-fried pork) and other vegetable dishes. Furthermore, they also serve an exotic dish originally from Pampanga. For example, they have a dish called Camura, which is a deep-fried cricket with adobo seasoning. I tried it out of curiosity, and it tastes exactly like a deep-fried onion.
Lastly, they have a dessert section where you can choose any sweets you like. For example, you can customize Halo-Halo, which is a popular Filipino ice cream mixed with evaporated milk, crushed ice, ube ice cream, and other ingredients. They do not seem a lot but I think the price is worth it.
Our Food in Cabalen Restaurant
In Cabalen Restaurant, I got many kinds of food on my plate, except pork since I am a Muslim. On my first plate, I brought rice, pinakbet (vegetable dish), chicken adobo, sticky rice, and a vegetable egg roll called lumpia. Of course, this is not my final plate because I always get more to satisfy my stomach
On my second plate, I got a grilled fish, salad, steamed vegetables, and kare kare which is a beef dish with a peanut sauce. The truth is I tried several of these foods, but I did not get any pictures since I was busy eating.
My Review in Cabalen Restaurant
Based on my experience, I am satisfied eating in Cabalen Buffet. First of all, this is one of the few local restaurant that offers varieties of filipino food.
One of my favorite dishes is Chicken Adobo, a vegetable dish called Pinakbet, Sisig and Kare-Kare. Although their foods don't contain spices, I still enjoyed eating there. Most of their food is either salty or sweet and not spicy but it tastes good but not the best. I have tried other local restaurants here in Cebu City, but this restaurant is mostly Pampanga influenced cuisine which is new to me. Furthermore, I love their sisig and their meat stew dish. It is flavorful which most of these foods are perfect to eat with rice. Lastly, the rate of this buffet is extremely affordable compared to other high-end buffets in the Philippines.
The only downside is that most of their dishes are pork. As a Muslim, there is a limited choice for me to eat in Cabalen Restaurant. If you are looking for Kosher or Halal food, this may not be a suitable place to eat. Also, I am surprised that soft drinks are not included in their buffet rate. Apparently, you will have to pay additional just to order drinks. In most buffet restaurants, the drinks are always included in the rate. Lastly, their dessert looks so limited, and this was my least favorite section to eat.
My Rating in Cabalen Buffet
My rating of this restaurant is 7.8/10
The Food: 6.5/10 (Most of it are pork, the food is good but not the best filipino food I ate in the Philippines).
The Price: 8/10 (Drinks are not included in the buffet rate but it is still affordable)
The Customer Service: N/A (Since this is a buffet restaurant and we are self serving the food)
The Environment and Amenities: 9/10 (The place is clean and it is convenient to eat)
Conclusion
Cabalen Restaurant is one of the most popular Filipino buffet restaurants in the Philippines. They serve great local foods and it is extremely affordable. If you are a tourist, and you are looking for a Filipino restaurant at an affordable price, I highly recommend this place.